For mains voltage garden or outdoor lighting, you need to make sure you are staying within the building regulations. This applies to other outdoor electrical activities also such as putting a light or electric socket in the shed or supplying electricity to a pump in the fishpond.
Every cable, wire, socket, appliance and light used outdoors has to be protected by an RCD or residual current device which will instantly cut off the power should anything happen to make power leak to earth, for example if a cable gets cut or someone gets a shock.

More about RCDs can be seen in our project on Fuses but essentially they are safety devices which must be used to protect every socket which could be used to supply electricity outdoors.
As this is usually almost every socket in the house it makes sense for an RCD to be placed in the fuse board or consumer unit. This type of RCD is shown in the image above.
If you are not sure if your socket is RCD protected you can use a plug-in RCD or even swap one of your sockets for an RCD protected socket. Both of these are shown below.


Never let leads trail about in the garden. Obviously when using lawn mowers and hedge trimmers there will be cables but wherever possible lay the cables against the building or to the side of the garden.
If you want to supply power to outside sheds etc the cables must be protected in certain ways.

Garden Electrics Regulations and Underground Cables
Part P of the building regulations now requires you to notify the Building Control Authorities if you intend to have electrical work done in the garden or it must be done by a Part P qualified electrician. There is no room here for DIY Electrics as it is simply too dangerous.
To put cables underground in the garden the regulations state that the cable, preferably SWA or Steel Wired Armoured cable must be covered with a buried warning tape to alert anyone digging in the garden.
You are also allowed to put the cables in a suitable conduit or duct and both must be buried at a depth where they cannot be "damaged by any disturbance of the ground reasonably likely to occur".
If you are using a conduit you can use flexible plastic electricians conduit or plastic drain pipes. The best way to get the cable into the conduit is to thread a rope into the conduit before you bury it, then when its buried, tie the cable to the "draw rope" and pull it through.
Garden Lighting
To install garden lighting, if it is to be lit by mains electricity, it pays to draw a plan and know exactly what you want, and even more importantly, where. Moving sockets and power points is an expensive business and changing your mind can cost a great deal. Here are some tips for getting the most out of your garden lighting:
Uplighting: If you have items, objects, statues, trees in your garden which are wider at the top than the bottom, some great effects can be produced by uplighting them. The light is set into the ground and pointed upward to the object. Angles, and distances from the object, can be experimented with for the best effect
Downlighting: If you have trees in the garden, or even bushes, some great effects can be produced by shining a light down through the branches or leaves
Water lighting: If you have a pond it is almost magical to light it from either inside the pond or from a hidden place at the water level. In the image on the left a copper water fountain is lit by a blue spotlight from under the decking. The rocks and shrubs behind the pond are lit also. More effects like this can be seen in our garden makeover project
Shadowing and silhouetting: Putting lights in front of, or behind, larger garden objects like statues and trees can create good effects. Again, experimenting is the key and before you place electrical outlets a good idea of where to put them can be gleaned by wandering around with a powerful torch
Spotlights: These can be used to highlight specific features. A lions head fountain on the garden wall for example
Lights can turn a garden into a pure pleasure palace at night and with the use of a patio heater or chimenea in summers evenings you will get so much more use out of your garden.
The image below was taken of a garden we did in Somerset. We built a stone cave at the end of a man made stream and lit it from inside and out. The effect was dramatic and the construction can be seen in the garden project mentioned above.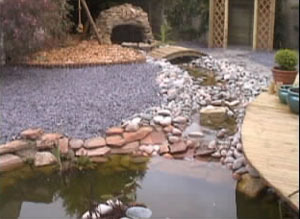 Please see our project Part P Building Regulations for information on DIY electrical installation.


For regulations governing heights of sockets etc, please see our Socket Height project