A gurgling kitchen sink, basin, bath or toilet can be very annoying especially late at night it can create a real disturbance and noise throughout the house.
A very popular question to DIY Doctor is "How can I stop my sink/basin/shower gurgling when I pull the plug out, run a tap or flush the toilet?". To solve this problem its a good idea to know what causes the problem.
There can be numerous causes for a gurgling sink that can range from something as simple as a blockage to other more serious problems, however happily they can be resolved leaving you with a nice quiet plumbing system.
What Causes a Sink to Gurgle?
The gurgling in a sink, shower, basin etc. is caused by air being pushed and pulled around your plumbing pipework by flowing water. If there are no air vents present in your plumbing system to allow fresh air in to balance it then air is sucked through plug holes causing gurgling.
There can be several causes for this in a plumbing system and in the majority of cases it's either a blockage or misconfiguration or lack of air flow that is the root of the problem.
Blocked P-Traps and Pipework
Regardless of how careful you are in avoiding any food deposits and the similar finding their way down through the plug hole and into the plumbing system, even if you use sink strainers, it's inevitable that some will find it's way down there.
On pretty much every sink, shower tray, bath etc. there will be a some type of bottle trap, but you may know this as a P-Trap, S-Trap or U-Bend.
These ingenious devices were created to prevent foul smelling sewer gases from coming up through your plumbing pipework and spilling into the room space.
They do this by holding water in the base that sits between the 2 sides of the "P" section of the trap and creates a barrier preventing any such gases and smells escaping and stinking the room out.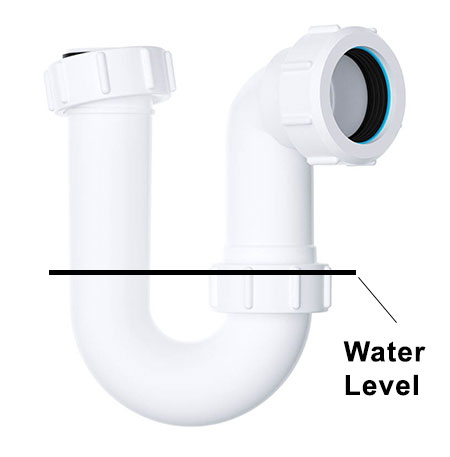 Over time small food deposits and the similar can collect in the base of a P-trap and if left long enough can block it. Additionally if you live in a hard water area mineral deposits can also build up causing the same issue.
Where a blockage is present the air and vacuum created by any flowing water is unable to move correctly and can cause gurgling in nearby appliances.
Blocked Pipework Vents
The water leaves the sink or basin and begins its run into the trap underneath. This trap has water in it, which stops smells coming back up through the pipes into the room through the plughole. When the water from the basin passes through the trap, it begins its run to the main waste pipe and out into the external manholes and main sewers.
Some of this journey is made through (inside the building) vertical pipes and sometimes through pipes which have rather more than the 1 in 40 slope which is recommended for foul water drainage.
This encourages the water to run very quickly, pushing and compressing the air in front of it and sometimes this causes a vacuum behind the flowing water. This vacuum sucks at the water, which remains in the trap. Most often this &ldquot;sucking&rdquot; causes the water in the trap to bubble and gurgle, hence the gurgling noise. Sometimes the water is sucked out of the trap completely and this is when foul gasses can get back into the room.
Pretty much every home will have a plumbing vent pipe that runs up to the roof. This will look like a long drain pipe with a slotted cover on top. This pipe will connect into your plumbing pipework somewhere and allow fresh air into the system to prevent the afore mentioned pressure and vacuum issues that cause gurgling.
Occasionally this vent pipe can become blocked due to a number of reasons, either debris and buildup in the pipework can block off the point that it connects to the system or if the vent terminal (the conical or domed section that sits on top) is damaged this can allow large debris to enter the pipe and cause blockages.
When a blockage occurs, the correct amount of air to prevent gurgling issues is unable to access you plumbing pipework and this is when the problem arises.
A good indication that you have a blocked vent pipe is if you are getting gurgling when you are emptying the bath or when flushing the toilet as this is a sign there is no ambient air in the system at all.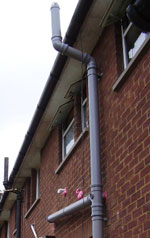 Incorrectly Configured Pipework
In some cases your plumbing pipework may have been installed without any form of venting at all e.g. there is no vent pipe running up to the roof or there are no air inlet valves or air admittance valves installed that help to balance the pressure within the pipework.
This may be fine and the system is constructed in such a way that the fall of any waste water is gentle enough not to cause any issues, it's only when a new appliance is installed that issues arise.
On rare occasions the pipework may be very old and was installed before the knowledge existed of the cause of gurgling and due to this there is no venting.
If gurgling issues are concentrated around a single location e.g. the bathroom sink then the issue may be with just this item. Even if an air admittance valve is installed, if it's not installed the correct distance from the P-trap and drain then you can still get gurgling issues.
Likewise, if an air inlet valve or admittance valve has been installed but the valve has failed then it won't open correctly to allow air in and prevent gurgling.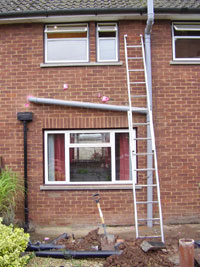 Is it a Blockage or a Problem With the Pipes Causing Gurgling?
Before embarking on a fix for your gurgling issues it's important to try and narrow down the cause as much as possible as this will ultimately speed up the diagnosis and the cause and enable you to get a fix in place with the minimum of fuss and expense.
As a rule of thumb, if you are getting gurgling issues with your whole plumbing system e.g. when you run a tap, flush the toilet, empty the bath then this is a good indication that you either have a blockage within the pipework somewhere or don't have the required ventilation pipe allowing air in.
However if gurgling is more localised towards one object e.g. the kitchen sink then the odds are that there is either a blockage (particularly in the kitchen) in the pipe or P-trap or an air inlet valve needs to be installed, or if there is one installed, it's not in the right place.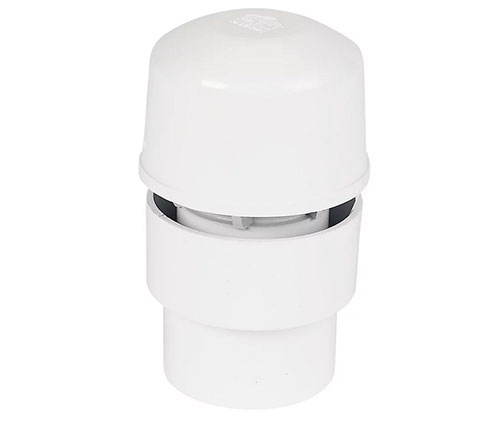 How to Fix Gurgling Sinks and Drains
If you have read through the information above you should now be fairly sure on the cause of the gurgling sink or pipework in your home.
Clean P-Traps and Pipework of Blockages
If your gurgling issues are with a single sink then there's a good chance that the P-trap or U-bend is blocked and the simple fix should be to clean it out.
As an initial quick fix, turn on your hot tap and run it for 10 – 15 minutes. Occasionally the hot water will be just enough to loosen any food or fatty deposits, which in turn may clear the blockage. This is a bit of a long shot but considering how easy it is, it's well worth a go.
If you also couple the above with using a sink plunger this can increase it's effectiveness a little more.
Depending on the type of trap you have will depend on how you do this. If you have a bottle trap as seen in the image below then this is fairly easy:
Place an old towel over the floor below the trap, covering the floor as fully as possible
Take a small container and place this on top the towel under the trap. As the trap is full of water there will be some spillage so it's important to catch it
Using your hand, grip the top of the bottle trap and turn it clockwise and unscrew it. Unscrew it slowly until it comes loose and keep it held level. Lower it down to the tray and empty the contents
Take it outside and thoroughly clean, removing any gunk and buildup and then check up inside the body of the bottle trap to ensure there's no debris in there, if there is thoroughly clean it
Once all cleaned, screw the bottle of the trap back in place and then run the tap and check all is well
If you have an S-bend then unscrewing it is slightly different as you essentially have to split the s-bend in half and then unscrew the remaining section from the plug outlet. Once removed you can then fully clean it.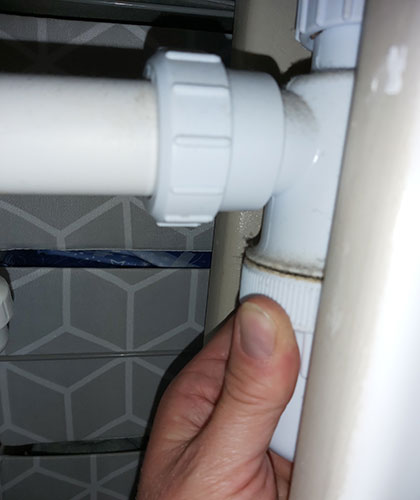 If however you are unable to access the P-trap, bottle trap or similar on the sink that needs unblocking or the blockage is in the actual pipework then the only choice you really have is to use a what's commonly known as a pipe auger (or drain cleaning coil as it's also known).
As this handy tool is flexible it can be easily fed down and around s-bends and down though pipework without the need to disassemble it.
Once you reach the blockage you can then turn the handle which then rotates the cleaning head and dislodges any buildup allowing everything to flow freely once more.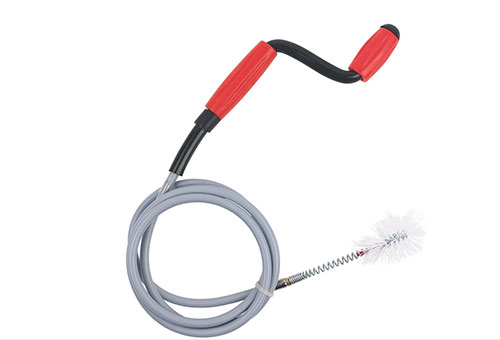 Clean Vent Pipes
If you suspect that you have a blocked air vent then this is slightly trickier to resolve due to the fact that in most cases it's up on the roof!. To clean out an air vent pipe:
Access the very top of the vent pipe. Use a suitable ladder or better still a tower scaffold to climb up so that you can easily reach the vent opening. See our project here on how to use a ladder safely
Check the vent terminal (the cap on top for damage). If it's damaged this is a sign of how the blockage has occurred
Remove the vent terminal and run a hose pipe up to the vent pipe and with someone on the ground to control the flow, turn it on and run the high pressured water down the vent and try and blow the blockage away
After a short time, turn the water off and check to see if the blockage is now cleared
If successful then refit the vent terminal and get back down safely, if not then the other option is to use a pipe auger to clear the blockage, however it will need to be 15-20 feet in length
If this is not an option then all that remains is to dismantle the vent pipe itself and clear the blockage down on the ground or to call in a professional plumber to sort it for you
Remember, working at height, especially on the roof of your house is extremely dangerous and if you are in the slightest bit apprehensive about doing so then leave this to the pros!
In the event that you discover that you don't actually have a vent system as part of your plumbing setup it's a good idea to install one. To find out how see our project on installing a soil and vent pipe.
Install Air Inlet Valves or Air Admittance Valves
If your gurgling issues are centered around a single sink or location e.g. a bathroom then it may be that you just need to install an air inlet valve on the drainage pipe running from the sink. By doing so it will allow air into the pipe run and prevent any vacuum from pulling air through the plug hole.
Fitting an air inlet valve is a fairly easy job. Once you have located the drainage pipe running from the sink, find a suitable location and cut the pipe as near to the P-trap as possible (within 2 feet if possible) in a suitable location.
Cut away a suitable amount of pipework and fit a Tee-piece in place and then run a section of pipe upwards and then fit your air inlet valve to the top.
To ensure air is drawn from the valve and not from the trap ensure that the air admittance valve is at least level if not higher than the plug hole itself.
The pipes in the image below have been solvent welded together but if you want to use push-fit pipes the principle is exactly the same.
When the valve is fitted the water runs away as before but instead of the vacuum sucking water from the trap it just sucks air which is admitted through the valves. This allows the water to run away noiselessly from the sink, bath, shower or any other appliance.
If you have little space under your sink or basin, then fitting an anti-vac trap could be the answer to this problem.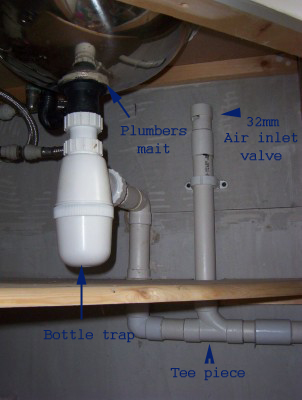 With larger appliances such as toilets it may be necessary to install and air admittance valve. These are basically the same only bigger.See our project here on air admittance valves for more information.
Preventing Gurgling Sinks and Basins
To ensure that your drains remain in top condition and don't suffer from blockages and the similar it's important to maintain them regularly at least once a month.
There are several methods of achieving this:
Homemade Drain Cleaners: There are many recipes on the web for making your own homemade drain cleaner and many of these centre around using baking soda and vinegar/lemon juice. Baking soda has been used for many many years as a cleaner and is indeed very effective, but for heavier blockages it may be necessary to use something more substantial. Find some effective recipes to make you own homemade drain cleaner here
Chemical Drain Cleaners: Chemical drain cleaners are typically the go to solution for many as they are available from pretty much any shop or supermarket, they're cheap and they are effective, however they do tend to be rather toxic in nature and often give off dangerous fumes so can be a risk to health and also can damage your plumbing system if used too often
Enzyme Drain Cleaners: Enzyme-based drain cleaners are on the whole much safer and more eco friendly to use. They contain amounts of bacteria that, once in contact with a blockage, break it down and dissolve it over time. They do have a few drawbacks in that typically they take a long time to work and aren't quite as effective as some chemical cleaners
Fixing a gurgling basin, bath, toilet, shower or other appliance is, on the whole a fairly straigh forward job. As long as you can identify the actual cause of the issue there is no reason at all why you can't install an effective DIY fix.
Why not go to our video sections on sinks and plumbing unblocking" watch the four part film on installing an under-mount sink and a step by step guide to unblocking sinks and basins.