Seamless, extruded continuous aluminium guttering is a great alternative to plastic or cast iron gutters and downpipes.
It is also referred to as rolled aluminium guttering, and these aluminium rain gutters are made to order on site.
Sheet aluminium is pressed, in the back of a van or trailer, on a pressing machine which can simply churn out miles of the stuff depending on the length of the roll.
It is a fascinating sight to see long lengths of aluminium guttering appearing from the back of a van that is less than half the size of the guttering being produced. It's like a Mary Poppins carpet-bag trick.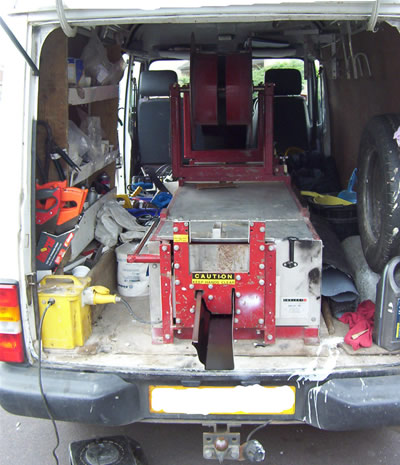 Extruded Aluminium Gutters
Extruded Aluminium Gutters are ideal for numerous projects due to their clean lines and robust corrosion-resistant properties.
They are seamless which means there are no joints to leak along the length of the gutter, they come in a range of styles from traditional to modern profiles, such as Victorian ogee guttering or square aluminium guttering.
Seamless aluminium guttering installers will arrive come with the machine in the back of a van which means they can make the guttering to the right length on site and not need to transport long lengths of guttering which could get damaged in transit.
Other Aluminium Gutter Systems
Aluminium is a very versatile material, with a low melting point, so as well as being extruded it can be used to make pressed aluminium gutters and also cast aluminium gutters and downpipes which mimic cast iron rainwater systems but without the weight or their tendency to rust.
Cast Aluminium Gutters for Period Properties
Cast aluminium gutters are an ideal alternative to cast iron gutters. Aluminium Gutters have the benefit of being lightweight and corrosion resistant.
Which makes them low maintenance while maintaining aesthetically pleasing characteristics which complement older properties, and fit in with traditional designs of rainwater systems.
Pressed Aluminium Gutters
Pressed aluminium gutters are ideal for contemporary designs, square seamless guttering is a very clean design, which is often used by the self-build and commercial housing market as well as being used for industrial and commercial applications.
Pressed aluminium gutters are economical to produce and are unlikely to sag under high volumes of rainwater.
Aluminium Rainwater Systems
To fit in with your aluminium rain gutters you can also get aluminium rainwater pipe or downpipes, hopper heads, aluminium valley gutter, and even decorative motifs.
Downpipes can be circular or square depending on your preference.
You can also get aluminium gutter mesh to help prevent leaves and other debris collecting in the system.
The Benefits of Aluminium Guttering
There are many benefits to using aluminium guttering, including durability, weight and colour options, here are the main ones with a break down below:
Aluminium gutters are lightweight and strong
Aluminium doesn't rust
Powder coated aluminium guttering comes in a range of colours
Aluminium is sustainable and recyclable
Aluminium rainwater systems can be used to suit any style of building
Aluminium is Lightweight and Strong
Aluminium is about 65% lighter than steel or cast iron. It is not as light as plastic guttering (UPVC) but it does have a very high strength-to-weight ratio so less material is needed as opposed to steel or cast iron.
Aluminium guttering is generally more durable than UPVC guttering which means they are less likely to sag.
Aluminium Doesn't Rust
Unlike cast iron and steel aluminium does not rust, and is highly resistant to corrosion.
Aluminium naturally generates a protective oxide coating and if it gets scratched the aluminium guttering simply oxidises again to protect itself.
Aluminium is also not affected by sunlight, unlike plastics which become brittle and prone to cracking.
However, low grade aluminium will corrode, and become pitted, and any applied coatings will only give it a limited protection, so make sure you buy the right grade of guttering in the first instance, such as marine grade aluminium.
Aluminium Can be Coated to Provide a Range of Finishes
Aluminium guttering can be coated with a polyester powder coating to provide a hardwearing and virtually maintenance-free finish.
Cast iron gutters require regular painting and plastic guttering can fade in sunlight. Steel guttering can also be galvanised but because of the nature of steel (which wants to rust) these coatings are not as stable.
Aluminium is Sustainable and Recyclable
Aluminium can be recycled over and over again with no loss of quality to the metal. As the melting temperature of aluminium is relatively low re-melting it also needs very little energy which makes reuse and recycling sustainable.
Cost of Aluminium Guttering
Aluminium gutter price per meter is around 40% more expensive than its plastic counterpart but will last a lifetime (around 50 years) if installed correctly and should remain maintenance free and looking smart for that period of time too.
You might also be concerned about the sustainability of using UPVC gutters over a recyclable material like aluminium.
Can I paint Aluminium Guttering?
Yes if you want to change the colour of your aluminium guttering you can paint it to match your front door, your walls or your mood.
As we mentioned before you can chose the original colour when it is fitted – it will be supplied with a powder coated surface.
However over time you might decide to change the colour. Find out how to paint aluminium guttering in this blog article.
Where Can Aluminium Guttering be Used?
Aluminium guttering is suitable to use on most building. It is available in a wide variety of styles to suit every period and design of architecture.
Most domestic guttering today is plastic and it's great. It's relatively cheap and effective but leaking gutter joints are the main problem associated with plastic gutters.
If UPVC guttering is not put up professionally (or to a professional standard), with the correct spacing, correct fall and the right number of gutter brackets, it can leak.
The joints in plastic guttering can "creep" open causing the rubber seals in the joints to lose contact with the gutter.
This is caused by expansion and contraction of the lengths of plastic pipe – something that won't affect seamless aluminium guttering because it is one continuous length.
The gutter brackets for UPVC pipe should be spaced at a maximum of 900mm with a bracket either side, and close to any joints in the gutter run. See how to install a plastic gutter properly here.
Another problem with plastic guttering, although not so damaging, is that the colour can fade in the sunlight.
Fitting Aluminium Guttering
Aluminium guttering installers will come and produce and fit the guttering for you at the same time.
As you can see from the image at the beginning of this project the machine in the back of the van has been set to turn out Ogee shaped guttering and in the 4th image below the first 2 feet of brown gutter is coming out of the machine.
The rolls of aluminium come in various colours and the machine used here can be set to either Taurus or Ogee mould.
Having a choice of styles has the advantage, as well as looking attractive on new buildings, it is the shape of much of the cast iron gutters used in times gone by.
This of course means that it can be used as a good match on older properties.
Seamless Aluminium gutters are also 5 inches wide (120mm) as opposed to the 4 inches (100mm) of the standard plastic gutters. This means they can deal with and carry much more water from the roof.
Aluminium's strength to weight ratio means that it can easily deal with the increased weight of the water.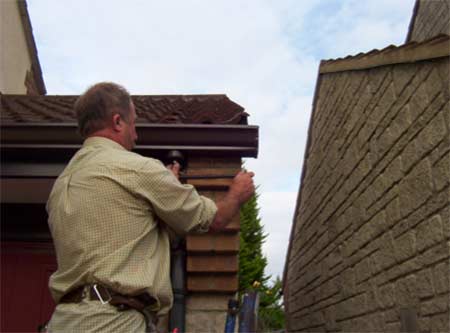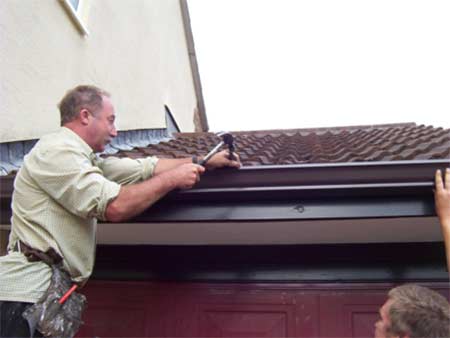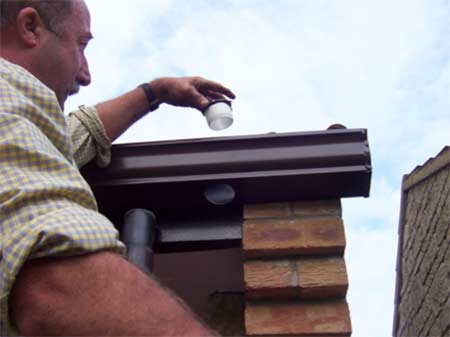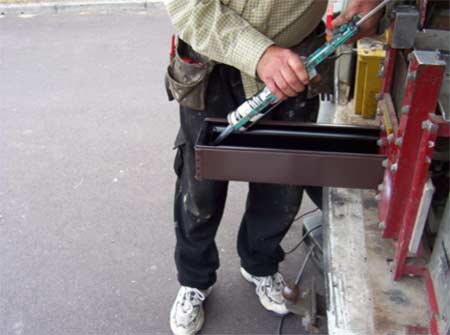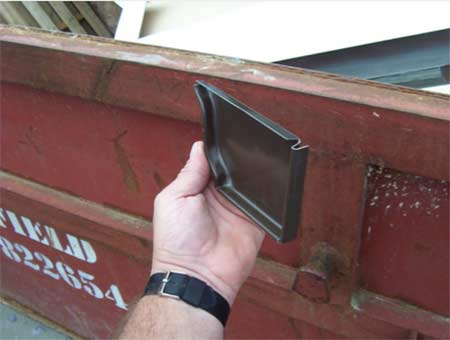 After pressing the guttering the brackets are clipped into the gutter shape and the gutter is measured on the roof for the position of the down pipe. The gutter is then nailed or screwed to the facia board at the correct slope, or fall.
A plastic insert is sealed in position to direct water into the down pipe and a stop end is sealed to the end of the gutter. It's a simple, painless operation which takes no more time than plastic gutters.