Whether it's an ornamental hedge or a conifer screen, all hedges need cutting or trimming each year to help maintain their health and shape. In general a hedge will respond well to pruning and trimming if it done at the right time of year, so you can be bold!
Before you start you need to ensure that you have the right equipment for the type of hedge (and the job you're going to do).
Hedge Trimming Equipment
Hand shears are fine for smaller hedges – make sure they are kept sharp though. Blunt shears will bruise the plant stems and make the job a lot harder, as well as leaving you with an unhealthy, browning hedge.
For finer work you can use specialist topiary shears such as these ones, as they can be used in one hand and get a very tidy finish: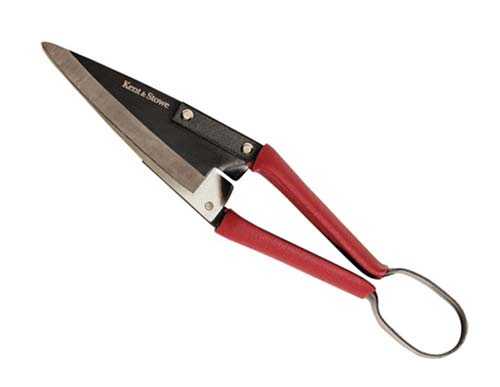 For trimming hedges that do not need to be shaped as finely as topiary a set of hands shears are suitable. They are characterised by having long cutting blades so you can trim a larger area and get a flat surface on your hedge.
If you have higher hedges it is worth considering getting hedge trimmers with extendable handles to increase your reach, such as these: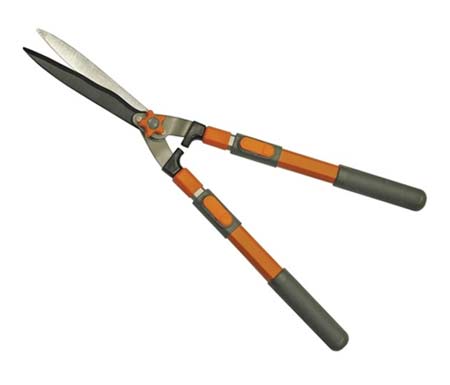 If you have a large hedge or a few hedges its worth investing in an automatic trimmer. You have a choice of:
Corded electric hedge trimmer – cheaper and light since you have no battery or petrol motor to carry. Ideal for small gardens although it is very easy to accidently cut the cord!
Battery powered hedge trimmer – More expensive and slightly heavier than a corded trimmer, these are ideal for smaller gardens with light hedge trimming and you don't have to be within reach of a plug
Petrol powered hedge trimmer – These tend to be the most expensive option and certainly much heavier so you need to be fit to wield one for any length of time. The big advantages are that they are not limited by cord length or battery life, and generally can cut a bigger diameter of branch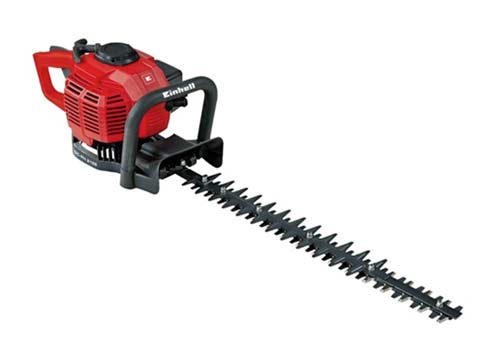 Top tip: If opting for a cordless trimmer, buy one with a spare battery as there's nothing worse than waiting for the used one to charge up!
All hedge trimmers have a limit for the size of branch that they can cut. The petrol version will have more power so will be able to cut thicker branches, but there will be a limit, in this cases you will need to turn to a pair of loppers or a pruning saw.
Hedge Cutting Safety
Check the hedge that you are about to cut to make sure there is nothing you could trim over – make sure that there are no wires, or obstructions that could hamper you or damage your hedge trimmer. This is not something you want to do with a live trimmer in your hand!
Always use a safety socket with RCD if you have a corded electric trimmer. This will protect you from a nasty shock if you accidently cut the cord. Test it before you begin – most have a test button.
Make sure you have enough lead or extension to reach everything you have to cut, and it is a good idea to trail the lead over your shoulder to keep it out of the way while you're cutting, and to ensure you are aware of where it is while you are cutting.
Keep fingers and anything else that might hurt away from the cutting blades. Tempting though it is to pull a trapped branch out of the blades, you should stop the trimmer and then free it.
Be sure to wear protective clothing:
Safety gloves – Buy the best safety gloves you can afford, your fingers will thank you. Not only for protecting you from the trimmer but from spikes and thorns in the hedge.
Goggles
Ear protection
Work boots
You should not lift the trimmer above your chest when cutting so you might need a ladder or ideally a platform to cut from. If using a ladder then use a stepladder, as you should never lean a ladder against the hedge you are cutting.
Whatever tool you use and whatever type your hedge, it is a good idea to lay a tarpaulin or sturdy dustsheet underneath the hedge before you start.
That way you can easily catch all the clippings and put them into a compost bin or bag for disposal. Keeping the cutting area tidy will ensure that you are less likely to trip.
When you stop unplug or remove the battery from the trimmer to ensure that no one, especially children, can accidently start it.
When to Cut a Hedge
The time of year for cutting depends on the variety and age of the hedge. When a new hedge is planted and for the first couple of years of its life, a hedge requires formative pruning, which will shape the hedge towards its desired final shape and encourage dense growth.
For deciduous species such as hawthorn, beech, forsythia and fuschia, this should be carried out in the winter. For evergreens such as box, holly, privet, cypress and yew, formative pruning should be carried out in the spring.
Maintenance pruning is a different matter, and depends on whether it is a formal or informal hedge, and of course the plant varieties used. Below is a rough guide to when different types of plant should be pruned:
Buxus sempervirens (box), Ligustrum (privet), Lonicera nitida (Wilson's honeysuckle) and Cuprocyparis leylandii (Leyland Cypress) will all need pruning two or three times during the growing season
Prunus laurocerasus (laurel) should be pruned twice in the growing season
Ilex aquifolium (holly) needs pruning just once in late summer
Chamaecyparis lawsoniana (Lawson cypress) should be pruned twice – in spring and summer
Taxus baccata (yew) and Crataegus monogyna (hawthorn) both require pruning twice, in summer and autumn
Thuja plicata (western red cedar) needs to be pruned in spring and again in early autumn
Carpinus betulus (hornbeam) and Fagus sylvatica (beech) should be pruned once, in late summer
Berberis (Barbaery), Escallonia, Lavandula (lavender) and Forsythia should all be pruned immediately after flowering
Pyracantha (firethorn) should be pruned in late summer
Fuchsia and Rosa rugosa (hedge rose) both need pruning in spring.
How to Use an Electric or Petrol Hedge Trimmer
Ideally you should work from a ladder or a solid platform. If you need to you can use a stepladder. You can also use a telescopic hedge trimmer.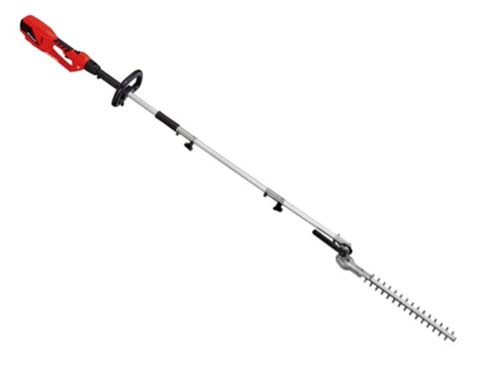 Most trimmers will need to have two catches to make them work, so you will need both hands. Hold the trimmer away from your body ensuring that the lead (if there is one) is away from the cutting blade (drape if over your shoulder).
Do not over reach, or work above chest height. Some people suggest that you should cut the top of the hedge first, while other suggest do it at the end.
It is really up to you, but we have found that it is often easier to cut the sides as then you will be able to get close enough to the hedge to cut the top.
Work in smooth upwards motions from the ground to the top of the hedge flowing the line of the hedge. The top of the hedge should be thinner than the base, so that light can get to the leaves all the way down.
Never get soil or dirt on the blade as this will cause significant damage to them as they grind back and forth.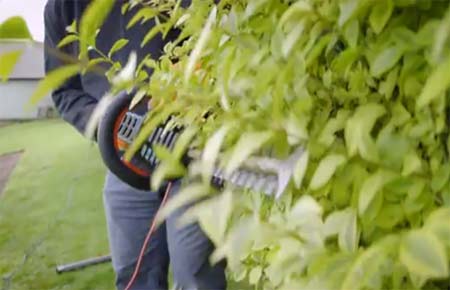 You might find two passes is necessary, especially with an overgrown or unruly hedge. Initially get the bulk of the cutting done and then come back to tidy up and give a neat finish.
For your first pass, hold the trimmer at around a 45o angle so branches fall nicely into the grooves of the trimmer blade and so that the trimmings will fall away from the hedge as you move the blade up.
Working from the bottom of the hedge up helps you to ensure that the hedge is tapered correctly. Moving from the top down can get the blade snagged on branches.
For the second pass refine and neaten up the hedge by holding the blade flat to the hedge surface (rather than at 45°), still moving up from the bottom.
Remember to collect all the trimmings, especially removing them from the top as they are more likely to rot and cause fungal diseases which could damage your hedge.
When you have finished cutting, make sure the trimmer is turned off (and unplugged if electric), clean the blade and remove any vegetation that might have got caught in the blades.
You should oil the blade to prevent rust before you put it away for the winter. The blade should be covered by a sheath to protect it from damage, and it snagging you as you move around your shed.
Cutting Formal Hedges
Use a string line secured with canes to give you a cutting guide, ensuring that you cut in a straight and level line. Provided the hedge is not too bushy and you can reach comfortably over it, cut along the top first.
If it is a tall hedge and you are using a ladder or platform, be very careful to ensure it is set in a sturdy position, and get a friend to hold you steady. Do not over-reach as this can be very dangerous.
Make sure you keep the shears horizontal for a flat top, and ensure you remove all trimmed foliage from the top of the hedge.
When cutting the sides, start from the bottom and work up in a sweeping motion – this allows the cut branches and foliage to fall away. If you started from the top, the foliage would get stuck in the lower branches and make your job much harder.
Make sure that the sides are slightly tapered so that the base is wider than the top. This allows sunlight to reach the bottom of the hedge and encourages growth.
Some plants respond better to a hard pruning than others. When cutting conifers be careful not to cut into bare wood as you will end up with a hole in your hedge. Do not cut back further than half an inch from the last green shoot.
Privet and beech are both hardy and resilient to a hard pruning.
Cutting Informal Hedges
Trimming an informal hedge is much the same as pruning a shrub – they shouldn't need much hard pruning as an informal hedge is allowed to grow naturally so that its shape isn't spoiled.
Shears are not usually suitable for pruning an informal hedge – you will get on much better with secateurs, and loppers if needed.
To keep an informal hedge in good shape you will occasionally need to remove old stems or cut branches to keep the hedge within its boundary.
If you are trying to get a hedge back under control, if it has become overgrown, you should mark out the size that you want to trim it back to using string or twine.
This will give to an idea of the size and look it will be after you have cut it.
Make sure you step back to take a look before you begin, and as you progress.
If you cut back to approximately 30 cm beyond your desired final size, it will allow the leaves to regrow densely, and look healthy while maintaining the height that you want. You can then just lightly trim each year to keep it in check.
If you are making a severe cut you should consider cutting one side of the hedge each year to reduce the shock to the hedge, and also to retain its use as a barrier.
You will most likely be using loppers and a pruning saw for much of this work as the branches will be thicker.
As the hedge begins to grow back trim it regularly so that it keeps to the shape and size you want it.
Hedge Trimming and Birds
Obviously we do not want to disturb nesting birds, it is actually illegal to do so knowingly, as they might abandon the nest and any chance of raising fledglings.
Avoid trimming where you know birds are nesting. You can easily see by observing their coming and goings. Most birds tend to nest in spring and summer so try to keep trimming to a minimum at these times, and in any case keep a careful eye out.
Encouraging wildlife is a great benefit for gardens – birds will help keep some of the pests in check, and you can find out more about wildlife gardening here.