Warning: To complete electrical works you must comply with Electrical Regulations – Click here for more information.
Safety Information When Working With Electricity
Please also see our project on the New Wiring and Cable Colours.
Make sure you have isolated any circuit you are working on – for help with this see our electrical safety project.
Please remember when attempting any electrical installations or work at home that you are obliged to get the completed job tested by a fully qualified electrician and obtain a minor works certificate.
Failure to do this may render your house insurance invalid and you may have difficulty selling your home.
Please also see our project Part P Building Regulations
The MCB – Miniature Circuit Breaker
An MCB is a form of fuse (protective device) which overcomes the traditional problem associated with fuses in so much as when one blows it does not need to be replaced as a fuse does or in older fuses, the wire does not need replacing.
MCB's operate when they sense an overload, or over current, and become an automatic switch, turning off, or tripping, the MCB when it detects such an overload.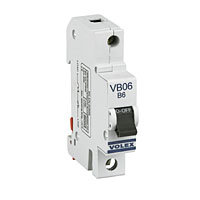 The RCD – Residual Current Device
An RCD is a similar protective device which is different to an MCB in two ways. Firstly it is connected to both the live and neutral wires in the consumer unit making it a double pole switch, whereas the MCB is only connected to the live side of the circuit.
Secondly, rather than just detecting an overload of current, it detects the fault which causes the overload.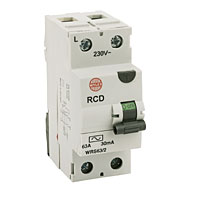 MCB's and RCD's in a Consumer Unit
Many consumer units these days are produced to be split load consumer units (see our project on consumer units for more information on this).
Those circuits which need more protection than others, ie showers, sockets serving outdoor appliances, external 240V lighting, must be protected by an RCD. Other circuits such as lighting and cookers, are protected by MCB's.
Each individual circuit, of whatever kind, is protected by an MCB. The circuits needing most protection are also served by 1 RCD. Each circuit does not need its own RCD in a split load board.
The RCBO – Residual Current Circuit Breaker with Overload Protection
If you wanted to protect every circuit against overload and faults, you can install an RCBO which is a residual circuit breaker with over current protection. This is a combined MCB and RCD.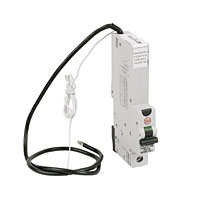 RCD Plugs and Socket Adaptors
For total safety outdoors if you are unsure about circuits and the like, you can fit an RCD plug to your lawnmower or other outdoor equipment.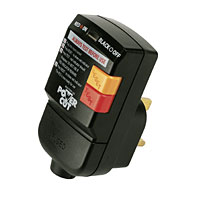 Even easier is the RCD socket which simply plugs into a normal socket and provides you with all the protection you could need outdoors.
RCD protected sockets can be easily fitted in place of your existing double sockets.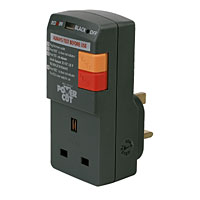 Re-Wireable and Cartridge Fuse Sockets
Other forms of fuse are either re-wireable fuses and cartridge fuses. Cartridge fuses are simply fuse wire contained in an enclosed glass or ceramic tube (such as the fuse in a plug).
Re-wireable fuses (slowly becoming obsolete as wiring regulations are upgraded) which are simply two terminals connected by a length of accessible fuse wire of differing amperage rating.
For anyone that has ever has to rewire one of these fuses late at night in the dark because the lighting circuit has tripped will know that their demise is only all too welcome.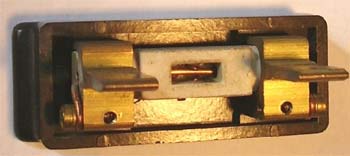 For regulations governing heights of sockets etc, please see the wiring regulations document on the iee.org website.