Two very common questions that get asked are:
"I am planning another bathroom but the soil and vent pipe is on the other side of the house. How do I overcome this?"
"I would like to turn my basement into a utility room but how can I empty a washing machine or sink?"
Macerators can be the ideal solution if you want to do the following:
Add a toilet to loft conversion/basement conversions
Add a shower to a loft conversion/basement conversions
Add utilities and appliances to a basement area
As commented above, adding an extra toilet, washing machine, dishwasher and even shower are made so simple with the use of modern day macerators (waste pumps).
Obviously in some cases the easiest way is not always the best way and to ensure a long lasting solution the correct positioning of the soil and vent or relative waste pipe is the best solution but due to property layout or cost involved this is sometimes not a practical solution. In these cases a macerator is the next best thing.
What are Macerators and What do They do?
Macerators in domestic situation are used where transferring bathroom and sink waste to the existing waste pipes is difficult due to either the distance or the height between the source and the existing soil disposal system.
For example, installing a wash basin in a basement is fairly straightforward because the waste water can be pumped vertically to ground floor level to discharge into the soil removal system. But if a WC was required to be installed in addition to a wash basin, problems would arise because of the difficult in pumping solids on a small domestic scale.
Macerating is the process of changing solids into slurry by soaking them in existing liquids.
The solution lies in installing a macerator which is a pump with an extra facility for chopping solids to reduce them to a near-liquid. This makes the resultant material easy to pump vertically through a small pipe, say 22mm.
In large properties, macerators are often installed to pump horizontally where laying a 100mm diameter soil pipe across three or four rooms would be both unsightly and expensive. Macerators are usually placed behind the WC and the final act is connecting it to the electric power supply and this must be done by a qualified electrician.
With the exception of the need for an electrician there are no other building regulations requirements in connection with the installation of macerators.
There is a wide variety of macerators on the market for domestic use and they vary in cost on average between £350 and £600 although more expensive ones are available. The cost of the pipe work between the macerator and the existing soil stack should be added to these figures. It should cost about £200 to £250 for fitting but this could increase if the distance between the macerator and the soil system was excessive.
It should be possible to complete the work in one to two days day under normal circumstances.
What Macerators are Available?
There are quite a few differing types of macerator available on the market today the majority and best know of these are supplied by Sanifolow. Here is a chart showing you different macerators and waste pumps. Its possible to get wastes now from every corner of a given building via one of the Saniflow macerators available.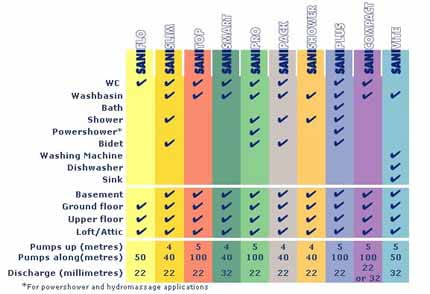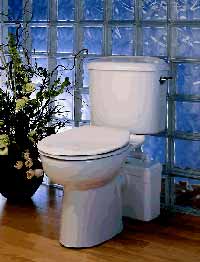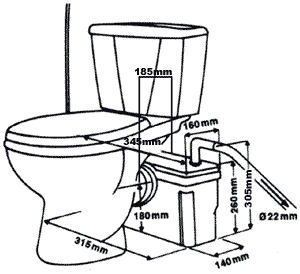 Some units are built into the wc, and some are stored separately out of sight.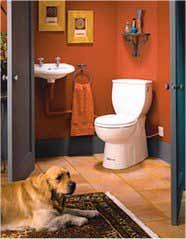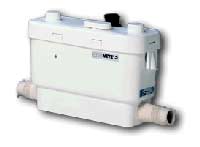 For an Extra Kitchen or Utility Room
Sanivite (Ref No 1004) is specially designed to deal with the hot soapy pumped waste water from dishwasher or washing machine, making the addition of a domestic kitchen or utility room easy even when below or distant from a drain.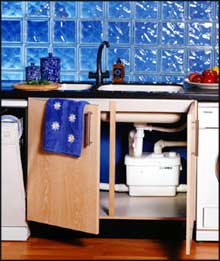 Sanivite is a powerful pump with four inlets for connection to sink or appliances.
Waste water is pumped through 32mm small-bore pipework, vertically up to 5 metres or horizontally up to 50 metres or a lesser combination of both.
The compact Sanivite is usually concealed in a kitchen unit but can also be concealed behind a demountable panel to give access if required.
For an Extra Shower
The waste pump for showers and hand wash basins Sanishower is a small, strong, purpose designed pump for discharging hot waste water from shower and washbasin to a distant drain.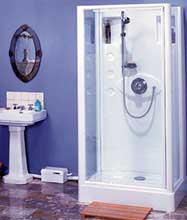 The product is especially useful where a shower or wash basin is to be sited in a place where gravity drainage will be difficult or impossible to run – for example in a basement or on an internal wall of a property. Sanishower can be installed next to or underneath a shower tray with access and will discharge waste water through 22mm small-bore pipework, vertically up to 4 metres or horizontally up to 50 metres or a lesser combination of both.
Also see our project on converting a basement.
Check our video section and watch the film on toilet installation for a visual demonstration on how to install a toilet.