Converting a garage to a living space is treated as a change of use of part of a building. An application for approval under the Building Regulations must be made before work starts. The submission of a Building Notice is often an appropriate way to achieve this.
Depending on the type of garage and its relative position to the existing property, the proposed garage conversion plan and also where the property is located will essentially determine whether you will also need to seek planning permission.
In any case, your first port of call should be your local authority planning office as they will advise as to whether you need planning consent and provide contact details for the building control department that will be able to offer you a whole host of help and useful advice.
Converting a garage into additional living space can be a great solution if your current living conditions are cramped and, if done properly, some have estimated it can add an additional 10% to the value of your home!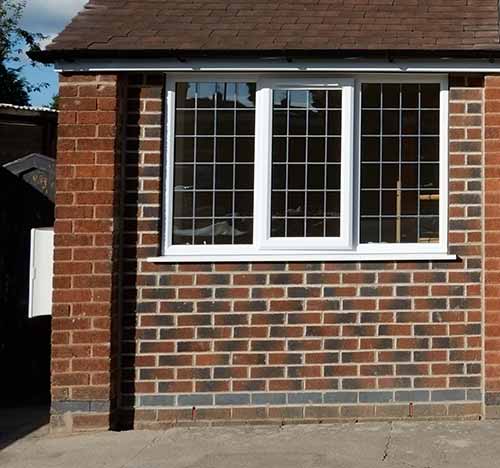 Do I Need Planning Permission for a Garage Conversion?
As we have briefly touched on above, whether you need planning permission for your garage conversion will depend on a few factors that include:
If the existing property or garage in question are stated as listed
If the existing property and garage are in a conservation area
If you are physically altering the existing structure e.g. adding a second storey or the exterior appearance
Some properties, particularly new builds, have a proviso that states that any garages must only be used for parking. In this case you will need to apply to have this changed
If none of the above apply to you and you're only looking at converting the interior of an existing garage structure then it's entirely possible that this can be done through "permitted development" e.g. you won't need to seek planning permission.
However, one thing to be aware of it that the exact guidelines governing whether you need planning permission do vary slightly depending on what area of the country you're in (e.g. who your local authority actually is).
For this reason, always consult with your local planning office as to whether you can get started under permitted development, or whether you have to go down the full planning application route.
Do I Need Building Regulations for a Garage Conversion?
In short, yes you do!
When converting a garage to a living space you are essentially changing the use of that garage to one that will, after the works are completed, be used in eth same manner as any other room in the existing property.
As garages are generally used for storage or parking for cars they are not always constructed to the same levels and standards of damp proofing, insulation, fire safety, structural integrity etc as the areas of the property that are built to be lived in from the off.
So, to fully qualify as a "livable space", the existing garage structure must comply with all of the same building regulations that govern the construction of houses and to ensure this is the case, any plans need to be checked and signed off by your local planning office.
Unfortunately it doesn't stop there either. When you actually start the building work, this will also need to be periodically checked at certain stages by your local building control officer, as they will want to make sure that the work is being carried out inline with the regulations.
This may seem like a total faff and a lot of unnecessary expense, but in reality, your home and converted garage isn't going to be yours forever and whoever lives in it after you is going to want to know that any work that's been undertaken, has been done properly.
Once all works have been completed, the building control office will then sign it off as completed and issue a completion document as proof that all has been done properly and inline with any relevant regulations.
Aside from ensuring any potential new owners inherit a structurally sound home, It's also important to ensure that you and your own family live in a property that's not going to collapse!
Aside from the actual safety of the structure, building regulations will also ensure that any and all electrical works are carried out to regulations standards.
One final point to note is that building control will also need to ensure that the existing garage is in a suitable state structurally so that it can be converted.
If any defects are found, then your building control officer will be able to advise you on how these should be dealt with.
They may also insist on examining the foundations to ensure they're up to the job of supporting any additional loads and also testing for asbestos, both of which will need to be dealt with if found to be an issue.
Pro's and Con's of Converting a Garage to a Living Space
Before you delve head first into planning your garage conversion, it's a good idea to take a minute and have a think, not just about the benefits of converting your garage but also about the possible disadvantages.
As with all things, there are always downsides and often it's not until you actually write everything down and physically see it, what once was a great idea can suddenly quickly seem like the opposite.
Here follows some items to consider:
| | |
| --- | --- |
| Advantages | Disadvantages |
| The structure already exists | Existing structure may not be suitable |
| Extra space without the need to move | Loss of parking – Can be an issue in areas where parking is limited |
| Can increase property value | Potential new owners may value garage space more than an extra room |
| Potentially no planning consent needed | Loss of storage space |
| Part-conversions possible | Can cause an increase in council tax |
| Cheaper than an extension | Potential hidden costs such as consumer unit upgrades and new boilers |
| Potential to use the space for anything | Can affect the exterior appearance of the property |
What if my Garage is Detached From my Property?
If you are looking at converting a detached garage, this can get fairly complicated. As a detached garage is separate to the accompanying property, to convert it to an actual living space, in a lot of cases will require you to apply for a change of use.
Unfortunately this can be a tricky and sometimes costly process and, although it's technically the same as if the garage was integrated in with the property, there are certain additional regulations that an "attached garage" has to conform to that in some cases a "detached garage" may not have to.
If this is the case, then the detached garage in question may require additional (sometimes substantial) works to bring it up to the required standards.
One other thing to consider are services e.g. water, electricity, drainage. If you garage is not part of the existing property it may only have one or possibly none of these, and if you're converting to a living space then all of these are going to be essential.
Depending on the distance any new service are going to need to run, this can add a considerable unseen cost to your project.
How Should I Convert my Garage?
The answer to this question is; It's really up to you, but just be realistic! Obviously it would be great to have a cinema room, games room, play room etc. but if you really need an additional bedroom or to enlarge the kitchen as this will benefit the whole family and make everyday life a bit easier, then in a situation like this, you have to go with the sensible option.
Do I Need an Architect, a Builder or can I do it Myself?
To answer this point, it really depends on your own prior experience.
If you have undertaken a fair few DIY projects in the past and are familiar with the basic techniques and principles needed such as plumbing, carpentry, tiling etc. then converting your garage is a great project to get your teeth into and one you can really hone your skills on.
However, if you are new to DIY and have little knowledge of what's involved, then for a project such as this, it's best to get the professionals in, unless you're not in a rush and can learn as you go.
As we have stated above, in order to comply with the required building regulations, certain tasks have to be done a certain way, so if you are taking a job such as this on as a first project then you will need to ensure you are doing things correctly. Your designated building control officer should be able to advise you if you need help.
Although the though of spending out on architects, specialist garage conversion companies or builders with experience of garage conversions may seem like a total waste if you are confident in doing the jobs yourself, don't write the idea off just yet.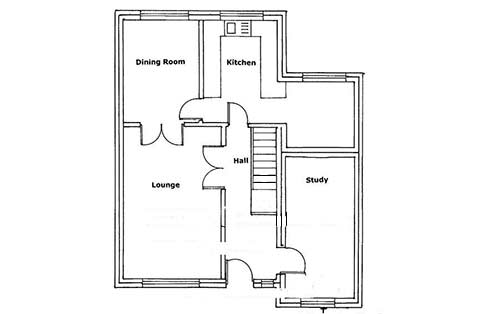 Those with experience of jobs such as these will have a wealth of knowledge and experience and be well voiced in all the potential pitfalls that can crop up.
Additionally they will also be able to advise on how to use the available space in the most effective way and, due to their previous experience, may also be able to offer other ides that you may not have considered as yet.
So, considering these points, although hiring a professional may seem like a waste, in the long run it may actually save you money through avoiding costly mistakes and provide you with a better end result.
Construction Considerations When Converting a Garage to a Living Space
If you have read your way through the above you should now have a rough idea of the main points that need considering before fully deciding on converting your garage.
The next stage is to look at what's involved and what needs to be considered from a construction point of view.
Insulation
In the majority of cases, your existing garage structure won't be in any way insulated and to bring it up to industry standards and comply with any relevant building regulations documents (most probably Approved Document L1A or L1B), it's going to take a bit of work.
In essence, you are going to need to add insulation to the walls, floor and ceiling.
Insulating Walls
In terms of the walls and how they are insulated, this will depend on the existing garage structure and whether it's attached or detached and whether the walls themselves are single skin or have a cavity
If attached then the likelihood is that any internal walls should have been insulated and constructed to the same standards as the actual property e.g. should have a cavity and due to this may need minimal insulation, although additional insulation whether required or not isn't necessarily a bad thing, so it may be worth doing anyway.
However, despite being integrated with the property, some garages will only have a single skin wall e.g. no cavity, and if this is the case, will certainly need insulating.
In terms of how the walls should be insulated, again, your local authority building control department will be able to advise you but in most cases, internally battening all walls, insulating between battens and then plaster boarding over the top should do the job.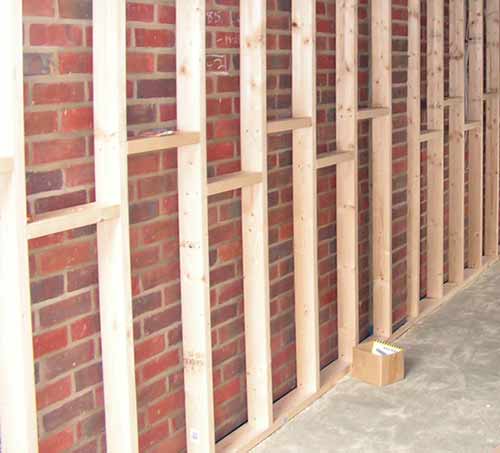 Insulating Ceilings and Roofs
When it comes to the roof and ceiling, again it is very unlikely that the roof area has any insulation and there probably won't be a ceiling present at all.
As heat rises, the roof is that point where most heat is lost and due to this, generally requires a fair bit of attention when it comes to insulating.
The exact requirements for how you go about this, how much insulation you will need to use and where it needs to be placed will again be stated by building control for the type of roof that you have e.g. flat roof or pitched roof.
In general, you'll either be going for a warm roof or cold roof set up. A warm roof requires insulation between the rafters and also on top of them, while a cold roof needs insulation between the rafters and then underneath them.
As you will be retrofitting the insulation, generally the easiest to go for is the cold roof setup as you can insulate from the inside. For a warm roof you would need to remove the current roof covering e.g. tiles, insulate and then tile back over. This can be expensive and in most cases, isn't practical.
In terms of the ceiling, in most cases you will probably be starting from scratch, e.g. there probably won't be any existing ceiling.
Again, insulating between and above ceiling joists will generally be required and then plaster boarding beneath the joists to form the internal ceiling.
One point to note is that you will need to check with building control as to what you use to form the ceiling. There are regulations concerning the fire rating of some ceilings in garage conversions and you may need to achieve a certain fire resistance value which in turn can dictate the materials you actually use.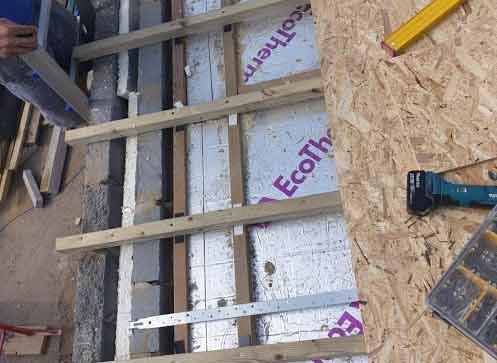 Insulating Floors
Unfortunately, in almost all cases your existing garage floor won't have any insulation present and also possibly no DPC (damp proof course), so this is certainly going to require some attention.
If you have an integrated garage, part of the original regulations governing its construction would have required that the garage floor level would need to sit around 100mm lower than the existing floor level of the rest of the property.
This was required to prevent any spillages in the garage area running into any living areas as due to it being a garage, and spillages are likely to be fuels, chemicals, paints or similar. Certainly not what you would want getting into your home.
This requirement, is in many ways a bit of a godsend when converting garages as it means that you have a decent amount of depth to lay insulation and damp proof membranes into before you get up to the floor level of the existing property, without the need to dig down and create the space.
As you may have guessed, if for any reason your existing garage floor is the same height as the floor in your home, it may be the case that you have to dig up the existing floor, lay DPC and insulation and then lay a new slab, all very expensive!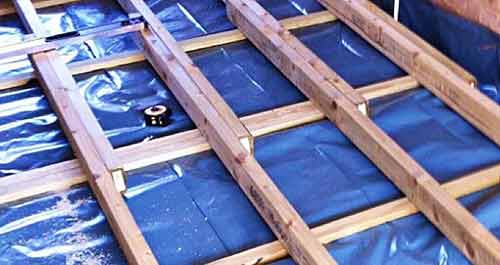 As a summary in terms of insulation requirements – you will need to ensure that your newly converted garage achieves a certain "U-value (more on U-values on the Kingspan website here)" in terms of heat and energy retention and efficiency. Your local building control office will in most cases be able to advise on what this value is and what you need to do to achieve it.
As a set of general guidelines, for your conversion to be fully signed off once complete it must achieve the following U-values in each area:
Walls: Required to achieve around 0.35W/m2K for all wall surfaces
Floor: Required to achieve around 0.25W/m2K for floor surfaces
Roof: If you have a flat roof then it must achieve at least 0.25W/m2K but if you have a roof with a loft space e.g. pitched roof then it should achieve 0.16W/m2K
Windows: Any window units (either UPVC or timber) should achieve 2.0W/m2K, or slightly more at 2.2W/m2K if you want to go with metal frames
Ventilation and Heating
As with any room in a home, suitable ventilation and heating are key requirements in terms of making the space "habitable", and this is no different when it comes to a garage conversion. As with any other aspect of building or construction, the exact specifications are stated in the Building Regulations.
As with the other points raised in this guide, your local building control office will be able to advise you fully on what your exact ventilation requirements will be but as a general rule of thumb, the following points should be considered:
Any windows must incorporate opening vents of an area equal to 1/20th of the floor area of the room
Trickle vents must be featured to provide background ventilation of 8000mm2 for habitable spaces
If a kitchen is included, it will need mechanical extraction of 30l/s (litres/second) if above a hob (cooker hood) or at least 60l/s if anywhere in the room
If a toilet room is featured it will usually require an extractor with an overrun feature of around 6l/s extraction
If a bath or shower room are present, mechanical extraction (extractor fan) of 15l/s will be required (a 10-15 minute run-over time is also usually required for fans in this location)
Even when the correct levels of insulation are present, extraction and ventilation are still required in order to reduce condensation and humidity levels and also remove any health risks associated with increased levels of either of these.
For more information concerning ventilation and the Building Regulation, see our project on Approved Document F here.
When it comes to heating your converted space, the method you choose and the temperature you will need to maintain will in many ways be dictated by how you intend to use the space.
If it's going to be used as a living room, bedroom, kitchen or other space that will be used regularly then it's going to need to be kept at a comfortable temperature level, somewhere around 18°C.
Although it is possible to use a portable heater or heaters to achieve this, the normal solution is to extend your current heating system into the new space e.g. install some additional radiators.
However, if your converting a detached garage this may not be an option and your only choice may be to use portable heaters or even install a separate boiler, but this can be rather expensive.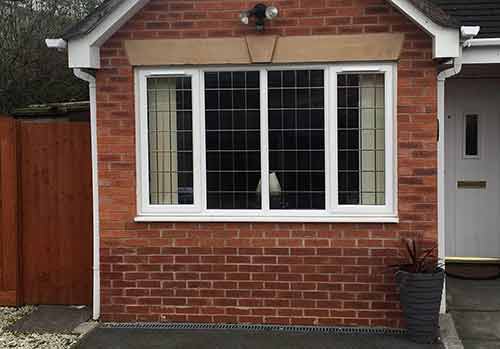 Existing Garage Foundations and Structure
Once you have decided to go ahead with your garage conversion, the next and arguably most important step is to get your existing garage structure checked out to make sure that you actually can convert it as it is.
This will also include inspecting the foundations to make sure they are capable of carrying any additional loads once the job has been completed and the space is in full use.
It is at this point that you will know whether your proposed plans are a go'er or not, as if the existing structure is not suitably sound enough to convert, then if you did want to go ahead it could mean that the existing garage would need to be pulled down and you'd effectively have to start from scratch at considerable extra expense.
Generally, the first round of checks will involve inspecting the existing walls and how they're constructed.
Some garages are constructed using a single leaf wall e.g. only a single layer of bricks. In most cases, as long as it's been constructed correctly, this shouldn't be an issue and you should still be able to go ahead with your conversion.
At this point, a single skin wall will also be fully inspected for any damage that could affect its stability. If any is found then it will need to be fully sorted before any further works can commence.
As a single leaf wall is much lighter than a cavity wall, it is often the case the foundations will have only been constructed to carry the weight of a single wall structure. This can further cause issues as they may not be able to cope with the additional weight of the conversion once completed.
If this is the case, then you may be faced with having to reinforce the existing foundations before you can start, again, this can be very costly.
With single skin walls, yet another consideration is how they are then insulated and weatherproofed to ensure any water or moisture that penetrates through does not affect the interior. The Building Regulations and your local building control office will state the required insulation and waterproofing values that your conversion must reach.
In most cases, this will involve some kind of membrane or tanking layer over the internal wall area to prevent moisture and water ingress that joins into a DPC and then battening over the top and insulation between the battens and then finished off with plasterboard, but as said, check this solution fully with building control first.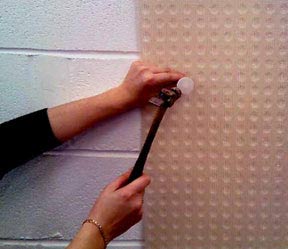 One other solution to insulating and waterproofing is to construct an internal cavity wall using lightweight blocks inside the existing structure. This is a great solution as it solves a lot of the insulation and water ingress issues associated with single skin walls, but again this will depend on if the foundations are capable of carrying the additional weight.
One final consideration in terms of the existing structure is what to do with the garage door.
With the majority of garage conversions, the existing garage door is removed and replaced with either a patio door or large window infill.
Again, the existing state of the structure will come into play here as if you are going with the window option then a single or double cavity wall will need to be constructed to form the base, which in turn will need a foundation to sit on.
As is very often the case, there will be no existing foundation so one will need to be constructed.
Also, it is unlikely that a suitable lintel will be present above the existing garage door opening so one will need to be installed.
Depending on the existing structure, the span of the opening, the type and construction of existing walls etc. it may be the case that you will need to get a structural engineer to design the lintel for you, but again your local building control office should be able to advise you on which solution you need to look at.
One quick note on windows, patio doors and doors in that these are specified as "controlled fittings" and therefore subject to Building Regulations. Due to this they must be installed by a "competent person" (see our replacing windows and doors project for more info), normally either a FENSA, CERTASS or BSI registered installer.
It is also possible to leave the current garage door in place and construct a stud wall behind it to form your new room space, so this may be a good solution in terms of reducing costs, but again, talk this over with your designated building control officer.
As stated at the top of this section, the existing structure and foundations are really key to the success and ultimately financial viability of a garage conversion project, so ensure that you carefully inspect and consider all aspects and don't leave anything to chance!
Electrics and Plumbing
Depending on how you intend to use your newly converted garage, you are going to need to get at least a supply of electricity in there, if not plumbing and also possibly drainage.
If you are converting an integrated garage, this shouldn't be too much work as most utilities can simply be extended from the existing property as required, although when it comes to drainage, this can sometimes be challenging depending on where the existing drain runs are and could involve a fair amount of cost.
With some properties, the electric meter and/or boiler is sometimes installed in the garage which can cause issues with how you plan on using the space and may require either or both of them to be moved, again, at sometimes considerable costs.
Depending on the age and type of consumer unit (or fuse board) you have, this may also need to be upgraded if additional circuits need to be added.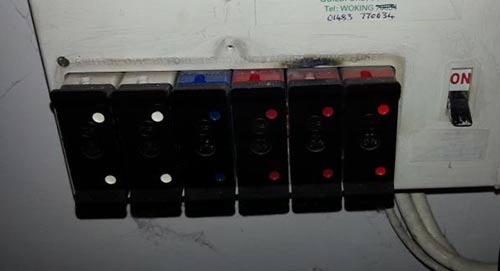 In a similar vein, if you are extending your existing central heating or hot water system into your newly converted area then it may be that your boiler or current heating/hot water system will need replacing as the additional demand imposed on it will be too much.
In the case that you are converting a detached garage, running new electric, water and drainage (if needed) can be a real nightmare as often they will need to be run underground meaning digging trenches etc, again at substantial costs and levels of inconvenience.
In situations like these (especially when it coms to heating), it is often much easier (and sometimes cheaper) to install a separate boiler specifically for your newly converted space.
Note: Any electrical work will need to be carried out by a Part P registered electrician and any work to your heating system should be carried out by a qualified plumber or a gas safe engineer when it comes to boilers.
Fire Safety and Escape Route Considerations
As with any conversion, renovation or extension project where new living spaces are created, ensuring that any inhabitants can safely exit the existing and new areas in the event of a fire is a top priority.
If you are only converting part of your garage e.g. the rear two thirds and leaving the front third as a garage still then you will have to ensure that the dividing stud wall is fire-rated to 30 minutes.
One other rule to be aware of is that a window suitable for escape purposes will be required if the newly created room can only be accessed through another room.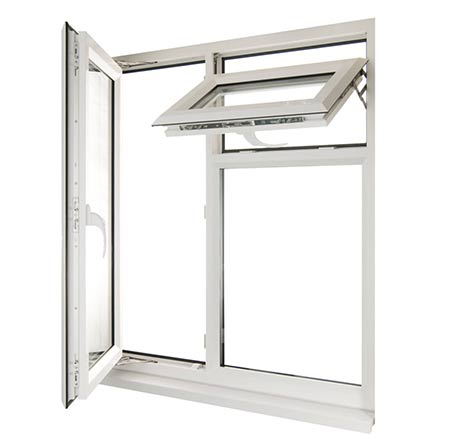 It is normally the case when a window is fitted as an infill in place of the garage door that it features at minimum one side opening section of at least 0.33m2. The opening section should also be at least 450mm in width and height and be no more than 1100mm above the floor.
One additional specification that may also apply is that you may also have to install mains connected fire alarms, but again, building control will be able to fully advise you of this or you can also refer to Approved Document B of the Building Regulations.
Weather Resistance
We have already touched on this area above in the section on "Existing Garage Foundations and Structure" section, but as it's fairly integral to the success of the project, it's worth confirming.
If the garage you are proposing to use has a single leaf wall construction, it must be treated to provide satisfactory resistance to the passage of moisture, e.g. any water that comes in contact with the outside of the wall must not be allowed to affect the interior.
A waterproofing compound applied on the internal wall faces and incorporated into a floor membrane may be an effective way of achieving this.
If however you are looking at constructing an inner cavity wall, it will require a cavity tray at the base of the wall and in most cases the cavity itself will require insulation to be added.
A garage conversion is a great solution if you want to increase your living space but you have a very strict budget to work with, as long as your existing garage structure is up to the job, but if not then costs can quickly escalate and what once seemed like a fairly straightforward project can quickly become unrealistic, so it's important to carry out all required checks so that you know what you're getting into.