In 99% of cases, to be thinking about installing a new fireplace means there has been, or is, an existing fireplace in the property. In some cases it is simply a matter of taking out the old fireplace and fitting the new but there are some very important points which need to be taken note of.
If your old fireplace has been blocked off ( see our opening and closing a fireplace project) it can usually be reinstated but you will need to get the chimney and flue checked thoroughly first.
A chimney sweep is a good person to call as we would always recommend getting any chimney cleaned first. Sweeps will be able to tell you the condition of your existing chimney and whether or not you may be able to proceed without the expense of installing a flue liner.
A CORGI registered plumber can check the flue for leaks and will run a smoke test to see if the fire will operate as it should.
The hearth of your new fireplace is actually covered by building regulations and not every new fire comes with a hearth. A constructional hearth should be made of solid, non-combustible material such as concrete or masonry at least 125mm thick.
No combustible material should be placed underneath a constructional hearth unless there is an air space of 50mm or more or the combustible material is at least 250mm below the top of the hearth. A finished/decorative hearth should be at least 12mm thick and made of non-combustible board/sheet material or tiles.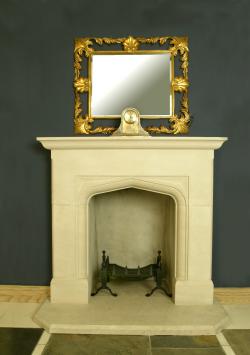 To make sure the fire draws properly, a chimney height of 4.5m or over is usual. In order to provide stability, masonry chimneys should be tied to, or supported by, adjoining walls of the building. The masonry should be suitable brick, medium weight blocks or stone and mortar jointed.
The minimum wall thickness of a masonry chimney is 100mm or 200mmm to another compartment or dwelling Combustibles must be at least 200mm away from the inside face of the flue liner or have a 40mm air gap from the outside face of the chimney.
The fireplace recess should be constructed of solid non-combustible material. Internal solid walls and jambs should be at least 200mm thick and cavity walls should have at least 100mm thick leaves and 50mm cavity. Material in the cavity behind the fireplace should be non-combustible.
For an open fire the fireplace recess should be at least 350mm deep. For burning solid fuel, regulations suggest a minimum recess size of 500mm by 550mm using 200mm diameter liners and a flue cross sectional area of 15% of the face area of the fireplace opening.
A chimney should be designed and built by a competent person with knowledge of regulations and building practices. The detailed requirements are set out for England and Wales in Approved Document J 2002 (ADJ). See our project on building regulations for more information.
When your chimney is deemed to be ok its time to fit the fire. A fantastic choice of fires is available these days, including gel fires.