Polished plaster, or Venetian plaster as it also known today, dates back thousands of years. Excavations on the Island of Malta have revealed plaster-decor work dating back to 3000 BC.
This is a very special, natural plaster made with lime putty. It has been used extensively by the Ancient Egyptians and Greeks from about 900BC to produce unique wall finishes for public buildings and domestic rooms alike.
Also known as Marmorino, Spatulato, Marble plaster, Italian plaster or Stucco Veneziano, polished plaster really hit the headlines when an Italian architect called Andrea Palladio (1508 – 1580) gave the finish a rebirth in Italy.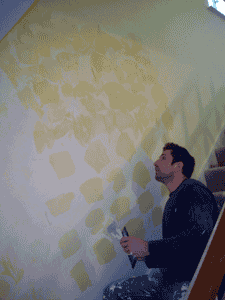 Obviously the "recipes" for Polished plaster are very old and, if done in the correct, traditional way, will not include any synthetic products however some more modern polished plaster materials do include synthetic additives.
Polished plaster should be composed of lime putty and natural pigments mixed with dust from natural stone such as marble.
The finished work can be composed of hundreds of different colours and many different patterns e.g. smooth, pitted, dragged and distressed. Stenciling techniques can be used on top of Venetian plasters. It is possible to also create a banding effect or that of brick and blockwork depending on your tastes and requirements.
Polished plaster is exactly what it says. A highly polished finish which can be used on many surfaces.
It can be waxed to repel water in bathrooms and even shower rooms. The plaster is applied in (usually) 3 thin coats, which can be of differing colours, to give a depth, and sometimes textured effect to the work not felt in any kind of normal plastering.
Surfaces can appear beautifully marbled with the darker colours giving deep marbled vein effects which shine to a wonderful luster. Many colours can be used and the best of these colours are, in our opinion, natural pigments. There are hundreds of colours in the Palladian range, please email for sample images to be sent.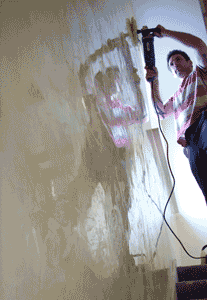 The surface to be finished by polished plastering must start very smooth indeed and, if necessary, be sanded down to remove any tiny little lumps ar scratches.
The finish of the plaster will depend on how well this is done. The plaster itself is then mixed to the required colour and applied to the wall in a very thin (1mm) coat.
This is done one small section at a time with the edges of one small section overlapping the next as each section is applied. This layer, when complete, is allowed to dry a little for about 4 hours.
It is made smooth again with a very fine grit paper and the next very thin coat applied. Again this is done is small sections at right angles to the last coat.
The type of finish chosen will be achieved by using one of many different techniques. Having dried once more the (usually) last coat is applied in the same way and when all coats are finished the surface is bought to a very high polish by rubbing with a plasterers trowel.
This is called burnishing. This is a highly skilled operation and we certainly do not recommend DIY involvement in this process as it can work out extremely expensive if a mess is made of the wall and it has to be over-plastered.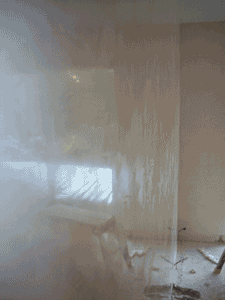 Please note the colours shown here cannot be accurately reproduced on your walls. Web colours vary.