Moss, in itself, is not particularly harmful to either man nor beast and despite popular opinion, it does not kill off grass, however, if any patch of grass starts to receed or die off, then moss can move in to take it's place.
If you are after "the perfect lawn", then any trace of moss or a similar growth is certainly not required, but in actual fact, in recent years, many people have started to embrace moss growth as it is in fact quite appealing, especially during the summer months.
It's not only grassy areas that are subject to the growth of this plant. When moss pollinates, it sends it's spores and seed far and wide and many can end up on roofs and other areas where it can easily take root and grow.
Some mosses can also provide a valuable service to your lawn. Where any bare patches are present, the exposed soil can easily be eroded or washed away. When moss grows over the bare soil, it prevents the erosion from occurring, helping to keep the area intact.
Another benefit of moss is that it can be a great indicator as to the quality of your soil and it's ability to sustain growth. As we have said, moss tends to move in when other plant-life such as grass is struggling. This can point to the fact that your soil is of low quality.
If indeed the growth of such vegetation is an absolute no-no for you, either on your lawn, roof or other area then there are several methods of removing it, read on below.
What Causes Moss to Grow?
There are several reasons why moss decides to grow in a certain location, these can include:
Poor quality soil with low nutrient content
Lack of drainage creating waterlogged areas
Too much shade
Low PH levels creating acidic soil
Poor Quality Soil
As we have established, moss does not kill off grass but it does move in to take it's place when it can't grow.
The fact that grass is unable to grow in certain areas of your lawn or indeed across your whole lawn could be a good indicator that your soil is of poor quality and lacks the nutrients that most grasses need in order to grow.
You might be asking yourself; how can I test my soil type? Well, there is only one way to do this and that is either buy a kit and test it yourself or send it off to a professional company to do it for you.
If you choose to go down the company route then a list of reputable companies and soil testing labs can be found on the Soil Association website here.
Professional testing can be very expensive and if you can't stump up the cost of this, then there are plenty of DIY kits you can buy. Just make sure you look for a kit that will test for all the major nutrient types. Somewhere in the kit instruction/description it should state "N, P, K and pH".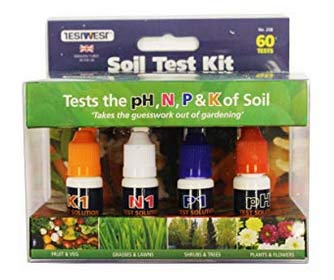 Once you have tested your soil in accordance to the instruction provided with the kit, it should then tell you what your soil is lacking, if anything and once you know what this is you can then go about searching for a suitable fertilizer or additive.
Poor Drainage
Moss just loves damp and moist conditions. It just loves plenty of water and in places where this is readily available, it will surely grow and thrive.
There can be quite a few reasons why water may collect and sit in a certain area. In respect to lawns, poor drainage is normally due to the fact that you have a heavy, clay-type soil.
Soil with a high clay content drains very slowly due to its dense nature. Due to this slow drainage, water can easily collect and build up, especially in damp and wet climates and we do get plenty of rain in the UK!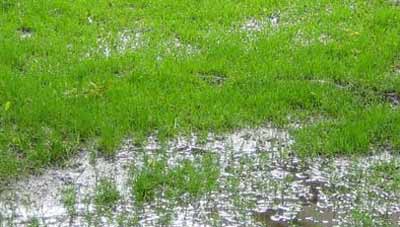 With this in mind, you may be thinking; How do I know if I have clay in my soil? Again, you can test for this, but a quick, normally fairly reliable method is to dig out a small sample and with the soil in your hand try to roll it into a ball.
After doing so, if you end up with a smooth, ball shaped object that supports itself and doesn't fall apart, then this is a good sign your soil is clayey.
If it falls apart then this is a good sign your soil is sandy or quite silty but if it holds for a while and then begins to crumble, your soil is most likely quite loamy.
A peat-based soil will be quite moist and loose and, again, will not support itself when rolled into a ball.
In most cases we will be dealing with clay soil and when it comes to a solution for this, unfortunately, there isn't really any form of "quick fix".
Essentially what you need to do is to introduce something to help break it up and when it comes to this, compost or a similar organic matter such as well-rotted manure is the ideal material (more information on this can be found here).
Another reason for pooling and puddling can be down to the fact that your grass and soil has become far too compacted and has become so dense that water can no longer effectively drain through it.
This normally occurs in areas that experience heavy or sustained footfall or traffic
If you have people constantly walking over area grassy or soil area, the constant "thud, thud, thud" can act in the same way as a whacker plate or similar compacting device that crushes the top layers of soil together so tightly water can no longer drain through it.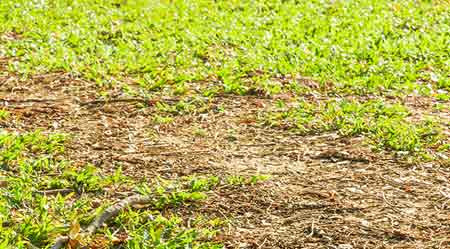 The solution to this issue is to aerate. This is the process of allowing your grass and soil to breathe by punching many small holes in the top layer. For this you can use a garden fork or specialist spiked shoes. A full explanation can be found in our aerating a lawn project here.
In some more extreme cases, simply "spiking" the grass and soil is not enough and you will need to perform core aeration. This is a similar process, but instead of spiking the surface, a special tool is used to remove small cores (tubular sections).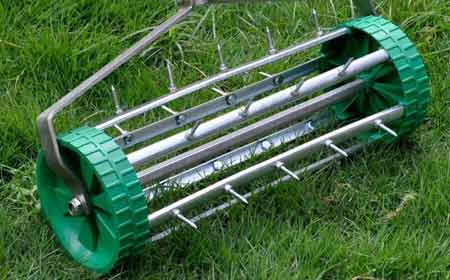 The holes that are left are much bigger than those from spiking and allow not only much better drainage but also more air to the grass roots and any additives that are added to get much deeper into the soil.
The final area that needs attention is the volume of "thatch" that has accumulated over the surface of your lawn.
Thatch is the term used to describe the layer of dead grass and leaves etc that can build up over the surface of a lawn. This can also include moss growth
In some cases this thatch layer can get so thick that it can prevent water from draining and cause it to sit and buildup on the surface.
The process of removing this buildup is called dethatching (or sometimes also called scarifying) and this is simply a matter of raking over the surface, making sure the tines (also known as prongs or teeth) are pushed well down into the surface in order to pull out any dead matter.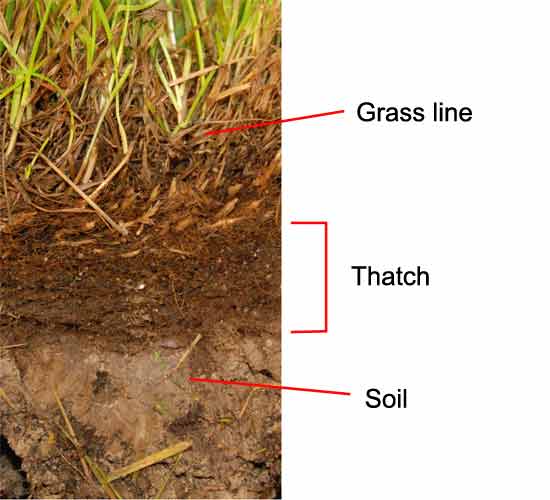 With this dense covering now removed, your grass should be able to drain and breathe much more efficiently.
In certain very extreme situations it may be the case that you simply have very poor drainage across your lawn area. In this case you may need to install a French drain or soakaway in order to deal with and remove the excess water. More info on this can be found in our French drain and soakaway project here.
Too Much Shade and Little Direct Sunlight
As we have already established, moss loves a moist and wet environment, but what it also loves is shade. Pair these two together and you have the ideal conditions for moss growth.
Aside from the correct drainage, aerating the soil and dethatching, the next job is to try and ensure that your grassy areas have plenty of sun light.
Again, as we have also mentioned, sometimes it's not the fact that moss is taking over your grass, it can be that you are not providing the best conditions for your grass to thrive in.
Most varieties of grass do not grow well in shade and if large parts of your lawn are obscured from the sun by large trees or sprawling shrubs then it's not going to grow well and what does grow is going to be weak.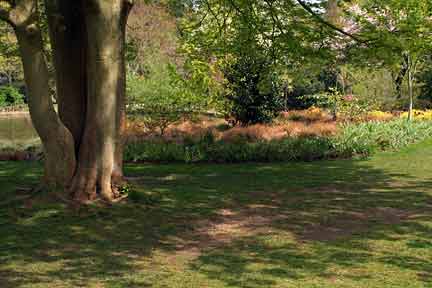 The solution here is if you haven't guessed, is to allow more sunlight into your garden. This will not only provide the fuel for your grass to grow much fuller and healthier but will also help to reduce overall moss growth.
If you have any large trees surrounding your garden then you may want to get these pruned or cut back, or even get a crown lift or have the crown thinned out.
Additionally, any large shrubs that you have growing you can also get trimmed up, especially those that have been allowed to get a bit "out of control".
In some cases it may just be the fact that you have a shaded garden that's surrounded by tall buildings or other structures or you may be located down in a deep valley. In these instances, short of moving house, there isn't really much you can do.
Your only real solution here is to grow grass that does well in shady conditions. Fescue grasses (tall and hard fescue) are ideal for this and cope well with not only shade, but lack of water and reduced nutrients. Ryegrass also performs quite well in shade.
Most DIY sheds and garden centres will sell boxed seed mix for shaded areas and other specialist seeds to cope with other challenging growing conditions.
Low pH Levels and Acidic Soil
As we have already covered above, the quality of your soil plays a big part in what can actually grow in it.
Grass grows well and thrives in alkaline soil, whereas moss loves acidic soil.
With this information in mind, the ideal state to reach is a neutral pH reading of around 6.5 – 7 so that it's neither acidic or alkaline.
As with testing the quality of your soil above, the best way to do this is with a soil pH testing kit. There are many available online or they can also be purchased from your local DIY store or garden centre.
If after testing you find your soil to be too acidic you will need to raise the pH level slightly towards the neutral point. For this you can use a calcium-based gardeners lime or agricultural lime as it is also be known.
If you find your soil to be too alkali you will need to lower the pH level. For this you will need to use a nitrogen-based fertilizer or soil conditioner. This will allow fine adjustment of the soil pH level.
To lower the pH level more substantially you will need to use a sulphur-based substance.
Obviously the level of additive you use needs to be calculated accurately as if you use too much to can seriously damage it, making any original issues you had even worse.
After all of the above info, you might be thinking, why is soil pH so important? In answer to this it is linked to the nutrition that is available to plants and these levels affect how soluble these nutrients actually are which in turn affects how they can be absorbed by any plants roots.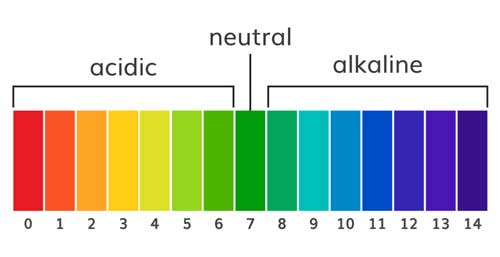 How to Remove Moss
Now that we have looked at what causes moss growth in the first place and how we can best remedy this by looking at the root cause and actually ensuring our soil is in tip-top condition to enable grass and other such plants to thrive in the first place.
If, however, you are unable to prevent the initial growth and you have a substantial buildup already, you will want to now get rid of it.
Getting Rid of Moss From a Lawn Using Chemicals
When it comes to removing moss from a lawn, there are essentially three options – manually remove it, use a machine or use use chemicals.
In terms of which is the preferred method, using chemicals will obviously be the quickest and easiest, but quick and easy isn't always best.
The addition of any form of chemical, no matter if the manufacturer states that it's okay to use around borders and other living things (including kids and pets), at the end of the day, it's still a chemical that you're introducing.
We would always recommend the most natural and green solution, even if it does involve some hard work. But that said, sometimes chemicals are the only option available to you.
If this is the case then the most effective tend to be (but not always) the glyphosate herbicides. In most cases they will do the job but these are pretty nasty!
In terms of how they work, they are sprayed or applied to the leaf area and are then absorbed and work their way down to the root system killing it from here.
As you might imagine, you should only use chemicals like these in an isolated area as if you have grass or plant life surrounding the item you're trying to kill, chances are that it will get onto these and kill them also.
Additionally, they can also potentially contaminate the soil, making it hard to grow anything in the future.
you should also only really use them under dry conditions as if it rains, it will simply wash the chemicals off.
Other herbicides that can be used to remove moss are the sulfate-based herbicides. These include ferrous (iron) sulfate and also copper and ammonium sulfate. These aren't too common but can be obtained and do tend to be quite effective.
Standard household bleach is also pretty effective, but does need to be diluted down using fresh water as, similar to the glyphosate, neat bleach will kill anything that it gets on to, including staining some paving/patio slabs.
Watering it down will in most cases avoid these issues, whilst still allowing it to get to work on the moss.
After applying a bleach-based killer, the moss itself will turn white to signify it's dead!
It is also possible to buy specialist moss killers from your local garden centre, DIY store or online, some of which are fairly eco friendly in terms of the fact that they are biodegradable and safe for use around kids and pets.
As with any chemical, before using it, always refer to the manufacturers usage instructions on the packaging and read them in full! Also, when applying any chemical, make sure it's only applied to the area that you want to affect.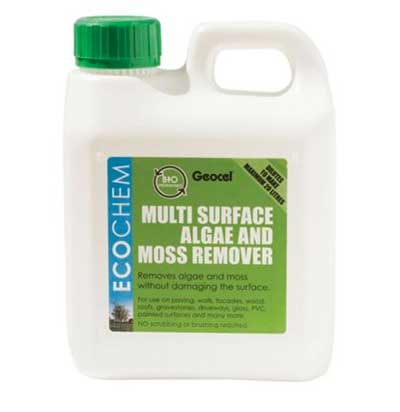 Another solution to removing moss, and in all honesty one of teh best and most effective can be to use cryptocidal soaps. What are these I hear you ask! Well, simply put they are just dish soaps, otherwise known as washing up liquid!
Cryptocidal soap (washing up liquid) is in it's nature organic and therefore does not affect tarmac, patio slabs, metallic objects or grass, so it's safe to use around any of these objects.
To make your own DIY moss killing solution, the mix is essentially around 20ml of washing up liquid per litre of water.
Depending on the area that you are working with will depend how much you need, so make your solutions accordingly.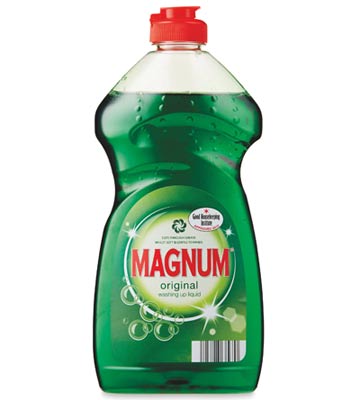 To apply it over a large area, the best tool to use is a garden sprayer or backpack sprayer. Fill the sprayer up and then systematically cover the required area, giving all the moss a good soaking by holding the spray nozzle around an inch from its surface.
For smaller areas you can use a rose sprayer.
After application, it will take around 24 hours for the soap to act on the moss. During this time, the moss itself will turn an orangey brown colour, signifying that it's on it's way out!
Which ever chemical-based method you have chosen to dispatch your moss, once it's dead you can then simply rake it up to remove it!
Getting Rid of Moss From a Lawn Manually
Manually removal through raking or scarifying/dethatching is quite hard work, but in all honesty is the preferred method as, although the use of "safe" chemicals should cause no harm to other organisms, they are still chemicals!
With this in mind, we would always recommend doing it manually. Aside form fixing your moss problem, the fresh air and excerise is certainly good for you!
To manually remove your moss, you have two solutions:
Using a rake
Using a scarifier
Most people will have a rake handy, so this is normally the tool of choice. Simply rake over the mossy areas of your lawn, making sure that you dig the rake down through the moss and thatch to the soil below.
Use the rake to then remove all the moss and organic matter until you are left with what is essentially a bald patch in your lawn.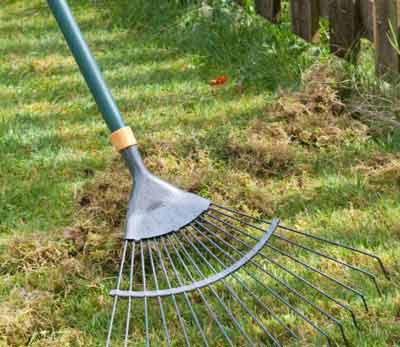 A specialist scarifier looks a little like a lawn mower. More often than not, it will also incorporate an aerator so that you can aerate your lawn as you scarify it, but this will depend on the make and model of your machine.
In terms of using this type of machine, it works in very much the same way as some lawn mowers. A rotating cylinder that has lots of thin spikes on it, rotate as you push it over the surface of your lawn.
The thin wires act like a rake over the surface, ripping up any moss or thatch.
When it comes to a scarifying machine, they are available as either a manual push machine or electric powered.
If you only have a small area to do, they it's probably best to go with the rake option, but if you have quite a lot of ground to cover, then a machine may be the way to go.
In the case of raking, once you have gone over the entire surface and removed any moss and organic matter then you will need to collect it all up and dispose of it.
If however you have used a machine, most feature a collection bag so it should simply be a matter of emptying the bag once your done!
Once the Moss has Died off, how Should I Treat the Remaining Bare Patch?
With all your moss removed, it's now time to repair any damage.
If you have removed some fairly sizable patches of moss, then your lawn will probably be left looking rather thin.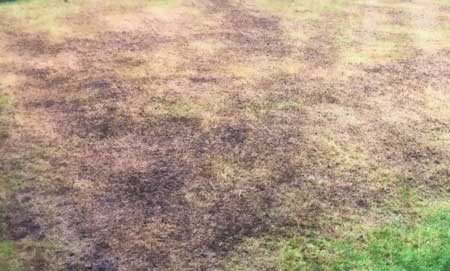 If so, it's now time to repair the damage by replanting some new grass.
Unfortunately it's quite as simple as just chucking down soem seed and hoping it grows, as in most cases it probably won't and the moss will re-grow and you'll be back to square one again.
To ensure that your seed stands a good chance of establishing itself, scatter a good covering over the bald area and then cover the seed with about 10mm of decent compost. This will protect the seed until it's had a chance to germinate and get itself established.
Also, make sure you dampen the area well, but don't soak it as this could wash all the compost and seed away. Ensure also that it's kept damp all the way up until it's shooting up.
On thing to remember also is to use suitable seed for the area you're planting in. If you are planting in the shade, use grass that can cope with these conditions.
It's also worth remembering that it's a good idea to use some nitrogen-rich fertilizer on any areas of grass that struggles with tricky growing conditions.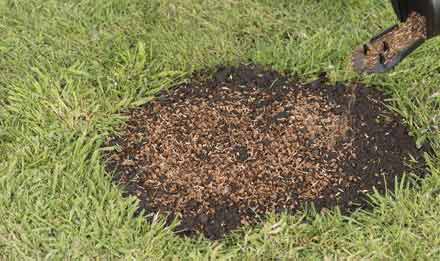 Getting Rid of Moss From a Roof
It's not just lawns that are subject to moss growth, roofs get their fair share also. As we briefly touched on above, during pollination season, moss sends it's seeds and spores out and many of these end up on roofs and then take root and grow.
On looking at most roofs you may notice that any moss is really only present on one side, the north facing side. Again, this is due to the fact that moss loves damp and shaded areas and the north side of s roof always tends to be shaded and due to this damped that it's south facing counterpart.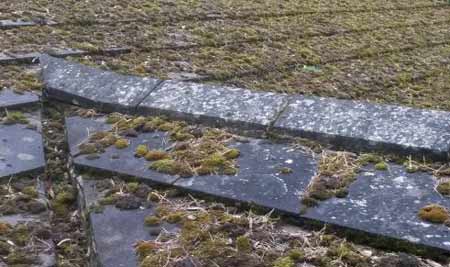 A few common questions we regularly hear are; should I remove moss from my roof? and also; Is it bad to have moss growing on your roof?
In answer to the second question – moss does not necessarily do any harm to a standard pitched roof constructed of clay or concrete tiles, although it can in fact damage felt covered roofs (normally flat roofs) and the similar over time.
Additionally, as moss absorbs a fair amount of water, any that collects on or close to the edges of tiles can cause capillary action to suck some of that water back up under and into the area beneath them.
This water and moisture can then easily get onto timbers and other areas with your loft space cause rot, decay and other costly damage.
As moss retains a lot of water, when temperatures drop and that water freezes, this can also cause a fair amount of damage through freeze thaw action if it is allowed to get into any cracks.
Although this scenario is pretty uncommon and questioned as to whether this is indeed fact by quite a few, it can happen so it needs to be considered.
Coming back to the first question, if you do have a fair amount of moss growth on your roof then it is probably worth removing it, if for no other reason than preventing it from falling into your gutters and blocking them (note: if you do have a lot of moss in your gutters, checkout our gutter cleaning project here).
With the above in mind, if you have decided that you want to remove the moss on your roof, you have several options to do this:
Brushing Moss off of a Roof
If you have ever removed moss from a roof tile or any solid concrete-type object you'll know that it comes off quite easily.
With this in mind, a stiff brush can easily dislodge moss from a roof. Specialist roof brushes with extendable handles can be purchased suited specifically for this job or something like a stiff decking brush on an extendable pole can also be used. Don't be tempted to use metal scrapers as these can cause substantial damage.
When it comes to actually accessing the roof to clean it, this is best done by using the most stable, secure method possible. If you have access to any tower scaffold or a work platform, this is certainly the best way to go, but if not a ladder will be suitable.
If using a ladder, safety is of paramount importance! See our ladder safety project here for more details. You will also need to use a ladder standoff to ensure that it's propped suitably away from the eaves and you won't be leaning it against the guttering.
When brushing, always brush down the roof as if you brush upwards you can easily damage or dislodge tiles.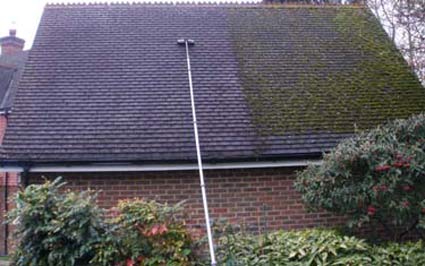 As you brush the moss down the roof, collect it all up in a bag or bucket, making sure you remove it all from your gutters as you don't want them getting blocked up.
With a long enough pole and brush, it is possible to do this job from the ground, without the need to access the roof. Again, specially suited products can be purchased to help with this.
Wash it Down With Bleach or Chemical Moss Remover
This method of moss removal from a roof is fairly tricky without specialist equipment and will also ideally require access to the actual roof.
Unless you have the specialist equipment needed for accessing and working on a roof or indeed the knowledge of how to do this safely, we would certainly not recommend attempting this solution.
As with the method outlined above for removing moss from a lawn using a liquid, a moss-killing solution is sprayed over the roof area that then in turn kills off the moss.
Using potentially dangerous chemicals at height adds even more risk as they can easily come pouring down on an unsuspecting pedestrian or even on yourself, so our recommendation would be to avoid this solution.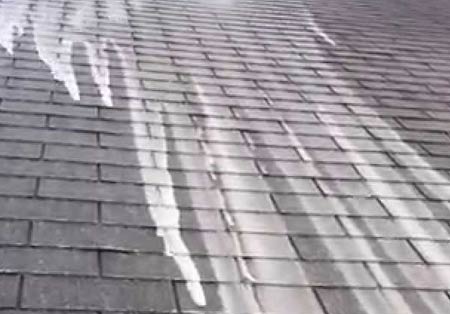 Use a Pressure Washer
It's also possible to use a pressure washer or steam cleaner to take the moss off of a roof.
These particular tools squirt water out under high pressure and due to this, will make short work of any moss growth.
This does however come with a fair few risks, first being that due to the length of pressure hoses and effective reach from the lance, you will most probably need to physically be on the roof to spray the moss off.
Walking over a roof is dangerous enough let alone when it's wet and slippery!
Additionally, you will also have to work down the roof. Forcing pressurized water upwards will inevitably force it under the tiles, not only potentially damaging them but also obviously forcing water into your loft space that could then create a whole host of separate issues.
All in all, the only solution we would recommend is brushing to remove moss form a roof, preferably done from the ground.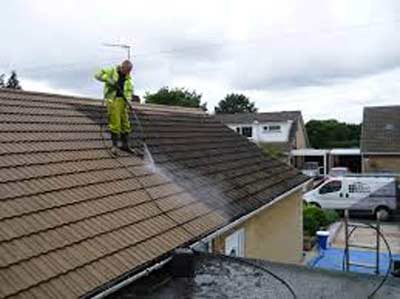 Preventing Moss From Re-Growing on Roofs
Once you have removed your roof moss, you will want to ensure that it doesn't come back too quickly. Inevitably it will most likely reappear again at some point but if you can delay this then all the better.
As with lawns and grassy areas, the best way of stopping moss re-growing is to remove or limit the conditions that it loves to grow in.
Unfortunately you can't do much about north-facing roof faces as you can't dictate where the sun appears, but what you can do is to trim back any trees, bushes or large shrubs that may be creating overly shaded areas.
By doing this you should hopefully reduce the ability for moss to thrive.
Removing moss from either lawns or roofs can be a bit of a tedious job, but as we have seen, the best way of actually removing it is to stop it growing in the first place.