Drainage in pretty much every situation be it domestic or industrial, water or waste is a critical thing.
Without correct drainage, unwanted water or waste can sit and buildup and cause numerous problems.
One of the most effective and easy to make types of drain is the French Drain, so find out all about how they are made and used below.
What Is A French Drain?
A French drain is simply a small trench, dug to a gradient, and filled with aggregate, that will allow surface water to drain away from your walls, a building, driveway, garden or area that is prone to surface water pooling, or is vulnerable to flash flooding.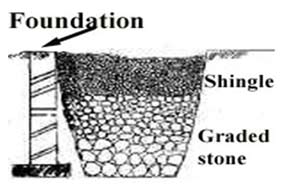 How To Drain Surface Water
A French drain is ideal for carrying away surface water which builds up around walls, on driveways or in waterlogged areas of a lawn or garden.
It is a relatively simple and cost effective way of draining land, and it does not require specialist tools or complicated equipment.
The main considerations are: where to dig the trench; and where to drain the excess water to.
Rainwater and runoff should not be directed into foul water drainage. Read more on the difference between foul and surface water drainage in our guide which contains important information to prevent you polluting rivers and streams with sewage or harmful chemicals.
You should check whether you need building regulations for your planned drainage system – see more about building regulations and rainwater drainage.
How To Make A French Drain
After digging the French drain trench to the required width and size it is filled with graded stones – from fine shingle on the top to large rubble on the bottom. This aids the flow of water and filters out debris.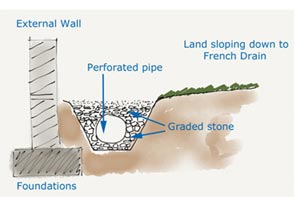 You can also install a perforated drainage pipe in the bottom of the trench. Using a perforated pipe allows small amounts of water to soak into the ground, but carries larger quantities of water away more quickly to help with flash flooding.
French Drains – How They Work
The drainage should be installed at a low point in the affected area to allow it to drain surface water away to storm drain, or a Soakaway.
Water will always find its way to the lowest point in the landscape, so it is common sense that the area most affected is the place you should build your French drain.
For a guide to building a soakaway including an image showing soakaway design, go to our Soakaway project.
When Can I Use a French Drain?
You can use a French Drain in most areas, however before you install a French drainage system you should check that all your other surface water drainage systems are working properly and are not blocked or broken.
Make sure your rainwater pipes and gullies are free–flowing and are properly connected to a mains drain or Soakaway.
A French drain is not intended to replace existing surface water drains. However French drains are useful where water tends to build up against walls and buildings.
They allow the water to seep away into the ground rather than affecting the stone or brick of the building or walls they are protecting.
On entering the trench the water will have to run to a suitable drain–off point, and in most cases this is a soakaway or watercourse.
If a wall has been continually soaked by water pooling against the building then a French drain will also allow the water to evaporate from the wall and dry it out, during drier periods.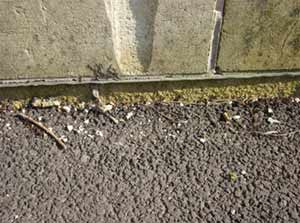 Installing A French Drain
The usual reason for installing drainage is to relieve a build'up of water against a house wall.
Allowing water to pool against an external wall may manifest itself in the form of rising damp, decaying brickwork and crumbling mortar joints. This is particularly relevant where you have an older property.
For more information on how to create a French drain see our Step By Step Guide to Building a French Drain.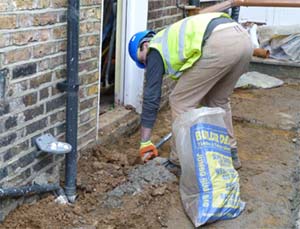 How Do I Build A French Drain?
A French drain should be no deeper than the foundations of a building and, in the case of older buildings, the side of the trench should slope away from the building at no less than 45 degrees. This is to maintain the lateral support of the foundations by the ground surrounding them.
If the foundations of the building are very shallow then the French drain should be constructed at a minimum of 1 meter away from the building.
The surface of the drain may be covered with topsoil to match the surrounding areas, but a layer of weed fabric is recommended for the reasons given above.
Will A French Drain Solve A Damp Problem?
We feel duty–bound to warn you that it is possible that there can be a danger of a French drain functioning rather too well and drying out the earth surrounding the house completely, which may lead to settlement of the foundations.
However a French drain may not solve the problem of damp totally and other means of controlling the water may need to be found in addition to the drain i.e. Insertion of a damp proof course, or tanking.
You can also treat the external wall with a damp sealant like Technoseal (pictured below), but you should apply this while the wall is dry, so after a warm dry spell of weather has dried out the masonry.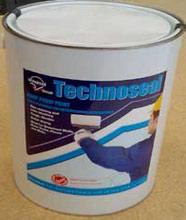 To make the drain more effective you can use Geotextile Membrane along the wall and leading down into the drain to protect the wall from surface water by directing it down the wall and into the drain.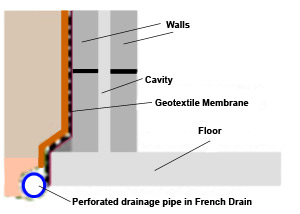 French Drain Cleaning And Maintenance
The life of your French drainage system may be temporary because of a tendency for the shingle and stone to get clogged up with earth.
When you are including a perforated land drain pipe in the bottom you can make maintenance easier by using weed fabric from a garden centre, DIY store or builders' merchants.
A layer of this weed fabric may be inserted into and across the trench to ensure longer life by stopping the 'fines' or fine particles which come from the earth and stone, clogging the pipe and drain.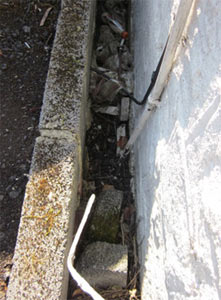 If a perforated drain pipe is added to the French Drain it should be regularly monitored and maintained to make sure it is working effectively. This may include regular rodding of the pipe work. So regular rodding 'eyes' should be included in the run, and a small access chamber should be included where there is a change of direction.
We also recommend similar maintenance of your other surface water drains. The NADC – National Association of Drainage Contractors has more information about drainage on their website.