The petrol cut-off saw is an incredibly useful tool and is the staple "go-to" machine to use on building and construction sites when it comes to cutting a wide variety of materials such as concrete, steel, ashpalt, masonry and many others.
Depending on your location, you might know them under a different name such as stone saw, disc cutter, concrete saw, wet saw and (although a particular brand name of a cut-off saw) the Stihl saw.
If you need to cut any type of concrete, stone or similar tough material then make it easy on yourself by using the correct tool for the job. Read on to find out all you need to know about using petrol cut-off saws.
What is a Petrol Cut Off Saw and What's it Used for?
As we have touched on above, the cut-off saw is the tool that the pro's use on site for any heavy cutting, whether it's concrete, steel, asphalt, cast iron etc. With it's powerful petrol driven engine and correct cutting disc for the job at hand, there isn't much that this machine cannot cut through.
Out on site, the majority of work undertaken by this saw is cutting bricks, blocks and paving slabs to size and shape.
There are other tools that are capable of undertaking similar work such as the angle grinder but in general, they're no where near as quick and efficient.
On a domestic level, if you are undertaking a fairly large DIY job such as building a retaining wall, laying a new patio or even building your own extension, as mentioned, you can use an angle grinder, but in all honesty it's well worth hiring a cut-off saw from your local hire centre as it will save you a huge amount in cutting time.
Before we look at how to use a cut-off saw, lets take a minute to find out exactly what they look like and the different features that you need to be aware of.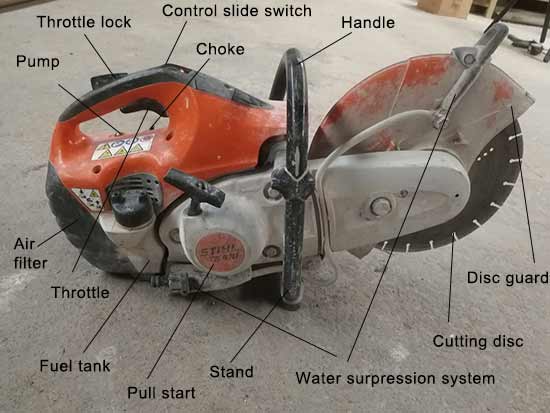 In the image above you can see all of the different parts of a cut-off saw. We have kept to the most relevant items which are essentially the ones you need to know about to easily and safely operate the cut-off saw. Here follows a more in-depth explanation of each and what it does:
Cutting Blade: Driven by the engine, the cutting blade rotates at high speed in order to cut your chosen object. Available in a range of different types for cutting different materials (more on this below)
Blade Guard: The blade guard shields the areas of the blade that don't perform any cutting while its rotating from causing injury to the operator and anyone else around them
Water Dispenser: A dust suppression water bottle can be attached that pumps water over the cutting blade as it cut's in order to reduce dust
Carrying Handle and Rest: The rest forms the base of the saw and ensures it sits flat and level while it's running and also not in use, while the handle allows the saw to be easily transported and safely operated
Throttle and Throttle Lock: The throttle lock prevents the throttle from being accidentally pressed, while the throttle itself allows the user to rev the engine, increasing the rotational speed of the cutting disc
Choke: When starting a cut-off saw form cold, engaging the choke increases the fuel to air ratio allowing the engine to start easier
Pull Start: The saw operator pulls on the pull start, which in turn, turns the engine over allowing it to start
Fuel Tank: Stores fuel for use by the engine. A screw on cap holds the fuel in the tank, preventing it from spilling
On/Off Switch: Allows the cut-off saw to be started and turned off
Engine: The engine supplies the power that turns the cutting disc
Drive Belt Tensioner: In order for the cutting disc to rotate, it is driven by the engine via a drive belt. The drive belt itself can be slackened or tightened via the drive belt tensioner
Anti-vibration mechanism: The act of the engine running and disc rotating causes vibrations. This system reduces any vibrations that are passed on to the operator
Decompressor: The decompressor, once pressed, releases some of the compression from the engine, making the saw easier to start. Once started, the decompressor valve closes ensuring the engine has full compression
Air Filter: Situated on the rear, the air filter filters dust and debris from the air that passes into the induction system for the engine. The filter needs to be cleaned and maintained regularly to ensure the engine is not starved of oxygen
Fuel Pump/Purging/bulb Pump: Pressing this small plunger draws fresh fuel into the carburetor, helping the saw to start easier when it's cold. Additionally, for warm starts, the pump draws out warm fuel that can sometimes make starting the saw difficult and replaces it with fresh cold fuel
Types of Cutting Discs and Wheels for Petrol Cut-Off Saws
Essentially, there are two types of cutting disc or wheel for a cut-off saw; composite/abrasive discs and segmented diamond discs.
Composite/abrasive discs are in most cases made of a synthetic resin whereas diamond discs feature a steel centre with metal bond segments (a composite of metals designed to wear at specific rates) and, as you may have guessed, diamonds embedded in the bonds.
composite discs can in most cases (unless stated by their given manufacturer) cut the following materials:
Steel
Concrete
Natural stone
Cast iron pipes
Asphalt
Bricks and blocks
If you have been using a composite cutting disc with water, once you have completed the current job, dispose of the disc and do not be tempted to use it again. As the disc dries out, it can warp and misshape causing failure if used in the future.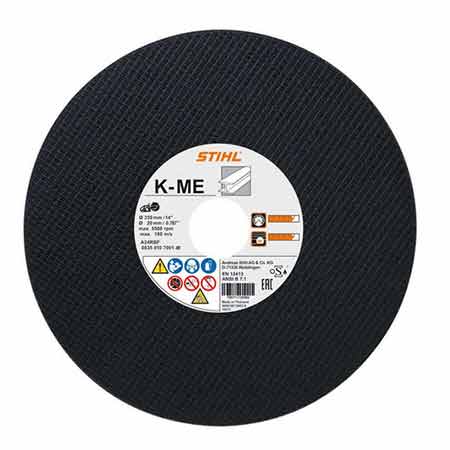 As for the segmented diamond-tipped discs they can in most cases cut the following materials:
Clay – including bricks and pipes
Natural stone
Concrete and reinforced concrete
Granite and marble
Asphalt
Hard and abrasive materials
Note: It is a worthy point to note that there are in fact several different types of diamond disc (these differ in the methods used to attach the diamonds to the segments); the lower quality vacuum brazed and sintered attachment blades and the higher quality laser welded.
In general, the lower quality blades are suited to cutting softer items such as concrete, asphalt etc. whereas the higher-quality laser welded blades can be used on much tougher and thicker items at higher speeds.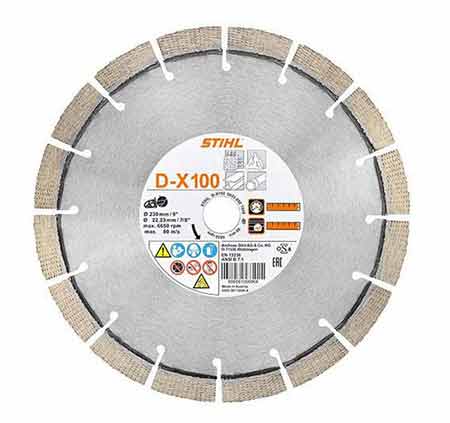 Whether you're using composite or diamond-tipped discs, before actually fitting them into a cut-off saw and using them you should fully inspect their condition. If you find any of the following, do not be tempted to use it. Throw it away and get another one free of any damage:
If the disc is so worn that the retaining plates (or thrust washers) need to touch the item you are cutting to actually cut it
If there is mounting hole or arbour hole damage. The hole is misshaped then the disc will not be held firmly in place
If any areas of the disc are flat or out of shape. This will cause it to cut unevenly and could cause the saw itself to kick
If any of the segments of a segment blade are damaged. Again, this could cause the disc to cut unevenly, stick or kick out expectantly. Additionally, when the blade is rotating at full speed, the damaged segment could break off and fly off in any direction
If the edge of the blade is showing signs of discoloration due to overheating. Overheating can also cause warping and if a disc is out of shape, again it can easily stick, cause uneven cutting and the saw to kick out
Never use any disc that have been dropped. This can cause unseen damage, warping and hairline fractures in the disc increasing the risks that the blade could bind or disintegrate during use
Use the disk as it's intended – if you're using a wet cut disc it should be used with a water suppression system but if you have a dry cut disc it should be used dry with no water
When attaching a cutting blade to your cut-off saw, ensure the centre of the disc is fully in place and sitting flat down on the drive mounting of the saw.
Once in place pop the retaining washer (or thrust washer) onto the disc mount and screw it up finger tight. Once finger tight, use the spanner supplied with your saw to tighten the retaining nut as specified by your saws manufacturer.
As with many things today, you get what you pay for, and this sentiment is no different when it comes to cutting discs. With this in mind, always purchase the best quality discs that you can afford.
By this, we don't mean always get the most expensive diamond tipped discs, just ensure that any you do buy are made by a reputable manufacturer that can guarantee they have been produced to a certain standard.
You may think you've got a bargain if you buy ten for a fiver, but if they disintegrate during use and destroy everything in a 20 foot radius, including yourself and any bystanders, then maybe their not quite the bargain you thought they were!
Never use any form of circular saw or wood cutting blade or toothed blade in a cut-off saw! Only ever use cutting discs that are designed to be used in a cut-off saw.
So that you know you are using the correct disc, the manufacturer will print exactly what materials your given disc is designed to cut on the side of the disc itself.
Also, be aware of how the disc is designed to be used e.g. whether it's wet cut or dry cut and what the maximum rotational speeds are. This information should also be stated on the side of the cutter itself.
One final tip when it comes to diamond discs – If the disc looks like it's still got plenty of life left in it, but won't cut then there's a chance that the "bond" melted and covered the diamonds. To rectify this issue you will need to "dress" the blade.
To do this, simply cut up some abrasive objects such as bricks or concrete blocks to wear back the bond and expose a fresh diamond edge.
Buy or Hire a Petrol Cut-Off Saw?
The answer to this question really depends on how much you are going to use it.
If you work in the trades as a builder and spend your working days building extensions, whole houses, laying patios, performing ground works then the answer to this is also definitely a yes.
The addition of a cut-off saw to your arsenal of tools will be a huge bonus and despite the initial financial outlay (they are expensive), it would almost certainly pay for itself in no time.
However, if you are a keen DIY'er and don't spend your working days out onsite then it's probably not worth the expense. You would be better off just hiring one as and when you need it.
Health Implications of Using Petrol Cut-Off Saws
As with many things in the construction industry, there are health risks to be considered when using a tool of this nature. The first and most obvious one being the large and exposed cutting blade at the front that rotates at high speed!
If not treated with care and respect, any power tool with a cutting blade can cause serious injury if not in extreme cases, even death, so there are strict guidelines that need to be followed when using them.
When operating a petrol cut-off saw, the following points MUST be followed at all times:
Full training must be given before operating the tool. This includes use on site and also when hired from a hire shop (the hirer should provide full training before letting you walk out the door!)
Before use, check the saw over fully for any signs of damage or defects. If any are found do not use the saw until they have been repaired
Fully inspect the cutting disc for any signs of damage, hairline cracks and fractures, any damaged segments, damage to the inner core of the disc or the mounting hole, warping or heat damage. If in any doubt at all, do not use it, change it for a new one. If there is even slight damage, the high rotation speeds could cause it to explode, sending shrapnel flying in all directions that can cause serious injury or even fatalities
Do not use it if you don't have the required PPE (personal protection equipment) gear – see below for more information
Always place your saw down on a flat and level surface
Never try to speed up the run down time of the saw by slowing the disc with your hand
Ensure any bystanders are stood away from your working area and are also wearing the appropriate safety gear
Never try and cut an object using the wrong cutting disc
If the object you're cutting creates a lot of dust, make sure of the saws dust surppression system (if it has one)
Be aware at all times of kickback from the saw. If the disc gets pinched and jams in the object you're cutting it could throw the saw backwards towards you!
Similarly, depending on the point of the disc doing teh cutting, the tool may try and pull you forwards or "climb" the item you're working on
Never use the saw whilst standing on a ladder or similar unsteady surface
Always ensure a tight grip on the saw using both hands
Ensure you have a good footing and that your balance is maintained at all times
Never lean over the saw while it's running
Ensure the object you are cutting is fully supported at all times to prevent it closing in and pinching the disc
Never tilt the saw while in operation. You could warp or worse, even shatter the disc
Once finished your job, remove the disc and flat store it
if you feel any form of unusual vibration or any out of the ordinary noises, you should stop the saw immediately without exception, leave it to run down and then once fully stopped, inspect it fully before considering using it again
Never wear loose fitting clothing that could get caught in the saw. items that dangle down can easily get caught in the disc and can suck you in towards it potentially causing serious injury
If you're cutting an existing object or surface, make 100% sure there are no gas, water or electric pipes hidden within or any other similar items
Never cut into any object or surface that is not securely clamped or could be structurally affected by cutting into it
Additionally the following safety clothing should also be worn:
Leather, denim or other flame retardant clothing should be worn at all times. Cutting steel and similar objects can create sparks that can ignite flammable items of clothing
Sturdy work boots with steel/safety toecaps that are non-slip
Sturdy non-slip protective gloves
Shatterproof wrap around eye protection/safety goggles
Ear defenders
Hard hat
Suitable respirator/face mask for the material you are cutting
Aside from the dangers of the tool itself, the other major health implication is through the huge amounts of dust and microscopic fragments that are created during the cutting process.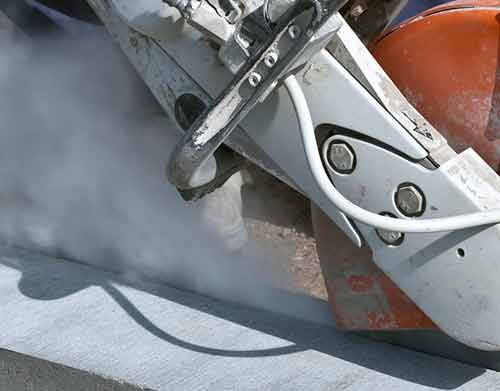 As we have mentioned, the main use of this particular tool is to cut concrete, bricks, blocks, asphalt etc. and many of these are made from stone, sand, crushed up rocks and some other items, all of which contain crystalline silica.
The dust created through cutting contains large amounts of this substance (also known as respirable crystalline silica or RCA for short).
RCA's have been linked to a great many serious health conditions such as lung cancer and silicosis as it penetrates deep down into your lungs once breathed in, so it is absolutely essential that the appropriate face mask or respirator is worn at all times.
One final point is that quite often, some old concrete pipework (and even some modern for insulation purposes) will contain asbestos, so it's imperative that you and anyone around is protected from any dust produced during cutting such items.
How to use a Petrol Cut-Off Saw
Now that we know exactly what a cut-off saw is, what it looks like and what it does it's time to look at how to prepare your work area and the object you're going to be working on, how to get the saw started and then how to use it.
Setting up Your Working Area
The first job is to locate somewhere suitable to carry out your cutting. This should be an area clear of any obstructions with plenty of room to move around easily and not bump into anything.
Ventilation is also essential – as we have mentioned above, dust is a massive problem and although most modern saws are fitted with dust surppression systems, in most cases they do not get all of it, so you need to be in a space where any dust that is present can easily disperse.
The ground should also be flat and level and allow the item you are working on to sit firmly without the chance of it rocking or moving.
You should also ensure that you can stand with your feet flat and level and that you can maintain a decent firm stance at all times.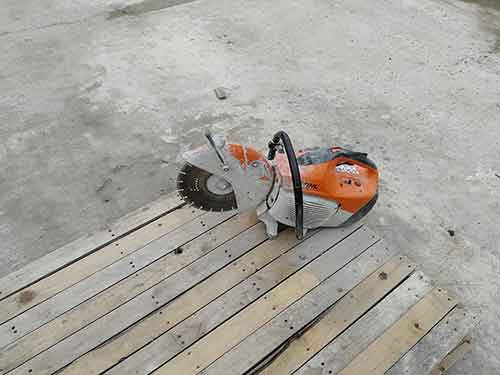 Check Saw Over
As we have stated in the points above, before starting and using a cut-off saw you should thoroughly check it over for any signs of damage or defects that could affect it's use.
This also goes for the cutting disc, if there is even the slightest chance that it could be damaged do not use it!. Replace it with a brand new one that you know is in top working order.
For a list of all the likely areas that need checking, see the "Health Implications" section above.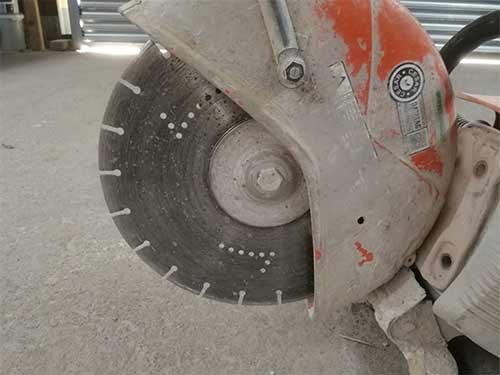 Mixing and Adding Fuel
If you are new petrol-powered tools and under the age of 30 then you might not be aware of the 2-stroke petrol engine.
With most engines, they feature a sump at the base that's filled with oil that lubricates the engine as it runs to prevent is ceasing up.
With the 2-stroke engine, special 2-stroke oil is mixed in with the petrol and as the engine uses and burns the petrol off, the 2-stroke oil that's left over is used to lubricate the engine.
With this in mind, it is absolutely essential that the correct amount of 2-stroke oil is added to the petrol before it's poured into the fuel tank.
The exact amount should be stated in the user manual that was supplied with your saw and if not, it's a good idea contact the manufacturer to find out.
In most cases this will be somewhere around 1:25 – 1 part oil to every 25 parts petrol (40ml of 2-stroke oil per litre of petrol), but as said, always ensure your ratios are correct.
The easiest item to use to get your mix ratio spot on is the 2-stroke mixing bottle (seen in the image below). The markings on the side indicate the exact points to fill each substance to and they are only a few pounds each, well worth the investment!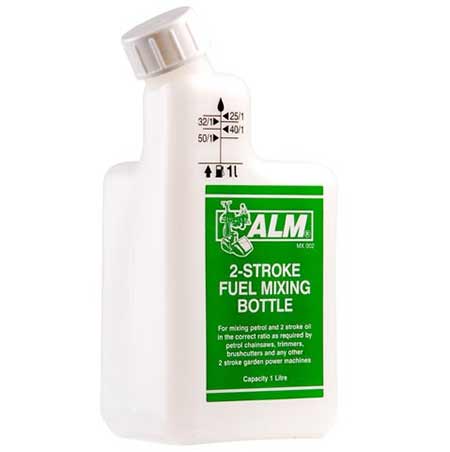 How do you Start a Petrol Cut-Off Saw
For this example we are using a Stihl TS410 cut-off saw. Although the below steps are specific to this particular tool, the majority of other saws on the market will involve a similar process to start (although some symbols may differ slightly) but should be used in the same way, with above guidelines in mind.
Before we run through the steps to start the saw, there are a few points to be aware of:
Most saws feature a throttle lock to ensure the throttle is never accidentally pressed. To allow the throttle to be pressed you will first need to squeeze the throttle lock in
You should only use the choke when starting the engine from cold
Before attempting to start the engine you will need to press the decompression valve button
Cold Starting a Cut-Off Saw
With one hand, press the throttle lock down and then squeeze the throttle in. With the other hand, slide the control slide switch down to START and hold it there with your thumb. Still holding in the "START" position, release the throttle and the throttle lock. The slide control should remain in the START position

Slide control switch moved into the START position ready to start cut-off saw

Move the choke lever to the cold start position

Choke moved into cold start position

Press in the decompression valve button once

Press in the decompressor button once

Press the manual fuel pump bulb around 5 or 6 times to pump fuel into the carburetor. This needs to be done even if there is fuel already present in the bulb

Pump the fuel bulb several times to draw fuel into the carburetor

Ensure the saw is placed firmly on the ground on its stand. Apply a little pressure to the rear of the saw where the air box is to keep the cutting disc up off of the ground. This can be done by resting your knee very gently on top of the rear handle.

Hold the cut-off saw firmly using the front handle and resting your knee gently on the rear handle

Make sure you have a solid footing on the ground
Hold the top handle with your left hand grip the handle of the starter pull cord with your right hand

Hold the front handle of the saw firmly with your left hand and grip the pull start with your right hand

Genetly pull the starter pull cord until you feel a little resistance and then give it a good strong tug. Don't just let go of the pull cord as this can damage it. Guide it back into the housing using your hand

Pull the pull cord until you feel it engage

The cut-off saw should now start, but if not, repeat the above steps 5 – 8 until it does
Once the engine is running, it's a good idea to let it warm up. Give the throttle trigger a little squeeze to rev it slightly. You should see the control slide switch jump to the I position. This is the normal running position

After revving the engine slightly, the slide control will jump to the I position

After running for a few seconds, move the choke lever to the normal running position

Choke moved to the normal running position

Once the engine has warmed up the saw should then be ready to use
Warm Starting a Cut-Off Saw
If the engine of your saw has been turned off for around 5 minutes or more, follow the steps below
Squeeze both the throttle lock and throttle in and slide the control slide switch to the START position and hold it in place. Release the throttle and throttle lock and then move your thumb from the slide switch. It should remain in the START position
Move the choke to the warm start position

Choke moved to warm start position

Press in the decompression valve
Pump the fuel bulb 2-3 times to pump in some fuel
Place the saw down on a solid flat surface on its stand
Ensuring you have a solid footing, rest your knee gently down on the air box to lift the cutting disc away from the floor
Hold the top handle with your left hand and grip the pull cord handle with your right hand and pull gently until the starter mechanism engages and then give it a firm tug to start the engine
If it doesn't start first time, repeat the above until it does
Allow the engine to run for a good few seconds and then flick the choke lever to the standard running position

Choke moved to normal running position
Note: If your saw's engine has been turned off for 5 minutes or less , to start it, ensure that the choke is in the standard running position.
How to Cut Concrete, Masonry, Steel and Other Materials Using a Cut-Off Saw
Now that you know how to get the saw started, it's time to start using it.
As we have mentioned a few times already in this guide, it is essential that before you start cutting away that you make sure that the item you're working on is clamped up or if it's heavy enough not to move, that it is placed on a firm and solid base.
It is also very important to ensure that as you make your cut, the item in question is prevented from closing in on the cutting disc and pinching it as this can not only damage it, but also cause the saw to "kick" and move around unpredictably. This is extremely dangerous and can cause serious injury!
To ensure that this does not happen, if you are cutting an item that's spanning a gap you will need to add suitable support either side of the cut.
For the purposes of this example we will be cutting a concrete block in half for use during the construction of a wall.
To ensure that you make your cuts in the right place it's necessary to mark the item where you're going to cut it. The best way to do this is to use a cold chisel or bolster to score your cutting line.
Place your workpiece down on a solid surface. In this instance an old pallet was used to provide a base as it was solid and would prevent the saw from cutting down into any existing surfaces

Concrete block placed on solid wooden pallet for cutting

With the workpiece ready, the saw was started (using the tips above) and warmed up
Once warm, the saw was revved and run for a few seconds to ensure everything was as it should be and there were no issues
With everything confirmed ok, the saw was gripped firmly and the operator positioned themselves in front of the item, making sure they had a decent solid footing
The throttle lock was then pressed in and the throttle squeezed almost all the way down to bring the saw up to full revs
The cutting blade was then lowered down towards the item slowly until the disc engaged with the surface at which point you will feel it "snatch", pulling you forwards (or upwards if working vertically)

With the saw up to speed, the cutting wheel was lowered down to the concrete block

You must keep a firm grasp at this point and keep the saw under full control. Continue cutting along your cut line applying steady pressure but at the same time, allow the saw to do the work for you. Don't try and force it downwards, this will only put unnecessary strain on it

Cutting concrete block in stages

Don't try and cut through your item in one go, cut in stages e.g. cut through the top half from front to back and then down through any remaining material
Once you've finished cutting, release the throttle and allow the disc to run down before withdrawing it from your work piece
Once You've Finished Using Your Saw
Once you have completed any cutting, as mentioned, allow the disc to run down to a stop before withdrawing it and then place it down on a solid surface, ensuring it's sat firmly on its stand.
Never ever try and slow or stop the disc by hand or by letting it touch on another surface!
With the saw now finished with, move the control slide switch to the OFF/STOP position which will then cut the engine.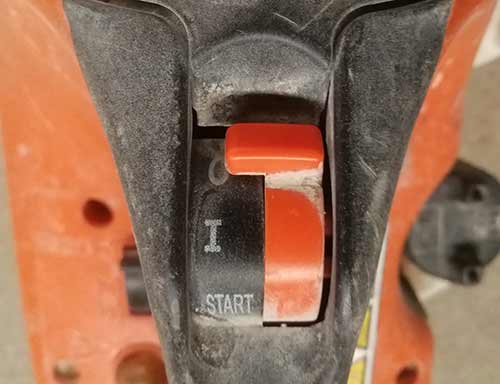 Never leave a running cut-off saw unattended, always turn it off, even if you will only be leave it for a few seconds!
Once turned off, remove the cutting disc and store it flat in a safe place and then pack your saw away.
Just before doing so, if it's particularly dusty or wet, just give it a quick brush over and clean up, ready for use again.
Petrol cut-off saws are very dangerous tools and if not treated with care and respect can cause serious injury, but when use correctly they are indispensible when it comes to cutting concrete and masonry, steel, asphalt and many other materials and surfaces.