This sections focuses on bricks, block and stone work so that you understand everything you need to know to build with these materials, maintain them and repair them when necessary. We cover the basic maintenance and repairs that you might need to carry out to all types of bricks, blocks and stonework.
For information about concrete, mortar and cement that you might need for projects involving bricks and block, please see our section on Mortar and Concrete. This covers all aspects of mixing, including the necessary ratios, colouring mortars and tips for using cements and mortars.
If you are planning a project to build walls then it is worth browsing our section all about walls. This will get you more information about how you can actually build the wall, using the skills and information that you will have gained from this section.
Of course, we have a section about General Building that covers even more ambitious projects. This is a great please to look for advice and guidance about projects from extensions to digging a new basement.
The Difference Between Bricks and Blocks
It is very hard to find anyone that will give to a definitive definition about what is a brick and what is a block, so this is our attempt. A Brick is a type of block that has been manufactured into a rectangular shape that is easy to lay and is small enough to be carried in one hand. Sizes have varied hugely in the past, but while you can still find all sorts of sized bricks, most people would consider the standard size house brick to be 65×102.5x215mm.
This is in the UK; we understand that other countries have different 'standard sizes', although we have not actual experience of this (do get in touch if you do). For example, American bricks are apparently 8 × 4 × 2.25 inches (203 × 102 × 57 mm), while in South African 8.75 x 4 x 3 inches (222 x 106 x 73mm) and in Australia they are 9 x 4.33 x 3 inches (230 x 110 x 76mm).
Bricks are typically smaller than what we more generally call blocks and are usually made of natural minerals such as clay or other stone aggregates which are either baked or fired to make hard. However, the range, types and sizes of bricks vary so much that it is actually very hard to generalise.
Blocks on the other hand tend to be larger and therefore need to be manufactured out of less dense materials so they can be handled. Like bricks, blocks come in a bewildering range of types and sizes, ranging from common concrete blocks to hemp and even polystyrene blocks.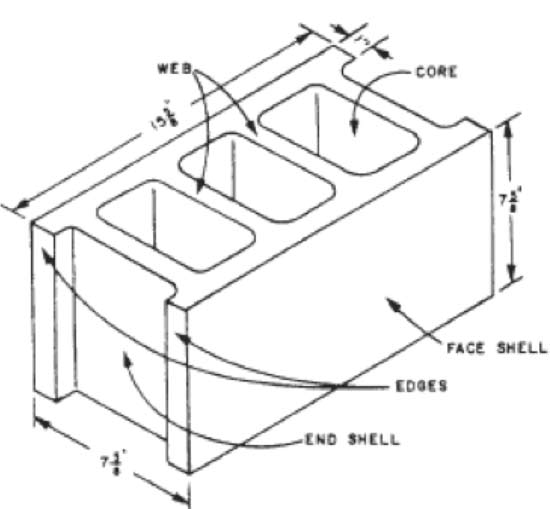 Now that we have a better understanding between the difference between bricks and blocks, or probably more accuratly where they sit on the spectrum of building blocks in general, it is worth looking at some of the more common types.
h2>The Differtent Types of Bricks
As we have already said there are a huge range of bricks that you can choose from. Here we aim to give you an understand of these and the most important types but we will not even attempt cover the topic completely.
Common Bricks: These are the general purpose bricks that are used for building and in the garden. This is probably that a DIY enthusiast will use in most of their projects.


Common house brick

Faced or Facing Brick: These have 'good'  faces on all side or in some cases only on one stretcher (side) face and both header (end) faces


A faced or Facing Brick

Engineering Bricks: These are typically more dense and are manufactured to be stronger and more water/weather proof that other bricks


Engineering Brick

Calcium Silicate Bricks: They come in a huge range of colours. They are manufactured from Lime and Sand


The range of colours for some Calcium Silicate Bricks

Fire Bricks: These are bricks that are designed to withstand intense heat, such as that in a fire place or behind a burner


A fire brick

Air Bricks: These are bricks that have holes in them to allow air to pass through and ventilate the building. Traditionally they were clay, but can now be made of other materials such as plastic


An air brick
Bricks come in three general forms which every brick will have:
Solid – These are a plain rectangle, eg a fire brick
Faced or Indented – These have indentations or frogs, eg. The common brick above
Cored  – These have holes through them to make them lighter or pass reinforcing rods through if required, eg the engineered brick above
The Different Types of Blocks
Like bricks, there is an enormous array of blocks ranging from stone blocks, through concrete and cement based blocks to more modern material or all kinds.
These are the most common types:
Stone Blocks: Even with stone blocks there is a huge range of types (even if you ignore the huge variety of stone types there are!) to consider. Cut Stone Blocks are cut so that they are smooth on all sides and tends to be very expensive. Pitched stone is cut on the sides needed to make a tight mortar joint


Pitched Natural Stone Blocks

Reconstituted Stone Blocks: These are made from crushed stone and are therefore cheaper than natural stone but will not have the character of real stone.


A Reconstituted Stone Block

Concrete Blocks: There is a wide range of different types of concrete blocks range from Dense, Lightweight to Aerated (See Aircrete Below). The denser the block the more structural strength it will have, however the less insulating it tends to be, and also heavier to work with.


Concrete Block

Aircrete or Aerated Concrete Block: These are concrete blocks which have large amounts of air incorporated in the block during the manufacture process making them very light and nsulating. They will require special fixings to attach anything heavy to them as they are soft


An Aerated Concrete block – Aircrete

Honeycomb Blocks: These are very popular on the continent as they are light and insulating. The honeycomb structure reduces the amount of material needed to make each block


A honeycomb clay block

Hemp Blocks: These are recent additions to the builder's arsenal and are therefore relatively untested. They are light weight and are highly insulating. The key benefit for most people is that they are more ecologically friendly than concrete blocks


A Hemp Block

ICF (Insulated Concrete Forms) Blocks: These are often called Polystyrene Blocks because the mould that they are create in is often made from polystyrene, but the wall is actually created by pouring concrete into the form


ICF Being use of a building Site (image: OnePlanet Communities)
As you can see there is a huge variety in the types of simple building block that we use to make our homes. The brick has been around for thousands of years, but now there seem to be an ever growing range of new and exciting ideas to build with. That said the humble brick is sure to be around for many more years yet.