There is a vast array of different types of hinges used in DIY and construction and the correct type of hinge to use will very much depend on the job that you are doing so to this end we look at the most common types of hinges and how and when they should be used.
Door and Hinge Classification
The door and hardware federation (DHF) have classified all the different types of door hinges and doors into groups or digits in order that they meet exact standards throughout the Industry.
To make sure you are using the correct hinges for the weight of your door, or the correct grade of external hinge for corrosian resistance as well as many other uses.
What Does Hinge Mean?
The word hinge comes from Middle English and is a derivation of the word hang. When a flap, or movable strap was used to hang anything from a meat carcass to a movable flap or door, the word hinge was derived to differentiate from simply hanging something on a vertical plane, to allowing it to move independently of the object it was linked to.
What are the Most Common Types of Hinge?
The Butt Hinge
The most common type of hinge used in home improvement are what is called Butt Hinges. A Butt Hinge is a hinge of two parts, or leaves, joined in the middle and used to hold together two "abutting" objects, such as a door and frame where they are most often used.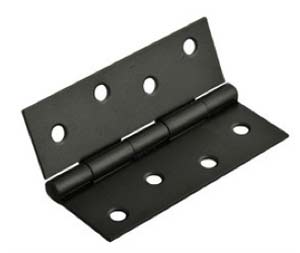 A large variety of hinges are available from most hardware stores and certainly from our own toolstore.
The type of hinge you buy depends on how it is to be used and what it is to be fitted to. For example, when selecting a hinge for a jewellery box, a small brass butt hinge is likely to be used rather than a concealed hinge.
Furthermore, brass hinges are more expensive than steel ones and they give a quality look to the completed product. Below are some of the more popular hinges that are available.
Rising Butt Hinge
Unlike a normal Butt Hinge, the rising butt has two leaves which are joined by sliding one half onto the other via a pin which is part of one of the halves. The barrel, or central section of the hinge is tapered so when the door is opened, the door half of the hinge rises up on the tapered section of the frame half, lifting the door as it opens.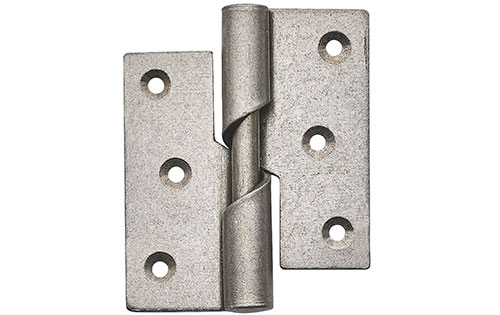 A rising butt hinge is used, or rather used to be used, in rooms where carpets were present. The rising butt allowed the door to close right down onto the carpet but when opened, the door would lift up from the carpet on it's journey to open, thereby not scraping along the carpet.
This is does happen often today as carpets are much cheaper and much more hard wearing than they were when rising butts were first invented.
Another reason for the demise, or at least lack of use of rising butt hinges, is that more and more doors in the home must be fire check doors (See our project on fire doors) and rising butt hinges are not allowed to be used on fire doors.
Fire Butt Hinges
A special type of Butt hinge must be used on fire doors and the main stipulation is that they Comply with BS EN 16341 and have the Certfire label.
They are usually put together with a ball bearing movement so that the hinge does not buckle and will still open when they reach the 800 degrees Celsius they need to reach to pass the Certfire certification.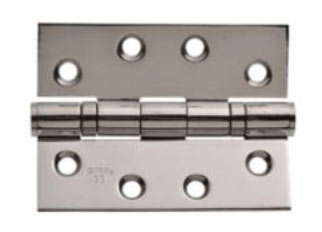 Other Common Types of Hinge
Butterfly Hinge
Butterfly hinges are pretty much "what is says on the tin"! They are designed to look like a butterfly, but more than that, in the main they operate as lightweight, decorative hinges. Just like butterflies.
Butterfly hinges, in their lightweight form, adorn jewellery boxes, display cupboards and cabinets and other decorative containers. They can however, be produced in really heavy duty format to show off large, castle-type doors and window casements.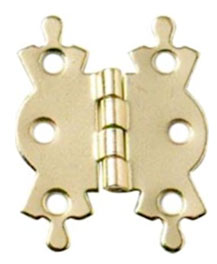 The larger butterfly hinges are usually not quite so ornate as the smaller decorative variety as, to carry the weight of heavy doors and windows they have to be cut from much thicker sheets of metal so they adopt a utility type of decorative design. Thanks to Black Country Metal Works for the image.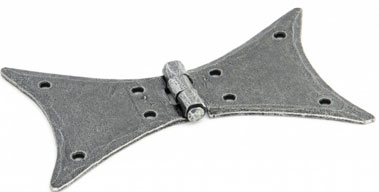 Flush Hinge
This type of hinge does not require a recess to be cut. They are not as strong as butt hinges but can be used for light-weight doors and small box construction. To purchase a zinc flush hinge, check out our range in our store here.
The main advantage of flush hinges is that they do not need to be sunk into the door or door frame unlike a butt hinge. They are screwed to the surfaces of the connected parts and when closed the inner leaf fits snugly into the outer leaf.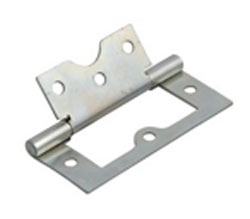 Barrel Hinge
The Barrel hinge comes in two parts. The threaded part of the hinge is screwed into a pre-drilled hole or mortise. They are used a lot in cabinet making as the hinge body is mortised into the framework of the piece and therefore does not detract from the artistry of the doors or other moving parts of the box or cabinet.
In a well made barrel hinge, the barrel shaped hinge is so well morticed it is not at all visible when the doors are closed.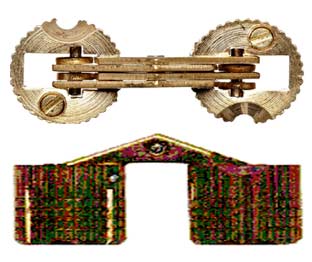 Barrel hinges are often called SOSS hinges as SOSS is the leading manufacturers of barrel hinges and the brand name has become synonymous with this type of hinge. Much the same as vacuum and Hoover.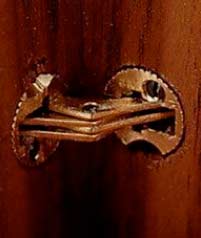 Concealed or Kitchen Cupboard Door Hinges
A concealed hinge is one that is completely concealed when the door or lid of a box is closed. The most popular sizes are normally 26mm and 35mm. The hinge is adjustable once fitted and is designed with chipboard and MDF in mind. Most commonly used for kitchen wall units and cupboards, base units and various flat pack furniture.
The image shows the various screws in a cupboard door, or concealed hinge. You can find out how to fully adjust a cupboard door hinge and what the numbers mean by clicking through to our project on adjusting kitchen cupboard doors.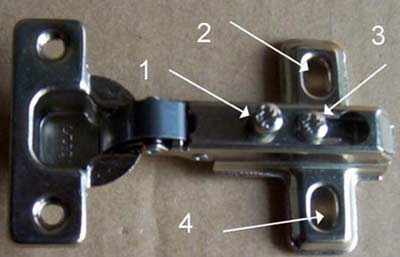 A concealed, or kitchen cupboard hinge is recessed into the cupboard using a special drill bit called a hinge bore bit or Forstner bit. The centre, or pilot, part of the drill bit is very short so as to ensure the hole is drilled in exactly the right place but will not go right through the cupboard carcass.
You can buy kitchen cupboard bore bits here from our online store.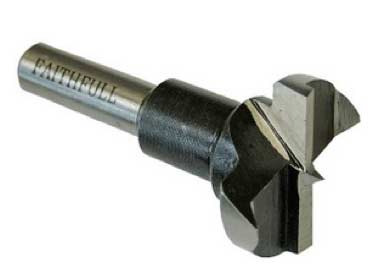 To find out how to measure and fit a concealed hinge, see our project here.
Continuous or Piano Hinge
So-called because it is the type of continuous hinge that is used to secure the lid of a piano, this is a hinge that comes in different lengths and can be bought in brass or steel. It is ideal where a long hinge is required such as a desk top or a cupboard door. Small countersink screws are normally used to fix it in position.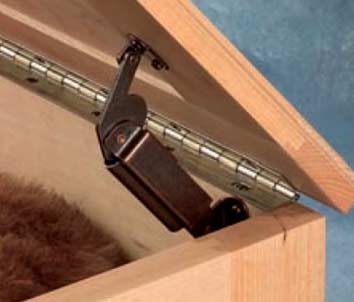 Tee Hinge
The Tee hinge is used where surface fixing, over a large area, is the easiest way of fixing a door or entrance trap. This type of hinge spreads the weight of the door over a larger area allowing for greater control and less "hinge drop" because of the weight of the door.
Tee hinges are normally used where security is not too much of an issue as the hinges are fixed externally and the screws, if used can be undone.
To make a Tee Hinge a little more secure on a shed for example, rather than use screws through the screw holes to fix the hinge, long bolts can be used instead where the nut is tightened inside the building and the head of the bolt is a curved type coach bolt so no purchase can be gained on the head. Tee hinges can be bought, in silver or black, from our toolstore here.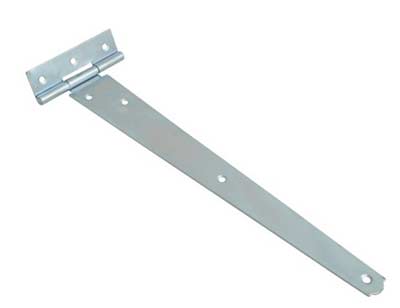 Wrap Around; Partially Concealed, Cabinet Hinges
A very strong hinge for doors that do not offer the most secure of fixings. The wrap around hinge is used when there is not too much timber to fix to as in a cabinet or thin cupboard door. The wrap around feature ensures a fix on the thin edge of the door and frame as well as a face fix allowing 3 fixing points or more on an otherwise weak area.