There is a vast array of different types of hinges used in DIY and construction and the correct type of hinge to use will very much depend on the job that you are doing.
Selecting the right type of hinge can easily make or break a project so with this in mind, find out all about the different type of hinge below and how they should be used.
What is a Hinge?
Hinges are an essential part of many objects from front doors to toy chests, they allow things to be easily opened and securely closed but at the same time remain in the correct position.
The word hinge comes from middle English and is a derivation of the word hang. When a flap, or movable strap was used to hang anything from a meat carcass to a movable flap or door, the word hinge was derived to differentiate from simply hanging something on a vertical plane, to allowing it to move independently of the object it was linked to.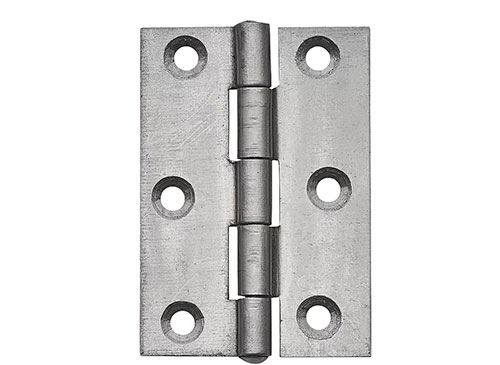 Door and Hinge Classification
The door and hardware federation (DHF) have classified all the different types of door hinges and doors into groups or digits in order that they meet exact standards throughout the Industry.
To make sure you are using the correct hinges for the weight of your door, or the correct grade of external hinge for corrosion resistance as well as many other uses.
There is a total of 8 different classifications or digits as they are known and they include; category of use, durability, mass and closing force, fire resistance, safety, corrosion resistance, security and hinge grade. A full explanation of each digit and what it covers can be seen here.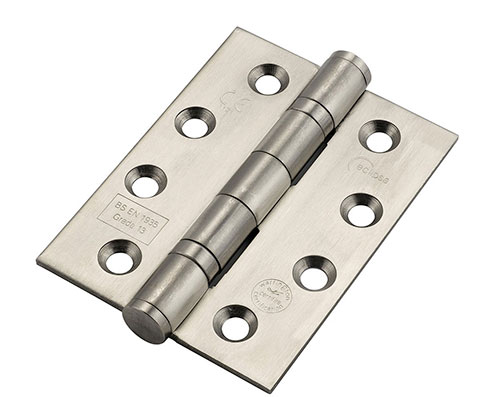 What are the Parts of a Hinge?
Hinges are fairly basic items and therefore are only made up of 3 different pieces; 2 sides or leaves as they are known, a knuckle and a pin.
To operate, 1 leaf is fixed to the opening object and the other to the stationary object. When the 2 sides of the hinge are slotted together the knuckles, which are staggered on either leaf interlock and as they are hollow a pin or metal rod is then dropped down through them holding everything together.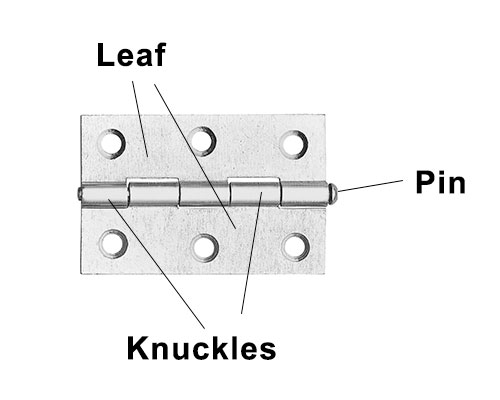 What is the Strongest Type of Hinge?
Generally, the butt hinge is regarded as the strongest of all types of hinge. This is mainly due to the way in which it is constructed. As each knuckle locks together it is supported by the one above and below and once the pin is inserted this locks everything together, preventing the whole hinge flexing or dropping.
Due to their strength they are capable of supporting very heavy doors, gates and the similar, all the way up to and over 100kg!
Different Types of Hinge and How to Use Them
As you now know how a hinge works and what different parts make it up, it's now time to look at all the different types of hinge and how they should be used.
The type of hinge you buy depends on how it is to be used and what it is to be fitted to. For example, when selecting a hinge for a jewellery box, a small brass butt hinge is likely to be used rather than a concealed hinge.
Furthermore, brass hinges are more expensive than steel ones and they give a quality look to the completed product. Below are some of the more popular hinges that are available and used today.
Butt Hinge
The most common type of hinge used in DIY and construction, especially for doors, is what's known as the butt hinge. A butt hinge is a hinge of two parts, or leaves, joined in the middle by knuckles and a pin. The 2 leaves are then fixed between 2 abutting objects such as a door and door frame and hold them together allowing the door to easily open and close.
There are several different varieties of butt hinge and these are; plain bearing e.g. use a pin, ball-bearing that use ball bearings in the knuckles, rising e.g. raise up as they are opened and finally spring-loaded that spring closed when opened up, more on these below.
In some cases butt hinges come with a removable pin so that the 2 leaves can be separated. This is quite handy as you can quickly and easily remove doors and other objects without the need to start unscrewing everything
Where to Use Them
As commented, butt hinges are commonly used for doors and due to their strength, anything heavy e.g. fire doors, gates etc., however as they can be recessed into the surfaces they're fixed to, any job that requires the 2 fixing surfaces to touch once closed.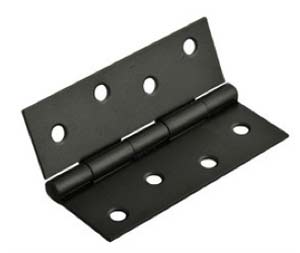 Rising Butt Hinge
Although this is technically a butt hinge, it's important to distinguish it from the standard butt hinge above as it does operate differently.
Unlike a normal Butt Hinge, the rising butt has two leaves which can be pulled apart by simply pulling one leaf off of the pin on the other leaf.
The pin (or barrel as it's also known) section of the hinge is tapered so when the door is opened, the removable leaf fixed to the door rises up on the tapered section of the pin and lifts the door as it opens.
Traditionally, rising butt hinges were used in rooms where carpets were present. The rising butt allowed the door to close right down onto the carpet but when opened, the door would lift up from the carpet on it's journey to open, thereby not scraping along the carpet, however as carpets have changed over the years this issue was resolved, effectively making them redundant.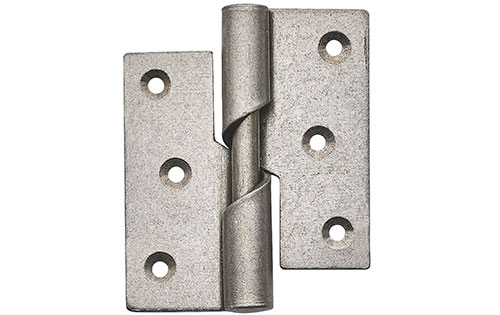 Where to Use Them
As these are quite a niche type of hinge, unless you are using them in the traditional manner stated above, they are only really used for one purpose and that's to lift the movable object as it's opened. For example if you have a door that opens on to a slope, fitting a rising butt hinge at the base will lift the door as it's opened so it doesn't hit the slope.
Fire Butt Hinges
Again, this is a type of butt hinge but it does have a specific usage case so it's defintely worth a separate mention.
As you may have guessed it, fire butt hinges are specifically made to be used with fire doors. This is not only because fire doors can be extremely heavy and butt hinges are about the strongest type of hinge capable of carrying their weight, but also due to the fire regulations.
To comply with BS EN 16341 when fitting a fire door, only hinges that carry the Certfire label should be used
In most cases they are usually put together using a ball bearing movement e.g. bearings in the knuckle that the pin then runs through, so that the hinge does not buckle and will still open when they reach the 800 degrees Celsius they need to reach to pass the Certfire certification.
Where to Use Them
As we have stated above, these hinges are made specifically for use with fire doors, but they can also be used for other doors, however they are vastly more expensive than a standard butt hinge.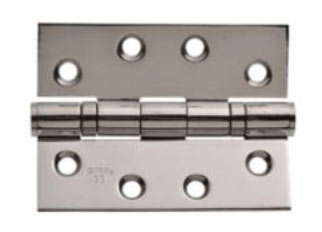 Butterfly Hinge
Sticking with the naming theme, butterfly hinges are pretty much what they sound like they should be! They are designed to look like a butterfly, but more than that, in the main they operate as lightweight, decorative hinges. Just like butterflies.
These hinges are generally rather small and delicate and are normally used in fine furniture making and the similar.
Where to Use Them
Butterfly hinges, in their lightweight form, adorn jewellery boxes, display cupboards and cabinets and other decorative containers. They can however, be produced in really heavy duty format to show off large, castle-type doors and window casements.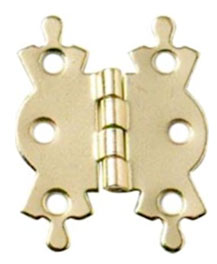 The larger butterfly hinges are usually not quite so ornate as the smaller decorative variety as, to carry the weight of heavy doors and windows they have to be cut from much thicker sheets of metal so they adopt a utility type of decorative design.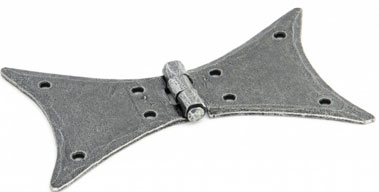 Flush Hinge
This type of hinge does not require a recess to be cut like a butt hinge as they are surface fixed. They are not as strong as butt hinges but can be used for light-weight doors and small box construction.
The main advantage of flush hinges is that they do not need to be sunk into the door or door frame unlike a butt hinge. They are screwed to the surfaces of the connected parts and when closed, the inner leaf fits snugly into the outer leaf producing a similar effect as a recessed butt hinge.
Where to Use Them
As these hinges are not as strong as butt hinges they are generally only used for very light doors and box or trunks lids and the likes.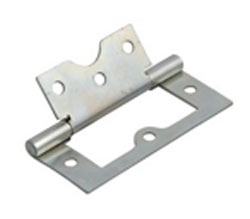 Barrel Hinge
Barrel hinges are in most cases made from brass and they come in 2 sections; a barrel either side and a hinge joining them together.
They are fairly easy to fit in that holes are drilled at opposites to each other on the 2 items being fixed that are the same size as the barrel and it's pushed in firmly. The hole has to be exactly the right depth also. Usually there is a small retaining screw on each barrel that can be turned to hold it in the hole.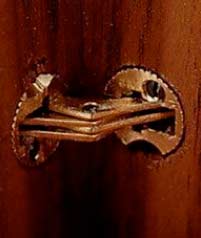 In a well made barrel hinge, the barrel shaped hinge is so well morticed it is not at all visible when the doors are closed.
Barrel hinges are often called SOSS hinges as SOSS is the leading manufacturers of barrel hinges and the brand name has become synonymous with this type of hinge.
Where to Use Them
They are used a lot in cabinet making for fitting cabinet doors as the hinge body is mortised into the framework of the piece and therefore doesn't detract from the artistry of the doors or other moving parts of the object it's fixed to.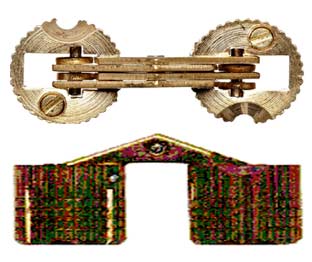 Concealed or Kitchen Cupboard Door Hinges
A concealed hinge or overlay hinge as it's known in the U.S. is one that is completely concealed when the door or object it's fixed to is closed. The most popular sizes are normally 26mm and 35mm. The hinge is adjustable once fitted and is designed with chipboard and MDF in mind. Most commonly used for kitchen wall units and cupboards, base units and various flat pack furniture.
The image below shows the various screws in a cupboard door, or concealed hinge. You can find out how to fully adjust a cupboard door hinge and what the numbers mean by clicking through to our project on adjusting kitchen cupboard doors.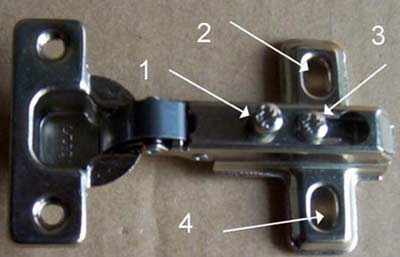 A concealed, or kitchen cupboard hinge is recessed into the cupboard using a special drill bit called a hinge bore bit or Forstner bit. The centre, or pilot, part of the drill bit is very short so as to ensure the hole is drilled in exactly the right place but will not go right through the cupboard carcass. For full instructions see our project on how to fit concealed hinges here.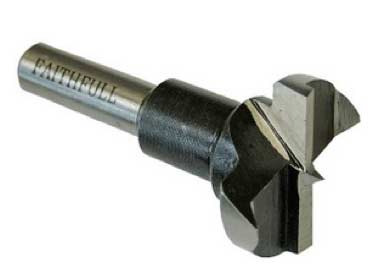 Where to Use Them
Concealed hinges are generally used where the entire hinge mechanism needs to be hidden so are normally used for fixing kitchen and bathroom cabinet doors.
Continuous or Piano Hinge
As with other types of hinge, this hinge also gets its name from its main use, so-called because it is the type of continuous hinge that is used to secure the lid of a piano
These types of hinge come in a range of different lengths for a variety of different jobs and also different construction materials including steel and brass.
Small countersink screws are normally used to fix it in position as the fact they're recessed prevents them from binding and stopping the object closing correctly.
Where to Use Them
Today, continuous hinges are used for quite a variety of jobs including cabinets and storage chests/boxes, desks, workbenches and also large versions are commonly used on bi-folding doors.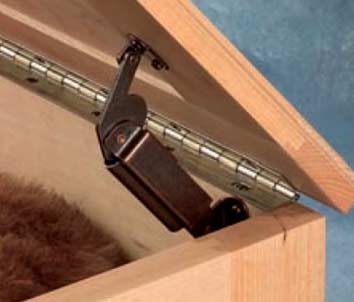 Tee Hinge
The Tee hinge/T-hinge (or strap hinge as it's known in the states) is used where surface fixing, over a large area, is the easiest way of fixing a door or entrance trap. This type of hinge spreads the weight of the door over a larger area allowing for greater control and less "hinge drop" because of the weight of the door or gate its supporting.
Tee hinges are normally used where security is not too much of an issue as the hinges are fixed externally and the screws, if used, can be easily undone.
To make a Tee hinge a little more secure on a shed for example, rather than use screws through the screw holes to fix the hinge, long bolts can be used where the nut is tightened inside the building and the head of the bolt is a domed type coach bolt so no purchase can be gained on the head. Tee hinges can be bought in a variety of types including galvanised, normal steel, stainless steel brass and others.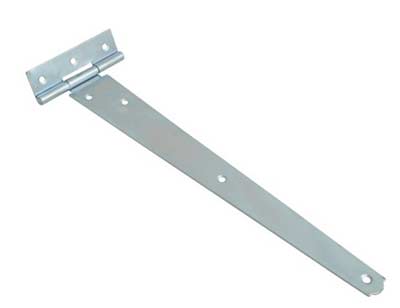 Where to Use Them
T-hinges are normally used for external garden, workshop or shed gates and doors as they are good at carrying and supporting weights as the eay they're constructed allows them to spread the weight over a large area.
Wrap Around or Offset Hinge (Partially Concealed, Cabinet Hinge or Cranked Hinge)
A very strong hinge for doors that do not offer the most secure of fixings. The wrap around hinge is used when there is not too much timber to fix to as in a cabinet or thin cupboard door.
The wrap around feature ensures a fix on the thin edge of the door and frame as well as a face fix allowing 3 fixing points or more on an otherwise weak area.
Another very useful feature of these hinges is that they allow you to open the door or object they're attached to by 270 degrees so that is folds back against a side panel. This is very handy if you need to create an extra inch or so to fit through a door or similar.
Where to Use Them
Ideal for use on a variety of thin doors where fixing to the edge alone as normal only gives a very flimsy and unsecure fixing that will likely fail quickly.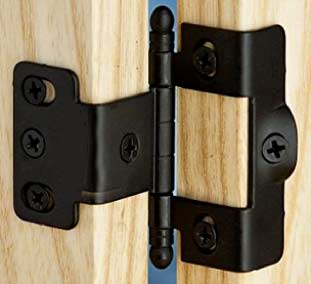 Ball Bearing Hinge
The ball bearing hinge is an evolution of the traditional butt hinge and instead of the pin just running through the knuckles, small bearings are fixed within the knuckles and the pin then runs down through the bearings. This produces a much more rigid and smooth opening and closing action.
Where to Use Them
As we have mentioned above, ball bearings often feature in fire door hinges to prevent them buckling under extreme heat and to support the often very heavy doors themselves, however if you want to create a sense of luxury then they can certainly be used for other types of door also.
Pivot Hinge or Knife Hinge
The pivot or knife hinge as it's also known is essentially 2 lengths of brass or steel that are fixed together at one end to create a pivot, in much the same way as a pair of kitchen tongs work.
These hinges are generally fixed between 2 items that then allows the central item to pivot and move and open and close.
A few big advantages of these hinges are that the pivoting item in the middle can swing both ways and the larger more substantial brackets handle a lot of weight.
Where to Use Them
Pivot or knife hinges are commonly used in furniture making, especially for desks, bureaus and the similar, mainly for lids and also for doors, especially those that need to swing both ways and those that are very heavy such as solid reinforced glass doors.

Spring Loaded Hinges
Again as with others listed above, the spring loaded hinge isn't specifically a type of hinge on it's own, rather the fact that a spring loaded mechanism can be fitted to a variety of different types of hinge, mainly butt hinges.
As you may have guessed the spring action built into the hinge pulls it closed when it is opened, ensuring that any door, gate or the similar it's fitted to always closes after it is opened.
Where to Use Them
Spring loaded hinges can be used on a variety of objects but are mostly reserved for use on doors that should always be closed once they have been opened such as a fire door.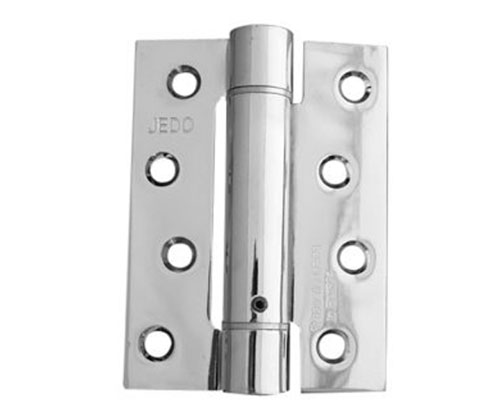 Heavy Duty Gate Hinge
Although many different types of hinges can be used for gates such as butt hinges, T-hinges and the such but where large, very heavy gates such as timber 5-bar gates need to be hung, to cope with their size and weight a special heavy duty hinge needs to be used
Heavy duty gate hinges come in a variety of different forms, shapes, designs etc. and when selecting one to use the most important thing is that is it capable of supporting the weight of the gate you're fixing it to.
Where to Use
As these hinges are made specifically for use with heavy gates, their main use is for exactly this, however they can also be used to hang heavy doors and the similar.
What ever you are hanging, whether it's a door, lid on a chest, garden gate or anything else that needs to open and close, it's essential that you use the correct types of hinge as this decision will ultimately determine whether the job succeeds or fails.