Making a tyre swing for your garden is a great way to get the kids outside during the summer months and keep them entertained in the garden.
The great thing about a tyre swing is that it can be hung from existing trees or other sturdy objects (as long as they are strong enough) that are fairly common place in most gardens or you can also construct a purpose built frame to support them.
Making a tyre swing is also not that tricky a job as long as you have a few basic tools and they also don't cost that much, just a bit of chain, some hooks and eyebolts and an old tyre!
To find out how to make a tyre swing, read on below.
What different types of tyre swing are there?
There are in fact several different types of tyre swing and the particular one you decide to make really depends on what object you intend to mount it on and how it's going to be used.
The two main designs of tyre swing are:
The vertical tyre swing: The simplest and quickest type of tyre swing to assemble, it's hung from the top of the tyre through the tread using a single fixing and the user then stands on or sits in the hole in the middle

Vertically hung tyre swing

The horizontal tyre swing: Slightly trickier to make than the type above, the horizontal tyre swing is normally fixed in 3 or 4 positions around the tyre sidewall so that it sits horizontally flat and then the user sits on or in the rim hole in the middle

Horizontally hung tyre swing
The type of tyre swing you go for very much depends on who's going to be using it. If it's likely to be used by older kids and adults then a vertically hung swing will probably be the way to go as it will allow 360° swinging.
However, if it's likely to be used by younger children then slightly more swinging control will probably be required so a horizontal tyre swing fixed in two positions (just like a traditional swing) is probably the way to go.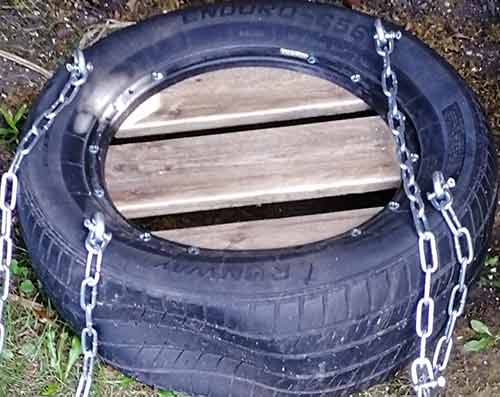 What type of tyre should you use for a tyre swing?
The type of tyre you choose to use for your tyre swing will also really depend on who's going to use it and whtheer it's going to be hung horizontally or vertically.
For horizontally hung swings that will be used by older kids and adults you can go with a larger tyre that has a larger hole in the middle as the user won't fall through it. With this in mind somtheing around a size of a 16 inch tyre or similar should be fine to use.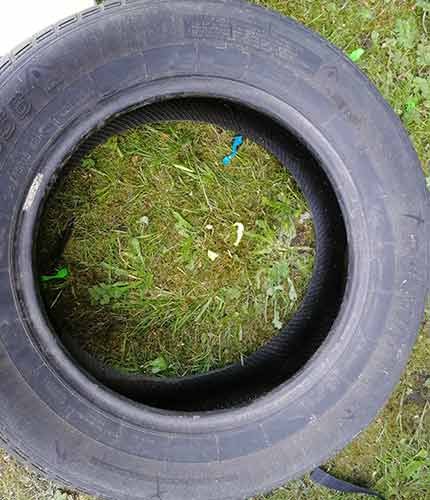 For younger kids then you'll want to go with a smaller tyre with a smaller hole, somtheing like around a 13 – 14 inch tyre.
However, if you are going for a vertically hung swing then a bigger tyre with a bigger centre hole may be better. In this case a 17 inch or larger would be the one to go for.
Now that we know what size tyre to go for it's time to find one.
Today, disposing of tyres often involves a cost whtheer that's at a scrap yard or household waste recycling centre and due to this, unfortunately some less than reputable individuals choose to fly tip them, leaving them in country lanes and farm gateways.
If you do come across any that have been simply dumped do pick them and put them to some use!
Alternatively, decent scrap tyres can also be sourced from scrap yards and also more obviously from tyre centre's and local mechanics workshops, quite often for free, so just poke your head in and ask.
One thing to remember is that large tyres are heavy and in some cases very heavy so with this in mind, just make sure the object you're planning on hanging it from can take the weight.
What can I hang a tyre swing from and how much room do I need?
In terms of where you can hang a tyre swing, the first thing you need to make sure is that the item you are hanging it from can support not only the weight of the tyre itself but also anyone swinging on it.
At the end of the day, kids will be kids so despite laying down the rules and saying only one to use it at a time, as soon as your back is turned they'll be five on there all togtheer jumping up and down!
Quite often the obvious mounting object is a tree in the garden, but with the above in mind, make sure that any branches are thick and strong enough to support the weight or both the tyre and occupants and also that the tree itself is in good health. A hardwood tree (oak, beech etc) with a suitable branch of at least 8 inches in diameter should be strong enough.
In respect to the actual tree, inspect it closely for any signs of rot, cracks or holes to make sure it's in good health. Also check for broken branches that could easily fall and remove any you find.
If you don't have any suitable trees then you can build a structure to hang your tyre swing from such as the rope swing seen in our garden makeover project here or even build a kids raised play fort such as the one seen in our kids playhouse project here.
As a general rule, the item you are hanging your tyre swing from should be able to safely support at the very minimum 80kgs!
Aside form the actual object you are hanging your tyre swing from, one other point to note is how much space there will be around it.
If you are lucky enough to have a large garden with plenty of space then hanging your tyre swing from a single mounting point will allow it to swing a full 360° around so with this in mind you should allow plenty of space.
However, if space is limited then you may be best off mounting your swing from two fixings as this will then only allow it to swing backwards and forwards.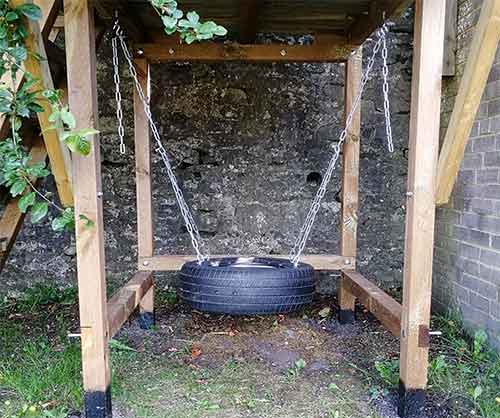 As a general rule of thumb when it comes to the amount of space around a tyre swing, it should be placed at least one and a half times the length of the rope or chain its hanging from away from any objects around it.
The underside of the tyre should also be a minimum of 18 inches and a maximum of 24 inches off of the ground below.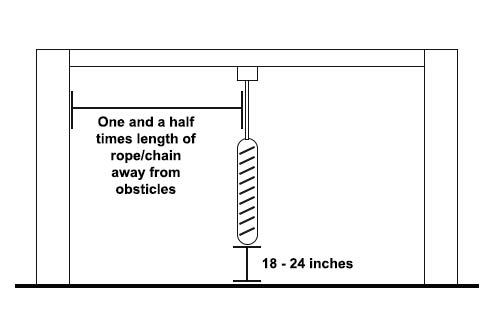 Additional safety information for tyre swings
Apart from maintaining a decent distance from any surrounding objects, one other safety consideration is the surface below the swing itself.
Inevitably kids will want to jump from the swing and will also fall off at some point so the ground beneath needs to be as soft as possible.
A lawn should be suitable or even an area covered with play safe garden bark a few inches deep should suffice. Make sure the lawn or barked area extends far enough around the swing to cover any area a user may jump or fall.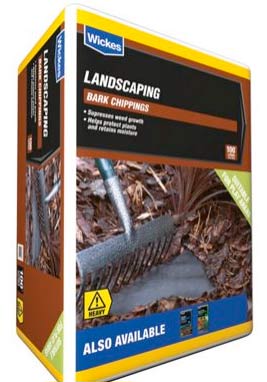 Also, check the entire area over thoroughly, removing any stones and rocks that may be embedded in the surface. If objects such as exposed tree roots are present you may need to reposition the swing to avoid them.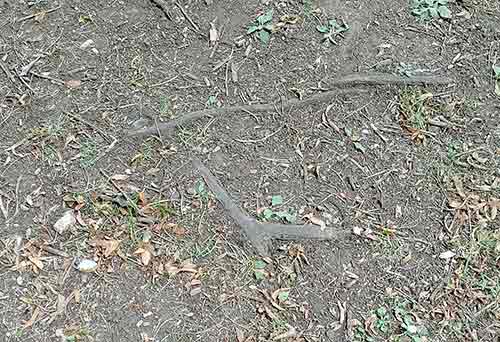 One further thing to think about if you are hanging your tyre swing from a tree is accessing the branch in order to hang the swing itself. This inevitably involves using a ladder and working at height so ensure your ladder is square and stable before climbing it. See our project on using a ladder safely for more information.
How to make a vertical tyre swing
Of the two different tyre swing designs, the vertical tyre swing is arguably the easiest to build as it only requires one fixing on the tyre and then one mounting from the object you are hanging it from.
As we did not have a suitable tree to hand when producing this guide we did in fact make the swing in our yard using a lifting strap that's wrapped around an RSJ that we use for lifting heavy items such as dumpy bags of sand etc.
Although we're not using a tree, the construction principles are exactly the same. Here follows a guide on how to make one.
Step 1 – Thoroughly clean the tyre
Before making or attaching anything, the first job is to give our tyre a good clean. As users will be sitting in or on it, it needs to be fully cleaned to prevent any damage to clothes.
Using a scrubbing brush and some warm soapy water, scrub the outside of the tyre thoroughly making sure you get the bristles down into all of the treads, removing any and all dirt and grime.
Once the outside is clean, give the inside a good scrub also. The inside of a tyre is generally pretty grim and normally stink so a good clean is a must.
Once the inside and outside are clean, wash the tyre off with some clean water and leave it to dry.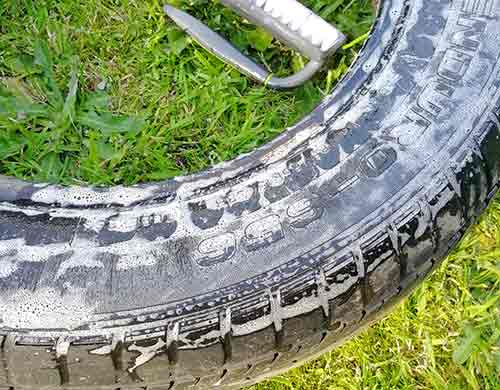 Step 2 – Drill water drain holes in the base
As anyone in the UK knows, it rains here quite a lot and without drain holes, our tyre swing will quickly fill up with water.
To prevent this from happening, water drainage holes are essential.
Sit the tyre vertically upright on the ground with the top section it will be mounted from facing downwards, exposing the base.
Using a 13mm flat drill bit, drill some holes across a quarter area of what will be the bottom edge of the tyre swing, spacing them equally. This will allow any water that collects in the base to drain out.
Note: Leaves will occasionally collect and block the drain holes so you will need to periodically clean them out.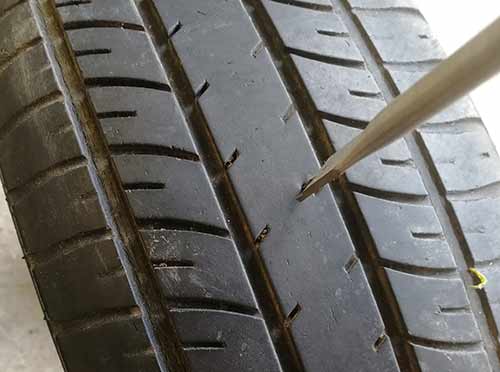 Step 3 – Drill and fix rope/chain hanging eye bolt on tyre
With the drain holes drilled out turn the tyre 180° around and then measure and mark the centre of the top of the tread. Once marked, drill out a 10mm hole using a 10mm HSS drill bit of flat bit.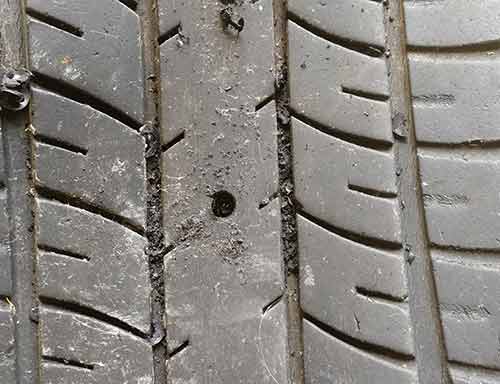 Next, insert your chosen hanging fixing. For this we are using a 20mm M8 galvanized lifting eye bolt. Once inserted, add a decent sized washer (at least 30mm) to help spread the weight and prevent the nut tearing back through the tyre and then screw on the nut tightening it fully.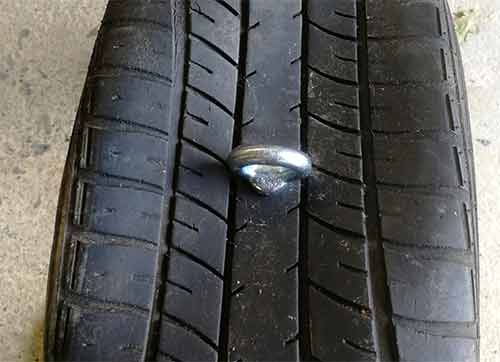 Step 4 – Attach swing hanger to mounting object and add chain/rope
Once the tyre has the hanging eye bolt added, it's time to turn your attention to the object you're going to be hanging your tyre swing from, in this case our lifting strap and RSJ, but in your case a sturdy tree branch.
You can use either rope or chain to hang your swing, in this case we are using a 8mm chain, but 20mm braided Polyester rope should also be more than strong enough, doesn't stretch and also resists the elements very well.
One very important point to consider is what you use to actually run around the tree branch. Most use just rope and it certainly serves a purpose but one thing many don't think of is the actual health of the branch.
Over time, rope and chain can easily wear through bark and expose the sensitive inner core of the branch, not only leaving the tree vulnerable to disease and infection but also weakening the branch itself.
To prevent any of these issues occurring when using rope or chain, either sleeve it with a section of sliced open hose pipe or a similar tough plastic coating or even better use a lifting strap as we are here.
The wide, soft material of the strap will spread the load, preventing it from cutting into the branch plus provide more than enough support for the swing and its occupants.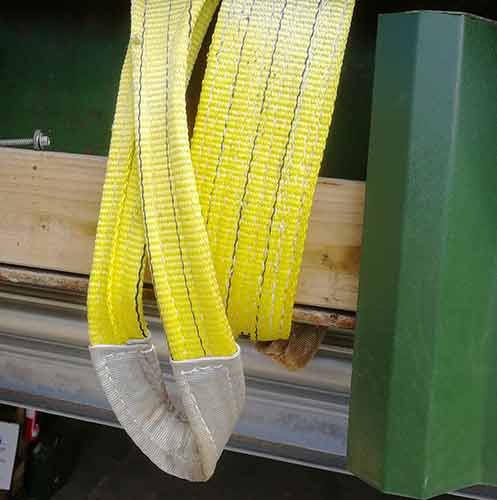 One further consideration is how your rope, chain or sling is tied. If it's tied too tightly around the branch it can throttle it, restricting the branches growth.
The best knot to use to prevent this is a sliding choker knot where a loop is tied or formed at one end and then the rope, sling or chain is then passed through the loop.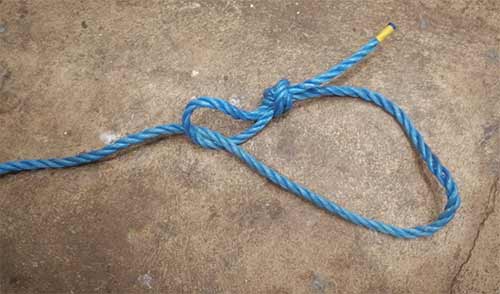 Using this mtheod, when someone is using the swing the knot will tighten, holding it firmly in place but when not in use it loosens allowing the branch to grow freely.
One benefit of using a lifting strap is that they feature a loop at each end and one loop can easily be passed through the other to form a sliding choker knot.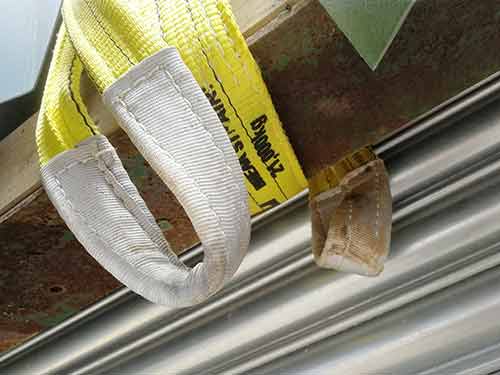 With your chosen hanging mtheod secured around your branch, secure your rope or chain from it and run it down to where your tyre will be attached.
Again, what ever attachment you use here should be strong and secure. If using rope, ideally you should spice an eye loop in the rope and add a rope eye as this will help to prevent wear to the rope but again you can tie a choker and secure it this way.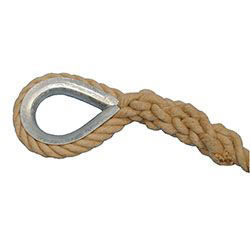 If you are using a chain then you can attach the chain to the sling around the branch using a suitably graded lifting carabineer that also locks shut, a Quick Link rated at least 1 tonne or a d-shackle with captive locking pin.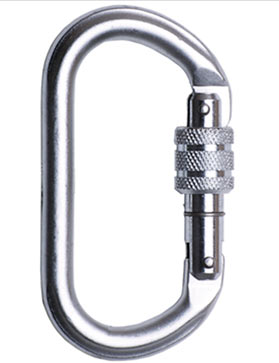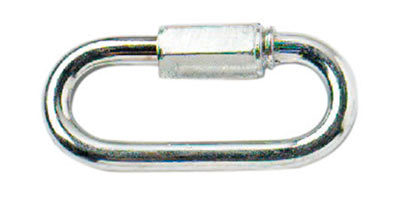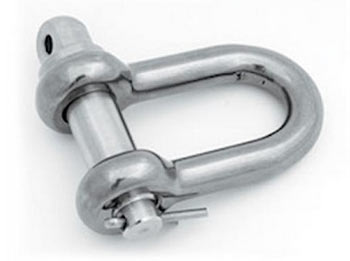 Once your rope or chain is attached to the branch, run it down to where your tyre will hang and then cut it to length. If using rope, remember to leave enough length to tie your hanging eye to attach your tyre.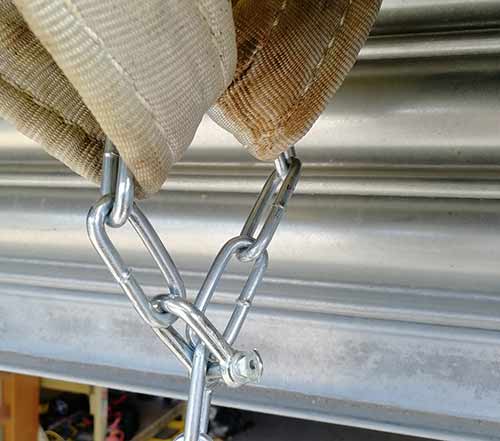 Step 5 – Hang tyre on chain
With the rope or chain secured to the tree branch or other object you can now attach the tyre.
If you are using rope for the swing, as with step 4 above the best solution is to splice an eye in the rope and add a rope eye but as long at the knot is as strong as possible and can easily cope with the weight of the tyre and anyone on it, that's fine. A great guide to tying different types of strong loop in a rope can be found here.
Once your loop is tied you can then use a suitably strong lifting-rated carabineer, Quick Link or d-shackle with locking pin to fix the loop in the rope to the tyre.
If you have chosen to use a chain then you will already have a loop in the end in the form of a chain link. To secure the tyre to the chain, as with the rope, you can use a suitably strong carabiner, Quick Link or d-shackle.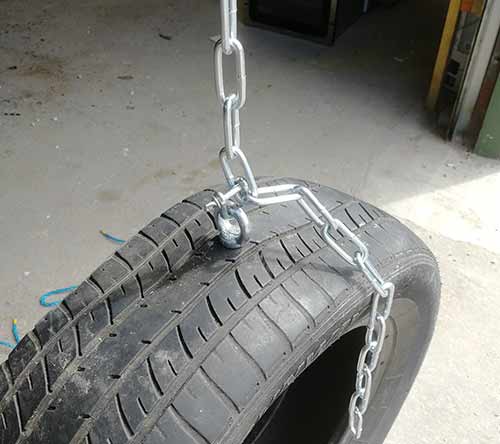 How to make a horizontal tyre swing
The vertical tyre swing is a great solution to keeping the kids and also any fun-loving adults entertained in the garden, but as you have to hold on fairly tightly to the tyre to stay on or in it, may not be too suitable for younger children.
The horizontal tyre swing provides a more suitable solution for younger kids as you can physically sit on the tyre and also have somtheing to hold on to, much the same as a traditional swing.
In the below guide we have used 6mm chain to make our swing but you can substitute chain for rope if you wish. 20mm braided Polyester rope will be more than strong enough.
Read on below to find out how to make one.
Step 1 – Clean your old tyre
Once you have sourced your old tyre using the advice above, firstly give it a good clean using a stiff scrubbing brush and some warm, soapy water.
Make sure you get the bristles of the brush right down into any treads and remove any and all dirt and debris. Work your way around the whole tyre making sure it's cleaned fully. If you need to, go over it again to make sure.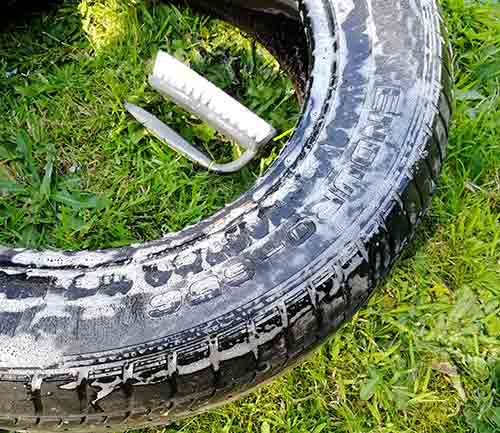 Once fully scrubbed clean, wash the tyre down using clean water to remove any final debris and soap and then leave it to one side to drain off and dry.
Step 2 – Drill out drain holes
Once You've cleaned the tyre fully it's time to get some drainage holes drilled.
As your tyre swing will most probably located outside it will be subjected to the elements and as we know, it rains a lot in the UK so after a few showers the base of the tyre swing will quickly fill with water.
Lay the tyre down flat on the ground with the face of the tyre you plan you use as the underside or base facing upwards.
Using a 13mm flat drill bit, drill drainage holes all around middle of the side wall of the tyre spaced roughly 4 inches apart.
This will allow any water that collects to freely drain away. you may also need to occasionally remove any leaves or debris from this inside area as it may collect over time and block the drain holes.
Step 3 – Mark up eyebolt holes on wall of tyre and drill them out
Next, flip the tyre over so that the top side is facing upwards, we now need to mark out our four fixing points.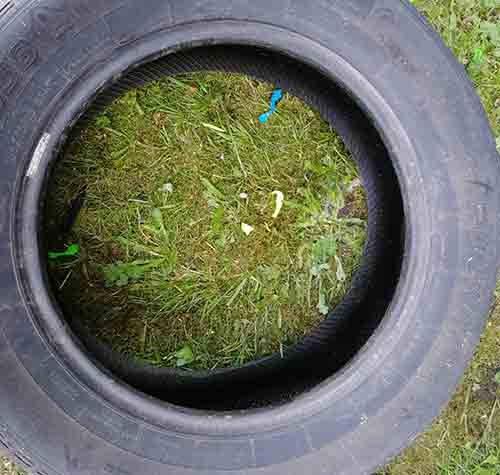 As previously mentioned, as we want this particular tyre swing to only swing backwards and forwards in the same way as a traditional swing we are going to need to hang it between two points to prevent it from swinging side to side.
To add some stability to the tyre seat itself we are going to add two fixing points either side. This will then keep it level and stable once it's hanging from the swing ropes or chains.
To ensure it's as stable as possible, the attachments need to be spaced equally either side of the tyre, square to those on the opposite side and as near to the edge of the tyre as possible but without compromising the strength of the fixing.
In this case as we were using a 15 inch tyre we marked our fixings using a template cut from cardboard to make sure everything was accurate. The holes were spaced 400mm along the front and rear and 320mm at both sides.
Once the cardboard template was cut to size it was them placed on the tyre and positioned accurately and then each corner was marked to indicate where each hanging eye hole needed to be drilled.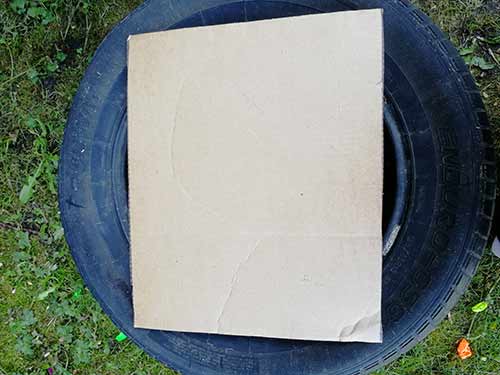 Once marked we then used a 13mm flat drill bit to drill each hole and we then inserted a hanging eye bolt into each hole. A 40mm M8 washer was then also added to help spread the weight and prevent the nut ripping through the tyre wall and the nut was then screwed on and tightened fully.
Just before fully tightening, all the eyes were turned so they faced the same direction.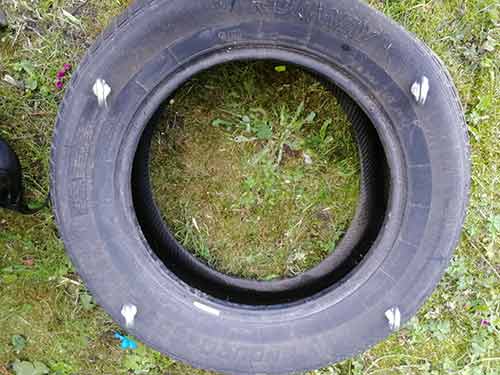 Step 4 – Make seat and bolt in place
To prevent smaller bums from falling through the hole in the middle of the tyre was decided to add a small seat. You can make your seat out of pretty much anything you like – a tough rubber mat, rope, the tread cut from another old tyre etc but for our seat we used some old pallet slats.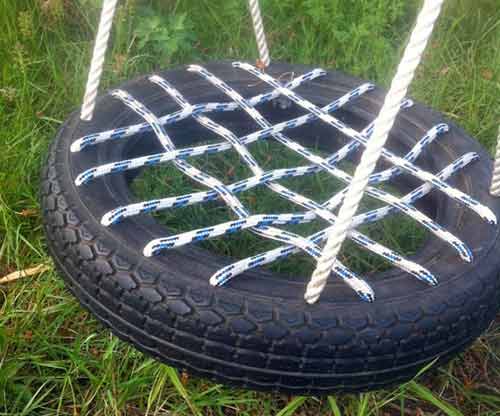 To make the seat we cut one pallet slat to 18 inches (457mm) in length and then 2 more at 16 inches (406mm). The longest to go across the middle and the two shorter ones to go either side.
Once cut they were then sanded flat to remove any chance of splinters and injury.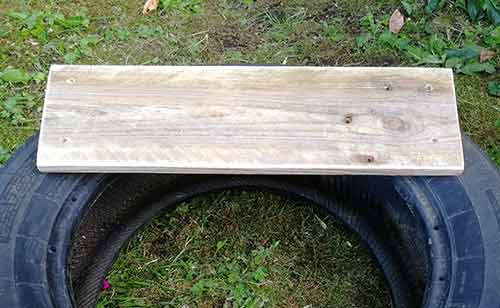 The longest slat was then slotted through the centre and positioned dead centre to the hole in the tyre. Timber blocks were then placed under either edge to hold it in place.
Using a 8mm drill bit, holes were then drilled through the tyre wall and the timber slat and an M8 nut and bolt and 40mm M8 washed inserted and tightened.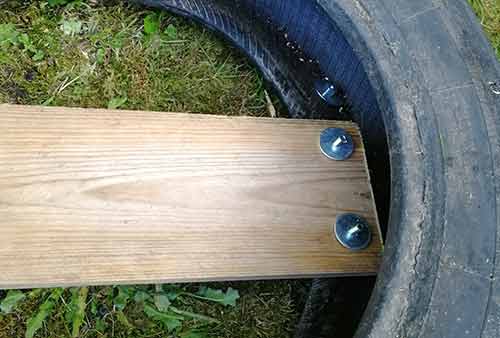 The same was then done for the two remaining slats, ensuring they were spaced roughly 1 1/2 inches (37mm) from the centre slat.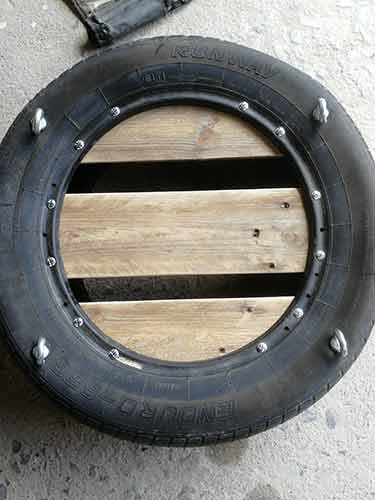 Step 5 – Fix chains in place across sides
The next job was then to attach the chains at either side that would then be used to attach the tyre to the swinging chains.
For this we cut two section of chain to 1000mm in length. You can use a hacksaw to cut your chain but as chain is made from toughened steel it will take a while so in this case we used an angle grinder (see our project here on how to use an angle grinder).
Each section of chain was measured and then the cutting point was marked using a felt tip pen.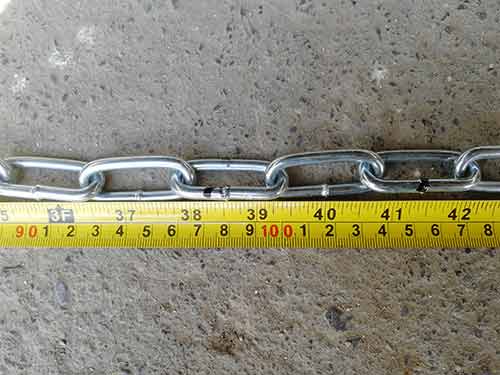 Once cut to length, each section of chain was then attached between each hanging eye on either side of the tyre using heavy duty d shackles rated for 80kg each.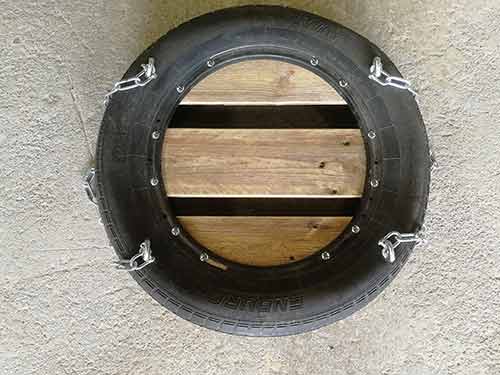 Instead of d-shackles you can use heavy duty s-hooks that are then crushed closed using grips, locking/screw gate carabineers or heavy duty Quick Links.
Step 6 – Fix swing mountings in place
With the tyre section of the tyre swing all now assembled the next job was to attach the actual mounting points for the swing to swing from.
The way in which this is done will very much depend on what you are actually hanging your tyre swing from. In the majority of cases this will probably be a tree branch so in this case see the section above entitled "What can you hang a tyre swing from and how much room do I need?" for information on the type of tree branch that's suitable for the job and then also see "Step 4" in the above tutorial for vertical tyre swings on how to fix the mountings in place.
In terms of the actual mountings, the vertical tyre swing is only hung from one mounting but as this tyre swing is going to be more like a traditional swing it requires two.
For your second mounting simply repeat the steps needed to create the first ensuring you space the second at least the width between the hanging eyes either side of your tyre away from the first mounting point.
For this example we are going to be hanging our tyre swing underneath a raised playhouse so we first needed to fix some eye bolts in place.
To ensure the swing sat directly under the centre of the playhouse structure (find out how to build a playhouse using our guide here), we measured and marked the centre of each side support beam and then drilled a 13mm hole using a flat wood drill bit.
An M8 eye bolt was then inserted and a 30mm washer added before the nut to help stop the nut being ripped through the beam. The nut was then fully tightened.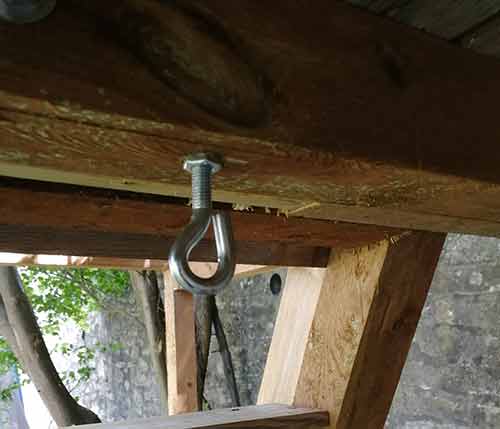 Two sections of chain were then attached to each eye bolt using heavy duty s-hooks (again you can use suitable Quick Links, d-shackles or carabineers).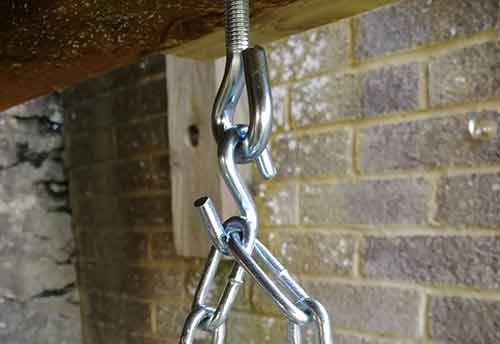 Step 7 – Attach tyre swing to mountings
With the swinging chains fixed to the eye bolts the final job now was to attach the tyre to the swinging chains.
To do this, as before, we again used heavy duty d shackles.
To ensure that the tyre sits flat and level between both chains and doesn't slant forwards or backwards, each swing chain needs to be secured dead centre between the hanging eyes on each side of the tyre.
To find the centre, lift the chain up on one side with one hand and then move your hand to the centre between each set of hanging eyes. Leveling by eye should get you pretty much there!
Once you have found the centre mark it with a pen and then attach a d-shackle to the link in your chain with the mark and then also add the last chain link in the swing chain then secure the d shackle or your chosen fixing in place.
Once one side has been successfully hung, repeat for the other side.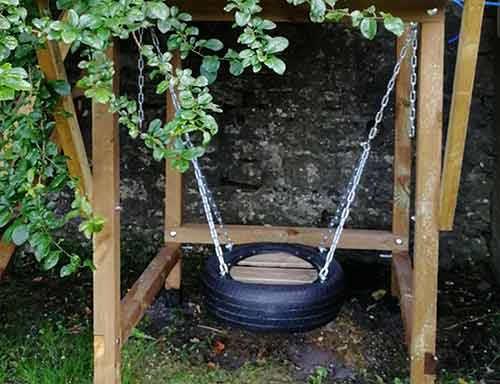 Finally check the level using a spirit level just to make sure everything is as it should be and you have now successfully made your very own vertical tyre swing!
Once adjusted and leveled up, the s-hooks used to hang it in place were then squeezed closed and the excess chain was then cut off using an angle grinder.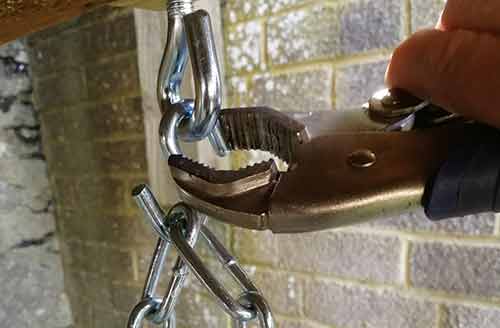 A tyre swing is a relatively easy thing to make. As long as you have something sturdy to mount it from and enough space for it to swing it will keep the kids entertained for hours!