A problem with traditional plaster coving, cornices, ceiling roses and general architectural mouldings is the degree of difficulty in installing them. We receive hundreds of questions from our users, after they have read our coving project, asking if there is an easier way to do this job.
The answer is "YES"
The job can be a lot easier using lightweight polyurethane mouldings and ceiling roses. These mouldings replicate the traditional shapes and patterns and are absolutely ideal when either trying to recreate the atmosphere in a refurbishing project, or creating a luxury feel to a new build.




Installing coving and cornices has never been easier. The mitres are the same and, as always, we strongly recommend you buy an extra length of your material to practice on. All trades take a long while to learn, coving is no exception. It is much cheaper to practice on an extra length than it is to throw the "finished article" away!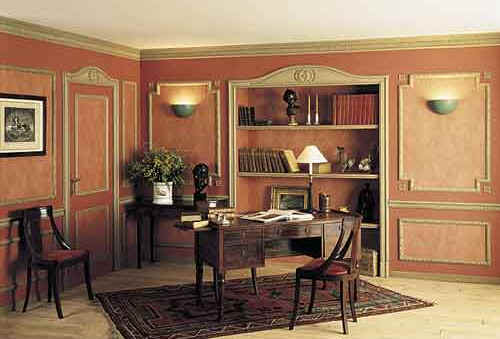 Polyurethane mouldings have been introduced specifically to make life easier, more varied and less expensive. The cost of a plaster moulding to recreate an ornate cornice or ceiling rose is so prohibitive that, apart from heritage run homes and palaces, we were in danger of losing the patterns altogether.
The image above represents just a very few of the features you can incorporate into your decorating. Even moulded skirting can be cut and fixed easily with an incredible bonus that the skirting is hollow backed to hide all the cables and wires you have clipped to the top of your old stuff.
Take an ordinary, flush interior door and turn it into a beautiful raised panel door just by sticking the panels on. Make a feature out of a well lit wall with panels and mouldings that, yes you've guessed it, just stick on. It could not be much simpler to get a classical look in the most tired of rooms.
How about coving which is lit from the back, or a ceiling rose which is simply screwed into place. Many companies make all this possible by supplying products which are easy to assemble and install, easy to maintain, easy to clean and as inexpensive as you could hope for when it comes to quality.
What about domed lighting in your bedroom? It isn't hard. Porches can be created using realistic columns, window shutters can be installed for a period look and practical privacy. Niches can be created to feature loved ornaments or pictures. The way is now open for the DIY enthusiast to create room decoration far beyond wood chip wallpaper and a dado rail.