Cutting a Mitre Joint
Where two pieces of skirting board, picture or dado rail meet in the corner of a room, the chances are that the neat joint between the two sides is made using a mitre. This is an angled cut made to both pieces of timber.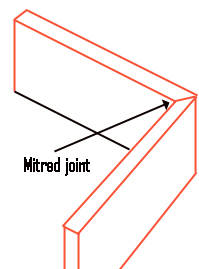 The angle at which each piece of timber is cut is half of the total angle involved. For example, most rooms are square, or very nearly in the case of most modern buildings! This gives each corner a value of 90 degrees. Both sides of the timber are therefore cut at 45 degrees so they meet to form the 90 degree turn.
The length of one side of the wall is measured and at each end a mitre is cut. Don't forget that mitres at each end will turn the opposite way. These mitres are very easily cut with a mitre saw. The best saw to use is a tenon saw as it has very fine teeth and will not "tear" the timber.
As with all timber joints, use an off-cut of timber to practice on first. It is worth buying an additional length of skirting for example to practice joining two mitres as, unless you are used to it, they can get out of line quite easily. When using a mitre saw, clamp the timber in tightly, even a little movement can lead to a bad joint.
If your joints are not perfect, and to start with it is unlikely that they will be, you can fill them with some flexible filler, or "decorators caulk" and, done properly, this will not show.
Angle finders can be bought at most DIY stores, but a simple way of checking you have exactly half of the room angle is to cut a piece of paper into the corner so both sides of the paper touch a wall each. Then fold the paper in half so that each of the sides which were touching a wall are now aligned with each other. The angle now formed can be marked onto the timber. When cut and joined, the two timbers should be like unfolding the paper again. Don't forget, practice first.
If you have a lot of mitres to do it is definately worth buying an electric mitre or "chop" saw, but do remember to wear safety goggles.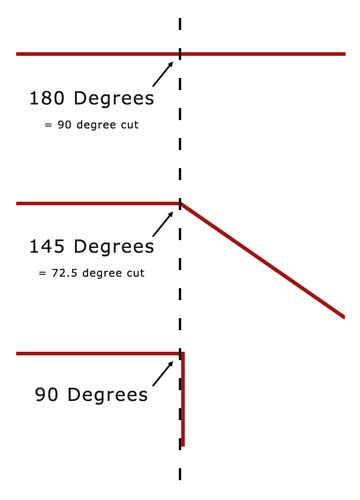 Take a look at our video section on using a mitre saw to watch a practical demonstration on how to use this useful tool.
Other Alternatives to Mitre Joints
There are many situations where the cutting and joining of mitre joints are required and in most cases this is the best course to take. However in some instances a joint of this type simply is not strong enough unless you combine it with other jointing techniques and additional support – e.g. if you were building a work bench or shelving unit for your garage or shed you would want this to be sturdy enough to take the weight of items such as tools boxes and paint tins etc….
In this case it may be better to use a specialist jointing system such as the one we have used in our how to build a work bench project. Although the initial cost is quite a bit higher this is far out-weighted by the fact that a bench or shelving unit built like this will stay strong and last many many years.