Laying a patio or lawn involves a lot of garden clearance and this sometimes means the removal of walls or hard standings.
The traditional method of breaking these up with a sledge hammer or pick axe is time consuming and exhausting but most people do not realize that it is easy to hire a suitable tool for the job which is relatively easy to manage.
An electrical breaking hammer, commonly called a Kango, is an easy to use tool which plugs into the mains, usually via a transformer to reduce the voltage to 110V.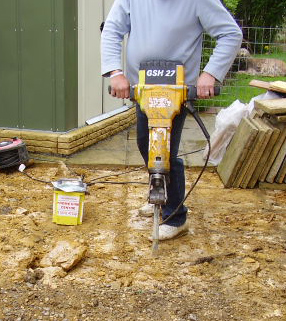 The breaker in the image above is larger than a Kango (pictured below) but is capable of breaking up thick concrete slabs. These breakers are heavy and you need to be fairly strong to manage them but they make life so much easier.
The average cost of a breaker this size to hire is about £20.00 per day plus the cost of sharpening the chisels for which the hire company will charge about £1.50 each and the hire of the transformer which is usually about £1.50 also.
The smaller breaker, below, is OK for slabs up to 3 inches thick and knocking down garden walls and is cheaper to hire. We have a wide range of Kango Breaking hammers available in our store for you to choose the right one for you.
Make sure you wear the correct safety gear - impact goggles, gloves and earmuffs are a must when using these tools. Wearing steel toe capped boots is also advisable.
You can watch a very useful short video on how to load a wheelbarrow correctly by clicking on the link.