It has to be said that fitting a monoblock mixer tap is not the easiest operation in the world and can certainly be a bit fiddly. However, this project should go some way to making it a little easier.

The monoblock is a very clever piece of design technology which allows both the hot and cold feed to enter the base, or block of the tap. The temperature is then "mixed" by the operation of the tap valve or handles. In order for both feeds to get through the same opening they are reduced to 10 or 8mm and special tap connectors are used to screw into the block. The image on the right shows the tap at the top with the connection tails at the bottom ready to receive the hot and cold feeds. The 10mm feed pipes screw into the underside of the tap and are then machined out to become 15mm copper tails ready for the connection of 15mm feeds.
This can be seen more easily in the image below.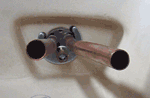 The opening for a monoblock mixer is usually 26mm. This will be, or be close to, the size of the hole in your sink, basin or bath. There should be a large rubber O ring which sits underneath the block and is squashed between the top of the sink and the underside of the block as the monoblock is tightened into place. A large, flat rubber washer is placed on the underside of the basin and this has holes in it which should line up with the holes in the monoblock. The larger two of these holes are for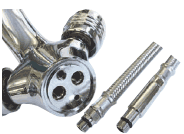 the feed pipes to be screwed in and the smaller two are where the threaded connection bars are screwed into. These threaded bars should be fitted before dropping the tap through the hole in the basin. Only do them up as tight as you can by hand. If you use pliers or grips there is a danger you will damage the thread.

Once the tap is in the hole with the flat washer, or mounting plate placed over the threaded bars, the steel washer can be slid into place also.
On some models of mixer tap there is only one threaded bar making the job a great deal easier.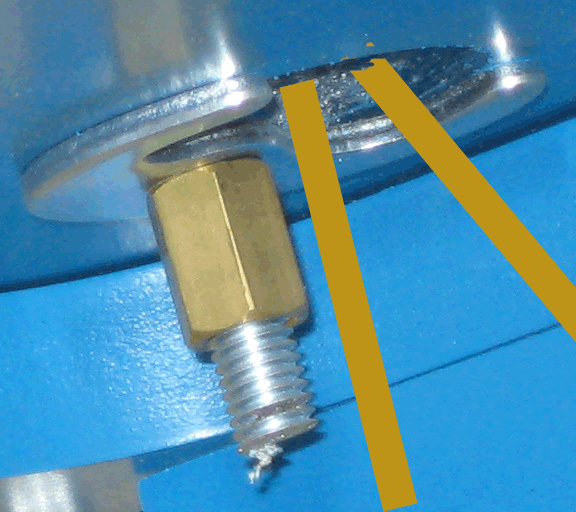 With the washer in place the nuts can now be tightened onto the threaded bar and this is where the DIY enthusiast struggles. There is hardly any room under the basin, less under a bath and a kitchen sink is a nightmare. Plumbers on the other hand, carry a box spanner which is a long open tube with the correct size nut shaped hole at the end. It is slid over the thread and the other end twisted tight by putting a nail or something similar into the hole and turning. Easy!

Speedfit fittings can be used on monoblock feed pipes so click into the speedfit project to see more.