Which Pipe do I Connect the Outside Tap to?
When fitting an outside tap, most are joined to the domestic cold water under the sink, where hopefully, there is enough room to work.
The connection does not have to be made under the sink but it is ideally made to a cold water pipe which is carrying cold water under mains pressure. To feed an outside tap from water coming from your cold water tank will seriously affect other peoples use of the water coming from this tank.
When mains water comes to a property it must feed at least one tap with mains pressure before it goes up to a cold water tank so double check that the pipe you want to connect to is under mains water pressure.
There is usually a tangle of waste pipes and hot and cold water feed pipes under the sink which make connection of an outside tap difficult so in many cases it may be easier to look between the units, or even behind them to source a cold water feed to the outside tap which is a little easier to work with.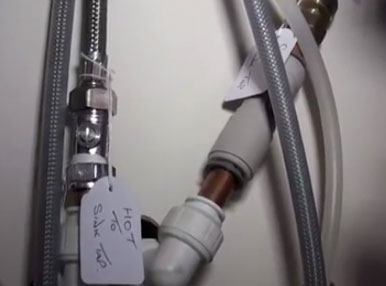 What is a Double Check Valve?
A double check valve is a valve within the body of the tap which only allows the water to flow in one direction. In this case, that is outward, towards the tap itself.
The reason for it's installation is that sometimes, without a check valve, it is possible to (for example) run a hosepipe out to a paddling pool Should anything happen to that water supply and a vacuum be caused in the pipes behind the tap it would be possible for water to be sucked back into the system without a valve to check the reverse flow.
This could be likened to siphoning petrol out of a tank by giving the hose an initial suck, then letting the vacuum pressure do the rest. To avoid contaminating the water supply, a double check valve is used.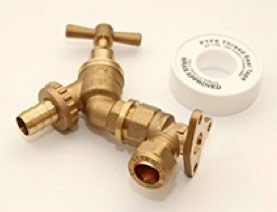 If you would like to purchase an outside tap with a double check valve, you can get one from Amazon here.
Using an Outside Tap Kit
The simplest way of installing or fitting an outside tap or garden tap is to use a full kit. This kit is available from the DIY Doctor toolstore, and a link is available a little way down the page. You will need to buy the double check valve tap by clicking here.
The DIY Doctor Outside Tap Kit provides everything you need for fitting your outside tap. The only other things you will need is a length (2m should do it) of 15mm copper pipe and a length of 22mm copper pipe to act as a sleeve through the wall. You will also need a Tee piece to connect to your mains water and possibly some bends.
All of the above pipes and fittings should be readily available from your local plumbers merchant or DIY store.
Each installation is different so take a look at our projects on how to join copper pipes by either using compression joints, or you can use soldered joints if you're handy with a soldering iron or you could even useSPEEDFIT® plastic piping and joints. Which method you use is really down to you, so check out the project pages to see what's involved with each.
You might even want to read our pages on cutting copper pipes and the revolutionary cold copper solderless bonding.
If you would rather bend the copper pipe than simply fix bends to it, then take a look at our page on how to bend copper pipe and learn how to get your bends nice ans smooth, without any kinks.
Sleeving Copper Pipes Through Walls
The water carrying pipe (IE the 15mm pipe) should be allowed to expand and contract without fear of erosion or puncture and the only really safe way of doing this is by placing it in a sleeve through tyhe wall.
The easiest way to make a sleeve is by using a length of 22mm pipe. There is another way shown in the video below, so check this out also.
How to Fit an Outside Tap or Garden Tap
First, select a cold water pipe which feeds a cold tap in the house and one that has enough freedom of movement to allow the insertion of a T connector. Before you go ahead and make any cuts make sure you have turned off the water!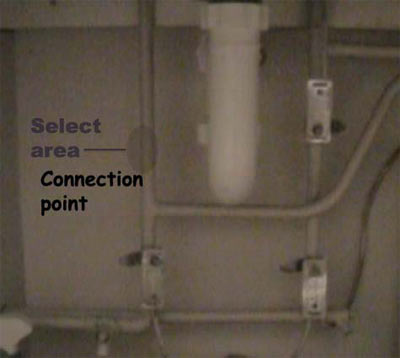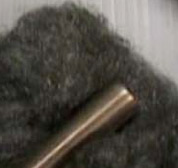 This pipe will have to be cut to allow the introduction of the T fitting needed to branch off. Use a pipe slice if you can get one, or a normal pipe cutter and as a last resort, a hack-saw.
The end of the pipe will need de-burring if you are going to use a hack saw. There are a couple of images of different pipe cutters below as well as a DIY Doctor recommended tool kit for making sure you have the right kit for all the cuts and joints you have to make when fitting your outside tap, compression joints and isolation valves.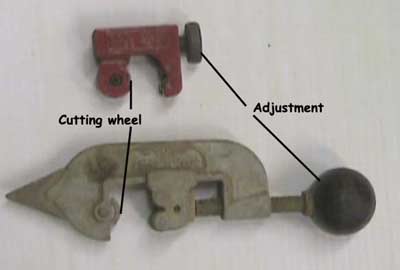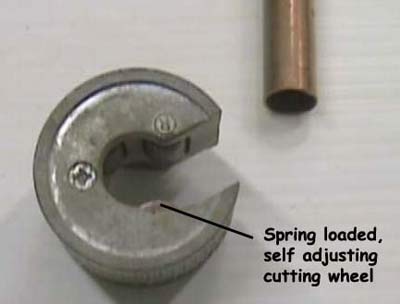 Cutting Copper Pipes and Fitting Compression Pipe Fittings
A T-piece will need to be inserted into the pipe, allowing a supply to come through the T to the outside tap. It is best not to point the new branch directly to the outside, but have it pointing to the side. This will enable you to fit an isolation valve.
This valve will allow you to turn off the supply to the outside tap at any time. It will also allow you to do the rest of the work after you have turned your water supply back on, allowing you to have a cup of tea without upsetting the whole family!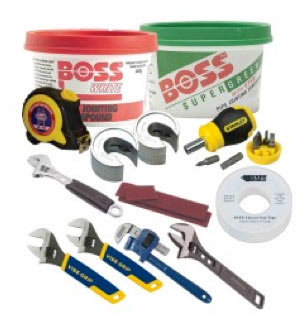 Diagram for Fitting Outside Tap
The below is a simulated picture of what you are trying to achieve. As you can see we have Tee'd into the existing supply.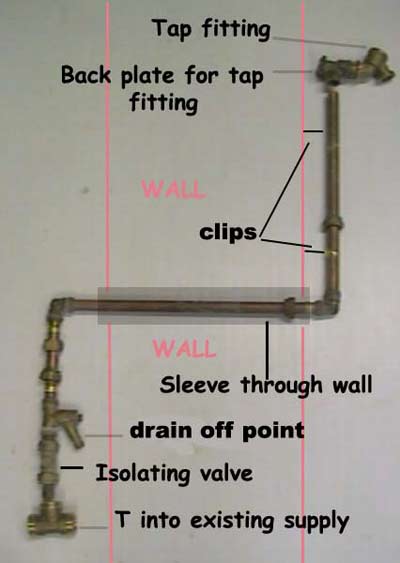 Next a short length of pipe is fitted into the compression T-fitting and an isolation valve is fitted. More about isolation valves can be found in our fitting a bathroom project.
When the isolation valve is fitted and the mains end tightened up, the water can be turned back on. Once turned back on, check over all the pipework for any leaks. If any are present, then either tighten the joints or turn the water off and make any repairs.
From the isolation valve we have gone to a drain cock with a short length of pipe. We like to add one of these wherever possible as it allows you to drain down the outside tap pipework in very cold winters to stop any chance of freezing pipes.
They are not expensive, and a little thought beforehand can save a great deal of time and money later.
Where to Fit the Outside Tap
The pipe then runs to a suitable place in the wall where a 22mm hole is drilled, with a hammer action drill and a 22mm masonry bit, from inside to out. A piece of 22mm copper pipe is then inserted into this hole as a sleeve.
The sleeve stops any pressure, from the masonry, on the actual pipework to the tap. The pipe then runs through this sleeve, and obviously the wall, to a 90 degree bend where it goes up to the required height, and finally to the tap.
The tap will consist of two parts – the backplate, which is screwed to the outside wall and into which, by means of a compression joint, the pipe fits. Finally, the tap mechanism itself then simply screws into the back plate. The pipe is then clipped to the wall to keep it secure.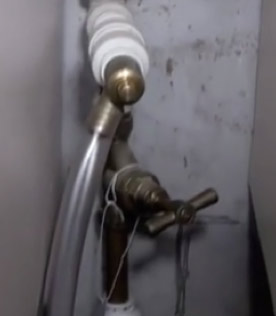 Fitting a Backplate for Your Outside Tap
If you have enough room inside the cupboard or wherever you are making your connection, there is now available a special tap backplate which already has a pipe connected to it. This can simple go through the wall (and sleeve) and be connected.
The outside tap pipework can be connected by using either a compression joint or soldering the joint.
The gap between the sleeve and the water pipe can be filled with silicone mastic to keep it water tight.
Finally, don't forget to add an insulated tap cover or jacket after installing or fitting your outside tap as this will prevent it freezing up in the winter.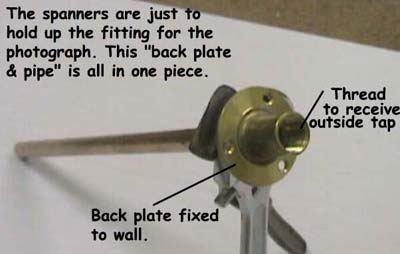 Outside Tap From Water Butt for Rainwater Harvesting
Another way to provide an outside tap or water source would be to install and use a water-butt. This is a great way to capture and store water, no just because rainwater is pretty readily available in the UK, but also because it is free!
There is a video available on our rainwater harvesting project page which DIY Doctor has produced to show how to join several water-butts together to provide a larger reservoir of water.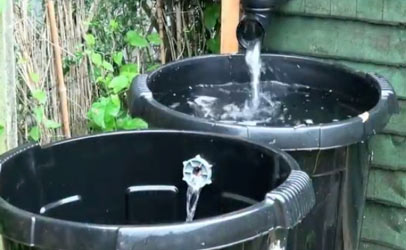 To make sure you have a good supply of water to your water-butt connected system it is a good idea to collect water from any available sources such as gutters and down pipes from your house and any sheds you may have.
The connections are easy to install, as is the installation of gutters and downpipes. In this project on plastic guttering and downpipes you will find information and a video on installing guttering and making joints in downpipes to create a feed for your water butt.
Once the guttering is fitted you can use a simple tank connector, available for all plumbers merchants, to fit your water butts together and install and outside tap to them.