If you need any help with roof truss or other roof beam problems, including rot and insect attack Property Repair Systems staff will give you completely free, no obligation advice on 01626 336180. The information you need may be in the project below. If not, call them.
Property Repair Systems
offers you information regarding all types of roof truss component repair and treatment. This includes a
helpline
manned by experts. Click on the logo above to find out more.
WHAT IS A ROOF TRUSS?
Roof trusses are frames made up of timber that is nailed, bolted or pegged together to form structurally interdependent shapes of great strength. Never remove, modify or cut into a roof truss without consulting a Structural Engineer: your roof could fall down!
Roof trusses have to withstand the weight of the roof timbers and coverings (the 'Dead Load'), plus a factor for your local Wind Load, plus a factor for your local Snow Load, plus a Safety Factor. A Structural Engineer can check these figures - Property Repair Systems offers an independent, qualified Structural Calculation service, if you need to modify or repair your roof.
Roof trusses come in all shapes and sizes to suit almost every single design of roof. If you cannot find the truss you need below you may need to find a good carpenter to build a traditional 'cut' roof. This means that your roof is made up from timbers on site. If your existing roof trusses are damaged in any way it is possible to repair them without taking your roof to pieces.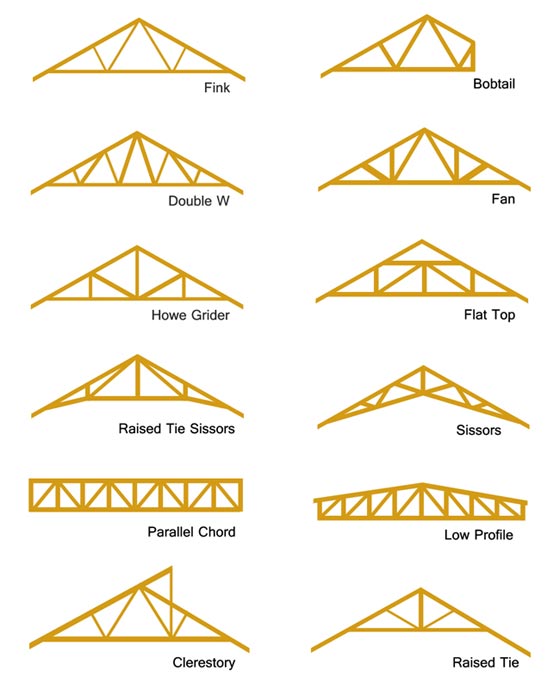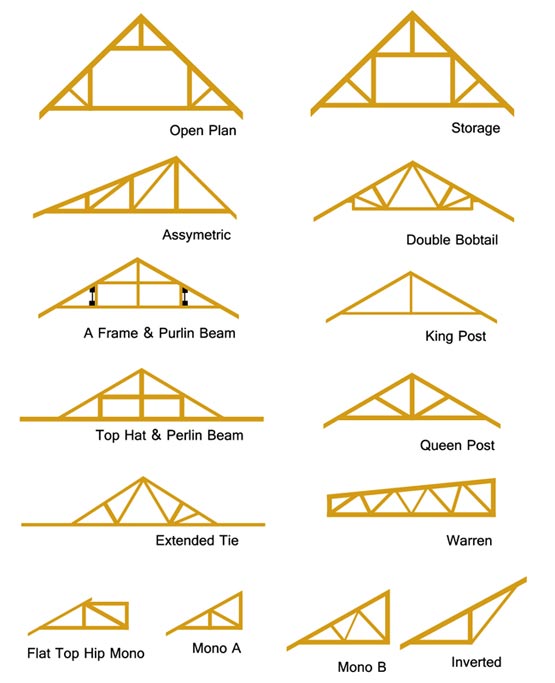 WHAT MAKES A TRUSS STAND UP?
The truss depends on three main characteristics, which can be given 'numbers' so that a
Structural Engineer
can calculate a safe load;
The strength of the timbers – modern trusses are very lightweight, so only structural kiln dried timber is used and it is usually pre-treated, to prevent insect and rot attack. You can specify the TRADA Strength Grade when you buy timber – for example, C16 or C24 – if an Engineer supplies the Design information.

The distribution of the load through the parts – the design is critical – if you take one component out, or weaken it (say by cutting notches for pipes) it will be seriously weakened


The connection of the parts – the bolts, plates, screws, glue or pegs that hold it all together. These must not be cut or changed without professional advice
WHAT CAUSES FAILURE
The biggest enemy of roof structures (apart from the notch cutting or hole drilling electrician or plumber) is Water.
Penetrating damp – water leaks – these lead to rot and insect attack, even in treated timber, which is not always treated all the way through its thickness. Older buildings are most susceptible, especially where the rafters or tie beams sit on, or in the walls. Treatment with Boron based preservatives is essential if dampness has affected the wood (see Boron.org.uk)


Rot and Insect Attack – usually associated with dampness, but mainly in older, pre-Second World war properties, where solid, non-cavity walls or thick random stone walls support the bearing ends of the rafters and/or tie beams. Treatment with Boron based preservatives is essential to stop the rot and insects from destroying the roof's structural bearings. These potentially damp areas require careful inspection with a torch and prodding with a screwdriver. Drilling with a small diameter Auger is advised, if you have any doubt about the strength of a component.


Joint Failure – modern roof structures mostly use 'nail plates' or plywood plates fixed with nails, screws and glue. Older roof timbers were connected with Mortise and Tenon joints, plus wooden pegs. These tend to be eaten away by Woodworm and the roof beams then move, opening up the joints. Resin Repair, with Tie Bars and injected resin, can solve this problem.
TIMBER-RESIN REPAIRS
There is always the possibility, in older properties that your rafters have dropped at one end because the timber has become rotten and compressed inside a damp wall.
Thanks to some incredible, yet simple technology (the
Patented Timber-Resin Splice Kit
) it is now possible to replace sections of joists and rafters, in-situ. Take a look at the images below to see how this works.
If you need help with Timber Repairs, Rot or Insect Attack, or with timber treatment products Property Repair Systems staff will be pleased to give you completely free, no obligation advice on 01626 336180.