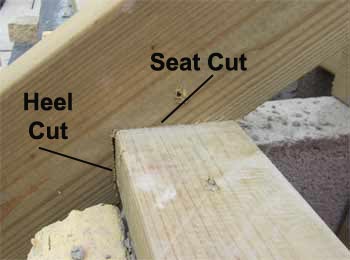 A birdsmouth joint is one which looks just like a birds mouth! No magic there then! Its two main uses in the building industry are for the fixing of straining posts to upright posts when a fence needs extra support (See our project on chain link fencing) and sitting roofing rafters onto a wall plate. This is usually done when a traditional style, hand cut roof is added to a building. Modern roof truss design allows the trusses to sit flat on the wall plate. See our project on roof trusses.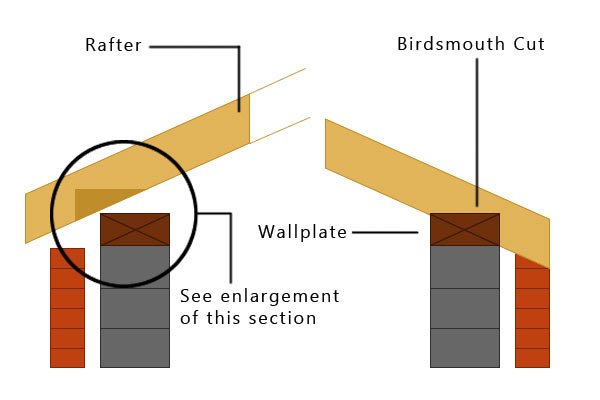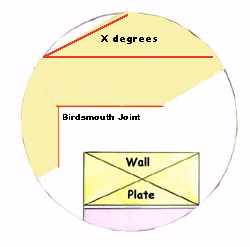 Cutting a birdsmouth on a roof depends on the pitch angle of the roof. Looking at the image on the right you can see a horizontal line drawn above the birdsmouth cut. The angle between this line and the face of the rafter (i.e. the top face of the rafter where the roof tiles will be laid) is the same as the angle at which the roof is pitched.
Drawing a line 90 degrees down from this line gives you the vertical cut which sits at the front of the wall plate. In the case of a 30 degree pitched roof, the angle between the vertical birdsmouth cut and the underside of the rafter, is 120 degrees.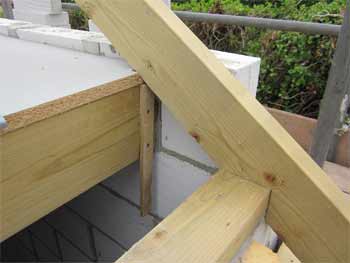 Why not go to our video section on roofing and check out the film on "roofing rafter" to find out how to mark and cut out a rafter.