If you have noticed damp patches on your bedroom ceiling or areas of stained plaster then it is possible that you have a leaking roof. This project is all about the different areas of a roof which are most likely to leak.
There are some quick and simple checks that you can do to stop potential problems before they happen or to identify the area where the leaks that cause the visible water damage are coming from. Early prevention can help to increase the useful life of your roof and sure it up before a storm.
Often even with all the best precautions a serious storm will do significant damage, but use these checks to identify potential leaks before they come through the ceiling and cause more damage
A severely leaking roof is a monumental hassle to get sorted and costs can be significant as damage can be caused to roofing timbers, plaster and interior decoration so it's best to nip any small issues in the bud before they get any worse.
These are the most common parts of a roof that can cause leaks and we will cover them in turn:
damaged lead flashing
damage or cracked ridge tile and verge tile mortar
damage to the tiles themselves
damaged or blocked roof valley
We will then help you identify the cause of your leaking roof, areas that are vulnerable to storm damage and how each issue should be repaired.
The causes of the initial damage can vary but in most cases it's down to the aging of materials (tiles, mortar, flashing etc…. failing over time) or storm damage caused by high winds, driving rain and frost or snow.
Different Parts of a Roof Explained
It is important to understand the part of the roof that you are dealing with. This is a very quick guide to the different parts of the roof and what they are for. If you need more information we have a whole section of the website dedicated to information about roofs and roofing. See more about roofs in our DIY Projects Section all about roofs and roofing.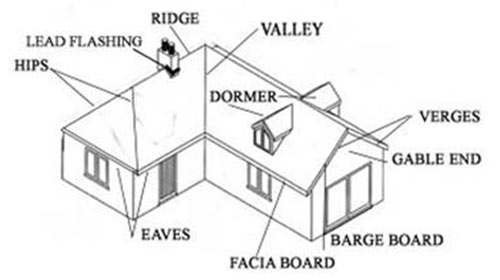 These key parts are of a roof and terms used when describing a roof:
Ridge: This is the top of the roof where the two angled slopes of tiles or slates meet; it is the highest point. The ridge it typically capped off ornate ridge tiles
Valley: Where two sections of a roof meet on the downward slope they form a "V" which is known as a valley
Hips: These are the line where two sections of a slope meet at the top of the roof slope
Flashing: This is typically lead which forms a seal between the roof tiles and the structure of the building, such as brickwork
Verges: These are the edges of the roof that is exposed above the gables
Eaves: This is the overhang of the roof that sticks out beyond the walls of the building
Facia Board: This is the board that is attached to the edge of the roof at it's lowest point. The guttering is usually attached to the Facia
Safety When Repairing Your Roof
You must ensure that you are safe when working on the roof, even if you are simply having a quick check. We recommend that you read our ladder safety project before you start.
There are a number of products that can help you work more safely which we recommend particularly is you are going to be working on roofs on a regular basis. You can find all of these products in our DIY Store – just click on each image or follow the links.
Roof Ladders and Roof Hooks
If you are working on ridge tiles or chimneys you might need to use a roofing ladder or a pair of roof hooks.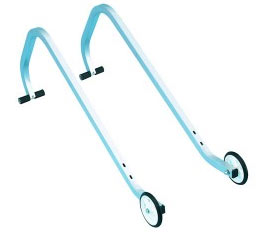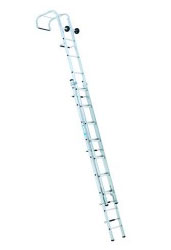 Ladder Safety
There are a number of devices that will make it easier for you to work safely. To secure the base of the ladder on the ground we suggest that you use ladder stopper matts which prevent the ladder sliding our from under you. A platform can also make working for long periods up a ladder more comfortable and safe.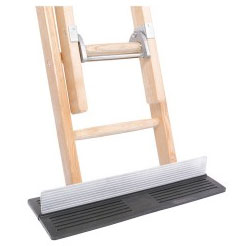 Platforms and Scaffold Towers
If you find yourself up a ladder regularly, then you should consider a platform or scaffold tower. For working at height there is no safer way than using a scaffolding tower.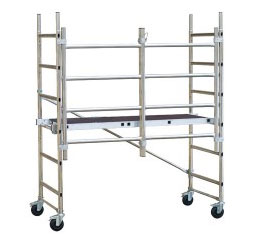 How Long do Roof Tiles Last?
Most roof tile manufacturers would suggest a life span of 20 years for manufactured tiles (rather than natural materials).
However many tiles age quite well and can last for hundreds of years in good climactic conditions. Think of Roman Villas with their terracotta pantiles and Welsh Cottages with their slate roofs. Slates are expected to have a useful life of between 50 – 150 years depending on the type and the exposure to the elements that they receive.
Having said that terracotta and concrete tiles do have a natural effective life and even slate and stone tiles can be blown off or dislodged, which can crack or chip them. Tiles can also be damaged by falling trees or branches in storms. It is important to have a quick check of your roof after a bad storm.
Storm Damage to Roof Tiles
Storm damage can affect any of the tiles on your roof, including the ridge tiles. Any art of the roof that is old and weathered will be vulnerable to storm damage. Where there is damage to the pointing on the ridge tiles they may simply need repointing. This is acceptable repair work if the mortar is just weathered, however where the ridge tiles have become loose they need to be removed and rebedded on fresh mortar which will form a more permanent repair.
Damage to Lead Flashing on Chimney Stacks
As a roof ages the roof timbers and trusses may shrink or warp. This movement can put pressure on the walls and chimney stack and can dislodge the mortar in the joints.
These cracks allow rainwater to gather in the mortar joints and during the winter Freeze/Thaw action can case further damage to the mortar joints and even to the brick or stone of the wall if they also become waterlogged.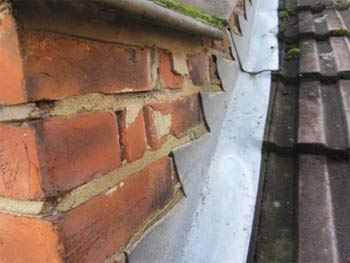 The lead flashing protecting the base of the chimney stack is especially vulnerable to water ingress if there is movement in the roof. So if there are cracks and gaps appearing around the flashing this area will need to be repointed.
Repointing is a fairly straightforward process that involved raking out the old damaged or crumbling mortar and replacing it with new mortar to seal the gaps. Read more about how to do it in our repointing project.
In the video at the base of the page we show you an area of 'step flashing' where it is likely that the mortar will need to be raked out and repointed to make it weatherproof again.
Leaking Roof Valley
A roof valley can start to leak if tiles become dislodged or where old mortar starts to crumble away. Debris building up in the valley can then cause rainwater to be forced up under the tiles and into the loft where it will soak roof timbers and even start to leak through onto your ceiling below. You will notice this inside the house as damp or discoloured patches on the bedroom ceilings below.
You are most likely to notice this happening during storms when there is driving rain. However it may be happening to a lesser degree over time and causing the roof timbers to get damp which in turn could lead to rot and decay in the timbers. Read more about timber damage and decay in our projects section.
Verge Tiles and Mortar Bedding
Verge tiles are the tiles at the end of the roof, and these are also bedded onto a layer of sand and cement. You will find them at the end of a pitched roof, on gable ends and dormer windows. The roof is usually further protected by a roof membrane under the layer of mortar.
These mortar verges are very vulnerable to frost (see freeze/thaw action above) and water damage. So where the sand and cement becomes cracked or starts to flake or crumble away these verge tiles may need lifting and rebedding.
Don't forget our safety tips if you are carrying our work on a roof.
We also have lots of other DIY Video Guides on our YouTube Channel.