The 5 key factors affecting your choice of Render finish for the exterior walls of your home
Render is a very popular choice of finish for the exterior of many homes. There are a number of reasons that renders are used, but generally they are because it is not possible to get a weather proof finish with the existing walls or the existing walls are unsightly and it is cheaper to cover them with a form of render. Not everyone can afford a beautiful sandstone façade to their home!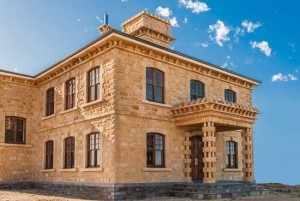 Here are the main factors that you need to consider when selecting a suitable render for your home. This is not all the factors, but the most commonly cited reasons that are used.
For more information about the types of render, and how to paint the exterior of your home have a look at our project on rendering options and painting exterior walls.
The existing substrate; This is the underlying material that the wall is typically made from. This will have a huge bearing on what you can do, not least whether it needs to be rendered at all. Buildings that are constructed with materials that experience a lot of movement will need to have a very flexible render such as a lime render. Those that are more rigid will be able to use a less flexible cement based mortar.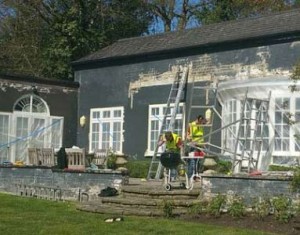 The age of your property; There are two factors at play here – the older the building the more likely it is that it is going to have been built out of materials that move more, so you will have to select a flexible mortar. The other factor is the aesthetics of the building. It might not be appropriate to apply a modern, stylish render to an old, traditional building.
Planning Restrictions and Listing: Most houses have no restrictions about what you can do to them, although if there are too many complaints the local council does have powers to make you remedy the situation, so it is wise not to get too outlandish! There are restrictions if your home is listed, and there are likely to be restrictions if the home is in a conservation area or national park. Flats do not have the required permitted development rights to alter the finish. If you don't own the freehold to your property, you should check with the freeholder before doing anything. Find out more information here.
Your Budget: Your budget is going to be one of the biggest considerations in the decisions that you make around rendering your property. Many self builders choose cheap block to build their walls in the knowledge that they will be covered with a render. If you are using a render for aesthetic reasons there are numerous modern renders which can produce the most dramatic effects relatively cheaply.
DIY or Professional Assistance: Some renders are relatively easy to apply – see our project on applying render to exterior walls – while others will be a challenge to even the most experienced DIY enthusiast. This is likely to have an impact on the budget too. The weather will have an impact here and in most cases you will need to have sufficient clear rain-free days to get the job done.
There are many things to consider when deciding on whether to render your exterior walls, and which render and finish to choose. We have discussed them in much greater detail in our project all about the options for rendering and painting the exterior of your home.