This section will provide you comprehensive information about how you can care for your lawns and hedges. From laying the turf in the first place to how to makes repairs if it gets damaged, right through to how you can maintain a lovely looking lawn. This section also covers how you can look after garden hedges, including trimming and pruning.
For further information about other aspects of gardening you can look at our complete gardening section. We also have sections dedicated to fences and fencing and to garden walls and other garden screens.
It does take a little hard work to maintain hedges and lawns, but this is time well spent as it will have a disproportionate effect on the look of your garden. Well tended lawns and hedges do make a big difference.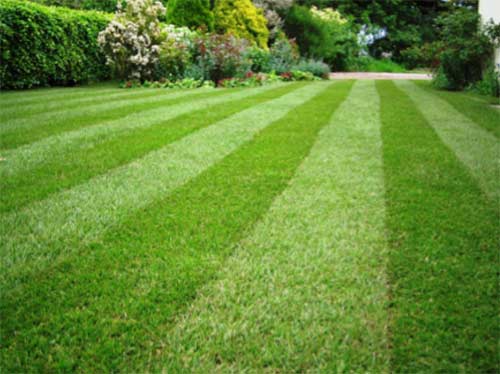 Lawn Care and Maintenance Tips
Looking after a lawn is relatively simple but it does require attention for most of the year. Here are some of most important things that you should be doing to care and maintain your lawn:
Feeding Your Lawn
Every lawn needs to be fed if it is to grow vigorously. By feeding the lawn, the grass with grow stronger and out compete many of the weeds and moss that you will spend time trying to remove.
Feed once in the early to mid spring (March – April) with a lawn fertiliser. There are specialist spring fertilizers so use one of these if you can. Apply when the soil is moist and rain is expected but it is not actually raining but follow the application instructions if the differ from this advice.
Feed in the summer between May and August with a summer lawn fertiliser. You can make your own (a quick Google search will through up hundreds of recipes – here's one of our favourites from the Guardian) or you can use chicken manure pellets. You can repeat this if you lawn is beginning to look tired.
Never feed after August. This encourages growth when the plant should be getting ready to hunker down for the winter.
Mowing
This is what you will spend most of your lawn care time doing!
You will not need to mow in winter unless it is particularly mild which will cause the grass to grow. In spring and autumn you should only have to mow weekly, but in summer this will increase to twice weekly unless there is a drought and the grass stops growing.
Start the first mow of the spring at the higher setting for your mower and gradually bring it down to the level that you are happy with. This will generally be about 13-25mm (½-1in), for a normal household lawn. For fine lawns you can go shorter, to around 6-13mm (¼-½in).
Avoid mowing to short or too long as these both weaken the grass and ultimately result in a poor lawn. The shorter that you mow the more that you need to feed it, so you are also creating work for yourself.
Moss Issues
This is a very common problem in a British garden. It is caused by one or a combination of poor drainage, lack of vigour in the grass and damp conditions. Acidic soil and poor aeration will also contribute.
There are only 3 options for removing the moss:
Scarify – this is simply raking out the moss from the lawn. It's hard work and best done in autumn
Chemicals – you can buy chemicals that will kill the moss, but you will still need to scarify the lawn. It will be easier, but some people are uncomfortable about using chemicals
Organic Moss Killers – There are non-chemical products that can be used in the same way as chemical moss killers. You will still need to scarify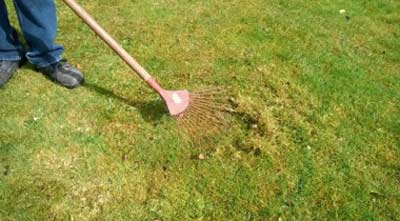 Apply the moss killer of your choice in autumn and wait for the moss to go black before raking it off. If this has thinned to grass more than you would like, apply some seed and a top dressing. (See how to do this below).
Repeat in spring with a light raking of the moss. Again seed over and dress if necessary.
Prevention is the cure and vigorous growing grass in a well drained and aerated soil is the answer. Aerate compacted soil with a garden fork and you can add a sand and loam top dressing to make the soil more free flowing.
Other solutions to prevent moss are to use the appropriate grass seed to shaded areas and not to mow too short. If the soil is acidic then a gardener's lime can be applied.
Seeding or Over seeding
This will fill bare patches. This is best done in spring after you have prepared the ground by breaking it up slightly with a fork. Rake it and then apply the grass seed at the recommended spread. Rake again to bed in the seed and protect from birds if necessary (or possible).
You will need to water if it doesn't rain, but the grass should germinate and sprout within 7-10 days.
Watering
This should only be necessary in a period of drought and this is only if you want your lawn to look green throughout the dry spell. In most occasions your lawn will recover well even after a relatively severe drought, so we would generally not worry, and enjoy the break from mowing.
The Royal Horticultural Society has a good article on caring for a lawn in a drought it you need to.
Hedge Care and Maintenance Tips
When it comes to looking after hedges, it is generally easier than lawns, however there are lots of different types of hedge plants which all will have slightly different requirements. Thankfully there are some generally rules of thumb to guide you.
We have some comprehensive guidance for pruning and trimming hedges in our hedge cutting project.
More detailed information about the best times to prune particular plants can be found on the RHS website.
This section covers all you need to know about hedges, lawns and the care and maintenance. Having great looking lawns and gardens is a huge step towards having a spectacular looking garden.