Nowadays, modern homes are largely built with ease and practicality in mind with well-situated square rooms, making arranging your furniture a piece of cake. However that was not always the case and many of us have had to suffer from awkward recesses and random alcoves that, for the life of us, we just could not workaround.
The most common are the recesses on either side of a fireplace that exists in many homes, but others include in hallways, bedrooms, kitchen, and the bathroom.
At DIY Doctor we strive to find the best solutions for your problems, so with that in mind, we have compiled a list of some of the different options of what to do with your awkward alcove spaces.
Many of these are easily applicable to your individual situations, however, some may require a little more creativity and hard work to make a reality.
1 – Using Mirrors on Alcove Walls
Starting off with a simple and easy solution, adding mirrors to any space is a time and tried method of bringing in more light to a room and creating the illusion of a larger space.
Mirrors are always a great accessory in any room, so why not make it a focal point?
The most popular location for this is the alcoves that you sometimes get on either side of a chimney breast. Doing this adds more depth to your room and allows for some interesting design possibilities.
2 – Shelving Around Alcove Walls
Shelves are always a great option in an alcove due to their flexibility – you can store pretty much anything on a shelf!
Whether you choose to display your family portraits and other pictures, use such a space to show off yours and your family members achievements by way of a "trophy wall", store books, kids toys or any number of other objects shelving will certainly accommodate your needs.
One other bonus is that shelving can be made from any number of different materials so, in terms of matching existing styles, colours etc in your home they can be made to fit.
If you fancy having a go at making your own alcove shelving, check out our project here.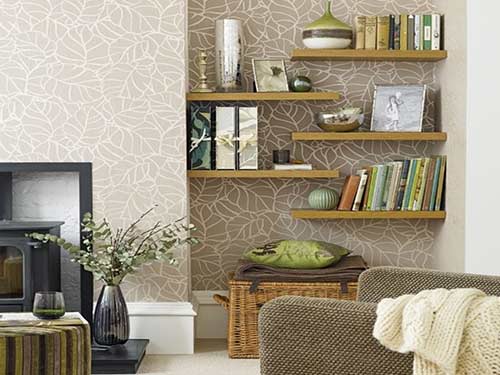 3 – Alcove Desk
After living through 2020 and the Covid pandemic it is projected that working from home will become more of a common occurrence and although having a large desk stuck in the corner of your living room or working off of the kitchen table is ok for a time, it's not ideal.
However if you have a nice size alcove and are struggling to figure out what to do with it why not turn it into a desk. Alcove desks have several great benefits in that they provide a nice secluded area to work plus don't intrude too much on the surrounding room space.
As with the shelving, if you construct your own alcove desk then you can build it to match the existing colours, styles and materials you have used on your home or if you want to make a statement you could make it stand out and become a feature, it's entirely up to you.
4 – Alcove Bench or Seating Area
Constructing a bench or seating area in an alcove is a great solution and can create a comfortable and relaxing area, especially if it's next to a window overlooking a garden or somewhere you can watch the world go by.
Alcove seating is also a great solution when additional seating in a room is needed, especially when you can make use of potentially otherwise dead space.
One great benefit of alcove seating is that in most cases you can also incorporate a storage area beneath the seating and with the actual seat acting as a lid, it can be easily raised for access.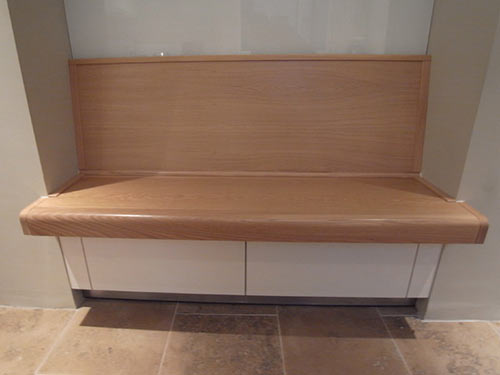 5 – Alcove Reading Nook
A reading nook is essentially a secluded get away where you can get comfy and loose yourself in a great book and what better area to build one than in than an alcove, especially if it's fairly wide and deep.
The best reading nooks are somewhere that you can truly escape. Alcove spaces on top of staircases, under satircases, in hallways etc are always great locations away from the hustle and bustle of living rooms and kitchens.
When constructing an alcove reading nook, comfort is the name of the game. Use thick and sumptuous foam for your seating and large plump cushions to create the ideal escape area.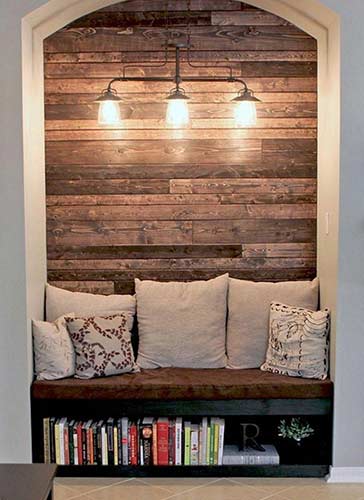 6 – Alcove Bed
In some older properties that feature chimney breasts in the bedroom where a fire once sat with an alcove on at least one side this can present issues in terms of usable space especially if you also have a sloping ceiling to deal with.
In these situations it's often better to work with the features than against them and with this in mind an alcove bed is a great solution.
The best layout is to have the bed run out from any sloping surfaces so that your feet are in the tightest area and your upper body has the most space as you don't want to jump up suddenly in the middle of the night and bang your head on the ceiling!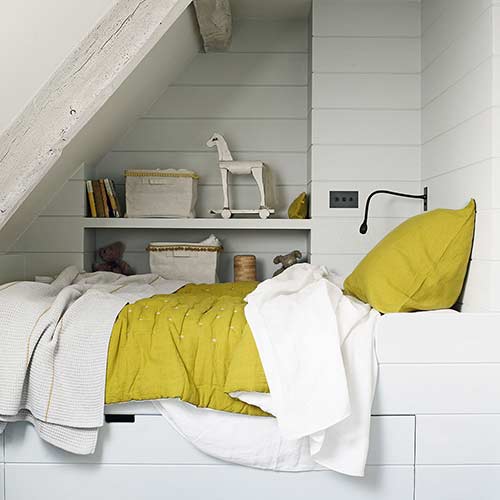 7 – Alcove Dressing Area or Vanity Unit
Alcove spaces in bedrooms and bathrooms can be a particular pain as they are often in just the wrong space or are just the wrong size.
What we mean by this is that in most bedrooms you have to have a bed, a chest of drawers and a wardrobe and quite often the alcove recess is either too narrow or not quite high enough to locate said furniture meaning you have to locate it elsewhere.
Likewise, in a bathroom you have to have a toilet, sink, shower and possibly a bath, all of which have to be positioned according to where waste pipe and waste outlets are available
But in these situations, what do you do with the alcove? One great solution is to build an alcove dressing area or vanity unit and create a special space where you can pamper yourself.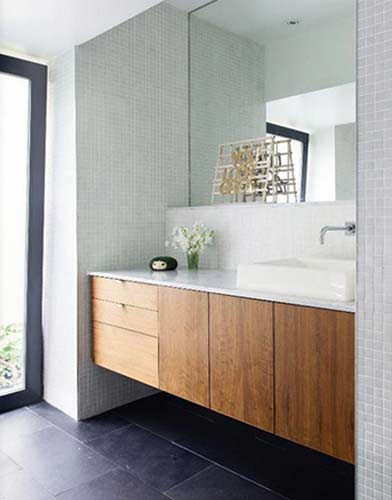 8 – Alcove Bar or Wine Rack/Drink Cabinet
If you enjoy entertaining and throwing parties then what better use for an alcove than to build your very own bar, wine rack or drinks cabinet.
The benefit of using an alcove space is that you can also incorporate shelving, a wine chiller/beer fridge or even a sink, you can really get creative with a space like this.
9 – Entertainment Area
Alcove spaces in livings rooms always present a challenge in a similar way that they do in a bedroom in that there are certain essential items that you need to find space for e.g. chairs, sofas, TV, music system, possibly tables and chairs, radiators etc.
All of these items require a certain amount of space in order to be able to use them effectively so where an alcove is present it's always a good idea to try and make use of it.
One great idea is to move the TV and any other entertainment items into the alcove space, killing two birds with one stone in that you have created more space in the room by moving the TV and also made great use of the alcove.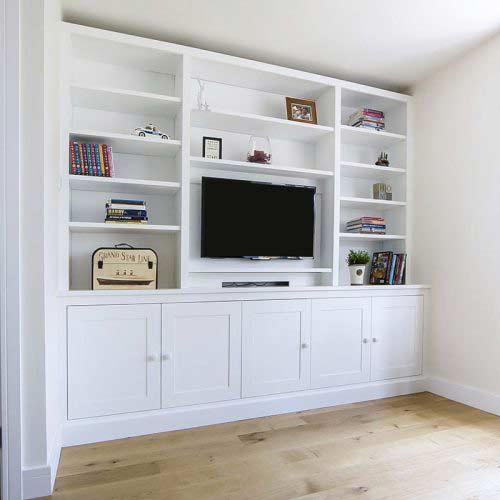 10 – Mudroom/Coat Placement
In some properties you occasionally get an alcove just inside the front or rear door or if it's a large property, in the hallway.
These areas are tricky spaces to make use of by one fantastic solution is to create a mudroom or coat hanging area.
Having a dedicated area to hang wet coats and place muddy boots and shoes just inside an entranceway is a good idea as it also prevents anyone from having to walk through the house with such items as this inevitably means water and mud will find it's way on to carpets and other delicate surfaces.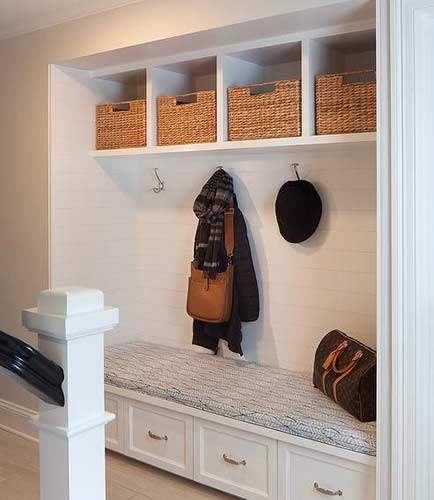 11 – Soap, Shampoo, Toilet Roll Placement
One other room in the home that we haven't yet mentioned is the bathroom. Occasionally in some quirkier properties alcoves crop up in the strangest places, including the bathroom and in these instances it's rather hard to know what to do with them.
This is even more of an issue when the alcove ends up in an area to be used for other essential features e.g. a shower or toilet.
As with alcoves in living rooms it's always better to try and work with these features and not against them so one great idea is to tile them out (if in a shower enclosure) and use them to store bathroom essentials such as soap, shampoo, toilet rolls and other items.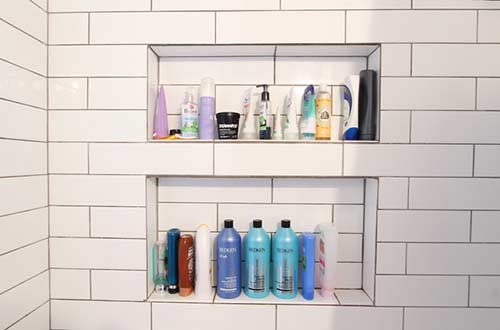 12 – Alcove Towel/Linen Storage
In a similar vein to the above, you may find that you have an awkward alcove in your bathroom that's not within the shower enclosure.
In this instance the same rules apply – don't fight against it make some use of it and in tis case why not turn it into a towel and linen storage feature.
By simply building some shelves, adding some carefully chosen features and using materials that suit the style and design of your bathroom you can turn an otherwise featureless space into something unique and visually attractive.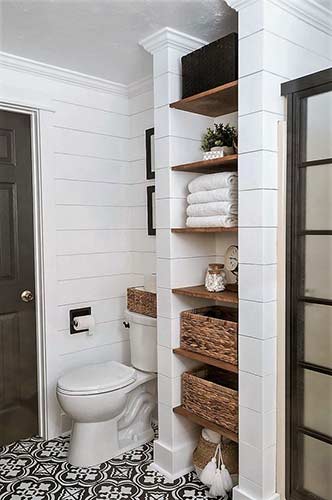 13 – Alcove – Wardrobe or Cupboard
As we mentioned above, dealing with alcoves in bedrooms can be a nightmare if you are short on space as they can really hinder where you can place furniture objects.
One way of combating issues such as these is to turn the alcove itself into a wardrobe as at the end of the day it's half built for you anyway so why not finish it off.
By simply finishing off the front, adding some doors and shelving and hanging rails inside you've got a ready made wardrobe.
The one drawback is that if your alcove is shallow you may be limited to what you can do with it or constructing a decent sized wardrobe may be a little more involved.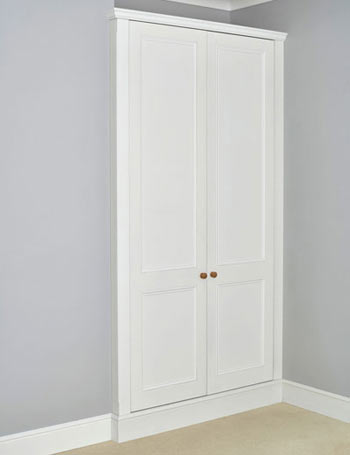 14 – Alcove Cabinet
Alcove cabinets are quite often incorporated with alcove shelves, in that cabinets or cupboards are constructed at the base and then shelves above running up the remaining height of the wall.
Cabinets are a great choice as they offer concealed storage for objects you may not want on display and when coupled with shelving above you have a great combination of storage options.
As in most cases alcove cabinets are built from scratch, again, they can be made to suit the existing style of your home or slightly different to make a feature of them.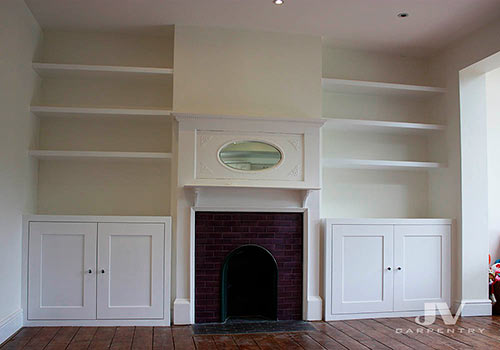 15 – Utility Room
In some older properties, many kitchens used to feature pantries and other similar large built-in storage areas. In the majority of cases these are removed as the storage they provide compared to the space they take up often doesn't compare and by removing them you can often make much better use of the space.
Once removed they often leave alcove areas that can then be put to better use and one such solution to make a utility area.
As most areas such as this tend to be quite deep they are ideal areas to put washing machines and tumble driers as you can then also put a work surface over the top of them and use this for either storage, ironing or other activities.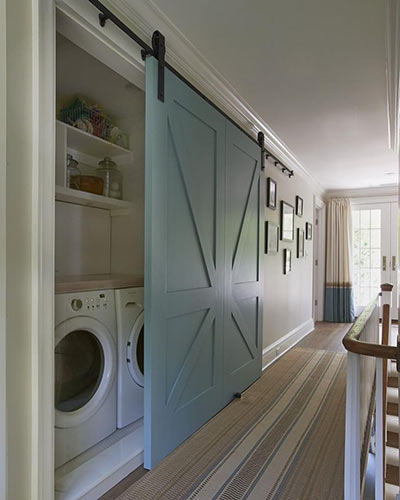 No matter where you find an alcove in your home, as you can see form the above there is a whole host of options and solutions you can put in place to turn it into not only useful and productive space but also somewhere for relaxing and entertaining, depending on the location, so why not take another look at the alcoves in your home and consider what they could be.