When it comes to redecorating your home there are so many different options and factors to take into consideration that it can be pretty overwhelming. Here at DIY Doctor we aim to make that process just that little bit easier by helping you make informed decisions about what it is you want.
If you are a bit of a novice to decorating, or you want to make a change without having to spend a lot of money, then creating a feature wall might just be the one for you. A feature wall is an easy and instant way to give your room a fresh, new feel. It can create a focal point in an otherwise bland room, and – if done correctly – can tie the whole room together and create harmony.
What is a Feature Wall and Why Should I Have One?
If all of the walls of a room are decorated in the same colour or pattern, it creates harmony but can be a bit plain. By picking out one wall and giving it a different, bolder colour, you can change the mood of a room or highlight a particular feature.
Feature walls are most often used when the rest of the room is decorated with a fairly neutral colour. You pick a wall in the room and paint it a different colour, or wallpaper it with a bold pattern, creating a feature.
A feature wall can also be used to create a more defined space in an open-plan area. If you have children you might create a play area, or in a living-diner you might highlight the dining area.
Types of Feature Walls
There are many different types of feature walls, and the type of wall you finish with will depend on the room and the wall you choose. For instance, a picture wall looks great in the living room or hallway, but in a bathroom it is a bit out of place and can feel very crowded.
Here are a few different types of feature walls you can have – but don't constrain yourself to just these… the possibilities are endless and the only limit is your imagination.
A New Coat of Paint
One of the easiest and cheapest ways to create a feature wall is with paint. Sounds too simple, right? But it can be very effective.
If all of your walls are the same colour then painting one wall a different colour will instantly draw the eye and give the room new dimensions.
Of course the colour you choose depends on the current decor of the room (unless you're going for a full makeover) and the atmosphere you wish to convey. Dark colours can be brooding and overwhelming, or bold and dramatic, and lighter colours can be soft and airy, or too bright.
For instance, if you have pale blue walls a complimentary colour would be a darker blue, maybe a bluish-purple, or even a bluish-green.
you could have a contrasting colour such as peach or orange depending if you were going for a bold effect or a pastel palette. Take a look at our Colour Wheel project to get more of an understanding about colours and their meanings.
If your walls are a neutral colour, such as white or grey, then taking inspiration from the current decor is a good place to start.
Perhaps there is a recurring colour in the room, such as a red sofa, red lamp shades, and red curtains, then using red for your feature wall will tie the whole room together.
Use accents of black and silver to add some modern style, or soft pale pinks and warm browns for something cosier.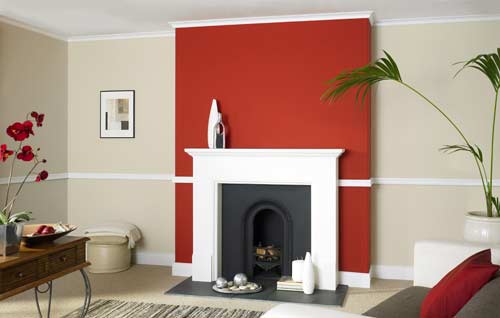 However, don't think you have to stick with just one colour for a feature wall. This is your chance to be brave and bold, so why not try some patterns? Stripes, polka-dots, cloud effects, whatever takes your fancy, after all, if you don't like it, just paint over it!
Using Wallpaper as a Wall Feature
Wallpaper can be a tricky skill to learn especially with patterned wall paper, so if you're not completely sure about it, it may be best to get a professional in. However, if you'd like to try your hand at it we have a project on how to hang wallpaper.
If paint is too simple for you, or you want something that's a bit bolder and adds texture, then wallpaper can be a great place to start.
The type of wall paper you chose should tie in with the rest of the room. Even though you are highlighting a specific wall, you don't want to alienate that wall from the rest of the room, so be careful when choosing your wallpaper and make sure it looks good with your current furniture and decor; be it plain, patterned or textured.
Wallpaper is also a good way of introducing more than one colour into your feature wall. You may want to go with something subtle and elegant such as dark blue with silvery accents, or perhaps something louder and colourful like animal prints, botanical stencils, or geometric shapes.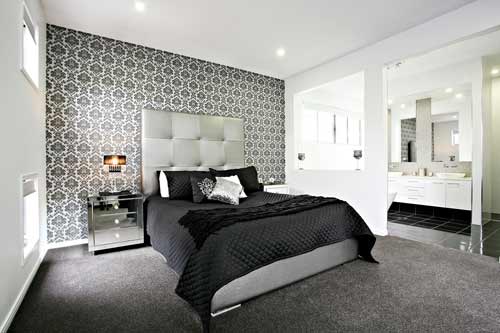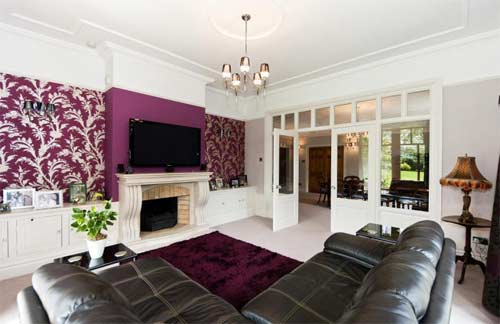 Picture Wall Feature Wall
Picture wall, photo wall, gallery wall, wall collage, whatever you call them you can't deny that it's a great way to bring colour, movement, and creativity into a room.
There are many different ways to arrange a picture wall and it all depends on the space you have, the photos or pictures you are using, and the atmosphere you wish to create.
Creating a picture wall is a great way to let your creativity run free. Don't think you have to limit yourself to photos or pictures. Paintings, word art, clocks, giant letters, and pretty much anything else you can think of can be added to a picture wall to give it more body and style.
Take a look at these different versions of a picture wall.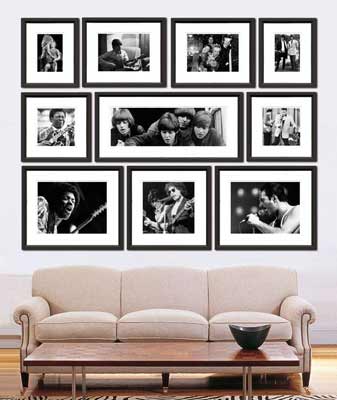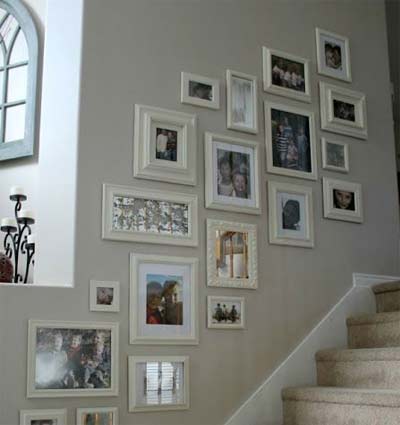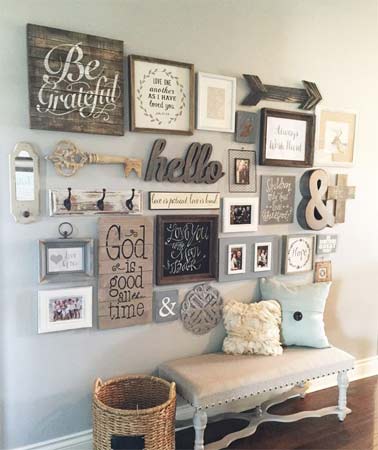 Mural Feature Wall
A wall mural is very similar to paint, however instead of just painting a wall in one colour or with a pattern, a wall mural can be a scene or a blown up photo. For instance, a calming forest scene, a mountain range, a beach, a map of the world, or pretty much anything you can think of.
Take a look at these for some inspiration.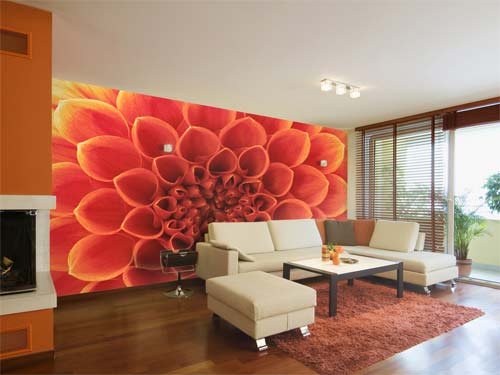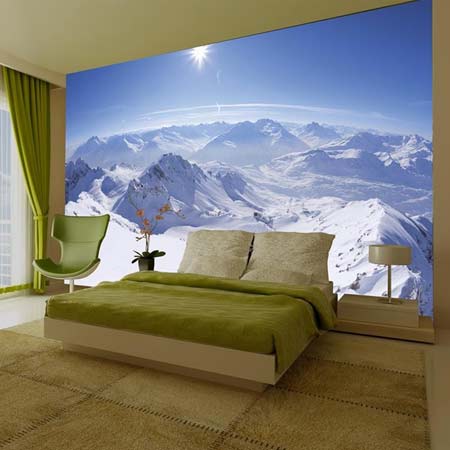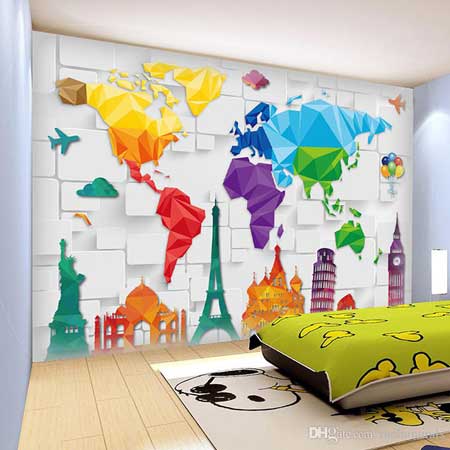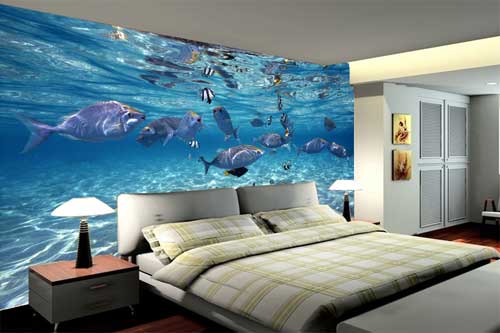 Choosing Your Wall
When choosing your wall you have to take into account what type of feature wall you want and the room it is in.
A good idea is to take into consideration the dimensions of your rooms and wall. In a narrow room, it is best not to darken one of the long walls because it gives a tunnel-like effect. Thank you to Stephan for that great tip!
Living Room (reception room)
There are a lot of walls to choose from and you have to take into account the furniture in the room, and the layout.
Usually a wall without a window or door is the best for a feature wall as it give you a large uninterrupted space.
For living rooms the most common wall chosen is the chimney breast as it is already a feature in the room and highlighting it makes use of that feature.
Instead of the chimney breast itself, you could choose to highlight the alcoves that usually reside either side of the chimney breast.
A great way to add more storage to your room whilst also adding decoration is to build shelves in these alcoves.
Paint the wall itself a different colour to the rest of the room, or wallpaper it, and add floating shelves and you've got a great new feature in your room.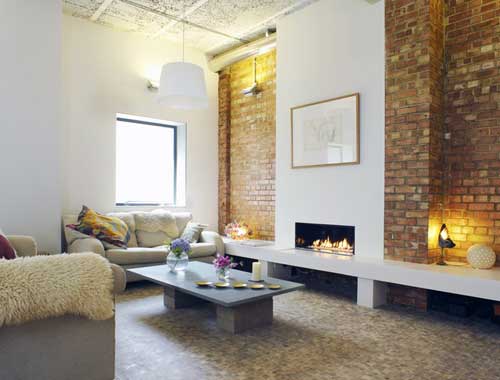 Bathroom Feature Walls
The bathroom can be a tricky place to create a feature wall, but it can be done. Obviously, the layout of the room is important, but depending on what you want pretty much any wall will do. One of the most common walls is the shower wall, or if you have a bath, the wall behind the toilet.
Kitchen Feature Walls
In the kitchen the most common wall is the splash back as you can make a really great feature from it. Take a look at our project on acrylic splash backs, and also take a look at this project on glass splash backs.
You could also use magnetic chalkboard paint to create a giant chalkboard that is really fun and quirky and adds a really modern feel to your home. It's great for writing down your shopping list, or to create a chore chart. It's also really great for families with children as they will have a lot of fun drawing on it.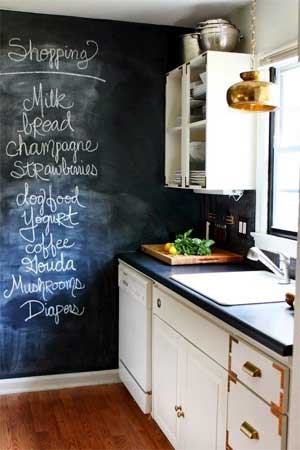 Feature Walls for the Bedroom
In the bedroom the main wall that most people choose is the wall behind the bed. This is because if you go for something that is 'loud' or 'energetic' it won't disturb you whilst you sleep.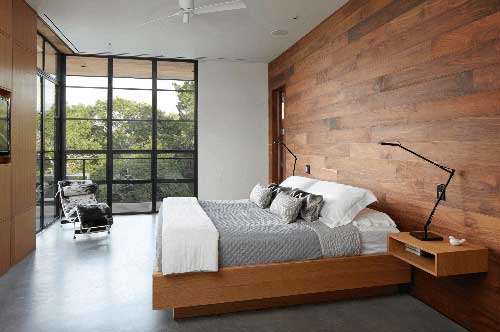 A mural is great for bedrooms, especially children rooms where you can really let your (and their!) imagination run wild.
Creating your Wall
Once you figured out which wall, what room, and the type of feature wall you want, the next part is the fun part. You can really go all out with this and make a big statement, or you can keep it simple. It's all up to you.
We hope you found this project useful, and that it has helped shed some light on feature walls and how you can create your own.