In the world of interior decorating there are numerous design paths you can take when contemplating your walls to jazz up your décor (be it on every wall in a room or just a single feature wall); paint, wallpaper, a photo wall, or a mural are just a few examples. Well, here is another one:
Fabric Walls!
Yes, that's right… Fabric!! On the walls! How exciting.
This isn't a new concept, of course. The tradition of using fabrics as wall (and ceiling) décor has been around for centuries and in many different cultures.
However, this trend has become more and more popular over the last few decades and it seems like people just can't get enough of it!
There are many ways to create a fabric wall, but in this project, we will be covering the two most popular methods.
The first is to simply hang the fabric in a manner similar to a tapestry, each corner pinned to the wall to stretch the fabric taut, or hung loosely from the top like a curtain, depending on the look you are going for.
The second is very much like wallpaper in the way that it goes onto the wall, but unlike wallpaper – which is, annoyingly, rather permanent unless you are up to putting in some serious elbow grease – using fabric as a wall covering is pretty much effortless!
The key to this method is liquid starch – Yes, it's that easy!
Before we go into explaining these two different methods of how to create a fabric wall we should first clarify what a fabric wall covering actually is.
What is a Fabric Wall Covering?
A fabric wall covering is rather self-explanatory, the clue is in the name. Instead of painting or wallpapering your walls (or another method of wall décor) as an alternative you can use fabric.
This can be a really great solution if you are a renter and want to redecorate but unfortunately, do not have the landlord or housing council's permission to make any drastic changes, or if you are the type to change your mind quite often and you like to redecorate your home every few months.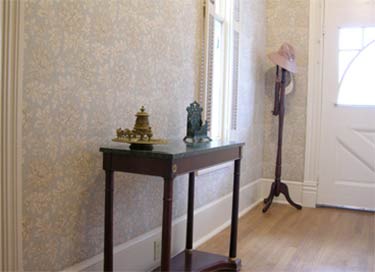 Naturally, there is some limitation on the kinds of fabrics you can use, both for aesthetic purposes but also for practicality reasons.
A heavy fabric such as velvet or something you might use for a curtain or thick blanket wouldn't be very practical for a fabric wall covering as it would be too weighty and would not stay in place.
However, too thin a fabric, such as silk, and you run the risk of damaging the fabric with everyday wear-and-tear or water stains and the like.
The beauty of a fabric wall is that it is essentially reusable. That is to say that if you get bored of that particular fabric or pattern, it is easy enough to take down without much fuss, and once it is off the wall just throw the fabric in the washing machine for a quick cycle and the fabric can be reused for something else.
Not only is the fabric easier to put up and take down than wallpaper, but it also comes with the added benefit of being partially sound absorbent.
Granted, not quite like a specially designed acoustic wall, but definitely more so than wallpaper or paint.
As we mentioned above there are many methods to this, as with pretty much everything in the creative and decorating industry, there are always going to be numerous ways of doing something, but these almost always fall into smaller, more specific categories. With fabric wall covering most methods fall into either one of two "main" categories, either similar-to-a-tapestry or similar-to-wallpaper.
Tapestry-like Walls
Tapestries have been around for millennia, in one form or another, and in just about every culture you can think of.
Over here in the west, when you picture tapestries what generally comes to mind are medieval castles and intricately woven depictions of famous battles or religious or fantastical scenes.
This is possibly to do with the faint memories of childhood, sitting in class at school learning about British and European history, but also most probably because of influences from the media and Hollywood, which over time can affect the connotations we derive from the word "Tapestry".

But if you stop to think about it, tapestries exist all over the world, in every shape and size you can think of, made in delicate detail and delightful colours.
Nowadays, the most famous ones reside in museums or art galleries so that everyone can enjoy them, and even though tapestries as they were intended no longer fit into our modern society, hanging a tapestry, or a tapestry-like feature, is a rather common practice.
You can get quite creative with tapestry wall art, and the most obvious ones are the medievalesqué type that hang from a rod/dowel like a scroll.
These usually have religious, often Biblical, undertones, and are quite often alluded to or are connected to nature.
These, however, do not quite fit into the fabric wall covering genre, so to say, as unless they are very large, they don't exactly offer the wall coverage you'd expect.
If you want full wall coverage, or as close as you can get, then the most popular seems to be the bohemian-style art of draping or hanging your fabric, usually a large square or rectangular shape, from up near the ceiling or, if you have it, just under the coving.
These can be pinned at the top two corners (or more in between if needed) and left to hang naturally under its own weight to the floor for a loose "curtain" like effect, or by pulling the fabric taut and pinning all four corners (or more if needed) for a smoother finish.
The method of pinning the fabric to the wall is entirely up to you and really is based on the type of look and finish you are going for.
You could very simply use nails or staples (although, do make sure you use the correct type of staples – the ones you have sitting in a drawer in your desk would not even penetrate the wall, let alone be enough to hold up any type of fabric), or you could go a little fancier and use eyelet screws and grommets, or a rod.
If you do go with the nails/staples you might find that you want to cover up the little flashes of metal that – depending on the type of fabric, colours, and/or patterns – can stick out rather obviously.
There are two ways you could do this. The first is to create a border, there are plenty of fabric tapes that would work great for this, or you could get a roll of complementary or matching the fabric in a thinner width (however wide you want your border to be) and place it over the top of any nails or screws.
Either double-sided tape or fabric glue will work as an adhesive, or you could use a curved needle to stitch the border to your fabric.
However, you could decide to embrace the nails and/or staples and make a feature of the fixings themselves.
Attaching the staples in a pattern, zigzags, criss-cross, or just a simple straight line (whatever works for you) is a great little trick and can look very impressive.
This requires a little more effort and precision, but the effects are worth it. However, do bear in mind that with this method when it comes to taking the fabric down there will be more nails/staples to remove.
If you decide to go with eyelets/grommets or a dowel/rod, there will be some sewing and drilling involved.
With the rod, you could have just the one rod and hang your fabric like a curtain, or you could pull your fabric taut between two rods on opposite sides, be that top and bottom or left to right.
Measure your wall (length and width) so that you can buy or cut the fabric you wish to use to the correct size.
On the sides where you have decided the dowel/rod will go, leave enough room for the fabric to loop around the rod with space for stitching. Lay your fabric on a clean, flat surface back-side up.
If you have a very large area of fabric it might be best to use the floor for a bigger surface area – just remember to lay down a drop-cloth or similar to protect the fabric.
Lay the rod on the fabric near the edge (making sure everything is straight) and fold the fabric over the rod till it meets back with itself.
Leave enough room to stitch the fabric together to create a "pocket" for the rod to slide into.
Measure the fabric against the wall to check that everything fits, and once you are happy, slide the rod through the fabric and hang it up.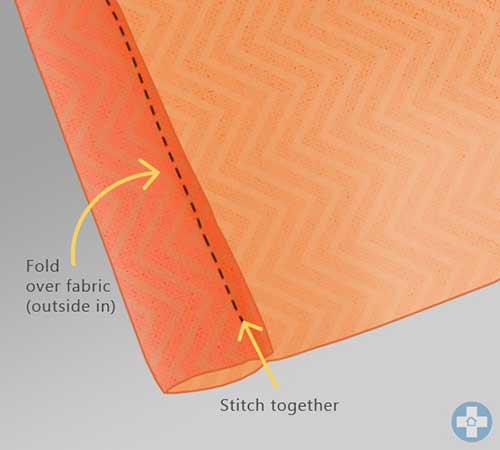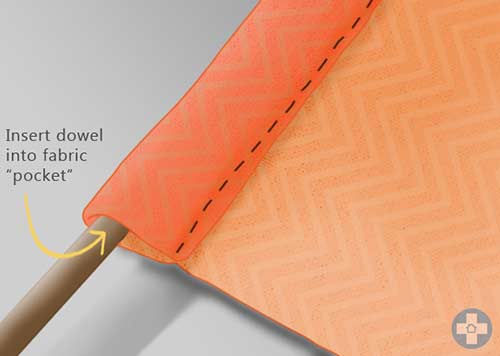 Remember to measure the length of the rod you will need before you buy it, and if need be it may be best to get one that is custom fit to your wall.
You can attach the rod to the wall like a curtain pole, or brace it between the two adjoining walls with wall brackets.

With the grommets/eyelet screws, carefully measure the fabric to the wall and hem along all four sides before attaching the grommets.
This will create a stronger bond for the grommet to hold onto and will resist tearing or stretching for longer.
The width of the hem depends on the size of the grommet, but the norm is to allow for at least a half-a-centimetre on all sides of the grommet.
With slightly heavier or thicker fabric, we suggest that you cut away the corner from the cross section when you fold over your fabric, that way the grommet will only have to push through three layers of fabric rather than four.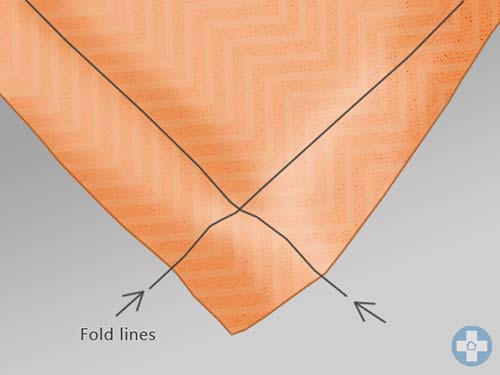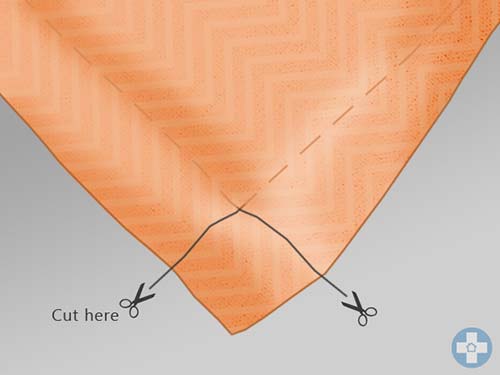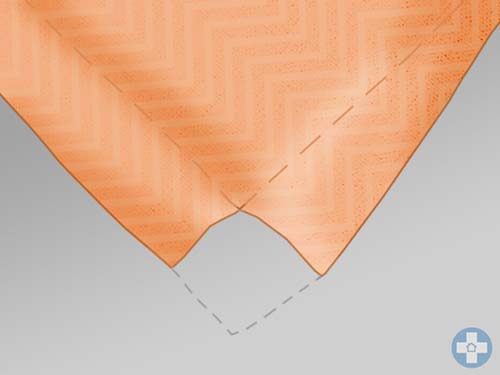 As with the rod, fold over your fabric and pin together the fabric before stitching along the edge to hold the two sides together.
Do this for all four sides. Remember to fold so that all the hems are on the back of the fabric.
If you are new to sewing we suggest that you sew a loose guideline near where you will sew the hem in a bright coloured thread (contrasting to the fabric) to hold the fabric together before using a sewing machine to sew the tighter, final line in a thread that matches your fabric.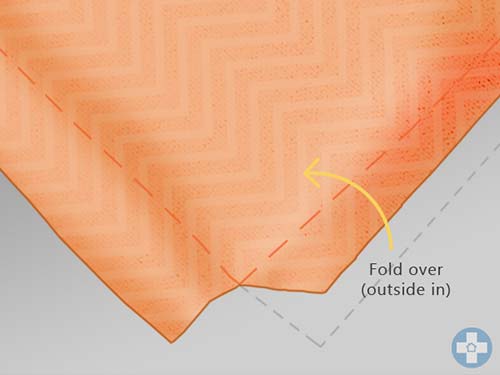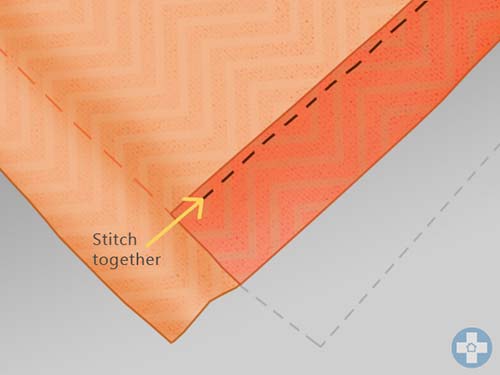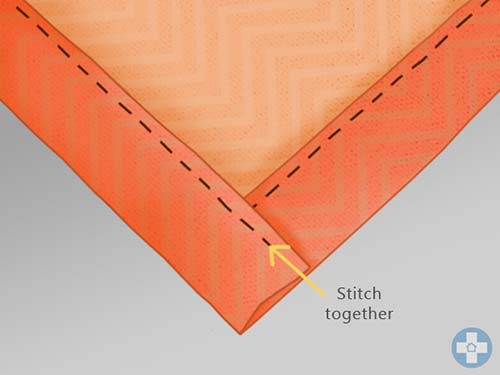 Once you have sewn the hem, cut an X shape hole in the corners of the fabric where it folds over just big enough to push the grommet through.
Too wide a hole and the grommet will be loose and could pull away. Use an eyelet plier of the right size for your grommet to apply the grommet to your fabric.
Once all four (or more) grommets have been attached, screw their corresponding eyelet screws into the wall and use a strong twine (or another material if you so wish) to tie the grommets to the eyelet screws.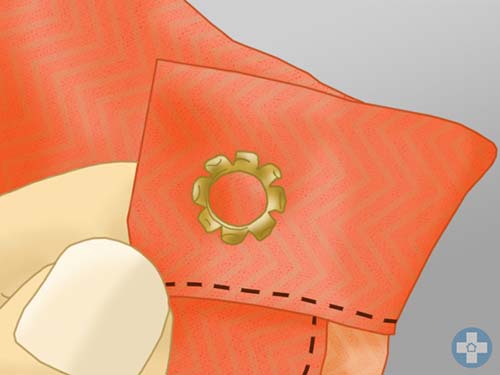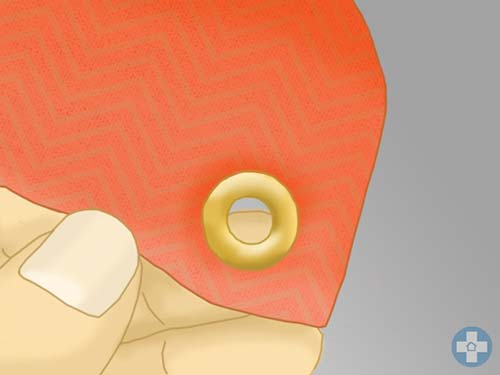 If you have measured well beforehand, your fabric should be taut and smooth across your wall.
Note: depending on their sizes, both the rod and the eyelet screws will hold the fabric a few millimetres away from the wall and not directly against it, so bear this in mind when placing furniture near or against the wall.
Wallpaper-esqué Walls
Wallpapering can be a bit of a headache and even the professionals can have trouble with it, however, it can be argued that "wallpapering" with fabric is infinitely easier.
For one, unlike wallpaper, you can work with a single panel of fabric for a (literal) seamless finish rather than many strips that you have to line up precisely.
However, if your wall is uneven or at different heights, and then you will need more than one panel of fabric. Measuring the fabric for your wall is a very similar process to wallpapering  (and there are many wallpaper calculators online), however, with fabric you have to take into account that the fabric will "shrink" as it dries, so it is good practice to add a few inches of "excess" fabric to allow for this.
Before you start make sure the wall is clean and dry otherwise the fabric will have a hard time adhering to the wall.
You can use a sugar soap solution to clean away any grime or grease on the walls and then leave to dry naturally. Wipe over with a cloth or brush to remove any dust that may have settled. Remember to lay down a sheet of plastic or drop-cloth to protect your floor, especially if you have carpet.
Measure the wall before you buy your fabric, and if necessary, you can get it cut to the right size – allow for at least two to five inches of excess fabric.
It is best, especially with large areas of fabric, to have a second pair of hands to hold the fabric as you pin it to the wall.
If your fabric has a pattern you should stop periodically to check that the fabric is straight.
Remove any fixtures such as light switches (remember to switch off the electricity if you do this) if necessary and, if you wish, you can remove any skirting or coving before you start.
This will give you a cleaner finish as any ragged edges from cutting away the excess will be hidden behind the skirting and coving.
Remember to mark where the skirting/coving is as a guideline so that you do not veer off course.
If you do not wish to do this (or you can't remove the skirting/coving) then make sure you have a sharp and precise knife and a straight ruler to make a clean, even cut.
The key to keeping the fabric on the wall is starch or more precisely liquid starch. You can find this solution in any major retailer in the laundry aisle.
The easiest way to get the starch onto the wall is with a paint roller and tray, but we also suggest using a spray bottle too.
Firstly, roll a generous layer of starch on to the wall with the roller before going back into the edges and corners with a wide paintbrush. Don't worry about being precise, that will come later. Once the wall is sufficiently damp you can add the fabric.
Starting in one corner near the ceiling, pin the fabric to the wall using wall tacks. One tack roughly every ten or so inches should be enough to hold the fabric to the wall temporarily, but use more if needed.
Remember to leave a few inches of fabric as excess. Use a smoothing tool made from plastic or vinyl, or a wallpaper brush, to smooth out any wrinkles as you go. If the starch starts to dry use the spray bottle to dampen it once more.
Once you have the fabric pinned at the top move to a bottom corner and carefully pull the fabric until it is taut, but don't pull too hard or you risk pulling out the wall tacks or ripping the fabric.
If you have a helper, ask them to pull at the other corner so that you can pin down the two corners and stretch the fabric out smoothly.
It may help to have a third person standing back from the wall to oversee and make sure that the fabric is straight and even. DO NOT over-stretch the fabric as this will damage it.
Once the fabric is pinned to all four corners, go along the bottom and then the sides to pin the fabric to the wall with the tacks as you did at the top.
Pull the fabric out gently to keep it taut as you go. Once you have completed this, stand back to check that the fabric is straight and even and if it is, use a DRY paint roller to press the fabric into the wall.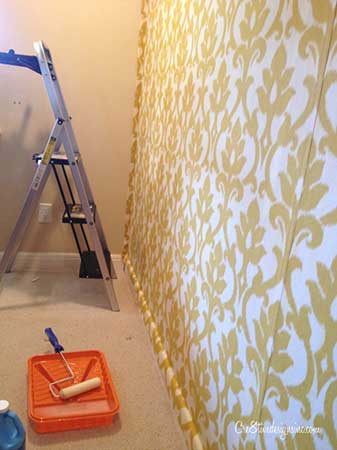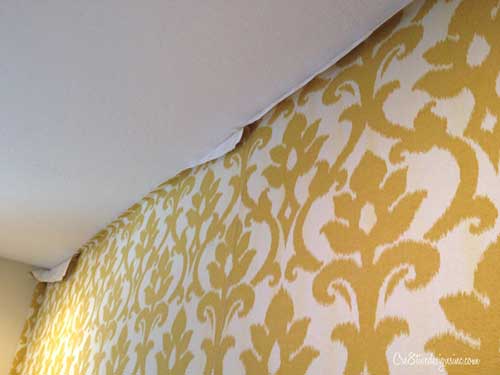 Using the spray bottle and the smoothing tool/wallpaper brush, start in the middle of the wall and work your way out to smooth out the fabric evenly.
After, spray the whole wall with another layer of starch and leave to dry completely. The wall tacks will keep the fabric pinned to the wall as it dries.
Once dry remove the wall tacks and use a straight-edge ruler to press the fabric into the corner and edges and a retractable knife or scalpel to cut away the excess.
If applicable, reattach the skirting/coving and any fixtures you had removed, and voilà you have your new fabric wall!
Removing the fabric is even easier than putting it up. Use a damp cloth to wet the corners and then simply peel away the fabric.
It should come off cleanly, but any stubborn spots are easily removed by dampening it.
Once the fabric is off, wash the wall with hot water and a few drops of dish soap to remove the starch, and then again with the sugar soap and you have back your original wall.
The fabric can be washed in the washing machine (or by hand if you prefer) and reused for something else.
Other Types of Fabric Wall Coverings
The two methods we detailed above are not the only ways to decorate your walls with fabric.
As we always say, there is never just one way to go about anything.
Some other types/methods of fabric walls and fabric wall coverings include draping the fabric, which is similar to what you might see at a wedding or a prom, upholstery (like with a sofa or the headboard on a bed), or fabric panels which are similar to carpet squares.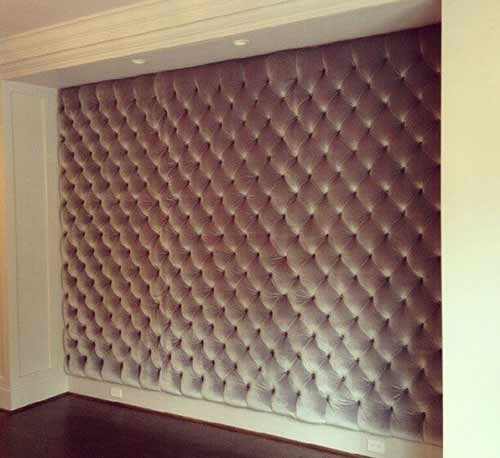 If you decide to create a fabric wall or fabric wall covering, please don't hesitate to share your project with us. We love to see what our readers can come up with.