If you have ever had new carpets and underlay fitted in your home, you will be well aware of the difference it can make to the overall look and feel of the room. It feels much comfier and luxurious under foot and the entire space seems much brighter and tidier.
Unfortunately, they don't always stay this way forever especially if their in a high footfall area. The underlay starts to compress and loose it's support and the carpet piles themselves start to drop. Couple this with kids and any pets and your once shiny new carpets can start to look tired and drab.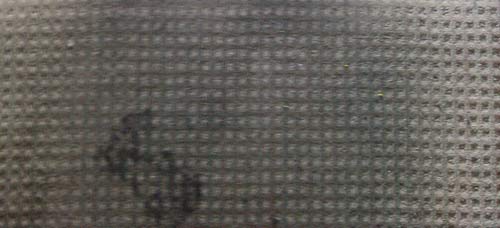 Despite the above, all is not lost. It's possible to breath new life in to your carpets simply by giving them a good clean to remove any ground in dirt and grime or any surface marks or stains.
In this project we will look at some of the methods and tools available for cleaning carpets and how they should be used.
Routine Maintenance and Periodic Deep Carpet Cleaning
Essentially, cleaning carpets and keeping them in a good state of repair requires both ongoing routine cleaning and also periodic deep cleaning.
Routine Regular Carpet Maintenance
It may seem fairly obvious, but vacuuming your carpets on at least a weekly basis will help to keep them clean and fresh. Good, deep vacuuming with a decent vacuum will also help to prevent the carpet becoming compacted and worn-looking in areas of high foot-traffic by lifting any compacted piles back upright.
Additionally, Don't be tempted to hoover around furniture, missing the hidden carpet underneath or behind the item. Make sure you move each item and give the carpet a good going over.
As these areas of carpet are covered, a whole host of nasties such as mites, microscopic bugs, dirt and grime etc…. can collect so it needs to be removed.
Vacuuming can also be combined with cleaning. Powder or shampoo carpet cleaners are readily available from most supermarkets and local stores and can easily be sprinkled or scrubbed on to the carpets surface prior to vacuuming (more about this below).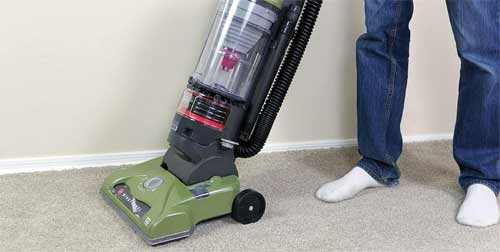 Periodic Deep Cleaning
Aside form the regular vacuuming and/or power or shapoo cleaning of carpets, it is also a good idea to give them a good deep clean.
In respect to this you again have several options:
Using/hiring a domestic carpet cleaner
Using a professional carpet cleaning service
Domestic carpet cleaners can be purchased from a range of outlets and DIY stores for quite reasonable prices. For a fairly decent one, you should be looking at around the £150 to £200 mark.
Essentially, they look very similar to a standard upright vacuum but also feature a water tank. When running, water (also sometimes mixed with a cleaning detergent) is squirted into the carpet pile and scrubbed with a set or rotating brushes to lift dirt and grime and then the dirty water is sucked up.
If you are not looking to buy a carpet cleaner then you can easily hire one from your local hire shop or possible even local supermarket/DIY store.
In most cases, the cleaner you will be hiring will be a RugDoctor machine. This is a pretty professional piece of kit and, if used correctly, will produce great results and leave you with a beautifully cleaned carpet.
The other cleaning solution that you have available to you will be to get a professional carpet cleaner in.
Professional carpet cleaners are readily available in most towns and cities across the country and in most cases will use a Hot Water Extraction (HWE) system or a Dry-Cleaning Very Low Moisture (VLM) system.
There are pro's and con's to both system, but if you use a decent and reputable company, then you should still come out of it with a well cleaned and revitalised carpet. If you would like to find a decent carpet cleaning company in your area, check out our find a tradesman service here.
We will go in to a little more depth on both the different cleaning powders and shampoo's and carpet cleaners available below.
What are the Different Carpet Cleaning Methods?
In essence, there are 5 different carpet cleaning methods available today and whether you are doing it yourself or getting a professional company in, in almost all cases, the methhod you or your chosen company use will be one of the below:
Hot Water Extraction Carpet Cleaning (HWE)
In comparable terms, this method is very similar to steam cleaning.
Firstly, a cleaning detergent is applied to the surface of the carpet and left for a set time to get to work on the dirt and grime embeded in the fibres.
Next, the carpet is scrubbed firmly. This is normally done by the cleaner itself and comes in the form of a rotating brush located on the base of the cleaner, similar to one found on a standard vacuum. Hot water at high pressure is squirted into the carpet pile, lifting any dirt.
Once cleaned, the carpet is then left to dry out, normally over night.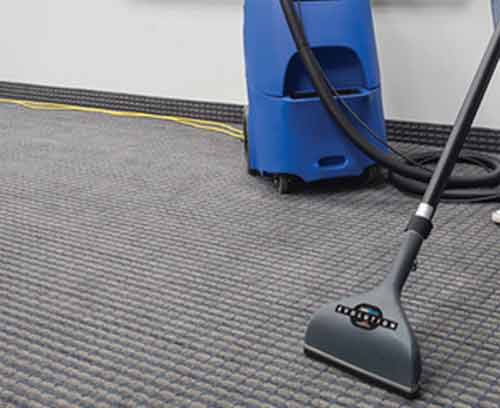 Shampoo Carpet Cleaning
This was a very popular cleaning choice up until the 1970's when it was replaced by encapsulation cleaning.
Typically, a shampoo detergent is mixed up, normally dilluting with water and then appied to the carpet.
Once left for a few minutes to start working on the grime, you then give it a good scrub with a stiff brush and then let it dry.
Once dried, the carpet is then vacuumed to remove any dirt that has been lifted.
A downside to this process is that as the carpet is not rinsed with clean water, then in almost all cases, a sticky residue is left and this inevitably attracts dirt like a magnet and the carpet quickly gets even dirtier than it was before it was cleaned.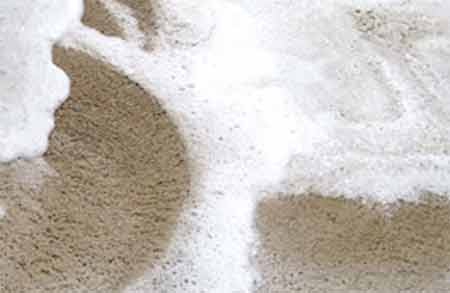 Encapsulation Carpet Cleaning
This method is a type of dry cleaning and involves a synthetic detergent that is applied to the surface or a carpet that, once dried, turns into a crystallized powder.
This process lifts any dust and dirt out of the carpet and it is then held within powder. Once fully dried, the powder residue is then vacuumed up.
Overall, this is the prefered cleaning method over shampoo for those with an environmental concerns as it uses less chemicals and also leaves less residue.
In comparrison, this is method does yield good results on moderatly dirty carpets, but due to limitations with the substances used, it's not so great on heavily soiled surfaces

Bonnet Carpet Cleaning
This is more of a "quick fix" solution to cleaning and mainly used in areas with hight traffic that need to be cleaned and then dry in a short space of time. A good example of this is an office.
The actual cleaning itself is done by a machine. The machine features a set or singluar (depends on manufacturer) spinning pad(s) mounted on the base that is soaked in cleaning detergent.
The pads rotate across the carpets surface and lift the dirt out.
As mentioned, this is really a quick fix solution as the pads only lift dirt from the surface and not from deep down and in most cases even forces dirt that isn't caught by the pad, back into the carpet.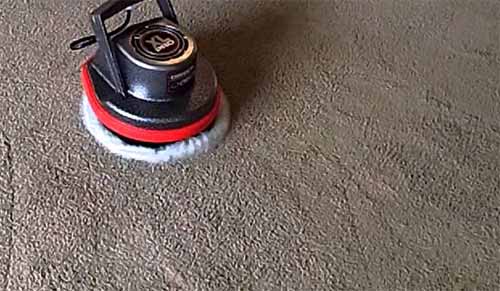 Dry Cleaning Carpets
Dry cleaning is one of the most recent cleaning methods to be developed and emerged in the mid 1980's.
As it relatively new, many different variations have emerged on to the market, each with their own unique points, but essentially all do a similar job. The main contenders are:
Encapuslation cleaning (already mentioned above)
Dry compound
Dry ice
In terms of the cleaning method, a single (or in some cases multiple) cleaning compound(s) are applied to the surface of the carpet and either brushed down into the pile using a stiff brush or pushed in using a machine with rotating brushes.
The compound itself then absorbs and dirt and grime present and this residue is then hoovered up.
In respect to the results, on the whole, they are very good across the board and additionally as no, or very little water is involved, any drying times are minimal.
As with any cleaning process using detergents or chemical cleaners you should always check with the manufacturer of your carpet as to what cleaning process they recommend and always test first on a small and inconspicuous area.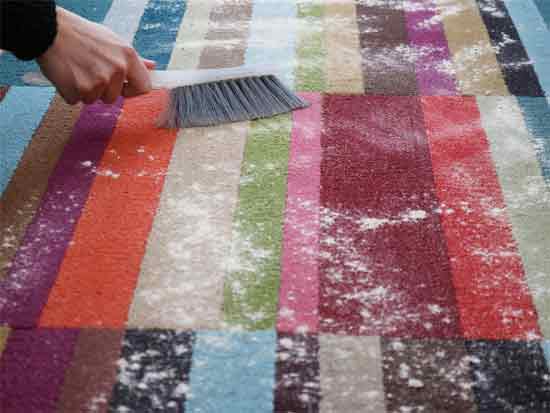 How to Clean Your Carpets
Now that we have established the methods, products and machinery that can be used to clean carpets, now we are going to go into a little more depth on actually getting them clean.
For the purposes of this project we are going to concentrate on the most common methods that should be easily accessible to pretty much everyone.
We are also going to look at some of the benefits of each method so that you can quickly decide which one will work best for you.
Before we actually start cleaning, there are a few things that need to be done:
Remove any furniture that's in the room that you are cleaning. If you don't have any where to put it, put it in the middle, clean around it, put it back and then clean the remaining areas
Vacuum the entire room area to remove as much initial dirt and dust as you can
Pre-treat any heavily stained areas first with a decent pre-cleaning product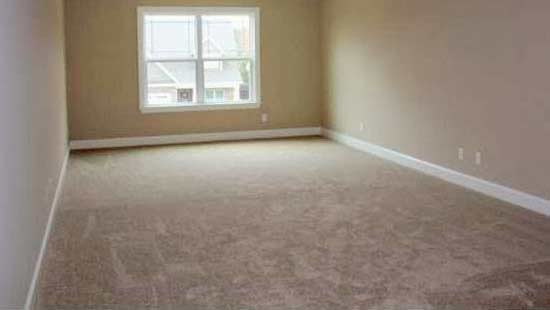 Cleaning Carpets Using a Powder Carpet Cleaner
To clean your carpets using a powder cleaner, follow the steps below:
Firstly, read through the manufacturers guidelines on the packaging or your powder cleaner for any special directions that may be specified, but in most cases the instructions will specify:
Gently scatter the contents evenly over the surface of your carpet
Let the powder sit for a minimum of 30 minutes. If you can leave it longer, all the better
Once the powder has rested on the carpet for the specified time, vacuum it all up
If any stains/marks remain, repeat the above but let the powder sit for longer
Powder cleaners are generally the prefered choice of cleaner due to their ease of use and also the fact that there is no drying time needed.
With the above in mind, this can also be a downside as it can lead to rushing in that you may not leave the powder down as long as it should be left, so it's not as effective as it could be.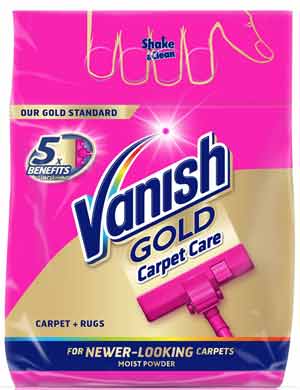 Cleaning Carpets Using a Shampoo Carpet Cleaner
There is a huge range of different carpet shampoo's available today from an equally huge range of manufacturers. Many differ very slightly, but in essence, they all do the same thing.
Although almost all are applied to a carpeted surface in the same way, you should always read the manufacturers guidelines for any specific usage directions before starting.
Some shampoo's come pre-mixed and ready for application but some need to be dilluted before use. If so, create a mix as specified by the manufacturer
Apply the shampoo over the surface of the carpet, make sure the covering is even and you don't apply too much to a single area
For any ground in stains or marks, scrub these with a stiff brush. Becareful not to be too harsh as you could damage the carpet pile
Once totally cleaned, leave the carpet to dry out fully
Once dry, give the entire area a good hoovering to suck up and remaining shampoo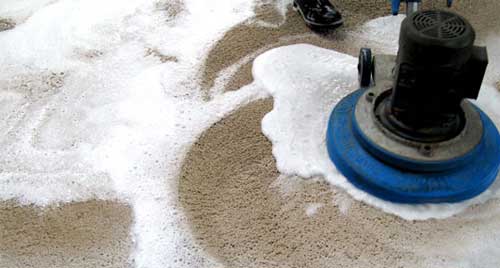 Carpet Washers – The Upright Vacuum Type
Sometimes called wet/dry vacuums, home carpet washers can be a good investment to keep your carpets clean and fresh.
They work by expelling a mixture of water and cleaning solution, and brushing deep down into the fibres to remove all manner of dirt and grease, then sucking up the dirty water.
It is greasy dirt which makes your carpet look really old and worn, so the removal of this will make a big difference to how the carpet looks. A carpet washer will also help to remove smells, pollens and germs.
As with the above products, there are a huge range of upright carpet cleaners available from pretty much all major vacuum manufacturers.
Most are operated in a similar manner, but again, always consult with the manufacturers instructions/guidelines on how to use your particular machine.
Additionally, most manufacturers recommend using their own specific brand detergents. This may just be a marketing tactic to get you buy their own cleaners but some have been known to foam up and damage machinery so it's best to stick with the brand related to the particular tool you are using.
If you use a different brand cleaner with a unrelated brand machine and damage is caused, then any guarantees or warranties will be invalidated.
Before starting, map out your cleaning route. This may sound silly but it saves you going over areas you've already cleaned, waisting cleaning detergent and also over saturating the carpet
Remove the clean water tank form the machine and fill to specified level with clean water. Manufacturer should state whether this should be hot (normally max of 40°c) or cold and then reinsert back in to the machine
Remove the detergent conatiner (if there is one) and fill to specified level with detergent. Some machines state that detergent should be added to the water in the clean water tank, check your instructions
Plugin in the machine to a mains socket
Turn on the cleaner by pressing the on switch and tilt the handle backwards into the cleaning position. Some times there is a handle release peddle so look out for this
Depending on the type of machine you have will depend on what buttons you press next. In most cases this will be a detergent/solution trigger that will then release the cleaning solution on to the carpet
Whilst pulling the trigger, pull the cleaner backwards so that the solution is evenly distributed and then release the trigger. Work on 3-4 foot areas at a time
Now, move the cleaner forwards over the erea you have just applied the solution to, letting the brushes get to work on scrubbing the carpet area and then removing the dirty water
Some cleaners will no feature a brush setup and will have a fixed scrubbing mechanism that will need to be manually worked whilst applying detergent. Once this is done there should be a seperate trigger to operate the hoover that then sucks up the dirty water
Keep an eye on the dirty water tank (this should be see through and easy to gauge when it is nearly full). Once full, turn the machine off, remove the dirty water tank and then empty it
If you have more cleaning to do, repeat the above steps. If not, rinse out any tanks and filters with warm water and then allow them to dry fully before putting them away
Cleaning Carpets with a Specialist Hired Machine
In a lot of cases, these types of machines are fairly "heavy duty" and you will either be hiring one yourself or hiring a specialist company that will bring their own.
As we have mentioned, if you are going to hire a cleaner and do it yourself, then in most cases you will be using a RugDoctor machine.
These machines are about as close on a domestic level that you will be able to get to a full carpet steam cleaner without going down the industrial cleaner route and in many ways produce similarly great results.
A steam-cleaner forces hot water mixed with chemicals into the carpet at high pressure, and sucks it up, taking the dirt with it.
The advantage of these units is that the hot water will dislodge a lot of dirt and grease that wouldn't normally budge, plus the heat also kills a lot of bacteria, dust mites and such.
For the purposes of this project, we will presume you are using a RugDoctor. If not, the principles of operation for your particular machine shouldn't be too far off, but again, always refer to the operating instructions for your machine as specified by the manufacturer.
Remove the white recovery tank on the front of your machine to access the bottom base tank
Using a bucket or similar size container, fill it with nine litres of clean hot water (make sure water is not scalding hot)
If you are using the standard size track machine, pour 150ml of detergent (make sure it's RugDoctor's own brand, should come with the machine when hiring) into the bottom tank. If using a wide track machine, use 225ml instead
With the detergent added, top up the rest of the tank with hot water from your bucket until it reaches around half the way up the mesh filter
Now, replace the recovery tank and ensure the retaining clamp is secured in place
Next, flick on the white switch on the control panel under the "carpet cleaning" heading
Adjust the handle of the machine so that it's comfortable for use and then plug the machine into a mains socket
Turn on the vacuum switch on the control panel and then tilt the machine back far enough so that the bushes are not brushing the carpet. Press the red spray button on the handle and check to make sure that sprayers are working and releasing cleaning solution as they should
Lower the cleaner back down in it's upright position and you are ready to go
Walking backwards pulling the cleaner as you go, move it over the surface of your carpet keeping the spray button pressed down
As you approach the end of your cleaning run, release the spray button to avoid depositing too much water and detergent on the carpet
Turn the machine around and position it ready for your next pass, making sure there is a very slight overlap to your previous pass, just to make sure you cover the entire carpet area
Keep and eye on the recovery tank and base tank. stop and empty the recovery tank as it approaches capacity and refill the base tank if needed
Repeat the above until the entire carpet has been cleaned
When finished, leave the room area clear and ventilate as much as possible so that the carpet dries
Clean the machine fully following the guidelines before returning it to the hire shop
The above is a rough guide to using a cleaner of this type, for full instructions including tips on getting the best out of a RugDoctor cleaner, head over to their website here.
As we have already mentioned several times, but will mention again 1to fully cover all the bases, the above are guidelines on how to use specific machinery and products but you should always refer to the manufacturers guidelines on how each should be used correctly.
Hiring a Specialist Carpet Cleaning Company
If you are not relishing the idea of cleaning your carpets yourself, the alternative is to get the professionals in.
Most towns and cities across the country have at least one local carpet cleaning business and as with any home impovement or construction project, you should always get at least 2 or 3 quotes (if this is possible).
In most cases, each company quoting will want to come out and see what's involved with your particular job, the volume of cleaning needed, the type of carpets you have etc….
While they are there, you should ask for references of past jobs so that you can contact these pasth customers and see what sort of service they received. Any reputable company won't mind this in the slightest.
In most cases cost is likely to be a strong factor in who you go with, but don't be tempted to go with the cheapest quote, they might be cheap for a reason!
Instead of doing the hard work yourself, why not let us do it for you. Check out our find a tradesman service and find reputable carpet cleaning companies local to you.
Removing Spots, Stains and Marks From Carpets
Regular cleaning and maintenance and periodic deep cleaning is certainly the way to go to keep your carpets in as tip top condition as possible, but what about accidents and spillages?
You can minimise any long term damage by knowing the best way to treat a spill straight away.
For liquid spills, grab a load of clean paper towels and gently blot the liquid, taking care not to push any liquid further into the carpet.
For semi-solid spills, use a spoon to carefully scoop up any excess before treating any remaining stain. Once you have removed as much of the spilled substance as you can, rinse the area with water and blot dry, repeating if necessary.
Whatever you do, don't scrub at the stain, this will only damage the carpet and make it look worse. If water doesn't remove the stain, try a spot cleaner.
There are various spot and stain removers available, all with varying degrees of success depending on the particular stain you are trying to remove.
There is also a plethora of tips and guides online on how to make your own homemade cleaners, some of these can be found here.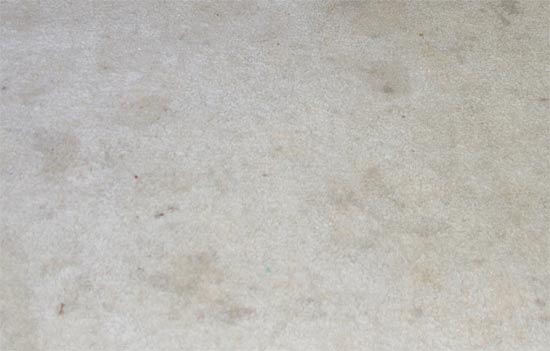 Spot Cleaning a Carpet
If there are spots or stains anywhere on your carpet, even if they're old stains, you can use a spot cleaner to remove or at least reduce them.
There are a number of different chemical cleaners available, and some are better suited to different types of stain or carpet, so read the labels carefully before you decide which one to go for.
Always test chemical cleaners on a small, inconspicuous area first before applying to the stain. Put a small amount of cleaner on the carpet, then take a clean, white cotton cloth and press it to the area for fifteen seconds.
Look at the cloth to see if any colour has transferred onto it from the carpet, and look at the carpet to see if you can detect any damage. If there is any colour on the cloth, try a different cleaner as you risk ending up with a faded patch.
Once you have a cleaning solution you are happy with, treat the stain by using another piece of clean, white cloth. Apply the cleaner to the cloth, then gently work it into the spot on the carpet, working from the outside in so you don't risk spreading the stain. Leave the chemical to work for a few minutes, then blot.
Keep repeating this with a clean piece of cloth each time, until the cloth comes away clean with no transfer of stain on it.
Once you have removed as much of the stain as possible, clean the stain-remover out of the carpet with cold water, blotting up as much liquid as you can to dry the carpet.
If the first spot-cleaner doesn't completely remove the stain, it's worth trying again with another one as different chemicals will work better on different types of stain.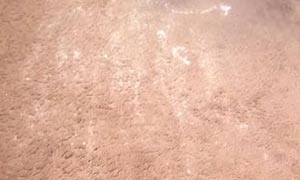 Preventing Carpet Stains, Marks and Damage
Prevention is always better than a cure, so do what you can to avoid dirt and stains getting onto your carpets in the first place. Asking people to remove their shoes indoors will make a big difference – if you walk on a carpet wearing shoes, the carpet is essentially cleaning the soles of your shoes, transferring all the dirt, grease and unpleasant things from outside deep into your carpet.
If it's not practical for people to remove their shoes, then at least provide door mats so that they can wipe the worst of the dirt off before walking over your carpet.
If you are investing in a new carpet, it's worth getting it treated with a stain-guard. This stops spills from being absorbed as easily, enabling you to blot them up before they can get into the pile and do a lot of damage.
Again, as we have mentioned several times throughout this article, before cleaning carpets using products or machinery, always, always check with your carpet manufacturer first to find out what methods they recommend you should use.
Delicate and expensive woolen carpets do not like a great many cleaning products or steam cleaning and can be totally destroyed if you're not careful, so make sure you do your homework first!