Today, the floors of most modern homes are constructed using sheet timber such as ply wood or OSB that is laid over floor joists. However, with older homes, their floors are constructed using boards that are laid side by side across the floor.
Laying floor boards can be tricky due to the fact that no room is totally square and trying to lay square boards in a non-square space just doesn't work. Read on below to find out exactly how to lay floor boards correctly.
What's the Correct Way to Lay Floor Boards?
The correct way to lay floor boards is to start laying at the centre of the doorway leading into the room. The first board you lay should be totally square to the door itself so that when you walk through it, you can visually see a nice straight and square floor.
Once you have laid the first board down, measure the width of the room in 2 places either side to ensure it is square and then measure the width of each board and work out how many fit into the width. This will then tell you the size of any cuts so you can then, if necessary adjust the first board to ensure that any cuts are of the same size at either end of the room.
Before laying any boards in place you will need to ensure that any floor joists are in good condition and are not sagging. If they are, see our project here on leveling floor joists to learn how to put them right again
If you don't currently have any floor joists in place then they will need to be laid down first. To do this see our project here on how to lay a hollow floor.
Should You Nail or Screw Floor Boards Down?
Traditionally, floor boards were nailed down however, if you want to get them up again easily to access pipes and cables then you should use screws.
Additionally, if you use nails, over time they can work themselves loose and cause boards to creek and groan when walked on. By using screws, they pull the boards down much more firmly and don't work lose, regardless of how much traffic that travels over them.
How to Lay Floor Boards
Regardless of how square a room looks, you can pretty much guarantee that it isn't, this is a fact! With this in mind, it's inevitable that when laying square floor boards, at some point they simply won't fit and will need to be cut.
The diagram below labeled "Floor plan showing squarely laid floor boards and cuts" represents a typical room and the dotted lines represent how the room would be if it was perfectly square.
1 and 2 are the walls of the room while the letters A,B,C etc. are the floorboards. D and G are the probable shape of cuts you will need to make.
Step 1 – Lay and Check Floor Joists
To be able to lay floor boards you first need to have some joists to lay them on. All joists should be of the correct size to support the weight that's going to be placed on them and also the area that they have to span.
They should be supported at one end by bricks, blocks or a joist hanger and also at the opposing end by the same or a dwarf wall if the span is particularly great. This is repeated across the room area. For a full and in-depth explanation of laying floor joists, see our project here.
Step 2 – Set out Floor Boards
As we have stated above, to ensure that any cuts that need to be made to any boards, normally at either end of the room are as uniform as possible and also to ensure that you don't end up having to cut in a very thin board at one end, it's necessary to map out exactly where each floor board is going to go.
To do so, first mark a line across the joists that is at a perfect right angle to them and the doorway. Using a carpenters square, or the 3, 4, 5 method (as described in out carpentry tips project), mark a line across them using a chalk line. The line should be marked from the centre of the door way.
Once done, measure the width of the room and then the width of a floor board. Divide the width of the room by the width of the board and this will tell you how many boards fit into the room plus the size of any cuts needed. Divide the size of the cut board by 2 and then adjust the line marked above so that the cut at each end of the room is the same.
Once you have the correct starting point, place a floor board down flush with the line and then use a pen to mark the joist along the opposing side. Once marked move the board over and repeat, marking the joists as you go. Once complete you should then have marks across joists, depicting where each board will go.
Additional "trimming joists" may have to be inserted around fireplaces, chimneys etc. to make sure the end of each board is well supported.
Step 3 – Start Laying Floor Boards
Now that you know exactly where each floor board is going to go, it's now just a simple job of laying them down.
As we have stated above, it is absolutely essential that your floor boards run at right angles to the joists regardless of the shape of the room.
Lay your first board through the room, next to the line marked over the joists, stated as "X" in the image below, this is board A. Check one last time that it is totally square to the joists and then screw or nail it in place. Cut any further boards to length so that they span the entire room area.
Then carefully, lay boards B, & C. Do not fix these boards at the moment. Continue laying your floor boards across the room from board A, ensuring tongues and grooves are all correctly and fully engaged before they are fixed.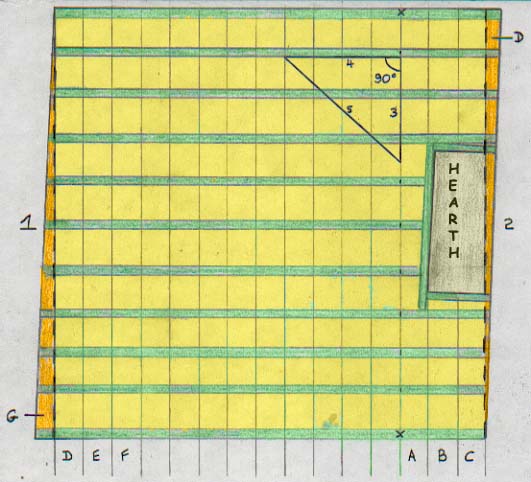 Step 4 – Cut Floor Boards to Fit Shapes
As stated above, before fixing the last few boards down you will need to make any required cuts and then fix all final boards, including your cut board, in one go. This is to ensure that all tongues and grooves are correctly engaged. Trying to fit the tongue and groove of the final boards together can be very tricky due to the lack of space, so fitting several boards in one go will give you much more space to work with.
To accurately make your cuts, lay a floor board flat on the floor. Using a tape measure, measure the widest gap at the end of the cut to define the width and then measure and mark this at the end of your floor board.
Next, measure along the length of the cut in and then mark this on the floor board. Take another floor board and lay it onto your marked board and then draw a line from the width mark down to the length mark. This will now define exactly how your board needs to be cut to fit precisely.
When measuring and marking, ensure that you mark any cuts on the side opposite the tongue or groove, so that you have the right connection to fit together with boards C and D and also that you make allowance for the tongue on each board when you mark.
Once you have marked your board, use a jigsaw, handsaw or circular saw to make the cut.
Finally, fit boards D, E, F and G and A, B, C and cut D together and then fix them all in place, ensuring that all tongues and grooves are fully engaged.
If your room also features a hearth or similar immovable obstacle then the chances that this is square will also be slim to none. If this is the case then simply use the techniques above to mark the appropriate cuts so that your floor board will fit around it.
In the case of a hearth, this will probably be solid concrete and will run back to the wall so you will then have to cut floor boards to fit either side.

Laying floor boards is a pretty straight forward job, however the key to its success and ensuring that they are all laid square is to ensure they are fitted at 90° to the joists and also the doorway entering the room. However if you get this correct then you are pretty much guaranteed a great finish.