Levelling and Covering Garage and Other Concrete Floors
In recent years Diydoctor has visited, for one reason or another, several hundred properties. A great many of these properties have had garages but very, very few of them have ever had a car inside them! Garages these days are more often used for storage and workshops than they are cars. Excellent products are now available for covering garage floors and some of them do not require any work on the existing garage floors.
Covering a garage floor is now easy. Using unique Ecotile products it is possible to have a new, dust free, very durable floor in hours.
EcoTile can be loose laid over any hard surface including uneven, damp or damaged concrete floors. Ecotile garage floor tiles are quick and easy to install and will create an attractive, low maintenance and durable floor finish ideal for either domestic or commercial garages and workshops.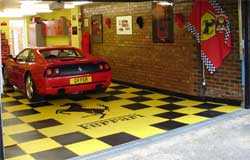 Ecotile garage floor tiles will eliminate any dust problems caused by damaged concrete floors and are extremely hardwearing and durable. The tiles easily cope with car jacks, engine hoists etc. and they can be taken up and put down again if you move house. The garage floor tiles are easy to keep clean and create a warmer and more comfortable work surface.
Consisting of 7mm thick interlocking tiles that are available in 8 colours and either a raised disk or flat textured surface. Ramp sections are available in all 8 colours for use across the entrance of the garage to facilitate moving vehicles in and out.
Surface preparation, if required, is easy with the surface needing to be dust free and clean. Oil spills and grease etc can be cleaned with agents.
Self levelling screed, if required is mixed using a variable speed drill and paddle attachment.
Self Levelling Floor Screed
The second, and most widely used of garage floor coatings is what is called a self leveling floor screed. This consists of an acrylic emulsion mixed with a powder made from limestone-silica sand-cement-polymers-rapid hardeners. This creates a very hard surface and can be applied to only 3mm thick.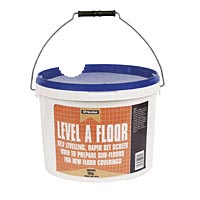 The surface is very hard wearing and easy to lay. It can be walked on within one hour and will provide you with a dust free surface for your garage or workshop. The coverage is approx 5m per pack, and with the average garage being 5m long x 2.5m wide you will, need 3 packs.
The self leveling floor screed is used a lot by flooring companies to create a perfect surface when laying floor tiles and laminates. The screed can be used for leveling out "dents" in a concrete floor and will give you a surface to which tiles and floor coverings will stick easily.
For an extra hard wearing floor granite grit can be mixed with the screed and for deeper applications granite chippings will provide the strength needed.
Why not check out our video sections on flooring and rubber flooring to watch a short film that showcases some options for decorative concrete flooring and one that shows how to install a rubber floor.