At the end of this project is a complete range of compression fittings. The fittings are available in 10,15 and 22mm.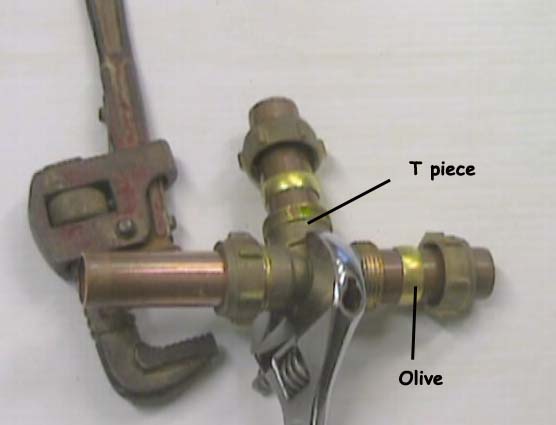 A compression joint is one which uses a fitting to join two or more pipes by compressing a small brass ring, known as an olive, between the fitting and the pipe.
Compression joints should never be over tightened as the pipe can kink making it impossible to seal.
Whenever tightening or undoing a compression joint, care must be taken to hold the fitting securely while the nuts are being moved. Any twist in the pipe may again result in a kink. Copper pipes are not flexible enough to bend without kinking, without the use of a pipe bending spring or pipe bender.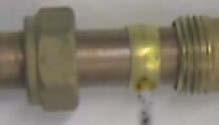 Compression joints can be unsightly as they are quite bulky, and it may be that you would like to practice soldered joints but for the average DIY'er, they can represent a degree of safety because if they are leaking slightly they can be tightened a little more.
Clean the ends of all pipes thoroughly with wire wool. Copper pipes can get little burrs, or small scratches, which, if not addressed, will prevent a good seal by the olive. Wire wool can be bought at most diy stores, builders and plumbers merchants.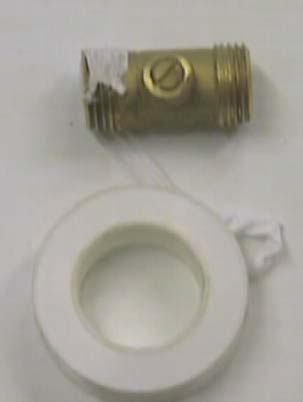 Wherever possible, use a layer of PTFE tape around the thread of the compression fitting. This tape will be pushed into the thread by the tightening of the nut and seal any overlarge gaps within the union of the threads.
Theoretically, with this type of joint, this should not be necessary as the water should be stopped at the olive, but even a tiny trickle of water through the threads, if not detected, can cause major damage.
There are also various forms of paste joint sealers on the market which may be used to do the same sealing job, and with joints which are difficult to access after installation (behind washing machines etc) you will often find a plumber using both the tape and the sealer to be sure of a joint. Use your fingers to push the paste into the threads.