From skirtings and cornices to coving and ceiling roses, there are a multitude of different decorative mouldings you can add to a room to make it less flat and more interesting.
Skirting
Skirting board is used to cover up where the wall and floor join – it's difficult to get a tidy finish at the bottom of a plastered wall, and if you have carpet the edges need to be tucked under the skirting so that it doesn't fray. Skirting also protects your walls from getting chipped or knocked by feet, vacuum cleaners, toys etc. Skirting can be made proper wood or given a veneer finish, or it may be cheaper mounded MDF.
There are a number of sizes and shapes of skirting you can buy. The common shapes are listed below.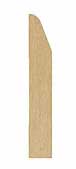 Dado Rails
A dado rail is a decorative moulding that is fixed horizontally along the wall, at a height of between 900mm and 1500mm. It runs around the whole room, and the original purpose of it was to protect the wall from chairs being knocked back into it. Nowadays it is usually just decorative.
It is common practice to have different decoration above and below a dado rail. Traditionally, the bottom part of the wall would probably be panelled in wood, but a darker colour or bold pattern is sometimes chosen now. The top half would be decorated in a lighter colour or pattern.
Picture Rails
A picture rail is very similar to a dado rail, but it runs around the top of the room, around 300-500mm below the ceiling. Picture rails are more often seen in older homes, with higher ceilings. The purpose of a picture rail is to hang pictures from, so as not to damage the plaster on the wall.
Achitrave
Architrave is the decorative moulding that surrounds a door frame. It covers the join between the plaster wall and the wooden door frame. Like skirting, it can be made from wood or MDF and is available in a variety of sizes and shapes. The skirting and architraves in a house will usually match up using the same shape and a similar size, although architrave is generally not as wide as skirting.
Coving
Coving or cornice is a moulding which runs around the top of a room, covering the joint between the ceiling and the walls. Cracks often appear in the plaster joint between the wall and the ceiling, and coving is used to cover up those cracks. Coving and cornice are traditionally made from plaster or gypsum plaster, but more modern versions are now available in lightweight materials that are easy to install without specialist knowledge or skills.
A variety of shapes and sizes are available, with styles ranging from Victorian and art deco to contemporary. You can even find flexible coving for curved walls. Some ranges include uplighting and downlighting options.
Ceiling Decoration
Ceiling roses, domes and tiles are decorative mouldings made to add more interest to a ceiling. Roses are the most commonly-used decoration, and are usually placed around a light fitting. Of course, they look much better on a high ceiling with a chandelier hanging down than in a modern house with a plain pendant light.
Wall Decoration
Corbels, shelves and fire surrounds are used to add decorative interest to walls. Corbels are decorative brackets, made from wood or stone (or sometimes more modern materials). They might be placed below a shelf or a beam for support, or sometimes they are used on their own as a wall plinth for a small sculpture or decoration.
Wainscot or wall panelling is a decorative moulding applied to walls, often to just the lower half below the dado rail. It can be made from plaster, wood or more modern materials.
Square panels and arches are the most common forms of wainscot. Often instead of a raised panel, a faux panel is created using a frame made of decorative moulded railing. If full wooden panelling is used it might left with a stained wood effect, or raised panels and faux panels are often painted a different colour in the centre to the rest of the wall.