There are many things to take into consideration when thinking about adding a patio to your garden. A patio could just be a simple paved area directly outside the house, it could be a Mediterranean-style outdoor living area, or it could be a secluded dining area at the bottom of the garden.
Position of Your Patio
Think about when you are most likely to use your patio, and choose a site that will catch the sun at that time – it could be facing the evening sun for al fresco dining, or in full sun all day to make a nice suntrap. It may seem easiest to just add a patio outside your back door, but if the house casts shade on the area you won't get much benefit from it.
Of course, you may want to avoid the sun altogether, choosing a shady area where you can sit and enjoy a cool drink in summer. Shelter and privacy are important factors – patios are traditionally enclosed by walls, screens or tall plants – although you want a nice sunny spot, you don't want to be blown away in the breeze or overlooked by neighbours or passers-by. A sheltered, private area will also provide security for any furniture, barbecues etc left out.
Size, Shape and Levels of Your Patio
If you are planning to use your patio as a dining area, make sure there is enough space not only for the table and chairs, but also to move the chairs away from the table and walk around it. You don't want someone leaning back to relax and falling off the edge of the patio!
Measure the area and mark out with a long length of hosepipe, leaving down for a few days if you can. this way you can see if it really is in the right place and right size before you start any work!
If you are planning to incorporate a barbecue or fire pit into the area, ensure you leave enough space around it so your diners aren't roasted; likewise if you want to add in a pond, make sure there is enough space to walk safely around it.
Although a standard square or rectangular patio may be easier for laying slabs, look at the area you're planning to create your patio in and think about whether a curved edge may suit it better.
You need to consider materials at the same time as the shape, as the material you choose may dictate the shape of the area.
There are some very attractive and easy to lay circular or semi-circular patio paving kits on the market. Conversely, if you like the idea of a circular feature, the area doesn't have to be circular – you can usually purchase 'squaring off' slabs, so that your feature circle can be incorporated into a square area.
Your local garden centre or builders' merchant may have catalogues of patio paving options, to give you some inspiration.
You can add interest to your patio by having either the whole patio, or a part of it, on a different level to the rest of the garden – bear in mind that not everyone finds steps easy though.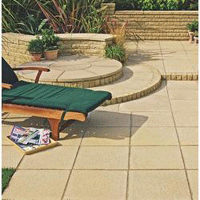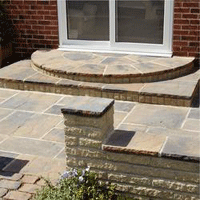 Materials and Patterns for a Patio
This is where it can get really tricky – choosing the right material for your patio, and what pattern to lay it in. There are so many options available, it can be difficult to decide what's right for you. Cost will be a major factor – you may fall in love with some beautiful Cornish slate slabs, but will they fit the budget?
There are a huge range of patio paving slabs on the market, from cheap, plain concrete slabs, through stone-effect concrete, to real stone – slate, York stone, reclaimed flag stones, cobbles; all in a variety of colours and textures. You might even choose to use bricks or pavers – the warm colours and an elegant basket weave or herringbone pattern can look very effective.
It might be worth finding and visiting your local reclamation yard – they often have a range of attractive reclaimed stone paving, and some stock new slabs too.
When choosing a colour, try to pick something that will contrast well with the surroundings – if there is a pale painted wall on one side of the patio, perhaps pick a darker stone colour. Light slabs will create a lot of glare in the sun; darker colours produce a warmer effect, and will retain heat from the sun for longer.
You also need to be sure that the material you choose complements the surroundings – if you live in an old stone house, modern concrete slabs are likely to look out-of-place. The reverse is also true – old, reclaimed flag stones may not look right next to a modern building.
Features for a Patio Area
It's nice to include an interesting focal point in your patio area. This could be a pattern in the paving itself, or an additional feature.
Fire pits are becoming very popular, and you might like to build one in to your patio area. Or a corner with a collection of brightly-coloured potted plants can add interest. If you want to include plants, you might also consider leaving out a couple of slabs, creating squares that can be filled with fragrant herbs or bright flowers.
You could create a brick or stone seating area that rises smoothly from the stone of the patio, or a built-in brick barbecue.
A water feature is a nice addition – stand-alone, gently bubbling water features are available in most large garden centres. Or you could build in a raised formal pond with wide edges that double as a seating area.
Lighting is also something to consider – if your patio is directly outside the house you can easily install an outdoor light, but if your patio is further away from the house electric lighting might not be an option. There are a wide range of solar lights and oil lanterns available that can turn your patio area into an enchanting grotto as dusk falls.
Once you've designed your patio, you can move on to our laying a patio project.