The door bell is a core feature on pretty much all homes in the UK and has been for many years. Available in a range of different types, sizes and styles today, the standard door bell has come a long way since the familiar small black box commonly found around many front doors.
In this DIY guide we take a look at some of the different types of door bell and how to install a mains fed door bell.
Different Types of Door Bell
There are essentially 3 different types of door bell available in the UK and indeed across the world and they are the modern smart door bell, the wiresless door bell and the traditional wired door bell.
In terms of wired door bells there are also a few different types – those that are hard wired to a mains electric supply to draw their power with the push button mechanism also hardwired to the control or chime unit via a transformer and those that have their control/chime units hard wired to the mains but their push button units are wireless.
As mentioned above, where the push button units are hard wired to the chime as their power source, this needs to be done via a transformer to reduce the power to the push button to a safe amount so that it can be used in and around the home or externally. In the majority of cases this will be around 12V but sometimes much less (around 2V).
In pretty much all cases, with the wireless hard wired units, the push button unit relies on batteries for its power.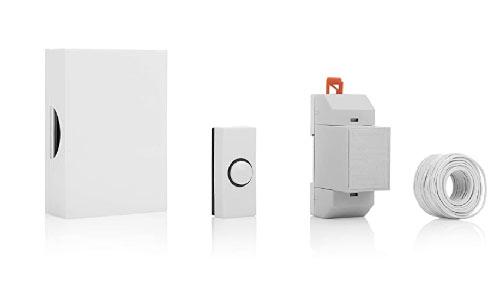 When it comes to the wireless units, as you may expect the majority of these are purely wiresles and draw their power from batteries as opposed to the mains.
In general, wiresless units do tend to be a little more expensive than wired units mainly due to the fact they are easier to install as with mains supplied units you do need a qualified electrician to install them.
Additionally one of the major disadvantages with wireless units is the fact that they rely on batteries and as we all know, batteries run out! One of the main gripes that people have is that the batteries for either the chime/control unit run out and you may not notice this until you try in yourself or someone tells you.
In the mean time various visitors, couriers etc. come and go, ringing your door bell that at this time doesn't work so they presume no one is in, when in fact you very well could be.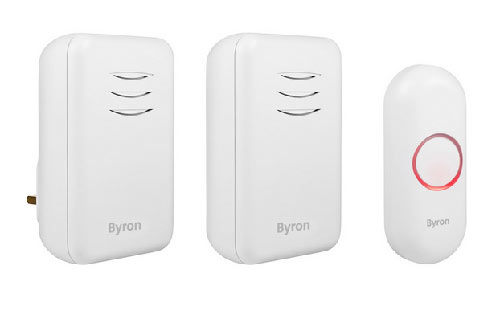 The third and final type of door bell is the fairly new smart door bell. These very clever devices are connected to the internet via a wireless network and when someone activates the push button, this in turn rings a mobile phone or other web-connected device and then the video camera in the push button unit allows you to see who's at the door.
Additonally many smart door bell systems also feature a sensor that activates the camera when movement in front the unit is detected. This also doubles up as a security system, with many units also featuring the ability to record images from the camera.
Another very useful feature is that most smart systems also have a built-in microphone and speaker meaning that 2-way communication with the person standing on your door step isalso possible. This is particularly useful if you are away from your property.
When it comes to powering smart door bells this is generally done through either hard wiring to the mains and using a transformer to step down the voltage so its a low voltage supply or wirelessly using batteries.
When it comes to advantages and disadvantages, as you can see there are quite a few advantages of these systems and on the whole not really any disadvantages, other than the battery issues already discussed above.
With the variety of door bell systems available it's really down to personal taste and requirements of what you want your door bell ststem to do when it comes to whick type you should go for.
Different Parts of a Doorbell System
There are 3 main parts to a standard wired doorbell system; the chime unit, the transformer and the push button unit. All mains wired systems will have these 3 main components, while wireless units (wiresless push button) systems won't have a transformer as they are not needed.
Chime Unit: This is the main part of the doorbell system and the part that actually makes the sound when the push button is depressed. In most cases the chime unit is located in a central area of the home or above the front door so that it can be easily heard. There are numerous different chime units all with different looks and features such as the ability to run two push buttons for front and back doors with different chimes etc.

Door bell system chime unit

Transformer: The transformer is a key part of a mains-wired doorbell system. As the push button is located outside a property and subjected to all manner of weather, running it at mains 240v would present a huge danger to anyone pressing it. The transformer reduces mains power from 240v down to a much safer 12v or even less, making the unit safe for visitors to press

Transformer unit for doorbell system

Push Button: The push button unit is the part of the system that allows visitors to sound the door chime in the chime unit. Normally located next to an entry door, a visitor would press the button which would then sound the chime and notify residents that there is someone at the door. They are either wired to the chime unit via a transformer or are wireless with their own onboard power normally supplied by batteries. Again they are available in a range of different styles to suit most homes

Push button unit for doorbell system
How to Install a Mains Door Bell
For the purposes of this guide we are going to run through the steps that are involved in installing a mains-fed door bell system.
As we are dealing with the electricity system within your home this particular job should only be carried out by a qualified electrician that can fully test the system once installed to confirm all is as it should be and then produce a minor works certificate to confirm what work has been carried out and to what standard.
However if you are installing a wireless unit, this will only require batteries and can be installed by anyone.
In terms of wiring up, the most common method is to take a feed from an existing lighting circuit as teh 6 amp breaker in teh consumer unit that protects the lighting circuit will suffice for a door bell.
If however there are no existing liighting circuits to hand and you have to take a feed from an existing socket circuit then you will need to install an FCU or fused connection unit (see our project on fused connection units or FCU's here for more details).
In most situations a socket circuit will be prtected by a 32 amp breaker in the consumer unit which is far too much for a lower voltage system such as a door bell so an FCU will need to be installed between the breaker and door bell to reduce the voltage. In the majority of cases a 3 amp fuse will be fine to be installed in teh FCU.
Find Location and Fix Push Button
The first job is to find a suitable location for your push button to go. In most cases this will be at either side of your front door, or the door you are installing your doorbell for.
As you will need to run the wires for the bell from outside to the inside and to the transformer unit/chime unit, in most cases the best installation location is on the door frame as this is the easiest area to drill through. However if this isn't possible then you will need to install on your wall and drill through the wall.
In this instance we are going to install on a door frame so first drill a hole through the frame using a 6mm or 8mm drill bit, ensure that you drill through the empty carcase of the frame and not too near the edge as to affect the closing of the door.
Once the hole is drilled, place the push button over it so the wire hole in the rear of the push button is over the hole you just drilled. Mark each fixing hole for the push button on the door frame using a pencil or 2mm drill bit if you can't get a pencil trhough each hole.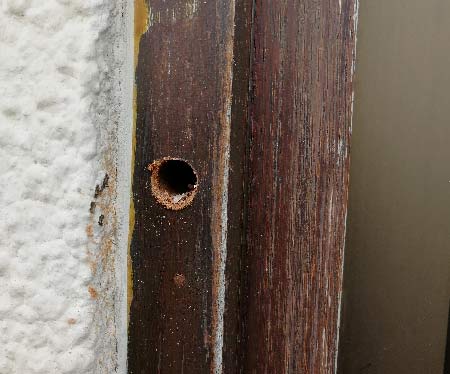 Once marked drill a small pilot hole and then screw the push button in place. Not fully as yet as we will need to remove it to wire it up.
Find Location and Fix Chime Unit
With the push button in place the next job is to find a suitable location for your chime unit. In most cases this will need to be installed in a failry central location in the home so that it can be heard by anyone in the home, regardless of what room they may be in.
In the majority of cases, if you have a hallway then somewhere here should be ideal, but if not then try to place it in a room that is commonly populated e.g. a living room or kitchen.
In most cases chime units are installed either above a doorway or up near the ceiling somewhere so that when the connecting wire is dropped down it's then not visible as it can run straight into the unit.
Pop the cover off of the chime unit and position it in your chosen install location and level it up using a spirit level. Mark each of the fixing points on the rear and then remove it.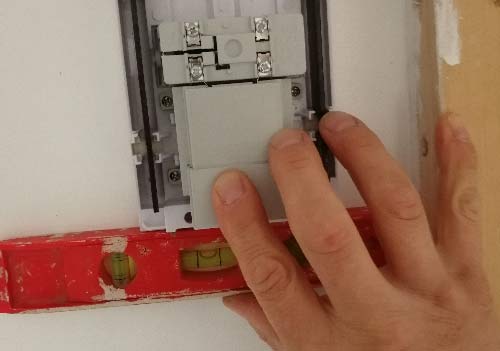 Drill out each fixing hole using a 6mm masonry bit and insert a wall plug. Before fixing it in place pop it back in position and mark on the ceiling the area where the connecting wires will drop down.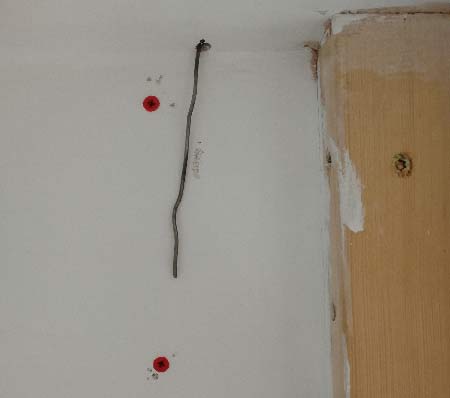 As we are installing in a bungalow in this instance access via the loft area is easy. However if you are installing in a house then access down from the first floor will involve pulling up floorboards, unless you want to run trunking between each floor and up to the loft space, but this can look untidy.
Before drilling up through the ceiling use a pipe, cable and stud detector to check that the area you're drilling in doesn't contain any pipes or cables and once you have confirmed it's safe drill a 8 – 10mm hole up through the ceiling.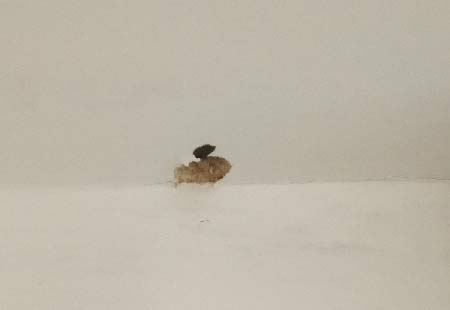 Once the ceiling hole is drilled both teh electrical supply cable and the push button cable can be run up through the ceiling. Once pushed up in place the electrical supply cable can then run over to teh location where it will be connected to an existing lighting circuit or electrical feed up in the loft or in teh ceiling.
In some cases running an electrical cable up through a hole in a ceiling can be tricky. For tips on running cables in ceilings, walls and other tricky spaces see our project on fishing cables here.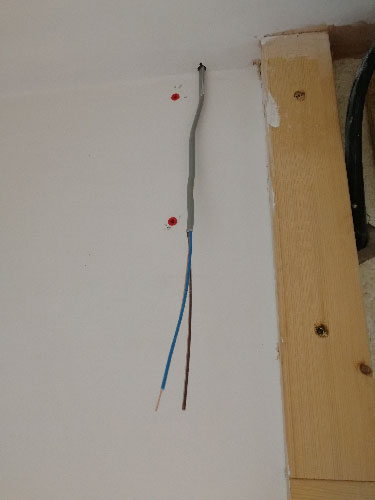 The push button cable was then run up through teh hole as teh electrical supply cable and then over and down through another hole near to where it will exit through teh door frame. In this case an existing ceiling hole close to where the push button was to be installed was used.
Once both the cables have been run in place the chime unit can then be fixed in place on teh wall. Before firmly fixing ensure both sets of cables are pulled through into teh inside of teh unit where they will need to be so that they can be connected up.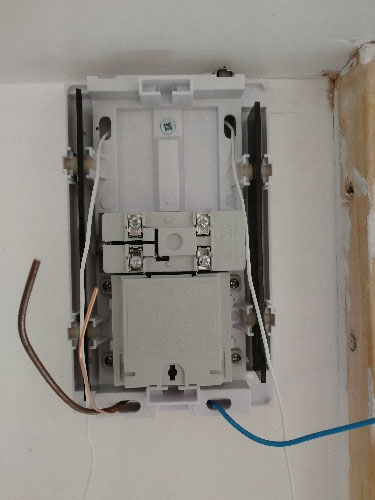 Install Junction Box
Depending on the type of doorbell system you are installing will depend on how it's powered. Some units have a seperate external transformer that requires a feed to be taken from an existing circuit via a junction box and some units have their own transformer that is installed within the consumer unit and power taken from there or the transformer is physically built into the chime unit.
In the majority of cases the junction box/transformer setup tends to be an older type setup with the newer models being much more simple to install and therefore utilising a consumer unit transformer or the transforer as part of the chime unit.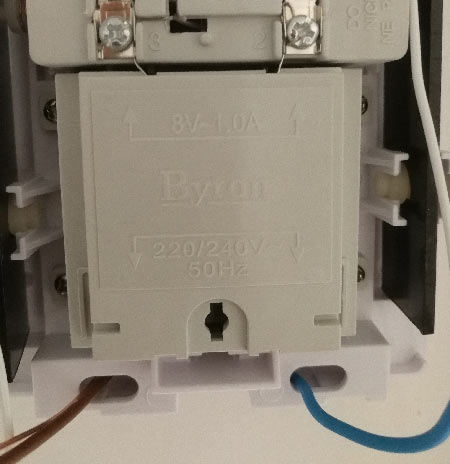 As we are using a unit with the transformer built into the chime all we need to do is to take a feed from an existing circuit and run it to the chime unit.
Fix Transformer In Place
As mentioned above as we are using a unit with the transform integrated into the chime we don't need a seperate transformer, however in some cases the transformer comes as an individual unit that is either installed next to the junction box or power source or as a unit that installs within a consumer unit on the Din bar along with existing MCB's and RCD's.
With the consumer unit transformers they are simply slipped on to the din bar and then wired up by a professional Part P qualified electrician as any MCB would be. Doorbell cable is then used to run to the chime unit and push button from the transformer.
With seperate transformer units these are very often installed on or around the junction box used to take a power feed. The power feed is taken out of the junction box and then live, neutral and earth are connected into the transformer and the chime and push button units are then wired into the tranformer.
As our unit has the transformer built in all we need to do is run a live feed from our existing circuit down and connect it to the transformer in our chime unit.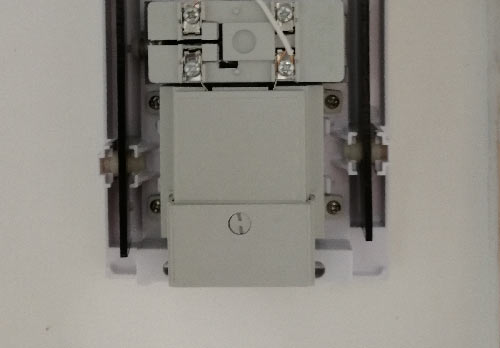 Wire up Doorbell System
One of the final jobs to do now is to connect up all the components of our doorbell system. Firstly, run the door bell wire that came with our kit through the hole in the door frame from where we ran it down from earlier and connect each wire to the 2 terminals on the reverse of the push button.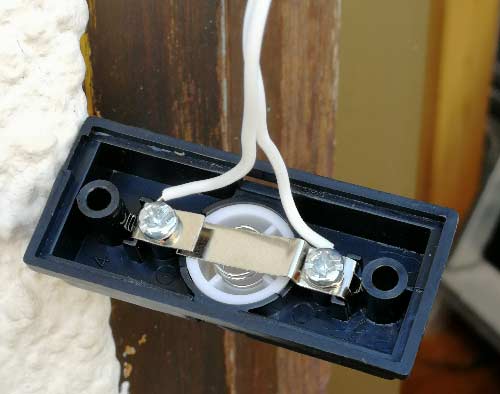 Ensure you screw up each terminal tightly and that a decent amount of wire to create a full contact is within each terminal.
The doorbell wire is then neatly run up the door frame and up to the chime unit where it is connect to the transformer as instructed by the manufacturer in the instructions included with your kit.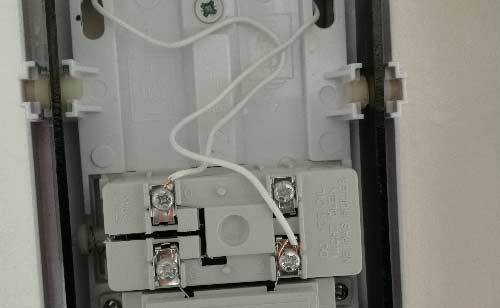 The next job is to connect up the live feed to the transformer from our existing circuit. Before any work was carried out, the electrician doing the job isolated the circuit we were taking a feed from by turning it off in the consumer unit and then testing that the circuit was indeed fully isolated!
With the circuit isolated a junction box was installed into the existing lighting circuit we were taking our feed from and then the 1mm twin and earth cable that was previously fed up from teh chime unit was connected up.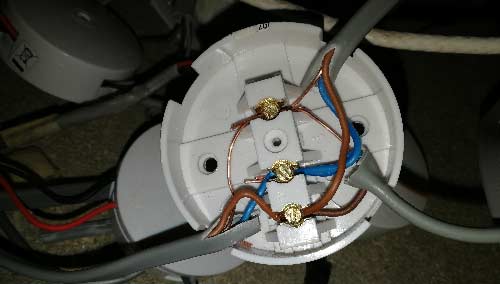 Once everything was successfully connected up the front cover for the chime unit was placed on and the junction box front cover was also screwed in place.
For full help and advice on how to use a junction box and wire one up, see our project here.
Turn on Power and Test
With everything now successfully connected up the power to the circuit was turned back on and the electrican fully tested the install to make sure everything was as it should be.
Once fully tested from an electrical perspective the final job was to give the push button a push and ensure that the chime unit sprung into life and indeed it did.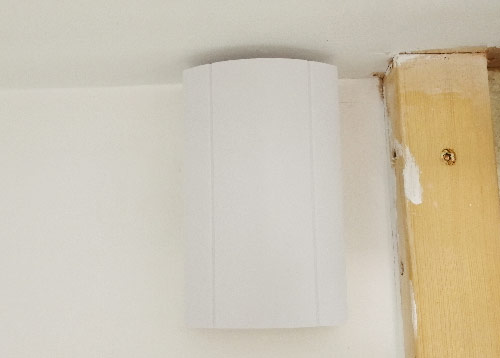 Installing a hard wired door bell system is a pretty straight forward job and if it is a brand new install, one that should be done by a professional electrician so that it can be fully tested and certificated once complete.