Identification of your rot is the first part of this important process, these picture help you identify and diagnose different forms of dry rot and wet rot so you can treat it effectively.
It is intended to give you an easy insight into the types of rot and treatment, but we also have further information on the difference between wet and dry rot and the processes and products you can use to treat dry rot.
See our other project page for more in-depth information on diagnosing and treating rot. It is a worthy point to note that dry rot can seriously damage your property so if you suspect that it is present it is well worth getting professional advice.
Pictures of Dry Rot and Wet Rot
You can use the images below to help you identify the type of rot that you have in your home. The images depict the most common forms of both dry rot and wet rot and how they most commonly appear.
Dry Rot
The strands that you can see when dry rot starts growing look like roots. They are white, off white or even silver grey. When these strands dry out they turn brittle, where wet rot would stay flexible.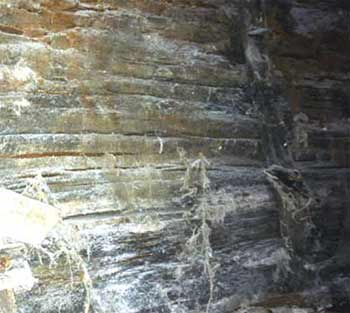 Wet Rot
Coniophora Puteana – known as the 'cellar fungus'. The strands are dark – grey, brown or black. They form fern-shaped patterns. When they are dry they remain flexible. Occasionally they will form an olive-brown fruiting body, but this is very rare.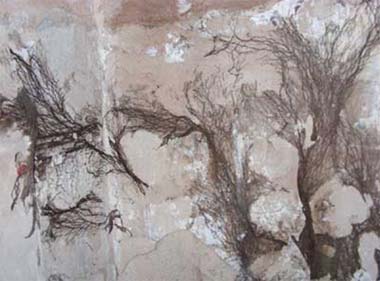 Fibroporia vaillantii – also known a cellar fungus, this looks similar to the fungus above but it has bright white strands, and have white fruiting bodies and spores.
Asterostroma – this has very fine brilliant white strands. The fruiting body has tiny star-like structures, but these are only visible using magnification.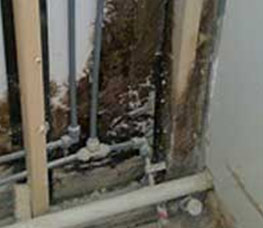 Sheets or Mycelium
Dry Rot
As you can see from the picture, this is a dirty off-white sheet, which forms a kind of skin on the surface of the affected timber. It can sometimes be yellowish or slightly lilac coloured, but it is not a bright white – a brilliant white skin would indicate wet rot rather than dry rot.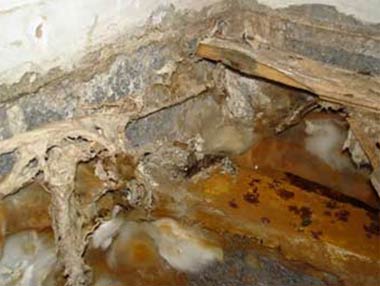 Wet Rot
This is more of a skin or coating, and the wet rot is a bright brilliant white.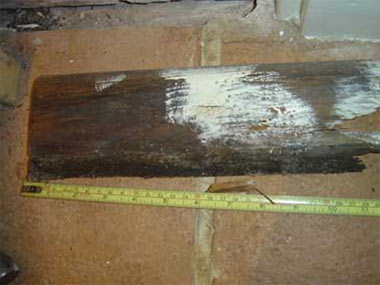 Fruiting Body or Sporophore
Dry Rot
This is the mature version of the fungus and this is the part that produces spores. Spores are the method that the dry rot uses to spread throughout the timber. They are rather like seeds in that they land on timber and look for the right conditions to start growing.
The fruiting body of Dry Rot is usually rusty red and/or ochre yellow with an off white outer edge. There could be touches of lilac or silver grey here too. You will often be able to see the red spores in the middle. It is usually a flat body which looks a bit like a tree mushroom you might see in woodland.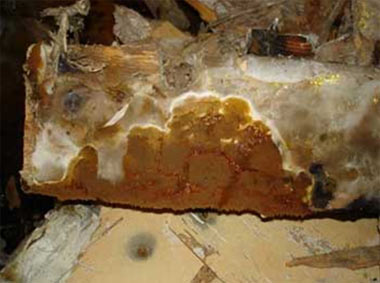 Wet Rot
These are the tiny fruiting bodies of wet rot they are small mushroom like fungi that are off white.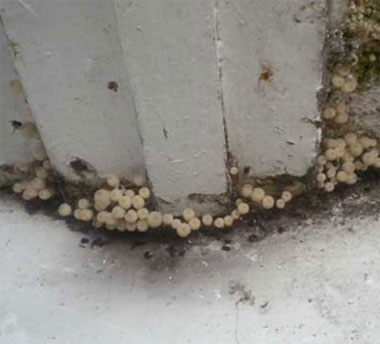 Dusting or Spores
Dry Rot
The spores are rusty red and will be cast about by the mature fruit to land on all available surfaces. By blanketing the area in the way the fungi is hoping that the spores will find an area where they can flourish and grow. This is rare to find because the rot is usually discovered and treated before the fungus can get to this stage.
Wet Rot
This dusting is not from spores, but from the activity of wood-boring weevils which only affect timber which is already rotting. It looks like sawdust, because that is basically what it is.
Wood Cracking or Cubing
Dry Rot
The wood forms deep cracks along the grain (the length of the timber), and then smaller cracks form across the grain to form a cube-like structure. 'cubes'. The wood can also shrink and curve inwards.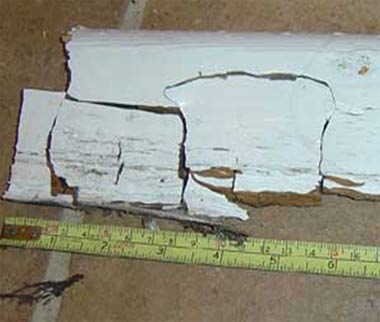 Wet Rot
Wet rot does display similar symptoms but the dry rot tends to form bigger and more irregular cubes, where the wet rot forms smaller and more regular cracking.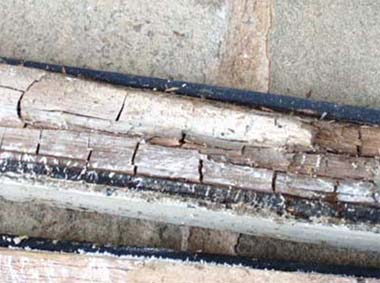 Dry Rot and Wet Rot Treatments
If you have identified a dry rot or wet rot issue in your home using the images and information above then you are going to need to treat it to get it removed and prevent any further damage and potentially expensive fixes where timbers eventually need to be replaced.
Boron Powders and Solutions
Due to Brexit, boron powders, gels and other boron-based treatments for wet and dry rot have now been withdrawn from public use and can now only be used by licensed professionals.
On the whole, boron treatments for wet and dry rot work very well. They act on the damage quickly and neutralise any presence of mould, fungal growth and wood-boring insects. They also treat the timber to prevent any future issues.
Boron or Borate as it is also known is a water-based 'biostat' and this means it has no ill-effect on non wood–boring insects or on mammals.
This Borate is easily applied as two coats either by brush or spray, and it quickly soaks into masonry and timber. It is permanent and, unlike its main rivals, it has no vapour or smell.
It is formulated so that it can only affect wood rotting fungi and wood boring insects. It will not affect bats (a protected species) or their main food, the common house fly, which does not eat wood and so never gets contaminated with any preservative.
As effective as boron can be for treating such problems, as commented, it can only now be used by a licensed professional and as you may expect, there will generally be quite a hefty fee to go along with it.
DIY Dry Rot Treatment
If professional assistance for your dry rot and wet rot issues isn't an option then you can certainly treat both on a DIY basis.
Out of the two main types of rot, dry rot is definitely the more serious of the 2 as it effectively devours timber and if the timber in question is structural then this can cause it to fail, risking lives and costing huge amounts to put right.
Before any treatment takes place the root cause of the dry rot must be rectified first. As dry rot requires damp timber with a moisture content of over 20% to form, this often means that a leak somewhere is to blame so any leaks need to be found and stopped.
Once any leaks have been fixed the immediate damaged area and also the surrounding area needs to be fully exposed so that the true extend of any damage can be seen. As dry rot can easily travel through timber and masonry everything needs to be inspected thoroughly. This may mean lifting floorboards, removing plasterboard and the similar.
Once you can see everything, next remove any evidence of fungal growth including fruiting and spores using a scraper and a scrubbing brush. Wear a suitable mask as mould and fungal spores can be risky to your health and put the waste in a plastic bag
With all the mould gone the timber damage should now be visible. Any damaged and rotted timber will need to be cut away and replaced with new. Damaged timber should be cut at least 500mm from the end of the damage to prevent any spores remaining.
When replacing timber, always use pre-treated timber and once damaged areas have been replaced with new timbers, the entire area needs to be washed with a fungicidal or dry rot treatment wash to kill any remaining spores.
Once dried all timber should then be treated using a good quality wood preserver to prevent any future issues.
As stated, dry rot can also infect masonry surfaces so any masonry should be coated using a quality masonry dry rot treatment.
Treating Wet Rot
Although wet rot isn't quite as serious as dry rot it should still be taken very seriously as it can cause a huge amount of damage.
Wet rot treatment is similar to dry rot treatment in that firstly any water and moisture ingress needs to be fixed as this is almost certainly the likely root cause of the rot.
With any leaks fixed, again, remove any floorboards, stud walls, plasterboard etc. to expose the entire area so that you can see the full extent of any damage.
Using a screwdriver, poke it into any damaged timbers. If it just pokes into the surface and the core of the timber is solid then chances are that it can be saved. However if your screwdriver goes all the way into the core of the timber then it's shot and will need to be replaced.
Once you have identified any and all damaged timber it needs to be removed at least 500mm beyond the edge of the damage and then replaced.
With any timbers (if any) now replaced the whole area then needs to be treated with a good quality fungicide. This is best done while the initial damp is still drying out. Also, ensure that the whole surrounding area is treated also to prevent any further outbreaks.
Where any surface timber has been damaged by wet rot, after treating with fungicide it can then be treated using a wet rot hardener. This particular product soaks down into the surface of the damaged area and gives it back a little of the strength its lost.
As good as this sounds, it's certainly not for use on damaged structural timbers, but can be used for superficial damage on doors and windows.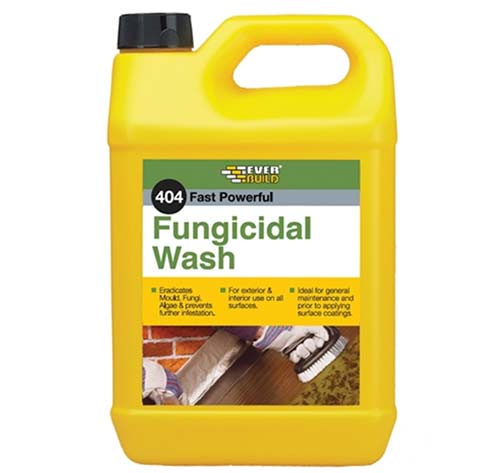 Additional Precautions Against Dry Rot
Dry Rot Paint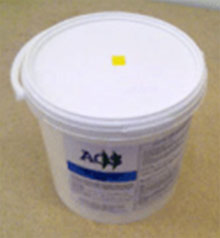 Aside form the treatments described above, one final one you may wish to consider is painting dry rot paint onto the affected and unaffected areas around the damage as this will help to prevent the spread of rot.
There are a few paints of this type available on the market today, including the one in the image above which we have used in the past and found to be of good quality.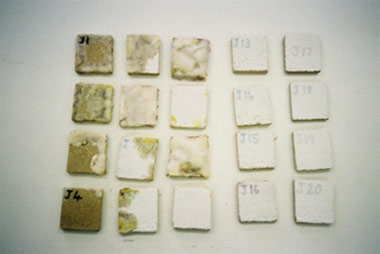 The picture above shows panels treated with the paint on the right and untreated panels on the left. The two columns of treated panels have been painted with PRS Dry Rot Paint and show no signs of mould or fungal growth!
So, you can further reduce the risk of future Dry Rot attack by using the 'No Go Zone' Rot Barrier Paint by Property Repair Systems. This special emulsion paint can be applied behind skirting boards, into window frame reveals and in timber joist sockets. The paint, which has been tested by BRE (Building Research Establishment – a Government backed Test Authority) prevents Dry Rot from passing across treated areas. We know of no other treatment that can currently offer this feature.
Diagnosing wet rot and dry rot and then fixing the issues that it causes can seem like a tricky job if you have never embarked on such a task before but once started, you'll soon realise that even as a DIY'er you can get great results.