Repairing Structural Timbers
Repairing structural timber has always been an expensive and time consuming operation. From a timber lintel in a Georgian terrace, to a huge tie beam in a barn conversion, if a new piece could not be spliced, or bolted on, the lot had to come out.
Very often, even if it were possible to bolt a new section of timber on, the overlap for the bolts in most cases were so long it was almost like replacing the entire timber anyway.
To these ends and in this project we will deal with how to repair structural timbers and we are very pleased to introduce a wonderful new technology known as the Timber Resin Splice System.
Removing complete timbers or carrying out traditional splices in joists, rafters and other structural timbers requires considerable opening up of ceilings, floors and roofs, and most people would rather not take their houses apart.
In most cases complete replacement of a timber will be impossible by traditional means without scaffolding or roof removal, but a TRS will allow the low disturbance (and therefore cheaper) repair of beams, roof purlins, tie beams, lintels, joists and rafters. This method can even be used for repairing flag poles!
If you need any help with repairing structural timbers of any type of Structural timber repair, timber splits, shakes or cracks Property Repair Systems staff will be pleased to give you completely free, no obligation advice on 01626 872 650. The information you need may be in the project below. If not, call them for expert, impartial advice.
Using Timber Resin Splice To Repair Structural Timbers
Using the Timber-Resin Splice System a section of timber can be cut out, in situ, and a new section added. The repair will be stronger than the original.
How is this done? Obviously for the benefit of this project we have simplified the procedure…But not by much! It really is an uncomplicated breakthrough allowing new, treated timbers to be installed with the minimum of fuss and disturbance.
Timbers are not all accessible from the same place. While you may be able to get to a floor joist from the top by lifting a section of the floor, it is far easier to access a rafter from underneath. Property Repair Systems has devised different ways of repairing structural timber, to allow access from all angles.
In the below sequence of images we have shown the most basic, repairing a floor joist that is accessible from first floor level. We are working in a first floor bedroom with a lathe and plaster ceiling.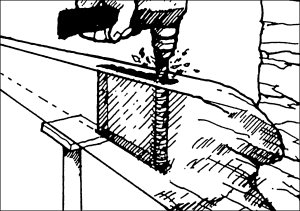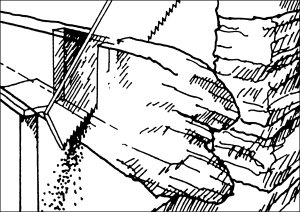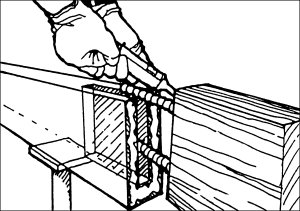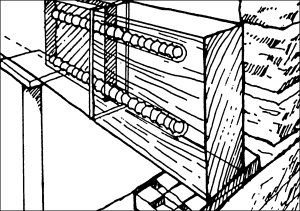 Repairing Cracks, Splits And Shakes In Timber
Cracks in timber beams need not affect the overall integrity of the structure. Indeed, cracks in timber beams can be taken as a positive visual feature of the timber, which, in conjunction with the timber grain, distinguish timber from the more uniform man-made materials such as steel and concrete.
The integrity of the timber can be called into question when it is impaired by cracks, splits and shakes and often in this instance will required the replacement of a beam or rafter which has formed part of the original structure.
This can now be overcome in a great many cases with the use of an injected epoxy resin. We recommend seeking the advice of a structural engineer when it comes to these types of structural repairs.
Cracks, shakes, warps and fissures are formed as a result of the timber giving up moisture and shrinking. This may occur as part of initial drying or subsequent changes, during service, in the Equilibrium Moisture Content.
The EMC of timbers inside buildings can range from 9% to 14%. Fibre saturation is reached in constructional softwoods at about 28%.
For cracks and splits that are greater than 5mm wide the void can be filled with an Mouldable Epoxy Mortar, but if the crack penetrates more than 30% through the timber it will be necessary to provide dowels or Epoxy-Glass Bars across the filled section in order to 'stitch' the two halves together.
The advice of a Structural Engineer should be taken with regards to the number, diameter, length and spacing of the dowels. The dowels can be made of glass fibre, carbon fibre, steel or stainless steel. We recommend the use of epoxy/glass or epoxy coated steel that is then set in a Thixotropic Epoxy Injection Resin.
Clean out cracks or splits with a saw blade and vacuum out all sawdust. Fill the cracks with Mouldable Epoxy Mortar.
When the mortar has set drill small holes, about 6mm in diameter through the epoxy into the back of the crack. Blow, or vacuum out the dust.
Directly inject Thixotropic Epoxy Injection resin into the hole, until the resin flows from the adjacent hole. Continue until all the holes have been injected and cap off each with Mouldable Epoxy Mortar.

Sand off any excess Mortar and colour finish to suit the timber. If stitching is then required the cracked areas can now be cross drilled and epoxy-glass or steel rods fitted in Thixotropic Epoxy Injection resin.
If you require any further help and advice on repairing any defects or damage in timber Property Repair Systems expert staff can help you and provide further information and advice. Call 01626 872 650 or
E Mail: help@propertyrepairsystems.co.uk.