A decent sturdy workbench is an absolute must in any work shop or shed as having a solid stable work surface to work on is essential for the success of any DIY project.
The one drawback of workbenches and other solid worksurfaces is that they tend to be fairly heavy and large and if your work area is limited in size then filling it with a large workbench may not be ideal.
Fortunately there is a solution to this – enter the folding workbench and in this guide we are going to show you exactly how to build your very own.
Other Workbench Solutions
Before we delve into how to build your own folding workbench it's a good idea to have a quick look at the other workbench solutions available in case one of these is better suited to your needs.
Fixed Solid Workbench
As discussed above, fixed benches and work surfaces tend to be big and bulky and take up lots of space but if you have the space available then why not go down this route.
Fixed workbenches come in a huge range of styles, sizes, shapes, added features and of course costs. Some are available as DIY flatpack kits while others are supplied as a one piece structure.
A good example of a reasonably priced fixed workbench that includes tool storage is this one available from Etsy for around the £200 mark.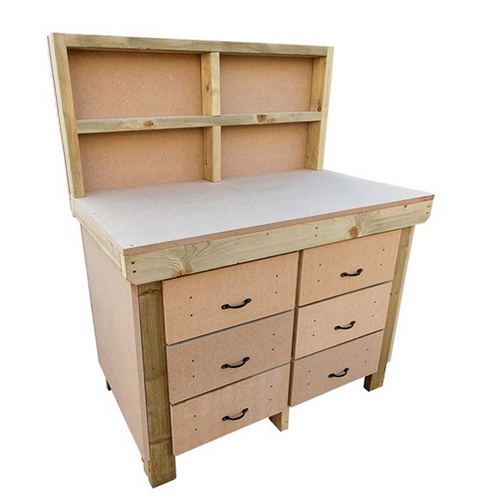 As opposed to the pre-built option there is also the DIY kit option for fixed workbenches. One particular kit that DIY Doctor has used many times is the Simply Build-It Workb ench Kit. See our building a workbench project here for more info about the kit and how to use it.
WorkMates and Other Small Folding Benches
One of the best and most tried and tested workbenches is the WorkMate. This very versatile workbench is available in several different designs each with their own specific features.
Some of the features that have made the WorkMate such a huge success is that it folds down to a surprisingly small and compact package and that it also features an in-built vice which when closed up then creates a work surface, everything you could ever need!
Although a little small for everyday use in a workshop they are extremely handy to have around, especially when working out on site or the similar
Due to its huge success the WorkMate has been copied time and time again by many different companies, each adding their own features so there is certainly no shortage of small portable workbenches available.
How to Build Portable a Folding Workbench
If after looking at the above options you are still keen to build your own bespoke portable folding workbench then work through the steps below.
In the example below, our folding workbench is going to be 800mm wide by 1300mm long but you can make yours any size you wish. Additionally we are also going to be using a 25mm thick piece of plywood to cover the top but again you can use any material you wish, but be aware that thinner less structurally sound materials won't be as strong.
The example below is a fairly large workbench and will fit easily into the back of a small van but if you need it to fit into a smaller vehicle such as a car then you may want to make it slightly smaller.
Step 1 – Cut Worktop to Correct Size
The first job is to cut the material you will be suing for your worktop to the correct size as this will dictate the size of the frame that will be built in the steps below.
The best tool to use to do this is a circular saw but if you don't have one you can use a jigsaw or handsaw.
Measure and mark cutting points along the edge of the worktop and then use a straight edge to draw a line between them.
Once marked clamp up a straight edge such as a spirit level in from your cutting line to compensate for the area of the shoe (flat base of the saw) that runs from the side of the blade to the shoe edge. In tis case it was 27mm.
Once secured in place use the straight edge as a cutting fence for your saw and this will give you a perfectly straight edge.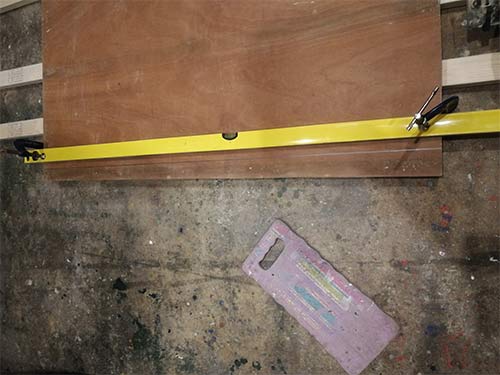 Step 2 – Cut and Fix Workbench Framework to Size
The next job is to now cut and fix the framework together that will support the top. Measure and cut four pieces of 3×2 inch timber to the length and width of your worktop. In this case two pieces were cut to 1300mm and another two cut to 800mm.
Once cut to size mitre cut each end to 45°s and then sand off any rough edges.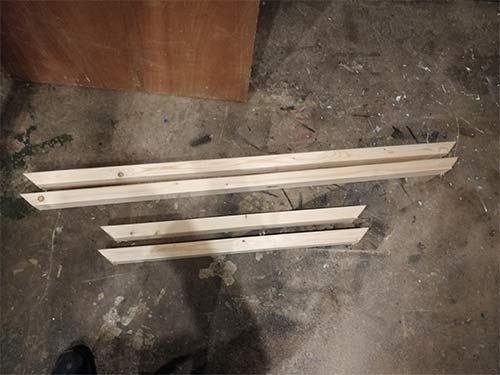 Layout the timbers to form a rectangular base making sure all joints are tight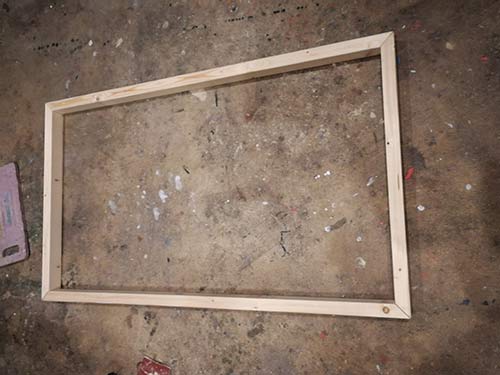 Next drill pilot holes and countersink each at the top and bottom of each longer lenth of timber and then screw each corner together ensuring that all joints are kept tight. For more information on how to drill pilot holes and countersink screw heads see our project here.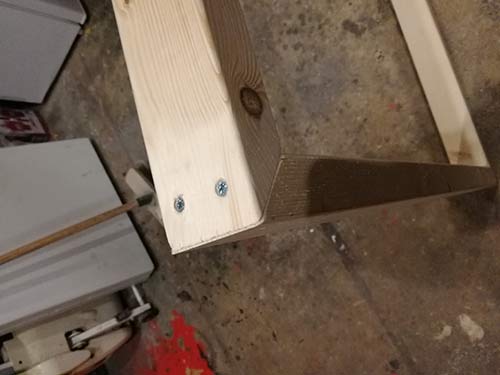 Step 3 – Cut Workbench Legs to Size
Once the frame is fixed together the next task is to cut the legs to length. The length or height of the legs will determine the working height of your bench and again, it's entirely up to you how high you want it to be. In this example we are going to make our workbench 760mm high which is a comfortable working height for most.
Measure and cut four pieces of timber to 775mm in length (775mm plus the 25mm thickness of the worktop will give 800mm and as we are going to angle the legs out at each end for stability, this will drop the workbench down to our required 760mm in height).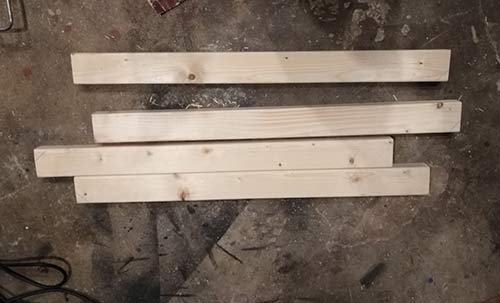 Once cut to the correct lengths cut a small 25mm x 25mm mitre at both sides of the top of each leg and then smooth off any rough edges with some sandpaper. This will prevent the legs binding on the underside of the worktop when opened out.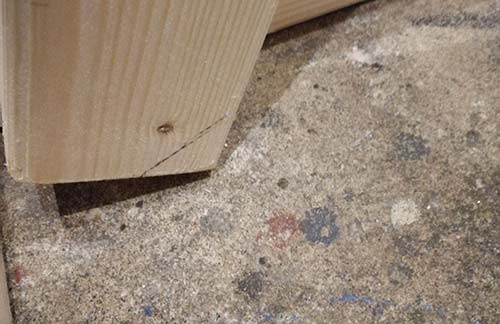 The final job with the worktop legs was to then measure and mark the centre between the mitred corners 30mm down from the top. Once marked drill out a 10mm hole. This hole will be used to bolt each leg to the workebnch frame.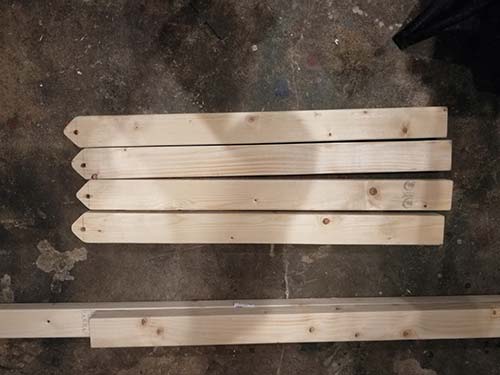 Step 4 – Add Chocks at one end of Framework
As the legs of the workbench will fold up and each leg is nearly 800mm long there isn't enough room for each pair of legs to fold together so one pair will need to fold up insiode the other.
To do this we simply need to fix some small chocks at one end of the frame to bring one pair of legs inwards slightly.
For this we screwed two 250mm pieces of timber inside the frame at one end.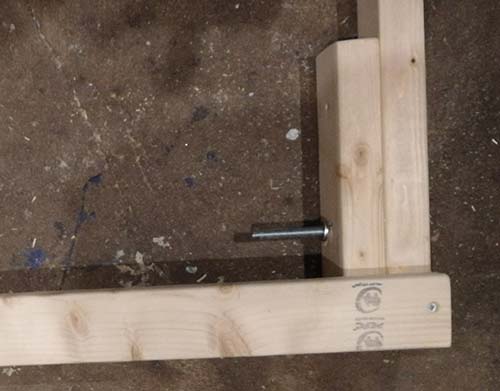 Step 5 – Drill out and add leg Fixing Bolts to Workbench Frame
To fix each leg to the frame and ensure it is allowed to swing they will be bolted in place.
Turn the workbench frame up and sit it on its side. Measure and mark 105mm down from each end and mark a line. Next measure and mark the centre of that line.
To fix each leg in place we are going to use M10 coach bolts (or carriage bolts as they are also known) so a bolt of this size will need a 10mm hole. Drill out a 10mm hole at the centre mark you just made and then also use a 13mm drill bit of flat bit to create a countersink. This will allow the square section under the head of the bolt to sit in the timber.
Repeat this for each end of the frame until you have four holes and then insert a bolt and two washers into each.
Step 6 – Fix Leg Stay to base of Workbench Frame
To hold each leg in place once your workbench is open we also need to fix a leg stay in place. This is essentially a piece of timber fixed at each end that each leg butts up to once opened preventing it from opening too far and the bench collapsing on the floor.
Measure and cut two pieces of timber the full width of the bench and fix each in place at either end of the frame so that the outside edge is flush with the edge of the workbench frame.
Both timbers need to be fixed firmly in place so it's worth screwing every 150mm or so.
Step 7 – Mitre Bottom of Each Leg
As mentioned each leg will splay slightly outwards at each end to not only add some stability to the workbench but to also prevent any of the legs form unexpectidly folding up causing the bench to collapse as the downward force of the bench and any objects on it will lock the legs open.
To ensure each mitre cut is precice and once opened out the base of each leg sits flush with the floors surface we need to figure out the correct angle to cut to.
To do this take one leg and slide it on to the bolt at one corner and pull it open until it touches the leg stay. Next, clamp a straight edge such as a spirit level to the back edge of the frame making sure it's square with the frame.
Using a carpenters square, place the edge of the square against the straight edge or spirit level and move it up until it hits the end point of the leg and then draw a horizontal line on the leg that follows the blade of the square.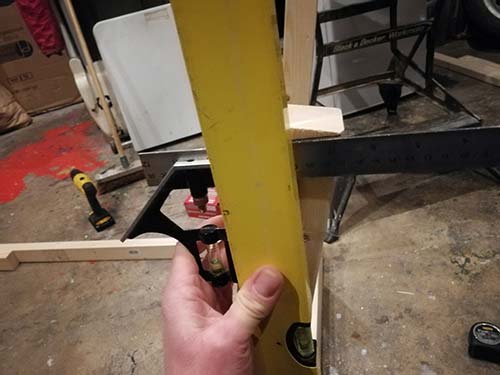 This then defines the exact angle you need to cut the end of each leg to
Step 8 – Bolt Legs to Frame
With each leg now fully prepared it's time to fix them in place. Slide each leg onto its respective bolt and then add two further washers. The multiple washers will allow us to tighten the bolts a fair bit but still allow each leg to swing relatively freely.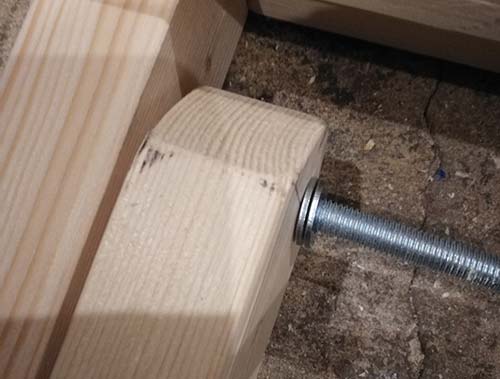 Once each leg is in position screw on two nuts and tighten the first pinch tight. Tighten the second nut up to the first using a spanner and then put a second spanner on eth first nut and fully tighten them together.
Adding the second nut allows us to fix the leg in place securely and prevent the leg loosening the first nut everytime it's opened out.
With the first leg on repeat the same process for the remaining legs.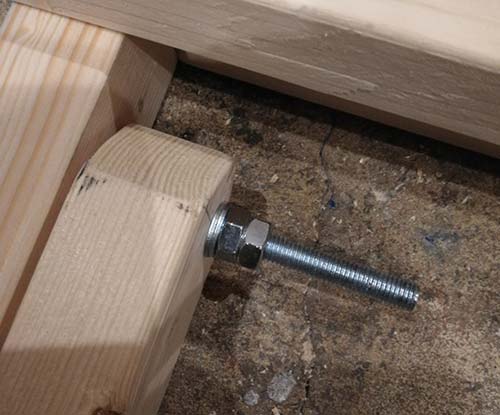 Step 9 – Add Leg Supports
One of the final jobs to do now is add some support to the legs to giove them more structural rigidity. With the assembeld frame sitting on the floor and the legs folded up measure the gap between the narrower pair of legs and cut a timber to size.
Screw it in place in two positions both sides somewhere around 200mm from the base of each leg.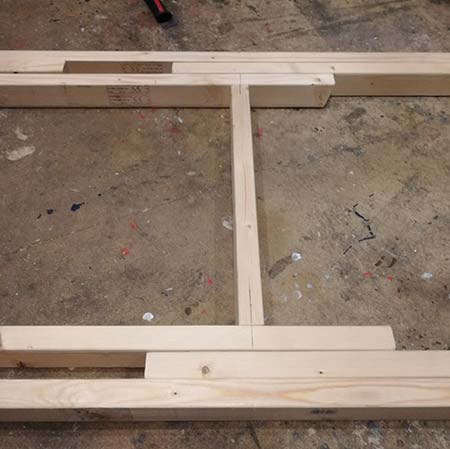 As the narrow pair of legs sit inside the wider pair and run a fair way down them adding bracing this high up each leg could lead to some flexing so to avoid this the bracing for the wider pair will be fixed on top.
Cut a piece of timber the width of the wider pair of legs and position it again around 200mm up from the base of each leg and screw it in place in two positions both sides.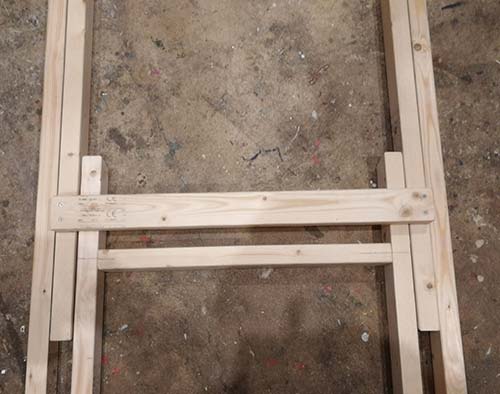 Step 10 – Fix Leg Lock in place
The penultimate job before fixing the top in place to add a small locking mechanism to hold the legs closed.
Cut a small piece of timber big enough to span from the edge of the frame across both pairs of legs and drill a small hole and screw it in place on the underside of the frame.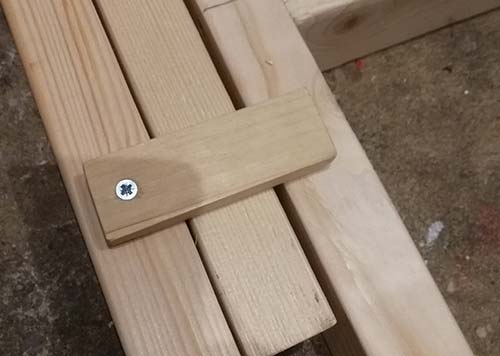 Step 11 – Screw Worktop on to Workb ench Frame
With the frame all now complete the final job is to now screw the top on. With the bench on its side fold the legs of the workbench out and and then flip it up on to its legs. Check that it's stable and that the base of each leg is sat flush on the floor.
Take the top and place it on to the frame and position it so it's flush across all edges. Drill pilot holes in four positions across the shorter edges and 6-8 positions across the longer edges and countersink each one.
Once done screw the worktop down on to the bench frame and you're then pretty much done!
If you are fussy you can run a piece of sandpaper around all the top edges to smooth them off or even better use a rounding off router bit to chamfer all the edges.