The way in which electricity is distributed is pretty much the same from home to home. Barr the odd exception here and there, all feature a consumer unit to supply circuits, light switches and fixtures to provide light and sockets to provide power.
To ensure that these all work correctly, the power for each seperate circuit runs from the consumer unit and it's own MCB/RCBO through an electrical cable to it's desired target such as a socket or light.
In this project we take a look at the different types of electrical cable, how they are used and why each is used in a given situation.
Rules and Regulations for Electric Cables
When it comes to electricity, we all know that it's highly dangerous and if you don't know what you're doing then you should leave it well alone!
To ensure that anyone doing electrical work has a set of rules to work to, the Building Regulations were introduced and along with the Wiring Regulations, ensure that any and all work is done to a specific standard by only those that are qualified to do it.
With this in mind, aside from changing socket and switch face plates there isn't a great deal else you can do on a DIY basis and anything more involved that this should only be attempted by a Part P registered electrician and this certainly includes running any form of electrical cable for a new installation.
Failure to comply to these rules is in fact illegal and, in the event of any issues, can invalidate your home insurance at minimum and if you are also unable to present a certificate for certain works, also cause issues when trying to sell your home.
When it comes to the actual electrical cables that are used, there are rules governing what size and type of cable can be used for an given job and if the right one isn't used then this can be extremely dangerous, hence the reason anyone carrying out any work should have the appropriate training and know what's right and wrong.
There are many safety aspects to be aware of when working or around electricity, for more information see our electrical safety project here.
What is an Electrical Cable?
The term cable, amongst other things, means:
an encased group of insulated wires covered with a PVC outer sheath that allow the transfer of electrical signals along its length.
And this pretty much sums up exactly what a cable is, regardless of its type.
In essence, a cable is a fairly inflexible (although of course they can be bent and shaped) set of wires used to supply the electricity to certain points in your home.
Your meter box is supplied through a cable, sockets are supplied by cables, your lights are fed through cables and even your telephone and broadband, in fact as you can see, every electrical appliance in your home relies on them and would cease to function without them.
A cable can carry many wires depending on the job it needs to do. Unlike standard 1.5 or 2.5mm twin and earth cable used for your sockets and lights which uses a solid copper core, telephone and broadband cable (Cat5) is multi-stranded as different signals are sent down different cables.
Why are There Different Electrical Cables?
Different cables and flexes are used for different jobs because they are thicker and can carry more current and have more, or less resistance. Resistance can be seen as electrical friction and the wires in the cable or flex will absorb some of the energy in the current, allowing a little less to reach the target than was sent.
High energy users such as electric showers and immersion heaters are supplied by thicker wires as the appliances needs are considerably greater.
In a domestic electrical system there are generally only a few different types and sizes of cables used and to determine what cable should be used, as commented, it will really depend on what its supplying.
For example, for a short lighting run around a new extension you would want to use 1mm twin and earth. For a socket ring main, as the power draw will be much more you would want to use 2.5mm twin and earth and for a power hungry electric power shower you would probably want to use a 6mm twin and earth, but this would depend on how much power it could draw.
So as you can see, the reason why there are different electrical cables is that they are needed for different situations depending on how much potential electrical draw there may be for the appliance or circuit they're powering.
For a full run down on what cable should be used where, see Table 1, 2 or 3 below.
It is also vital to remember that values for cables and flexes can change in domestic situations depending on how they are installed.
A cable in an insulated loft space will get hotter much more quickly, than a cable looped through garage rafters. So with this in mind, depending on where the cable is run and what it's running through will also effect what size will need to be used.
As with most formulas in the building trade there are regulations defining specific boundaries for the use of all materials. Factors such as resistance and voltage drop may need to be assessed and taken into consideration when working out cable runs. Your electrician will know all about this though.
Parts of an Electrical Cable
As we have touched on above, there are several parts that make up and an electrical cable and these include a PVC outer sheath, a possible armoured sheath (used with SWA cable, more here), at least 2 or 3 conductors and also a PVC sheath for each, except if it's an earth.
Outer Sheath: Tough and water proof PVC outer sheath protects the inner core wires, keeping them insulated from everything outside, including you
Armoured Sheath: This is generally only used for SWA and external cable and appears as a tightly knit wire sheath around all of the conductor cores, keeping them safe from any damage
Conductor Core: Normally at least 3 will be present; one live brown, one neutral blue and a bare earth (earth sheath added when it's installed) that are used to transfer electrical charge around
Conductor Insulation: The coloured insulation denotes which wire is which e.g. live, neutral etc. and also insulates each wire core from the others to prevent shorting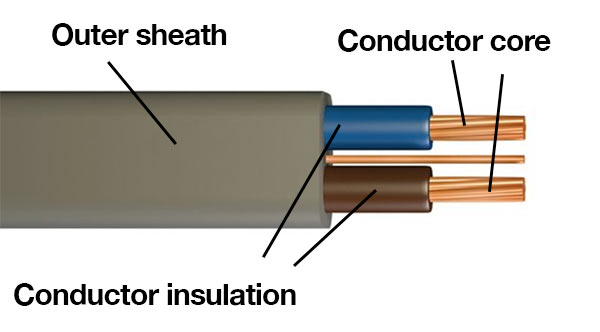 What Different Types of Electrical Cable are There?
As we have stated above, different types of electrical cable exist due to huge variety of different electrical appliances and their varied power consumption needs.
However when it comes to domestic electrical systems, there are only really a few essential types of cable that you need to be aware of, these can be seen below.
After the wiring colours were harmonised to those of Europe back several years ago now, the older wire colours of red, black and bare earth were changed to brown live, blue neutral and bare earth, so it's important to be aware that there may be several different wire colours used in your home depending on how old it is. More can be seen in our wire colours project here.
1mm Twin and Earth
The smallest of the multi-core cables used domestically, 1mm twin and earth cable is used only for standard lighting circuits such as the downstairs lights in your home or sometimes with low voltage lighting circuits.
Where lighting circuits are particularly long or feature more than the standard amount of light fittings, to prevent over heating and also reduce voltage drop you would then use 1.5mm twin and earth.
1.5mm Twin and Earth
1.5mm twin and earth cable is again only really for use with lighting circuits and most lighting has low power draw.
1.5mm twin and earth cable is to be used for lighting circuits that are generally a little longer than a standard lighting circuit. This is generally to help reduce the voltage drop.
Another instance where it's used is where you would be featuring quite a few more light fittings on the same circuit as the larger diameter wire will allow for more current draw without the chance of getting too hot.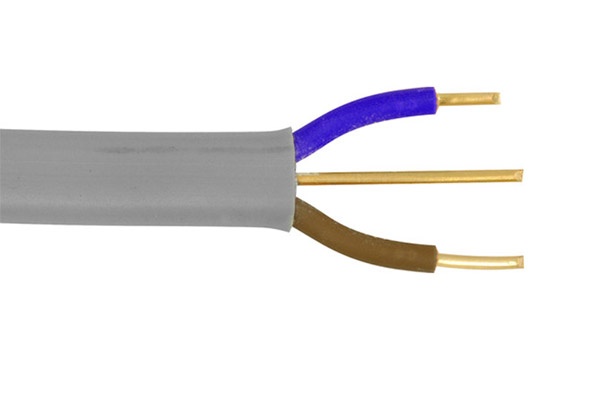 2.5mm Twin and Earth
2.5mm twin and earth electrical cable is primarily used for domestic socket circuits in the home. The wider diameter cores allow for much more electrical draw than 1 and 1.5mm cables, avoiding any overheating and potential fire issues.
Due to the vast array of different types of appliances that could potentially be plugged into any socket e.g. washing machines, tumble dryers etc. it has to be assured that whatever is plugged in (within reason), it doesn't cause any tripping or over heating.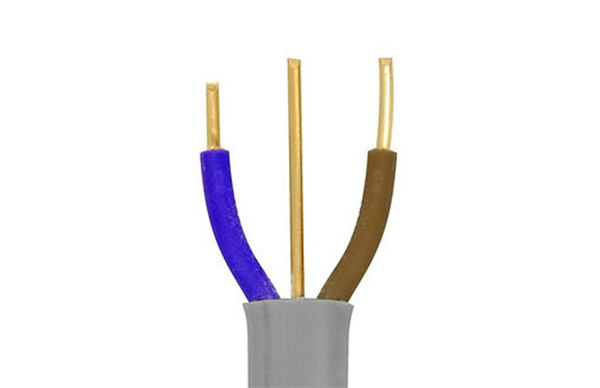 3-Core and Earth
3-core and earth cable is basically the same as its 2-core counter part but as you may guess from the name, it has 3 cores as opposed to 2.
3-core and earth is generally used for lighting circuits, particularly for 2-way setups where you have 2 different switches controlling 1 light (such as those at the top and botom of a staircase used to control the landing light).
With the new cable colours, the extra core wire is black (yellow in the case of the old cable colours).
Again, the bare core is the earth wire and should always be covered with yellow/green earth sheath once installed. This is a legal requirement set by the Wiring Regulations.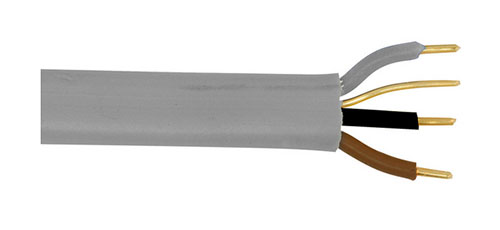 Twin Red/Brown Core
When wiring lighting circuits, it's quite common for an electrician to run a single cable between a light switch and light fitting (either ceiling rose or junction box).
In this particular setup the brown live wire takes power from the ceiling rose to the switch and then back again, via the blue neutral wire. This wire is then known as "switched live" and should be marked with a brown sheath or brown piece of insulation tape.
However to avoid these issues, e.g. using a non-standard colour for live, special lighting switch cable can be bought. This is called "Twin Brown Core" (or red with older colours) and is used as switch cable for light switches.
Due to the additional cost, often this is replaced, by electricians, who just use an ordinary 2 core and earth cable as a switch cable and place a little brown tape around the blue wire which then as said, becomes the switch live.
More information on light switches and how they are wired up can be found in our lighting and switches project here.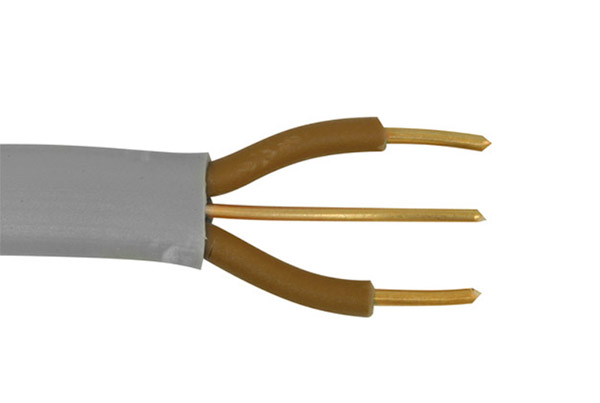 Appliance Flex
A Flex (abbreviation of flexible) is a flexible cable used to carry electricity from a power point to an appliance. Most appliances are portable and in a lot of cases need to move quite a lot (irons, toasters etc.) so the cable supplying them, should be as flexible as possible to cope with all the potential twisting and movement, hence the name.
If it was as stiff as standard circuit cable (e.g. 2, 3-core and earth) then all the movement would eventually fracture both the outer sheath and the inner core insulation leaving bare wires, posing great risk of injury and electrocution to anyone touching it!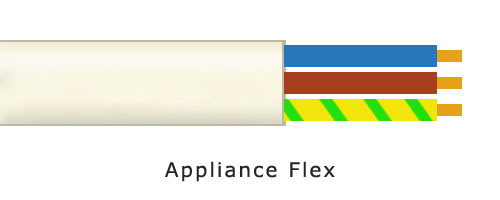 Why did the Wire Colours Change?
Although introduced by the Wiring Regulations back in 2004, in March 2006 the new wire colour regulations came into effect that harmonised UK wiring colours with those used in Europe. Essentially what this meant is that in an electrical cable, the old red live and black neutral became the new brown live and blue neutral.
In essence, in a domestic situation, the cable wire colours were changed to those used in a standard flex cable. For additional information see theiet.org site here for a brief historical overview.
The main driver for this change was to ensure that across the whole of Europe, the same colour wires were used for both live and neutral cables, which would take any guesswork or confusion away from trying to identify mainly live wires.
For more information on this, again, see our project on the new wiring and cable colours here.
What Electrical Cable Should I use?
As we have stated above, it is imperative that the right sized cable is used for the right wiring job to avoid any voltage drop and, more importantly, the risk of overheating and fire!
Please note again that installation of cables depends on the position they are to be used in, the temperature of the area or void, the length of the run, the grouping of the points they serve and the type of device (fuse, RCD etc.) by which they are protected.
In terms of the tables below, we have selected 3 from the BS 7671 Wiring Regulations 18th Edition that covers probably the most common install situations found in UK homes. For information on any other installation situation you will need to refer to the BS 7671 Wiring Regulations.
The first table below is for cables which are installed by method 103 "in a stud wall with thermal insulation with cable not touching inner wall surface" The second table is for cables installed by method C, "clipped direct" and the third for those with cables running over insulated ceilings.
As you can see there is quite a difference in rating so be absolutely sure you are doing the right thing. Also remember that while it is not an offence to make electrical installations yourself, it is an offence to use them without them having been checked by a qualified electrician!
Table 1 = Method 103 In a Stud Wall With Thermal Insulation With Cable not Touching Inner Wall Surface
| | |
| --- | --- |
| Cable size | Rating in Amps |
| 1mm | 8 |
| 1.5mm | 10 |
| 2.5mm | 13.5 |
| 4.00mm | 17.5 |
| 6.00mm | 23.5 |
| 10.00mm | 32 |
Table 2 = Method C Clipped Direct
| | |
| --- | --- |
| Cable size | Rating in Amps |
| 1mm | 16 |
| 1.5mm | 20 |
| 2.5mm | 27 |
| 4mm | 37 |
| 6mm | 47 |
| 10mm | 64 |
Table 3 = Method 101 Above a Plasterboard Ceiling Covered by Insulation Exceeding 100mm Thickness
| | |
| --- | --- |
| Cable size | Rating in Amps |
| 1mm | 10.5 |
| 1.5mm | 13 |
| 2.5mm | 17 |
| 4mm | 22 |
| 6mm | 27 |
| 10mm | 36 |
Once again please check and double check that you are sure about what you are doing. It is an offence to install unchecked wiring and your house insurance may not be valid if you do!