LED Lighting is the future of lighting, these new eco-friendly light bulbs save both money and energy as a typical bulb lasts around 50,000 hours of continuous operation, that's over 17 years if used for 8 hours every day!
They can also reduce your lighting bill by up to 90%, that's a saving of up to £300 per year based on the average 3-bed semi detached home.
LED Lighting for Indoor Use
There is a selection of direct halogen replacement bulbs like GU10 SMDs, MR16, E27 and MR11, simply plug these replacement bulbs straight in to the old fixtures and benefit from huge savings on your electricity bill.
This statement is largely true however there are a couple of points to add.
Low Voltage Lighting
The MR16 and MR11 refer to the reflector, so a GU10 with either size reflector is a simple plug in replacement, however the extra low voltage lamps (normally 12V) tend to be called MR16 and MR11 and they can't in the main be changed by simply swapping the lamps or bulbs over.
Many extra low voltage lamps use switched mode power supplies to give a very well controlled 12 vac (AC Voltage) RMS called an electronic transformer and, although they contain a transformer, they are much more.
These often have an output range of 50 ~ 150W and simply will not work with less than 50W output. So it's not a simple matter of replacing bulbs. Also the electronic transformer will likely need changing.
For a full understanding of RMS (Root Mean Square) please see the Practical Physics website here where you will see that RMS is a "tool" electrical engineers use to calculate current at different levels.
As it's name implies, Alternating Current (AC) alternates. To calculate the average current present in the circuit, the Root Mean Square (RMS) is calculated.
Existing Bulbs and Fixtures
In pretty much all cases, standard existing incandescent bulbs for ceiling lights, lamps and the similar can be swapped like-for-like e.g. an old 60W incandescent bulb can swapped for a much more efficient 6W LED.
In all cases, these new LED bulbs feature the same screw in or bayonet cap and also the same dimmer switches can be used (more on this below), but benefit from running low level LED lighting, saving both energy and money.


LED Strip Lighting
LED strip lights are simple to install and are an illuminating addition to a kitchen, bathroom, lounge, hall, cupboard or even the humble garden shed.
There are a number of different types of strip lighting available including waterproof strip lighting, non-waterproof strips, pipe strips, and waterproof gel strip lighting. These come in either 2.5 metre or 5 metre rolls.
In addition to the LED strip, you will need a 15 watt transformer for each metre of strip lighting. The longest length of strip lights you can run with one transformer is a 5 metre length and this will require an 80 watt transformer.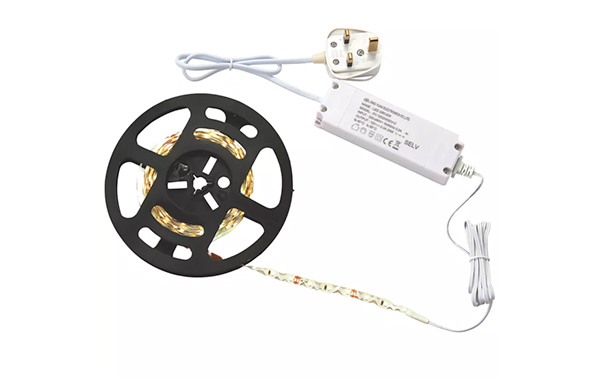 Two way Lighting and LED Bulbs
Another potential problem when switching to LEDs, is with two way lighting. Sometimes the current from capacitive and inductive linking can cause the lights to stay on dim when swapped for an LED.
This means an electric field builds up around the element which then resists the change of voltage offered by a dimmer switch, preventing it from working correctly.
LED Lighting for Outside Use
LED flood lights are designed for outdoor use making a great addition to your outside area and are especially useful as security lighting when combined with a PIR sensor.
These floodlights come in a number of different sizes and power outputs, depending on the strength of light you require – from 900 through to 7500 lumens (more on lumens can be found below).
Choosing an LED Lighting Colour – Warm White or Cool White?
When buying LED lighting bulbs for indoor use it is important to choose the correct colour option in order to achieve the right lighting effect. With this in mind, there are two main colour options to choose from known as warm white and cool white. Depending on which you select, these two different colours will create a different atmosphere on your room.
Most people, when choosing a bulb for the home or living area, will go with a warm white, the warm white gives of a lovely softened natural glow similar to existing halogen or incandescent bulbs.
Cool white gives a much brighter glow and is great choice for kitchens and bathrooms, however this ultimately is down to preference; the light given off by a cool white bulb is a clear more crisp kind of light. It's also great for outdoor use, especially when used to illuminate plants, trees or shrubs.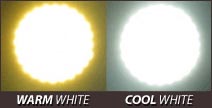 Dimmable or Non-Dimmable LED lighting
Having a dimmer switch in any of the rooms in you home or studio can help create the desired mood lighting and will help with creating an effective ambience. However, before choosing a dimmable bulb you will need to ensure your lighting circuit is dimmer compatible.
If you are replacing old incandescent E27 or B22 bulbs or halogen bulbs with a GU10 LED SMD this should be fine but if you are running any 12-volt systems you will need to ensure that you have dimmable transformers and a compatible LED trailing edge dimmer switch.
To replace the 12 volt halogen system with a new LED light system can be expensive, we would recommend changing the down light fitting to a GU10 this would save you from changing the transformer and switch.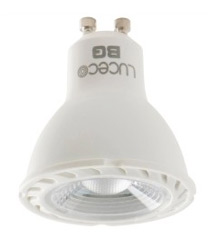 It is also worth noting that most dimmer switches will also likely have a range of wattage again often 10W or 50W minimum so often to swap to LED bulbs the dimmer switch itself may also need changing.
LED compatible dimmer switches can be purchased from pretty much all high street DIY stores or electrical suppliers.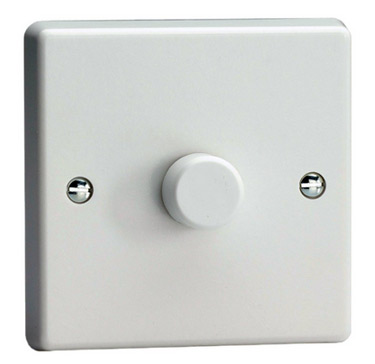 What is an SMD (Surface Mounted Device)?
An SMD or surface mounted device is an LED light which is connected to or soldered onto a circuit, SMD's are found on the majority of LED bulbs.
LED bulbs have a number of smaller chips, which are on the circuit that create the light. The higher the number of chips the brighter the light or the more lumens it creates. These types of bulbs with SMD's generate a high quality light the same colour as normal household bulbs.
What are Lumens and how are Lumens Measured?
A lumen is a measurement of how much light is given off from a light source, the power of a light or "luminosity" in simple terms is basically how bright a light is.
If the power of a light were not very strong or dim you would say it's not very luminous, so in this respect the higher the Lumen of a bulb, the stronger the light.
Basically a lumen is the strength of a single candle from one foot in distance (or 30cm away). So if you have a bulb or lamp that is 100 lumens it would be as strong as 100 candles from one foot away.
However it seems manufacturers can't decide how to measure this. Some will measure output of each LED and multiply by number of LED's used, others measure the total output, some measure on switch on, others an hour after switch on, some measure with new bulbs at maximum voltage, others with half life bulbs at the centre of their voltage range.
As a result one can replace 3500 lumen of bulbs with 2400 lumen of bulbs as has been done moving from Compact Fluorescent Lighting (CFL) to LED and end up with a brighter rather than dimmer room.
Energy Efficiency: Compact Fluorescent Lighting CFL-V-Light Emitting Diode (LED)
Energy efficiency depends on control and with a switched mode driver built into the LED bulb, this often gives far more efficient than CFL however where simple current limiting resistors are used the CFL can be better.
Top 10 Benefits of Switching to LED Lighting
Last for longer – If you have fitted Halogens before you will know that these have a tendency to pop quite often. LED bulbs can last up to 100,000 hours in their lifetime, this is because they don't have a filament to blow up or burn out
They are very energy efficient – They can be up to 90% more efficient than a standard incandescent light bulb, this is because they have been designed to use 80% of the electricity and the other 20% is lost in heat
Incredibly quiet – compared to the old halogens that have sometimes been known to make a humming noise
Perfect for dimming (with the right bulb) – this is because when they are dimmed they maintain their normal colour, in comparison to the incandescent bulbs that turn yellow when dimmed. Many prefer the slight colour change offered by a dimmed Tungsten bulb as it can add ambiance to a room
Safety first – They have the advantage of being safe to use, by only creating 20% heat you will no longer get burnt hands/fingers when changing the bulbs, and also no broken glass because of their robust design
Incredibly versatile – They come in a number of shapes sizes and designs and can be placed just about anywhere in your home, garden, pool, club wherever you want them there is an LED bulb type that will suit
Low voltage – Meaning they use a lot less energy, making them ideal for use outdoors. With this in mind you can easily hook them up to a solar panel
Incredibly durable and robust – Due to their build quality and sturdy design. LED lights are resistant to shock vibrations and external impacts
Zero ultra violet emissions – When they are lit they give out little or no infrared light, because of this it makes them ideal for lighting up ultra violet sensitive objects such as materials in a museum, or art gallery
Are There Any Downsides to LED Lights?
Despite all the benefits of LED bulbs there is one point about them that many see as a downside, particularly if you are rather light sensitive.
The issue is that, unlike standard incandescent bulbs that emit red-spectrum light, the same as the sun that helps you to naturally sleep, LED's emit blue-spectrum light, which is effectively the opposite and can effect your ability to fall asleep and also get a good nights sleep.
Are LEDs Good for the Environment?
The jury is out! Some American research (University of California) shows that there are levels of lead, copper and nickel in some LED bulbs but also that there is a lot of scaremongering around this topic.
It is true that ordinary lighting contains some mercury so there is huge debate all over the world as to whether Tungsten lighting, CFL or LED is the better for our environment – Watch this space!
How to Change Down Lights (Retro Fit)
The majority of LED lighting bulbs have been designed with ease of use in mind, they are know as retro fit, which basically means there is a direct replacement for you old halogen down lights.
Below is a list of replacement bulbs and what kind of fitting they are, the GU10 SMD fitting will require you to twist the bulb anticlockwise to remove it from fitting and the others simply pull out, please note if you are replacing halogens please ensure they are cool/cold and have been turned off for sometime before removing:
GU10 SMD – 2 Probes
MR16 – 2 Pins
G4 LED bulb – 2 Pin
MR11 LED bulb – 2 Pin
G9 LED bulb – 2 Pin
Simply remove the old bulb from its housing and then replace it with the new LED equivalent.
How to Replace a Standard Incandescent Bulb (Retro Fit)
The bulbs you will usually find in your home are one of 2 types of fitting; they will either be screw in or bayonet.
The LED bulbs listed below in the image are retro fit meaning they are a direct replacement for the older less efficient bulbs. Below is a list of bulbs and the type of fixture they have to change them simply unscrew your old less efficient light bulb and change to your new eco friendly energy efficient light bulb.
E27 LED bulb – Larger Screw cap
B22 LED bulb – Bayonet Cap
E14 LED Bulb – Small Screw Cap
In the image below you can see examples of the types of bulb fittings and their type number. There are a great deal of different bulb types available for each fitting type and a great deal of different colours, shades, strengths etc. Most of these can be purchased from your local DIY store or in some cases supermarkets.
Please note: In the main, LED replacement lamps are not MR16 or MR11 as they don't have a reflector so it can't have a multifaceted reflector which is what MR stands for. Therefore the MR16 and MR11 shown in the image above are incorrectly labelled and should be GU5 fittings.
Fitting Replacement LED Ceiling Lights
Ceiling lights are a single fixed unit including the casing that will fit directly into a pre drilled hole. Each LED ceiling light has a transformer built into it to control the amount of current that flows to the bulb.
These ceiling lights are usually adjustable as the bulb units are on a swivel so you angle the light into a particular area. You can have as many of these ceiling lights on a circuit as you require which is usually dependent on the size of the room.
This particular type of LED lighting comes in a variety of different power outputs and with colour options such as cool white and warm white available. The fixed units also come in chrome white and brushed stainless.
If your not sure about fitting these we would strongly recommend calling a professional electrician as some wiring may be required and also dependent on what room they are being installed in, Part P regulations may come into effect if they are to be installed in the Kitchen or Bathroom. Please check out project on Part P of the Building Regulations.
How to Set up LED Strip Lights
When setting up an LED strip light you will require 15 watts of power per meter of strip light. The majority of strip lights can be bought in either 2.5 meter or 5 meter lengths. The maximum length of strip you can power is 5 meters, but there is no restriction on how many 5-meter lengths you can use on a compatible transformer.
When setting up a single colour strip you have a positive and negative wiring flex this can be connected to the 12-volt transformer, which takes a 240volt input from the mains circuit.
Again, as mentioned above, you may be required to carry out some wiring and if you do not have the necessary qualifications or certification e.g. Part P then please ensure that you contact a qualified tradesman to do the work for you.
A qualified electrical tradesman will also be able to offer you advice on what type of bulb will be best suited for your particular needs and also what products are best in terms of quality, price and reliability.
LED lighting is certainly seen as the way forward in terms of lighting as, despite it's few disadvantages, it has a great many advantanges including the major ones of being environmentally friendly and also saving on your energy bills.