Warning: To complete electrical works you must comply with Electrical Regulations – Click here for more information.
Aside from burning candles, all bathroom lighting involves using electricity. It is important to note that electrical installations in a bathroom and a kitchen should be certified by a qualified person in accordance with Part P of the Building Regulations, and the 17th edition of 7671 Requirements For Electrical Installations (Wiring Regulations).
This means that all new installations or modifications to the electrical wiring within bathrooms or shower rooms should be carried out by certified individuals or companies and a certificate for the work should be received. This also applies to 12 volt lighting in bathrooms.
You may find it difficult to sell your home if it is discovered that you have new wiring i.e. blue, brown, green/yellow, with no certificate of installation. If you complete an electrical installation yourself, you must not attest that your household electrical wiring complies with the current regulations. In essence, what this means is that there is nothing to stop you doing the work yourself.
There are rules and regulations as to what type of lighting is allowed to be installed in different parts of the bathroom. For example, lighting directly above a shower has to conform with the IP rating which is explained below. Where a light fitting is sublect to direct contact with water it has to carry an IP rating of IP65 which makes it jet proof.
If lighting is provided actually in the shower tray or bath (Zone 0) then it must be 12 Volt lighting and carry an IP of 67 which allows for immersion to a depth of 1m. Even better is an IP rating of 68 which will withstand pressurised immersion.
Do your research thoroughly before making a purchase. There is a vast amount of information on the internet on the choices of lighting including halogen, spotlights, sealed unit, 2D fluorescent tube lighting, LED lights, globe lights, as well as wall lights and lights in combination with shaver sockets and illuminated mirrors. There is more information on this in our project on Low Voltage Lighting.
Dedicated bathroom lighting is IP rated. IP stands for Ingress Protection. The minimum IP rating for bathroom lighting should be a minimum of IP 44 or IPX 4. Effectively this means the unit has been designed to provide protection from entry by solid objects, with a diameter of thickness greater than 1.0mm and also provide protection from splashed water. Depending on the design, some light fittings are made double-insulated and do not need an earth. Others are manufactured with metal and casings would definitely need an earth.
Bathrooms with minimal, basic ventilation or no windows may have an extractor fan linked to the lighting circuit, so that it comes on automatically, when the light is switch on. Operating the bathroom light is sometimes via a switch outside the bathroom or by pull cord to a switch at ceiling level inside the room.
In general the bathroom is zoned with regard to the electrical wiring regulations, see our project on Bathroom Heating. Consideration should be given to the sighting of transformers if using low voltage lighting. Apart from the internet, a visit to an independent electrical outlet may be very useful for ideas and advice. They may also have a list of recommended contractors that could help you with your installation.
Steam and water vapour are other factors to consider when choosing your lighting. There is a tendency for some members of the family to leave bathroom lights on, which can result in overheating with vapour from a shower. For example, vapour condensing on a hot light could cause a potential hazard. A qualified electrician could link bathroom lighting to a PIR (passive infra red) switch that would only operate when entering the bathroom and without any further movement would switch off after a set time delay.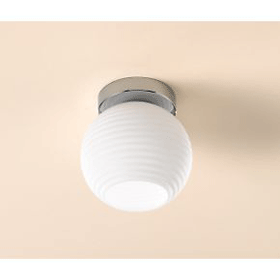 For basic functional lighting, without anything fancy, consider the 2D fluorescent tube light, which is protected with a glass shade and is fixed with screws or clips. The tube is generally around 13 watts and provides good lighting. Another form of simple but effective light is the globe fitting. This is normally positioned in the centre of the ceiling to provide all round illumination. The unit takes either a bayonet bulb or an ES (Edison Screw) 27mm bulb, and will also accept low energy alternatives with the same fitting. The globe is made from glass or Perspex and screws to the body of the light unit fixed to the ceiling, encompassing the bulb.
Continuing with lights mounted to the ceiling, there are bathroom downlights taking light bulbs of both 240 volt and 12 volt types. Various include "eyeball" designs, where it is possible to swivel the light to a pre-determined angle. In Zone 1 area of the bathroom, the lighting circuit has to be protected with an RCD (Residual Current Device), typically rated 30 mA.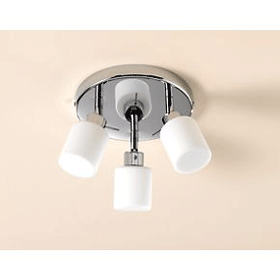 Also available are bathroom 4-bar spotlights; the advantage of adjustable spotlights is that the light can be directed to certain areas to enhance and soften the look of the room. A circular three light unit for example, takes three 20 watt GU9 bulbs; the unit has an IP 44 rating, for around £40-45 and no transformer is required, which is of course an advantage.
Various designs of wall lights are available, some incorporate a mirror and/or a shaver socket. There are also illuminated shaving mirrors, which are wall-mounted and with an adjustable arm and LED lights which can be very effective, especially if you wish to keep the general lighting in the bathroom to a low level.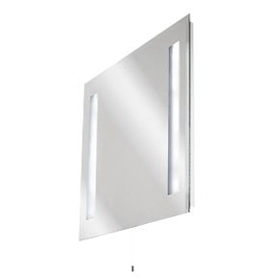 An alternative to this is a back-lit bathroom mirror light which is a more expensive option, but usually has an IP44 and can therefore be used in Zones 1 and 2. Generally these are 13 watt and no transformer is required with most models. Another benefit of having a larger illuminated mirror is that it is more suitable for hair and make-up use, as well as shaving. Multi function mirrors incorporate a light, demister pad and built in shaver point.
The above is only a guide to what is available, having seen the choices mentioned, it is best to go and look at your bathroom again, bearing these in mind and decide what the priorities are for your personal uses make some notes, take any measurements you think you will need, then going along to a retailer and see exactly what would suit you best.
One very important consideration to make if you are wanting to either change your bathroom lighting or if you are in the process of installing lighting in a new build or an extension is converting over to LED lighting. By doing so you could save substantial sums on your energy bills. To find out more about this visit our LED lighting project.