Warning: To complete electrical works you must comply with Electrical Regulations – Click here for more information.
When fitting new lights in the kitchen or looking in to generally improving your kitchen lighting its important to think about the shadows they will cast over the cooking and preparation areas.
Cooking under a shadow is not ideal as there can be many dangers in the kitchen so it is important that you have good visability and are able to spot these potential dangers which is why most kitchens are lit by fluorescent lights as they do not direct a beam in any one place and due to this they provide a good overall even lighting level.
Fluorescent lights are a little restrictive from a design point of view however at DIY Doctor we have come up with a kitchen lighting box project which will add a great modern looking feature to any kitchen and provide excellent kitchen lighting without shadows.
Another point to note is that if you are in process of fitting any lighting in your property, an extension or indeed a new build it is very worth while looking into LED lighting. For more information on how they can be of benefit to you and your property visit our LED lighting project.
A Note About Electrical Regulations
Part P of the new building regulations could involve a check on any additional circuitry by qualified electricians when you sell your home. This can affect your sale, you could be breaking the law and your home insurance may not be valid. Please be absolutely sure you know what you are doing, make sure it is legal, and get all of your work checked by a qualified electrician.
The particular circuit used in this project was connected by a Part P qualified electrician in order to maintain and ensure that the afore mentioned Part P regulations were adhered to.
Lighting Options
Down lighters, in our opinion, are the most versatile, attractive, contemporary and useful of all lights to use in the kitchen as most allow you to angle and direct the projection and direction of light. In most situations they do require the removal of at least some of the ceiling or floor. We have come up with a kitchen light box which adds a feature to your ceiling and provides diffused light which will not cast shadows and does not involve the removal of flooring or ceiling sections.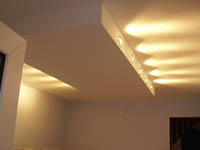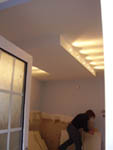 Mark Out Your Frame
To make this box you first need to decide the shape and the depth. This lighting box was to go in a rectangular kitchen which was 4m x 3m and 115mm deep. We measured in from the perimeter of the room 1m all round and marked the ceiling with a rectangle 2m x 1m wide in the centre. The light itself travels outward so 1m away from the wall is plenty to get a well lit ceiling and plenty of light in the room.
We are deliberately not mentioning the bulbs, wattage, voltage or wiring in this project simply because every room is different, your lighting needs will be different and wiring in the kitchen, as mentioned above, crosses over the Part P regulations more often than not. We suggest very strongly that you design and build your box and let a qualified electrician handle the electrical side.
Due to the fact that we have not specified what bulbs, wattage or individual products you should use in order to complete this project this will leave you free of any design restrictions and enable you fully explore your own creativity in respect to the types, designs and styles you should be using.
Building Your Frame
Having marked out your shape you now need to build a frame. We have used 2 x 2 inch sawn timbers for ours and the first lengths to be fixed were fixed at 90 degrees to the ceiling joists. Finding the ceiling joists to fix to can be done easily using our detecting joists project. See the related projects section to the right of this page.
The bottom frame timbers should be fixed at centres no wider than 500mm. The top timbers (400mm centres) are now fixed to the base timbers. Using 2 x 2 inch timbers to make up the frame is preferable to using 4 inch timbers even though the frame then has to be built in two "layers". Using the smaller section allows easier access for the electrician and also allows air to move freely around the electrical components stopping them from overheating.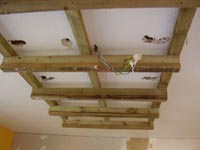 Having fixed the frame together with suitable screws ( 3 inch number 8 screws are recommended ) we suggest you get your electrician to sort out the wiring. This frame was centred over an existing light which was removed so the power was already in place.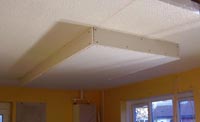 Cut Plasterboard to Shape
Cut plasterboard to the required sizes and fix to the timbers. We always use drywall screws as banging a lot of nails in causes plasterboard elesewhere on the ceiling to crack sometimes. Your electrician should leave his cables (tails) in the centre of the studs so he can get to them easily when the holes for the downlighters are drilled.
Cut Holes for Your Lights
The size of the holes required for your chosen kitchen lighting solution will be dictated by the manufacturer.
Using the frame above you must remember that there is only 2 inches (50mm) between the underside of the main timbers and the bottom of the second timbers.
The holes for our lights needed to be 38mm in diameter so we spaced the lights dead centre of each pair of joists and made sure that the top of the hole fitted exactly under the first part of the frame.
Once the holes were drilled the joints in the plasterboard were covered with self adhesive scrim tape. Scrim stops the plaster cracking over a joint. Then top coat angle bead was fixed to all external corners. Angle bead is galvanised so it will not rust and allows to to complete a plastering job with very neat, sharp edges.
In the first image below the scrim is clearly visible over the vertical joint.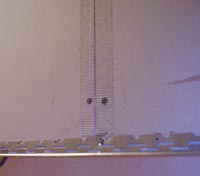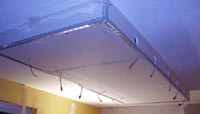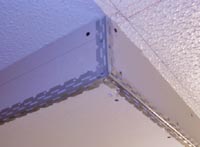 We have shown the cables pulled through the holes as an exercise here because the next thing that needs to be done is the top coat plastering.
Once plastered and painted the bulbs can be attached and your kitchen lighting box is complete. Standard downlights can be used so for information on fitting downlights see our project here.