Ugly, damaged or unsightly radiators can spoil the look of even the most beautifully decorated room. Radiator cabinets offer the perfect solution to conceal old and unfashionable radiators. From sophisticated contemporary styles to more traditional designs, there are radiator cabinets to match every home and provide attractive and effective protection from hot surfaces.
Lose The Radiator And Keep The Heat
Incorrect radiator coverings can drastically increase the radiator's heat loss. Ensuring your radiator cabinet is the right size and in the right location can keep heat loss down to less than 10%.
Ensuring your radiator has enough room to allow for good airflow is vital to maximizing heat projections. It doesn't matter what style you choose for the front grill, it is the top and bottom grills that are important. The cool air is drawn through the bottom grill and the warm air expelled through the top grill.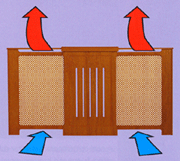 When choosing the position of your radiator cabinet you need to ensure that the external dimensions fit within the space available taking surrounding furniture, windows and other room features into consideration.
Cabinets are not suitable for use with storage heaters or convector heaters.
Choosing The Right Size Radiator Cabinet
You need to correctly measure your radiator and work out what the minimum internal measurements are for the radiator cabinet. Make sure you include any thermostats or valves in your measurements. The three measurements below; height, width and depth; will form the dimensions of your radiator cabinet.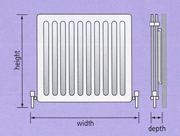 Height: Measure from the floor to the top of the radiator and add 25mm to this measurement to allow for air circulation
Width: Measure the distance from the outer edges of the radiator and add 50mm to this measurement (25mm on each side) to allow for air circulation
Depth: Measure the distance from the wall to the front of your radiator and add 25mm to this measurement to ensure efficient air circulation
Fitting a Radiator Cover
When you have bought a rad cover they come (or should come) with fixing brackets. Follow the instructions included to fix the bracket to the wall as they suggest. If you need more assistance we have projects with more information on fixing to masonry walls and fixing to plasterboard, depending on which type of wall your cover is going to be attached to.
You will probably need to assemble the cover as they tend to come flat-packed. This is generally a very simple job of screwing the sides to the front grill and then attaching the shelf which sits on top of the radiator. You can browse a huge selection of radiators on Amazon.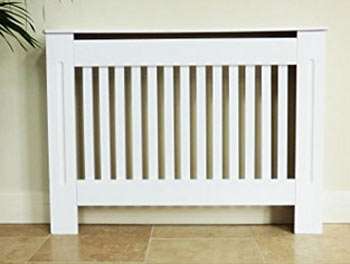 Many radiator covers are not "fitted" at all. They are simply free standing to allow ready access to the controls. Obviously this is much easier to fit, but will not be quite so secure so don't put anything valuable on top, especially in you're expecting unruly kids in the house!