Room dividing screens can be fixed or movable upright partitions that can be used to provide privacy between areas in a room or to shelter from draughts or strong light. They may also provide some sound insulation or sound dampening in large areas which would otherwise feel cavernous or have an unpleasant acoustic to work in.
Screens, partitions and room dividers can be made from a wide variety of materials: Wood, fabric, metal, bamboo, wicker, glass or even plants can be used to break up large spaces.
With our increasing preference for open-plan living, screens, dividers and partitions can help to define different activity areas within the home and portable or moveable screens can be employed to create different areas as the needs of a household change.
In many situations within the modern home there is a need to create either more space or more privacy. Both of these can be accomplished using a room divder, partition or screen.
Many homes are being built on an open plan basis these days and this is not always convenient for maximum privacy or personal space. Screens and partitions can solve this quite easily.
Screens and partitions, in most cases, are easily installed and can be movable if required.
Zoning living spaces is a trick used by designers to make sense of large open spaces, improving the use of space and creating areas that have specific purposes.
In open-plan areas one large room can become full of junk and remain that way for a long time, without space to put anything else.
By adding a partition or screen, a large room can be divided up creating the illusion of more space and allowing a lot of things in one section to be hidden from another.
Partition screens are often employed in office environments to provide privacy between workers and an area to fix notes and other bits and bobs that we need around us to make a comfortable working environment.
Office partition screens come in different sizes and colours and can be bought from office supply companies, but they tend to be quite industrial looking, so if you want something that looks more chic in your home then we have some partition ideas for you.
If you are looking for a guide to installing permanent partition walls then head over to our partition wall project.
1. Integrated Room Partition Screen With Storage
Where space is limited it is a really good idea to make your partition double up as a storage unit. This can be bookshelves, wine racks, plant holders, drawers or boxes.
In the example below modular units have been stacked together to screen the different living, dining and sleeping areas while providing storage and maintaining the spacious feel of open-plan living.
In this example the room divider has been used to store essential items for use throughout the day. Such as in the kitchen where there is a microwave and bread bin, files for the home office are stored next to the table, and for later in the day there is an integrated wine rack.
By thinking carefully about your own living style and use of the rooms you are screening off from each other you can make or buy a really functional piece of furniture which will declutter your home and keep everything you need close at hand while also clearly defining the use for each area.
If you want to make your own partition from modular units like this then there are loads of helpful projects for working with timber in our projects section, and then you can use varnishes or paints to protect them and to create the effect you want to achieve, why not check our painting projects section to find out about how to decorate various different materials including MDF, metal and previously dyed timber.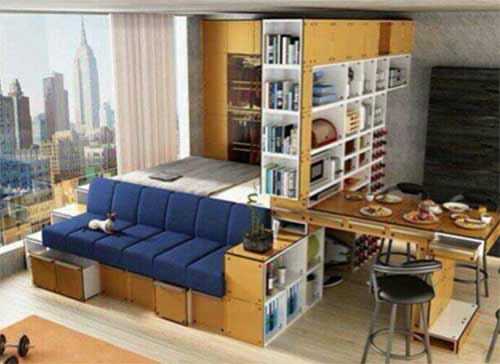 2. Shelving as a Room Divider or Screen
Where space is less limited it still makes good sense to integrate a partition with storage particularly where the storage can be accessed from either side of the shelving unit. Shelving used as a room divider can make an excellent display area for your personal items.
Bookshelves make great partition walls because they allow glimpses of the room beyond above the books, but when you are sitting behind them they give a sense of privacy.
A very clever designers trick for making a house flow and feel spacious but still feel light and airy is to ceiling hang the partition and to stop it short of the floor – see the example below.
You do need to make sure that your ceiling joists can cope with the weight of this sort of [partition, but there are similar units for sale that have ceiling fixings and slender legs that would give a similar effect but that would distribute the weight more evenly. Find out about how to fix to different material and the different fixings you need in our fixings project.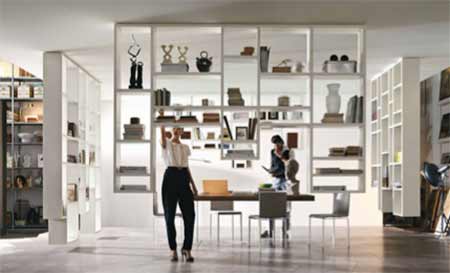 3. Timber Divider Screens
Using natural wood to divide rooms is a great way to add character and warmth to a home. The timber can be left its natural colour but should be protected according to where it is situated.
If it is in a wet environment like a bathroom or kitchen then consider using waterproof varnish. If it is on a stairwell where it may be touched regularly then waxing should be sufficient protection from being marked by handling.
A timber screen doesn't have to be dark stained gothic oak. Take inspiration from the Far East and create a natural coloured timber screen by supporting lengths of wood with metal or rope to create a partition that gives a sense of privacy while making a design statement, like this example below creating an ensuite bathing area from a small area of a large bedroom without needing to enclose it with partition walls.
4. Vertical Timber Screens
Vertical timber screens are created by installing lengths of upright timber in a row which divides one space from another while maintaining glimpses of the room beyond.
This is especially effective in hallways and staircases where moving thought the room offers a different outlook. As you move around the screen you either get the impression of a solid wall or a striped screen.
The example below shows a vertical timber screen that has lengths of timber inserted into a timber frame.
If you are going to attempt a similar project then make sure that you buy carefully and your timber arrives in good condition, that they are unwarped and that you store them all flat before assembly to prevent them twisting or warping before assembly.
There are loads of projects for working with timber in our projects section and in particular you might find our project on creating mortise and tenon joints particularly useful for this sort of room divider.
You could also use brackets or decorative cabinet legs to secure each length of wood to the floor and ceiling where the ceilings are lower.
5. Glass Room Dividers
If you want to divide two rooms but keep an open-plan look in your home then you could consider glass sliding doors.
The benefits of having a glass room divider are that it will not block out the natural light and it allows different activities to be taking place without interference from each other.
A glass divider like the doors below will give some sound insulation between rooms.
They would be an ideal solution where one person wants to watch television and another wants a home office without distractions, or if used between a kitchen and living room will contain cooking smells to the kitchen.
You could also use coloured glass, frosted glass or even stained glass panels to give different effects depending on your style preferences and budget.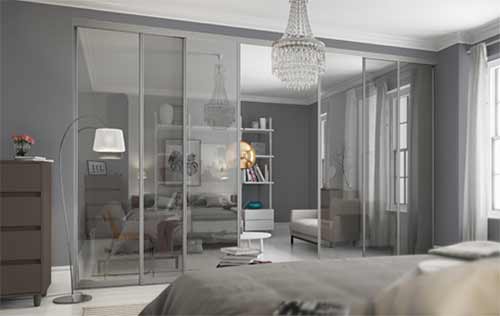 6. Japanese Paper Screen
The Japanese have been using paper screens to divide rooms for thousands of years.
Traditionally a Japanese partition, or Shoji, would have translucent paper over a wooden or bamboo frame, and would be on sliders so that they can be used to divide rooms or to create outer screen walls which protect inhabitants from the sun or prying eyes.
Paper room dividers allow light through them but they maintain privacy between rooms.
They are very lightweight and obviously quite delicate and easily damaged, but they can be repaired fairly easily.
In western climates they are unsuitable for forming outer walls but they make very stylish alternatives to other forms of privacy screening such as net curtains or frosted glass, as this image below shows.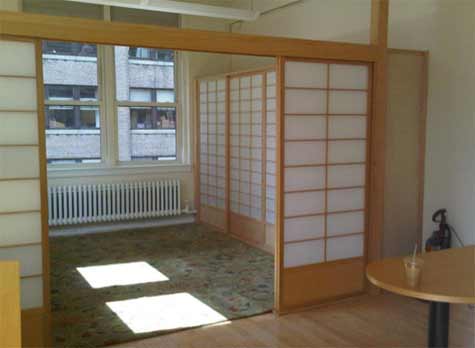 In Japanese styling the screens are fitted on a series of tracks which allows all the screens to be opened, so that the whole living area can be opened up as one large space during the day and then closed off as required to provide seclusion for different activities and privacy for sleeping and bathing.
Taking inspiration from these paper room dividers there are now many freestanding paper screens which reflect the traditional Japanese styling. These allow you to move the screens to wherever you need them, and can be folded up to be easily stored while not in use.
7. Bamboo Screen
Bamboo is a very versatile natural material which is easily split and bent to form screens which have a natural warmth and can partition a room without feeling heavy and bulky.
Often freestanding, bamboo screens are easy to move around, in order to separate areas of a room which you want to shield from visitors, they allow you to use a corner to create a small dressing area, a music space, home-office or to hide any other potentially messy or intrusive activity where space is limited.
Bamboo screens can be left natural, lacquered or decorated, and in fact they are often painted in oriental patterns. They can be very plain or can be bent and woven into some very decorative shapes, such as this vintage bamboo screen below, which is definitely more decorative than practical in terms of shielding anything from view.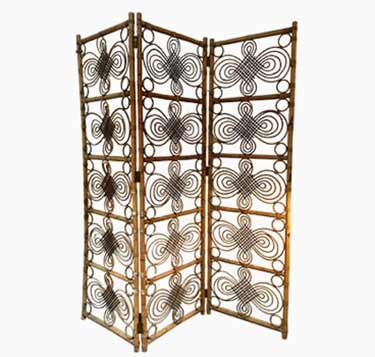 A bamboo screen is a cost-effective way to divide a room as they can still be picked up cheaply in second-hand shops but they are becoming more popular so make sure you act quickly to grab a bargain.
Alternatives are reproduction vintage screens, or you may prefer sleek lines such as this large freestanding bamboo screen (below) which can be bent into any shape you want and can be rolled up against a wall if you want to revert back to a more open-plan living space.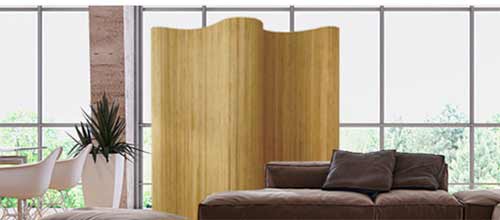 8. Jali Screens
Jali Screens are decorative carved screens which originate from India and are named after the Hindu word for "net". They usually feature geometric designs and repeating or interlocking patterns often based on calligraphy.
They are often made of wood but they can also be pierced metal, MDF or even stone. Originally they were used to diffuse bright sunlight in parts of the world where that was a problem, or to provide privacy between different areas of the house.
Even in less sunny climates they make a beautiful partition screen. The colour and material of the Jali Screen will alter the overall effect of the screen.
Dark wood or painted metal panels will look rich and traditional where white or natural wood will look more contemporary.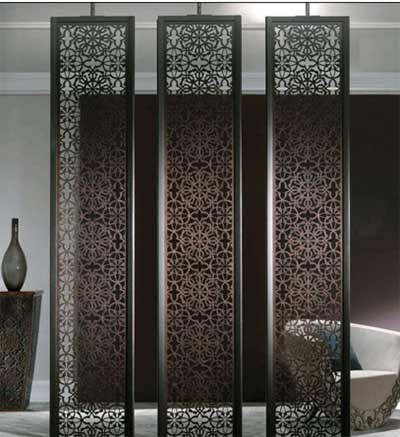 9. Metal Room Dividing Screens
Metal screens can be traditional decorative screens like the Jali screens above, and in fact any cut or pierced screens tend to be referred to as Jali Screens, they may be more contemporary like the modern laser cut one below, or they can be industrial-looking, even rusty which can be particularly effective in the garden.
The benefits of a metal partition is the intrinsic strength of the material means that they can be cut into quite delicate patterns without losing their integrity and they can be cut into almost any design.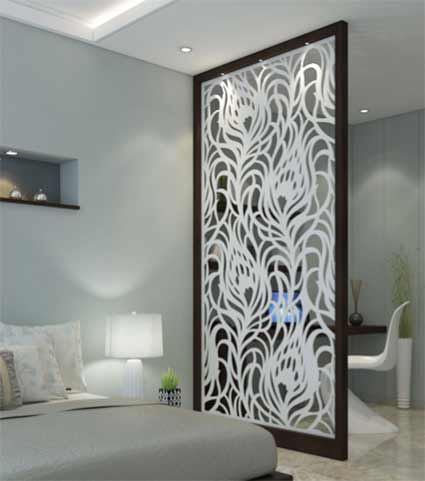 10. Rope Screen
A rope screen would be a very easy diy project and could be made using traditional Jute rope (like the example below) for a natural finish or utilising one of the synthetic ropes that are on the market>. This could look very effective in a conservatory or in the garden, where they would also withstand the weather well.
The example below utilises a very simple method of threading lengths of rope through two pieces of painted timber and knotting each end, so that when the timber is attached to the ceiling they form a vertical screen between the two areas to be partitioned off.
This is a very cost effective and lightweight semi-permanent screen.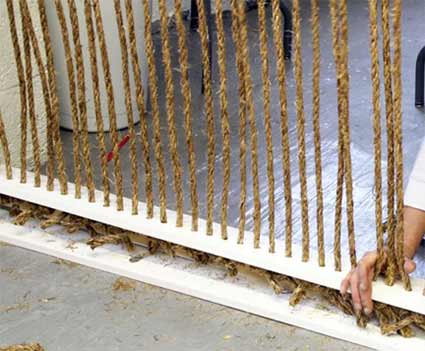 There are some great examples of woven rope screens online – some are very simple and traditional and others tap into the creativity of the producer by creating very intricate and asymmetric patterns.
11. Curtain Room Dividers
Fitting curtain room dividers means that you can easily change the fabric to reflect your interior décor choices.
Using fabric as a screen is a quick and easy way to separate two rooms such as a bedroom from a dressing area or a bedroom from a bathroom.
Using fabric maintains a luxurious, soft and comfortable feel in the room.
Depending on how heavy or sheer the material is, curtains can also insulate a room from draughts or allow light to penetrate while still giving some privacy such as in the bedroom below.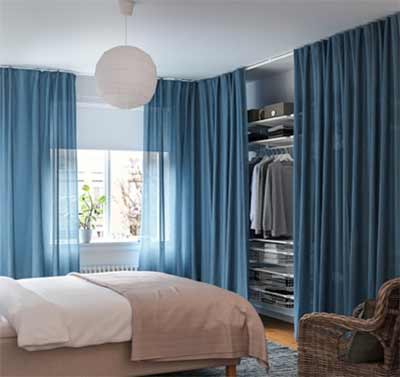 Once the track is fitted into place, where you want your curtain divider to fall, you can very easily change the fabric whenever you change your colour scheme or decide you want to change the look of the room.
You can experiment with some bold colours and prints or tone it down with neutrals and pastels.
If you have one type of fabric at one end of the track and another at the other end, you can alternate between two different looks with the swish of a curtain. Alternatively you can pull the curtains open and remove the room divider whenever it suits you.
Find out how to fit a curtain track in our Fixing Curtain Poles and Rails project.