Warning: To complete electrical works you must comply with Electrical Regulations – Click here for more information.
Fitting and fixing socket boxes into plasterboard is a really simple operation. Proprietary plasterboard, or Dry wall, socket boxes are available which simply clip into place when the hole is cut for them.
Dry wall socket boxes are a joy to work with and as you tighten the face plate onto the socket, or patress, box the box grips the plasterboard tighter. The same method is used for switch boxes as socket boxes.
When you are ready for plastering onto your stud, or plasterboard wall it should look like this. The electrical cables are in place (this is called electrical first fixing) and the plaster is ready to be laid on.
You can fit the socket and switch boxes now if you like, then remove them again for plastering, but it is usual to wait until the wall is plastered before they are fitted as shown on the right.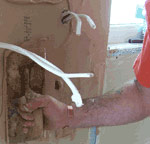 Once the wall has been plastered and it is dry enough, you can follow the simple steps below: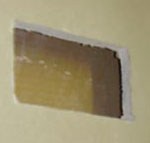 Hold the socket box in position and mark round it with a pencil

Drawing around socket box on drylined wall

Use a pad saw to cut out the hole. There are obviously cables behind the plasterboard so push these out of the way as you cut

Cutting hole in plasterboard for socket box to fit into

The image below top shows a plasterboard socket, or patress box. The red clips either side are what holds the box to the plasterboard

As you can see from the centre image below they can be pushed into the box to allow them to fit in the hole you have cut in the plasterboard. The bottom image below shows the patress box from the side

Socket or patress box with clips out

Socket or patress box with clips in

Socket or patress box with clips in side view

With the clips pushed into the box the box can be pushed into the wall. The lip at the front of the box sits flush up against the plasterboard. The clips are now pushed out and sit behind the plasterboard as can be seen in the bottom image below. This is a view you will never see yourself!

Push socket box into hole in plasterboard

Push clips open to grip plasterboard and hold in place

Rear view of socket box with clips pushed into place to hold it

When the face plate is wired up and the screws are put through the holes in the face plate they screw into the holes in the clips of the patress box. As they are tightened they pull the clips up tight to the back of the plasterboard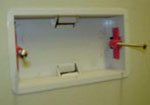 Go to our video section on cutting plasterboard to watch a three part film on how to cut plasterboard correctly.