Warning: To complete electrical works you must comply with Electrical Regulations – Click here for more information.
Please also see our project on the New Wiring and Cable Colours.
Please remember when attempting any electrical installations at home that you are obliged to get the completed job tested by a fully qualified electrician and obtain a minor works certificate. Failure to do this may render your house insurance invalid and you may have difficulty selling your home.
Click on books to buy and any of the images in the Top Tool Store to buy all your electrical hardware.
PLEASE SEE OUR PROJECT PART P BUILDING REGULATIONS
For regulations governing heights of sockets etc, please see our socket height DIY project
The most common mistake made when changing a ceiling light, is connecting black to black and red to red. This is not always the case: The cable that comes from the switch to the light has a black and a red wire, both of these are live wires. The black wire should have a piece of red sleeve or tape around it to indicate this. Before disconnecting an existing light make careful note of how the existing connections are made.
Please make sure you have read our rules page.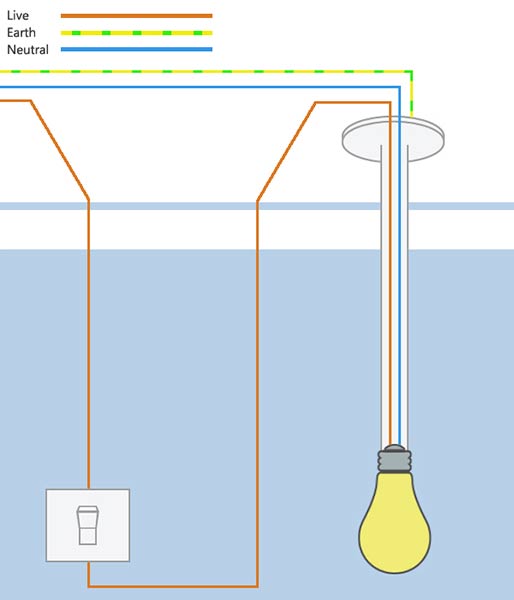 The switch simply interrupts the live feed to the light and enables you to turn the light on and off by disconnecting the live flow.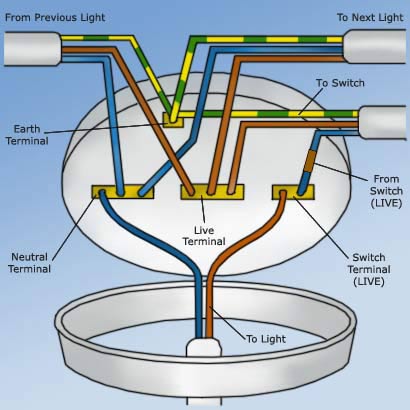 The switch connections in the ceiling rose are as shown.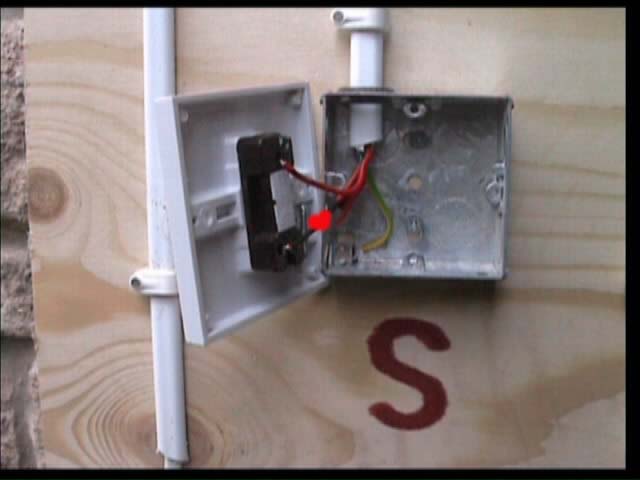 New ceiling light can be added by introducing a new cable into one of the existing ceiling lights, sharing a live and neutral and earth connection with those wires already in the rose. The other ends of the cables are then connected into a new ceiling rose, live, neutral and earth. The switch wires are added as shown in the ceiling rose diagram above and connected to the switch also as shown. The light fitting is then connected also as shown. All connections must be made before the final connection to the live circuit, which must be turned off while connection is made.
An alternative to this type of connection, is to make it through a junction box. This is outlined on our Wall light project and the connections are the same for a ceiling light, as are the rules for connection.
To check for cables use the cable detector below. To check your sockets are ok, use the socket checker.