Solderless copper bonding, also known as cold soldering, gluing copper or cold welding, uses a liquid durable polymer which is applied to rigid pipe fittings to literally weld them together hermetically (absolutely nothing can get in – impenetrable).
Cold copper bonding is very useful for pipes which are in a particularly difficult soldering position or have previously had a slight drip. Hot soldering cannot be used in these situations. Cold copper welding is also very useful for those who are a little scared of soldering and, until the invention of cold weld, tended to use compression joints which can be a little unsightly.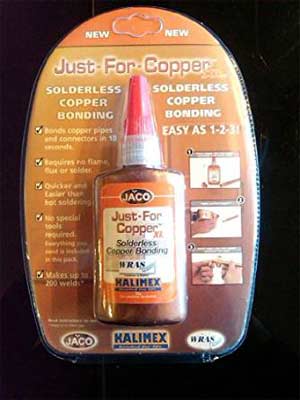 It is not suitable for flexible pipe (such as coiled 8mm or 10mm copper heating pipe) because it cannot be guaranteed that flexible pipe will not be slightly dented, especially when cut. This means the gap between pipe and fitting might be too large for the weld to work properly. Cold copper welding requires pipe and fittings to have very close tolerances and this can only be guaranteed with rigid pipe.
The polymer is applied to both pipe and fittings and the two are twisted together. In 10 seconds a fully watertight joint is produced which will flex, contract and expand at exactly the same rate as the copper itself.
Unlike most adhesives or welds, the copper bonding agent hardens without the presence of oxygen (anaerobic) and will stay in liquid form when in contact with air. This makes it very sustainable as it will only go hard when applied to the job it has to do. This also means there is no waste if you leave the lid off the container for a while.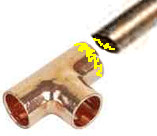 The bond is very strong and is suitable for all domestic copper installations but cannot be used to cold weld other metals. It also cannot be used on threaded connectors as the joint will be too wide to prevent oxygen being present. The sketch above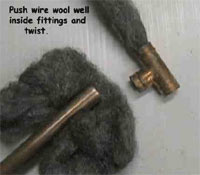 It is completely non-flammable, odourless and tasteless and will withstand pressure of 200 pounds per square inch after only 7 minutes.The bond will be maintained in temperatures ranging from -40 degrees C to a staggering 120 degrees C.
Before making a join with cold copper bonding agent the joint must be totally clean. This is achieved by wiping with 60 grit sandpaper (recommended) or suitable wire wool. The agent is then applied to the external section of the pipe to be joined and the inside of the fitting. The pipe is pushed into the fitting, twisted through 360 degrees and held for 10 seconds. The drawback with cold copper welding is that it cannot be done while the pipe and fitting are in place, unlike soldered joints where the total "circuit" can be assembled before soldering takes place.
To buy any copper pipe or fittings please click on any of the products in the tool store boxes to the right of the page.