Using a power washer is an excellent way to clean up decking, patios, drives and other hard standing surfaces. Today power washers are not expensive to purchase a basic model, some are as low as only £50 and can be used also on the external masonry of your house to wash away algae etc., and of course, to clean the car!!
Over time patios and decks will accumulate algae, lichen and moss throughout the course of the year and when they do they become slippery and dangerous if not cleaned.
What do you Need for Power Washing?
In order to successfully power wash your decking, patio or other hard surface you will need a few essential items, the most obvious one being an actual power washer.
If you don't have one, as mentioned above, they can be purchased fairly cheaply from pretty much any DIY store, garden centre, builders merchant or home store.
As with all things you get what you pay for and although a cheaper budget version may be good enough for basic cleaning it may lack some of the power or features that more expensive versions have.
Despite this as long as it's got a decent lance, is easily portable, has a decent long power cable and puts out at least 110 bar in pressure that should do all you need it to.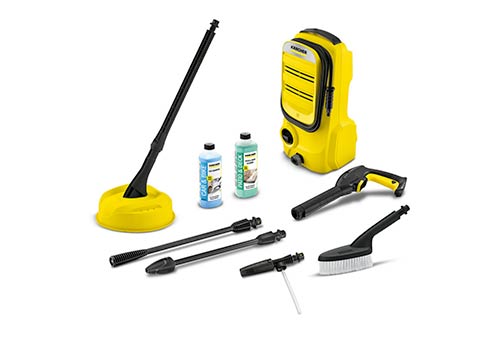 As well as an actual power washer you will also need an external water source and an RCD protected socket.
If you don't have an outside tap see our installing an outside tap project on how to install one yourself.
If you can't do this then you can purchase hose adaptors that will fit on a standard tap and allow you to attach the hose to supply your power washer
Once the water supply has been covered the next item to take care of is an electrical supply. As we all know, water and electricity do not mix! Although any power washer available to purchase will have its own inbuilt safety measures and shielding you will in most cases still nee to use an extension cable.
To ensure that you are fully protected the best thing to use is an RCD plug. This essentially works in the same way as the RCD in your consumer unit. If it detects any abnormalities in current it will trip and cut the power immediately.
These are available from as little as a few pounds and are again available form most DIY stores.
As good as the lance on a power washer is for cleaning items down, due to its size, when cleaning large areas this can be very time consuming.
However a solution to this problem is to use a product called a Patio Cleaner that can simply be fixed to the power washer gun in place of the lance.
This tool features a rotating arm that has a high pressure water jet at each end. The increased cleaning area of this tool can allow you to clean a large patio area often in half the time it would take just using a lance!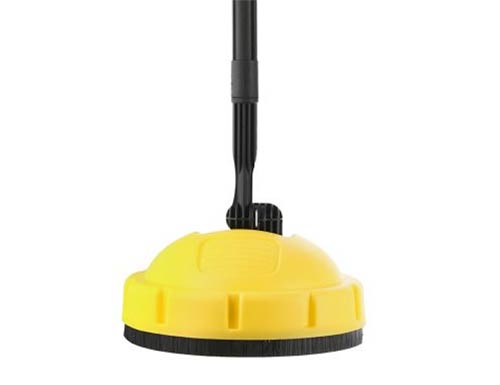 The final item required for successful patio and especially decking cleaning is a good quality anti-fungal wash or other cleaning additive suitable for the object you're cleaning e.g. suitable wash and wax car shampoo for washing a car.
In this instance as we are cleaning down some decking, one of the best and most effective products we have found is the Fungicidal wash from Everbuild.
This is essentially a pre-treatment that is applied to surface to be cleaned, left for 20 minutes or so and is then cleaned off. This helps to breakdown the lichen and algae build up on the surface making it much easier to blast off with the power washer.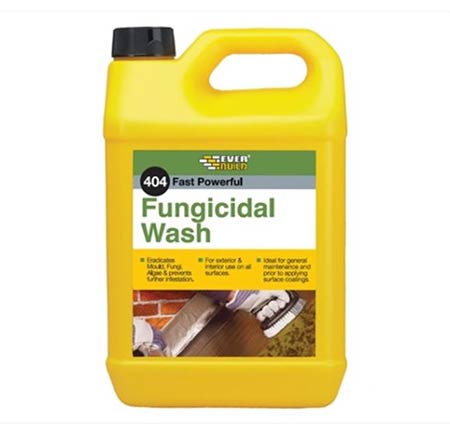 One final point to note is that this is a wet, messy job so make sure you wear old clothes and suitable boots. Also as you will be dealing with chemicals, always wear gloves, eye protection and a mask if you can!
How to Power Wash Decking
Now that you know exactly what you need in order to successfully clean your patio, decking or hard standing area it's now time to get to work.
For the purposes of this example we are going to be cleaning down some decking that has been left for a long time and is suffering form heavy algae and lichen buildup.
Step 1 – Treat Decking/Surface With Antifungal
Due to the volume of algae and lichen buildup on the surface of this decking, the first job is to apply an antifungal treatment.
You can obviously skip this step and get started with the power washer but as the lichen engrains itself in the timber simply using the power washer isn't always that effective. Applying the pre-treatment helps to lift the algae and lichen out of the timber grain, making the power washer more effective down the line.
Depending on what surface you're cleaning and what pre-treatment you are using will depend on how it's applied, check the packaging for the manufacturers recommendations.
As we are going to use the fungicidal wash from Everbuild this can be applied in a few ways, it can either be mixed with water and scrubbed on the surface with a brush on or as we prefer using a low pressure sprayer such as a garden sprayer.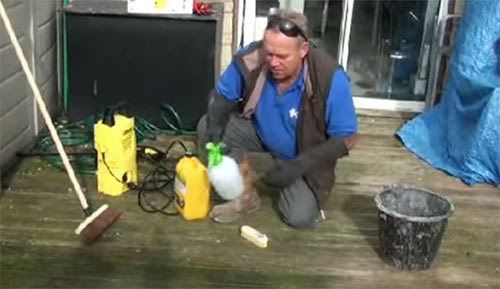 Ensure it's a low pressure sprayer as the solution needs to be left to sit on the timber surface in order for it to start acting and lifting the lichen etc.
Leave it to act for 20-30 minutes or so and then use a scrubbing brush or stiff long handled brush to scrub over the surface. Make sure you get the bristles all the way down in the grooves of the decking boards.
Ensure you really work it in and as you do you will see all of the surface buildup start to come away, leaving you with a nice clean deck. Make no mistake this isn't a nice job, but if you want your decking to look like new again it's necessary!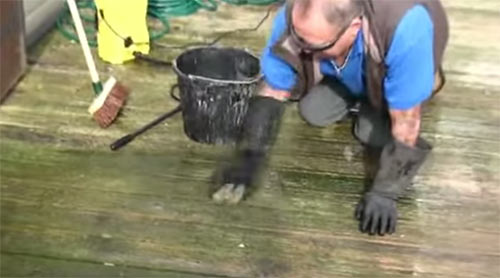 Step 2 – Set up Your Power Washer
Once you have treated and scrubbed the whole area that you are cleaning the next job is to setup your power washer ready for cleaning.
Place the main body of the power washer close to the area that you are going to start on. If the high-pressure hose for the lance isn't connected to the main unit connect that up now. In most cases this will be a screw on job or push and twist connection.
Once the hose is connected, connect the gun to the other end and then the lance to the gun. Again this should just be a push and twist connection.
Next, run a hose from your water source e.g. an outside tap to the main power washer unit and connect it to the incoming water connection point on the front of the unit.
Finally run the power cable to an outside socket or extension cable. If using an extension ensure the other end is plugged into an RCD plug for added protection.
Turn the water on and then turn the power washer on and test that it works as it should. Once tested turn everything off until you're ready to get started.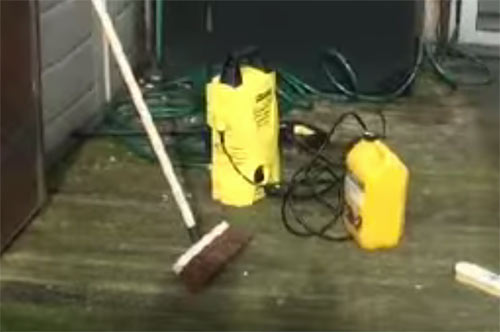 Step 3 – Power Wash Over Decking
Once you're ready to go turn the water supply on and then turn the power washer on. Don't turn the unit on before the water as it will run the pump dry and could potentially cause damage.
Hold the nozzle of the lance around 2 inches from the surface and pull the trigger on the gun. The power washer will then jump into life and a high pressure water jet will shoot out the nozzle.
Working in small areas, pass the water jet over the decking surface keeping it concentrated on the surface buildup. Experiment a little with the distance the lance nozzle is from the surface. To get better cleaning results it may be necessary to move the nozzle closer or further away.
Work steadily and methodically over the whole surface ensuring you get off any and all surface growth and buildup.
Once finished use the power washer to wash the whole surface down removing any and all dirty water. If you leave the dirty water on the surface the algae and lichen growth will come back again in s a short space of time hence the reason it needs to be removed.
Step 4 – Oil and Treat Decking
Once you have successfully cleaned your decking it would be a shame to let all of that hard work go to waste and have the lichen or algae grown back again.
Although some algae and lichen growth is pretty much inevitable on exterior timber you can you can however minimise it a great deal
By applying a good quality decking oil or treatment to the surface of your decking it will drastically reduce any future buildup or regrowth of algae or lichen. Once applied the oil or treatment soaks down into the surface of the timber decking boards creating a seal that prevents regrowth.
Such treatments work best if they are applied every year and by doing so you will keep your decking in tip top condition all year round. For full information on how to do this see our treating timber decking project here.
How to Power Wash a Patio
Now that we have looked at the process of power washing decking it's now time to turn our attention to the patio.
Like decked areas, patios also suffer from algae, lichen and other types of surface buildup that can occur during the colder months of the year.
Once any such growth has been allowed to collect on the surface it can then become very slippery and dangerous hence why it's very important to keep patios, decking and other hard surface clean and free of debris and lichen growth.
Step 1 – Clean all Patio Joints
Before any cleaning can take place the first job is to clean all of the joints between each slab used to make up the patio area.
Using a patio scraper/cleaning hook or a block paving cleaner, run down all the joints scraping away any debris or plant/weed growth.
Once cleaned sweep up all waste and dispose of it.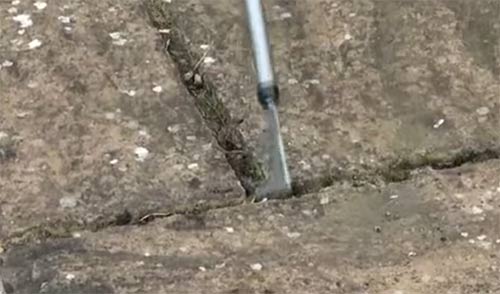 Step 2 – Apply Brick and Patio Cleaner
The next step is to apply some cleaning solution to the patio area in much the same way as we did for the decking.
This time instead of using antifungal treatment we are going to use 401 Brick and Patio Cleaner from Everbuild. Before we go any further it's important to note that Brick and Patio Cleaner uses Muriatic acid so as you might imagine it's dangerous!
With this in mind when using it always wear old clothes, thick rubber gloves, eye protection and most importantly a respiratory mask! The fumes that come off of Muriatic acid or Brick and Patio Cleaner are highly toxic and can cause great damage to your respiritory system!
In situations where you are unable to use such a substance then you can indeed use the fungicidal wash from Everbuild but it's not quite as effective as the brick and patio cleaner.
Pour some of the brick and patio cleaning solution into a plastic bucket (do not use a metal bucket as the acid will react with it).
Once poured in, dip a stiff scrubbing brush in the solution and then start scrubbing the surface of the patio. The acid will get to work quite quickly and you will soon see it lifting the surface growth away
Work in a small area at a time, applying the patio cleaner and then scrubbing it in well. As before you can also use a stiff long handled yard brush if working on your hands and knees isn't possible.
Take your time and work over the entire patio area until all areas have been fully scrubbed and cleaned then leave the area for 20-30 minutes or so for the acid to do it's thing.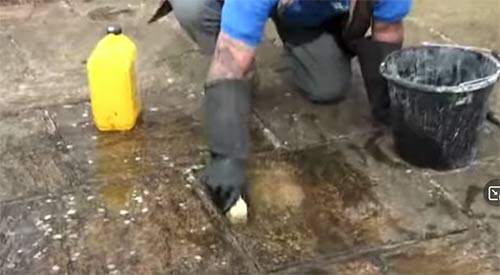 Step 3 – Power Wash Patio Surface
Once the Brick and Patio Cleaner has had a good chance to get to work on the patio surface you can now get started with the power washer.
The patio cleaner will have now loosened all of the surface growth from the patio so it should now be just a case of using the power washer to blast off any remaining growth and wash it away.
Work your way slowly and methodically across the patio surface removing any remaining lichen and algae, washing the waste water towards the nearest drain.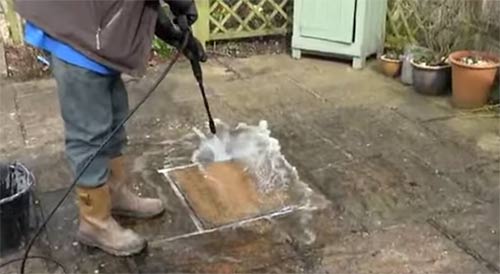 Once you have gone over the entire surface of your patio and washed away the waste water you should then be left with a beautifully sparkling patio that looks like new.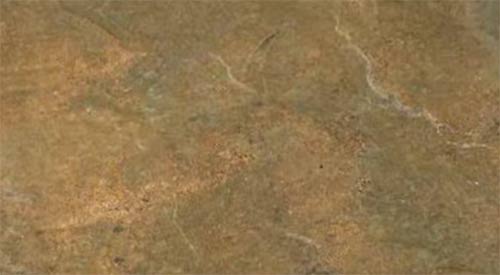 As we have mentioned above, using a patio cleaning attachment with your power washer can dramatically reduce the time you actually spend cleaning. Some more expensive power washers will come with one included but if you don't have one then you can certainly purchase one separately for around £50.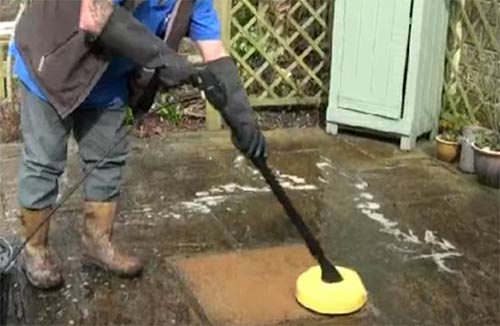 In some instances if your patio hasn't been cleaned for a very long time you may then need a second application of the patio cleaning solution and power washer to fully remove any and all surface growth.
Another point to note is that due to the power of a pressure washer, in some cases they can actually blow the surface of the slab apart so be wary of this and don't get to the point where you are actually damaging your patio slabs.
A final point to make concerns the Muriatic acid or Brick and Patio Cleaner. As we have stated a few times this is dangerous stuff so you may be thinking about how safe it is to wash down drains or even have it soak into your soil.
In pretty much all cases, by the time that you have blasted it with the power washer it will have diluted it to the point that it's safe.
Power washing your decking or patio area is essential in order to keep them in tip top condition and more importantly keep them safe for use.