This guide to building a staircase will explain the building regulations you need to work to, plus the best size, location and layout for your staircase. We will also look at different materials you can use for your staircase and we have also thrown in a link to a glossary of terms to help you understand the terminology around staircases.
First and foremost, however attractive it looks your staircase must comply with building regulations so it is safe to use.
Secondly it must feel good to use, believe it or not our feet "get used" to using steps that are a certain height and depth, so we want to ensure that you use your stairs instinctively rather than having to actively think about it.
Finally – and this is very important too, it should look right. Your staircase design can incorporate any materials or design features you like as long as it complies with building regs, and (we would suggest) your staircase should suit the style of your house.
A "Gone with the Wind" staircase in a 1970s semi might look a bit much, if you have a small cottage you will probably find a neat staircase looks best, but if you have a large hallway you can play around with styles and materials much more freely.
We suggest you consider the size, layout and materials before you start – bearing in mind that anything beyond the "standard" is likely to increase the cost of your project. A "normal" staircase made of softwood and MDF which is going to be painted and carpeted will be a cheap solution, and might be perfect for your project and in keeping with your house.
However if you want an oak staircase with a hand woven runner and brass stair-rods it is worth shopping around for the one that you really like.
A staircase can really make a statement in the right setting so consider it an investment, after all you are unlikely to change it in your lifetime and you will use it regularly every day. Do some online research to see what is possible, then adapt it to your budget.
One final point is that building staircases requires some maths. In the UK we now (mostly) use metric measurements. We recommend using mm in all your calculations, to avoid confusing when switching between Meters, Centimetres and Millimetres. We will be talking in millimetres throughout this project. If you can't cope with that there are loads of conversion tables and calculators free on the web.
Building Regulations for Staircases in the UK
Staircases should have a maximum "rise" of 220mm and a minimum "going" of 220mm
They should have a maximum "pitch" of 42°
Flights of stairs should have a handrail on at least one side, if they are less than one metre wide, and on both sides if they are wider than a metre
Handrails on stairs and landings should be a minimum height of 900mm
No openings in any of the balustrading should allow the passage of a 100mm sphere
A minimum of 2,000mm (2 Metres or 6"7") of clear headroom above the pitch line is required along the whole flight of stairs
For further information about the Regulations see our project on Approved Document K including a link to download the full document from the .Gov website
What size Staircase do I need?
First of all you need to measure your "rise". This is the measurement from the finished floor below to the finished floor level above. Be aware that if you are adding tiles, laminate or engineered wooden floors etc. they will change the total rise measurement. So if these floor finishes are not in place, but you intend to fit them, take them into account when you are taking your measurements otherwise you will have a change in level.
This change in level will create a step – that may mean that your staircase does not comply with Building Regulations, but in any case it will look wrong, and you will kick yourself every time you use the stairs! Don't worry about carpets – you don't have to make any allowance for those.
Next you need to work out how many risers you need. Remember the Building Regulations guidance listed above. To comply with regulations the rise should be between 190mm and 220mm. Your risers should all be the same measurement and the standard is 200mm so you should aim for this wherever possible.
In a modern house the usual rise is 2,600mm. This divides nicely into 13 steps, with each being 200mm high. Funny that – it's almost like there was an overarching plan.
Next you need to calculate the number of "treads" or steps. This is normally one less than the number of risers because the floor above usually makes the final tread.
Finally you need to work out the "going" – which is the measurement from the face of one riser to the face of the next riser up. Again we remind you about the Building Regulations mentioned above: the minimum going should be 220mm, and the "pitch" of the staircase should not be greater than 42°.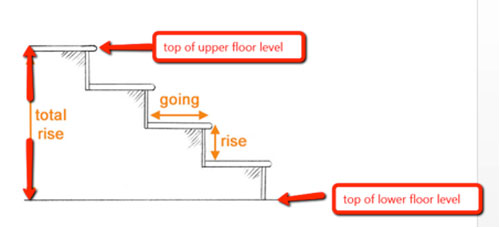 There are no width restrictions in the Building Regulations, but of course you want to be comfortable using the stairs so there is an industry standard width of 860mm.
Generally speaking, you don't want to have your staircase any narrower than 800mm and there is no need to have it wider than 900mm unless there is a reason you like a very wide staircase.
For wider stairs you might need to increase the support to stop the treads bowing and creaking. If you are building a secondary staircase, such as into a loft or basement then you can get away with a minimum width of 600mm.
Siting the staircase
Most main staircases will come down into a hallway, lobby or other room that has immediate access to the front door. This helps with evacuating the house should there be a fire, and if you have more than two storeys you must have access to the external door without needing to cross another room to get out.
Unless you are undertaking a new build or major renovation it is likely that you are simply going to replace a staircase, in which case you may just want it in the same place in the house. If you are moving your staircase or installing a new one, please make sure you will have the required headroom.
Different staircase layouts
In a new build or renovation, it is likely that you will get drawings prepared and you can discuss the different layouts of staircases, and how suitable they are for you with your architect. However, you might just be trying to make better use of your space by altering your stairs to give you a better flow in your hallway. Either way it is good to know your options to see what works best for you.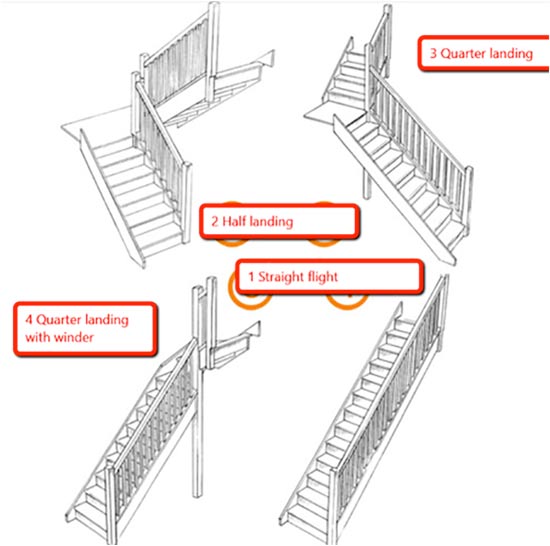 Where there is not enough length for a straight flight you will need to incorporate a turn in the staircase. The simplest option is to split the flights in two and connect them with 90° quarter turn landing, or to use a 180° turn to create a half-landing (see the illustration above).
Steps that rise and turn are called winders (see above), and these are most often used These are often used at the top or bottom of flights to give a little extra rise while keeping the length of the staircase as short as possible. A turn containing three winders is known as a "kite winder".
One final layout is a spiral staircase. These can look fantastic in the right location and are useful where space for a staircase is limited, but be aware that they are less easy for children and elderly people to navigate. They can also be challenging when you need to move furniture from one floor to another. This example (below) has been installed in a barn conversion that is being used for holiday accommodation.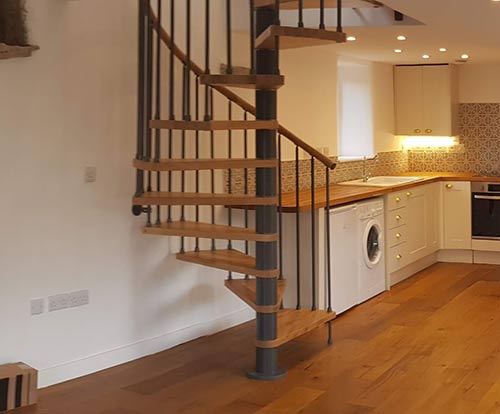 Consider storage and other uses for the space under the stairs
Often the cupboard under the stairs is the only decent storage space in modern houses – somewhere to keep the vacuum cleaner, shoes and coats etc.
This bespoke storage utilises the space beautifully and looks very stylish and clean.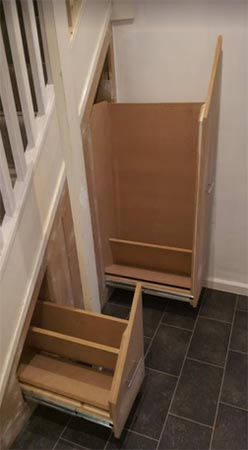 You can also use the space under the stairs to add a downstairs loo – if you don't already have one. Just check that it will be cost effective and indeed possible to connect water and waste pipes, and consider how you will provide ventilation.
Other great uses for the space include a home office, music area, mini library, wine cellar, home for houseplants the list goes on – see our "space under the stairs" blog for some of our favourite uses.
Design and materials
If you have a rather dark stairwell you might consider using open stairs, glass stairs or a staircase with built in lighting to help bring light down from above.
A great way to flood a stairwell with light is to incorporate a skylight above it, if the layout of your house allows this. See more about lighting your staircase below.
There are many different materials for staircases and some amazing designs of balustrades and handrails so do your research. You might even decide to commission a local craftsperson to design and make one that is unique to you. Just make sure they are aware of the Building Regulations.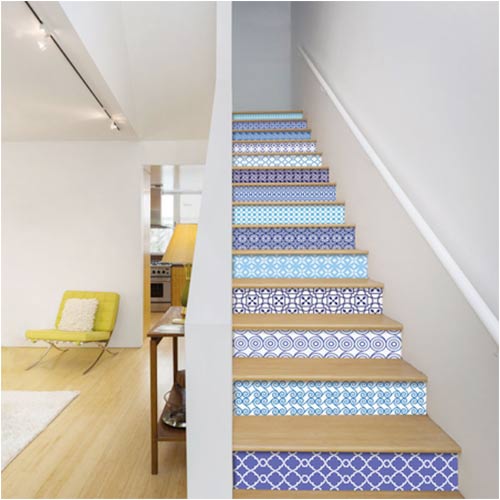 Lighting Your Stairs
Some staircases are quite dark. If you have the option to fit a window at the top of the stairs and/or on a quarter or half landing we would recommend you do that. Some houses have long narrow windows that run the height of the riser to let light in and create a decorative feature in the building, without compromising much on privacy. 1930s houses often utilise stained glass windows on staircases and landings for similar reasons.
If you need to improve the lighting in your staircase you can consider some of these suggestions to increase natural light:
Fit fanlights above internal and external doors to increase the amount of natural daylight
Put a Velux window or skylight into the roof above the stairwell if this is practical
Install a roof lantern if the layout allows for this
Rooflights provide more daylight than a normal window in a wall
Use a light tunnel to bring light down from the roof – see our project on light tunnels
Fit a glass balustrade and or glass risers
You should also consider ways to improve lighting using artificial light
Choosing materials for Your Staircase
Wooden stairs
Timber staircases are the norm, of course, because wood is such a versatile and varied building material. The most common inexpensive staircases are made from softwoods like pine and plywood.
They are usually intended to be covered with paint and carpet, so they don't need to look amazing, they just need to be functional.
If your budget is limited we would suggest a budget staircase which you can pep up with a great carpet, interesting paint job or unusual balusters.
Wooden staircases can be modern or traditional, sleek or ornate and you can choose moldings, balustrades and newal posts to suit the design you prefer, or you can strip back the design to its most minimal components.
Hardwoods are more expensive but can make a beautiful impact. These include beech, ash and oak.
Glass Staircase
Glass and acrylic staircases can look very stylish, and are hardwearing and structurally strong due to modern production methods. They also improve the flow of natural light throughout the home.
However, we would caution that they show marks like fingerprints and you could spend a lot of time cleaning them to maintain that showhome effect. They are also generally more expensive than timber staircases.
Acrylic is another material that can be used on staircases, but we wouldn't particularly recommend them because they are so prone to scratching and they are not suitable for fire escape routes – which, let's face it, is most staircases!
Metal Staircases
Metal staircases used to be reserved for commercial settings and uber cool loft apartments, however they are now available in contemporary designs that would suit many more domestic settings. They are also suitable for external staircases.
Combining materials such as metal and timber or metal and glass can be very successful too.
Spiral staircases are often made of metal or metal mixed with other materials.
Stone staircase
Stone can be classic and timeless or styled to be more contemporary. Stone staircases are also suitable for outside settings as well as interior ones.
Stone and Concrete Staircases
Stone or concrete staircases can be traditional – think grand sweeping stone flights – or contemporary in the form of industrial-style simplicity. Concrete stairs are usually supplied precast in sections to be assembled on site.
Pros: The perfect way to create a sense of solidity.
Cons: Expensive. May have to wait a while for them to be made.
Costs: Variable. They can be expensive, starting at around £10,000. An alternative is to clad existing stairs with stone panels.
Buying a Staircase
I've see a design, but where to get it from?
More often than not, people spot a staircase they like the look of and wonder where to get one like it. Unfortunately it is not as simple as walking into a staircase shop and pointing to the one you want.
It is often the case that the striking staircases that grace the pages of this magazine have been custom-made rather than bought off the shelf, designed by the house designer or architect, or sometimes by the owners themselves. However, there are specialist staircase companies out there who will also design and make a staircase.
But I have a small budget
Those aiming to stick to a budget are well advised to ask a local joiner – or the joiner already working on their project – to help them with a design.
Once you have a design it is entirely possible to buy a staircase from a DIY warehouse or timber merchant – assuming the sizes you require are fairly standard – and then customise it yourself with the addition of, say, a more decorative handrail or even a runner.
Anatomy of a Staircase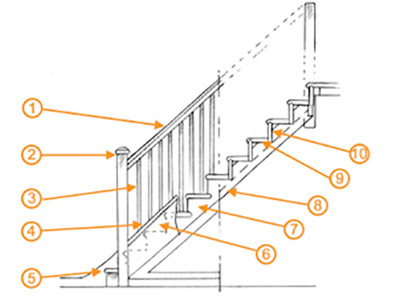 Staircase Glossary
Going The horizontal distance between one step and the next, measured from the nosing to the nosing. Building Regs specify a minimum distance of 220mm to a maximum of 300mm.
Nosing The edge of the tread which projects beyond the riser.
Rise The vertical distance from the top of the tread to the top of the next one. Building Regs specify a minimum distance of 150mm to a maximum of 220mm. The total rise is the vertical distance from the floor to the floor of the level above.
Riser The board that forms the face of the step.
Tread The top section of an individual step on which you walk.
Balustrading Describes the combination of the spindles, handrail and newel posts on a staircase. Often it is these elements which give the staircase its character — they can transform an off-the-shelf flight into something special. Timber, glass, metal and even stud walls can all form balustrading.