In this DIY guide we will show you how to make your very own simple standing desk frame that will sit on any standard desk or work top and allow you to stand as opposed to sitting while you work.
Many health professionals regard sitting too much as the new "smoking" due to its associated health risks and problems.
With many jobs today revolving around sitting at a desk or computer for long periods, counteracting the affore mentioned health issues by building your own standing desk frame is a great potential solution, read on below to find out how.
Types of Standing Desk
As information and research on the dangers of sitting too long have become much more publicly available over the past few years, many enterprising individuals and companies have produced numerous different types and designs of standing or sit-standing desks.
Today there are literally hundreds of desks and attachements of this type on the market to suit pretty much any taste or location.
In essence there are four different types of standing desks; electrically adjustable sit-stand desks, manual adjustment sit-stand desks, portable/movable standing desks and converters/frames to turn a standard desk into a standing desk.
Electrically Adjustable Sit-Stand Desks
These standing desks are pretty much the top of the range models and due to this tend to be a bit of the expensive side, but if you want comfort, ease of use and a longevity then this does come at a cost.
On looking at an electronically adjustable desk they generally look like any other office desk, but if you pay close attention to the upright support legs you will notice that they are adjustable and you will also notice that there will be one or two electric motors.
In terms of operation, the electric motor or motors, once engaged, raise the top section of the desk up to allow you to stand as opposed to sit and if you feel like sitting the desk can then easily be lowered back down.
When looking at potential purchases try to go for one with two motors as they tend to be a little smoother during operation and also better quality, but as said above this does come at a price.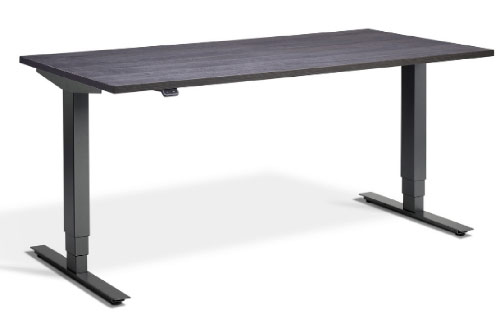 Manual Adjustment Sit-Stand Desks
Manually adjustable sit-stand desks are in essence very similar to electrically adjustable desks but as the name suggests instead of using electric motors to raise and lower the desk this is done manually.
As any adjustment is made manually these types of desk tend to be a fair amount cheaper than their electrical counterparts but in this case this isn't necessarily a good thing.
If you have a fair amount of weight on the top of the desk this can make both raising and lowering the desk tricky and often involves crawling underneath and pushing up or taking the weight to raise or lower it. If you are less able-bodied then this can be an impossible task.
However some more expensive models feature a winding handle that allows you to wind the desk top up and down. These are better but again if there is a fair amount of weight on the top then it can easily bind, especially if it's a single handle version.
However if you don't mind this then manual sit-stand desks are certainly a great option.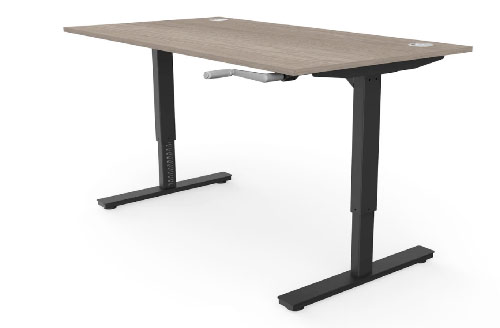 Portable/Movable Standing Desks
These types of standing desk are absolutely ideal for people that like to move around during their working day or are required to such as engineers that utilise laptops to run diagnostics or teachers that need to run around a busy classroom during the day.
Available in a range of different types and sizes to suit any application from just a single laptop to versions that can take additional screens, keyboards etc. portable standing desks are ideal for those workers on the move.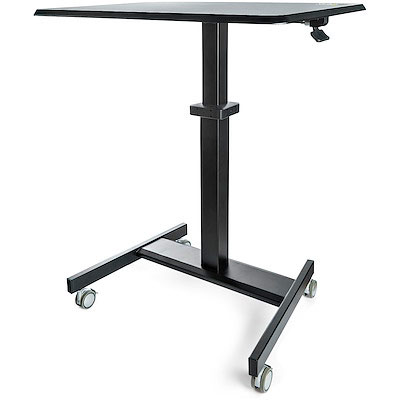 Converters/Frames to Turn a Standard Desk into a Standing Desk
These are the most basic form of standing desk and are used in conjunction with an existing desk to turn it into a standing desk.
There are quite a few different types and designs out there with each manufacturer putting there unique little twist on their own particular models.
On a basic level the standing desk converter is just a small frame that can be erected on top of a traditional desk that allows you raise a laptop, keyboard, screen or other up so that you can then stand and work.
Most models feature a range of slots at different heights so that you can adjust the position of your screen, laptop or keyboard to a comfortable working height.
In most instances converters/frames are normally made of timber, MDF, hard plastic or steel in some instances making them comparatively cheap when compared to the other options above.
These are a great option if you are working to a budget and just want something that will do the job!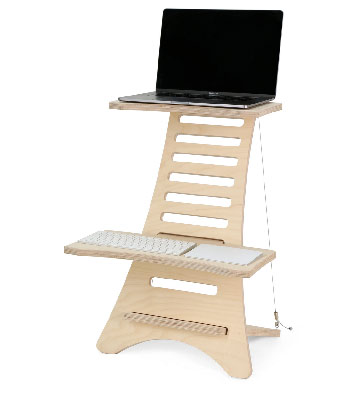 How to Make a Standing Desk Converter/Frame
Now that we have looked at the main options on offer it's time to look at how to actually make your own standing desk.
To keep things as simple as possible we are going to look at how to make a standing desk converter/frame that can be used to turn an existing standard desk into a standing desk.
To make our standing desk as strong and sturdy as possible we are going to use 25mm ply. You can get away with 18mm ply or MDF but as you will want your desk to be as strong as possible try to use the best materials possible.
Measure and Mark Frame Structure
The first job is to mark out all of your cuts on your chosen timber. In our example here the main body of our standing desk is going to be 800mm in height and sit at an angle of 60°. Full cutting dimensions for each component are as follows:
Main body: 800mm total height, 500mm wide at the base (support feet 60mm in height, 100mm out from main body), 300mm width from feet to top
Main body rear support: 380mm in height (including mounting tenon section), 260mm in width
Keyboard/mouse shelf: 700mm total width 430mm in depth (including mounting tenon section)
Laptop/screen shelf: 400mm in width, 330mm in depth (including mounting tenon section)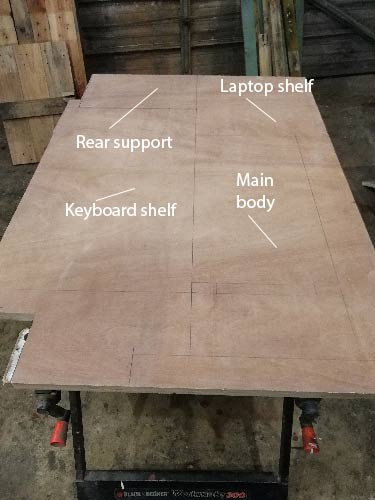 When marking out your cutting lines try to plan them as efficiently as possible so that you minimise any waste and make the most of your timber material.
To ensure that your standing desk sits at the required 60° angle you will also need to mark out the position of the rear support so that once cut out and slot into place the rear support holds the main body at the correct 60° angle.
In respect to this, the bottom edge needs to be marked 200mm up from the base of the main body and in this case to provide adequate overall support the mortise (cut out section – more on mortise and tenon joints in our project here) will need to be marked at 210mm in width.
As we are using 25mm ply the height of the mortise was then marked to 25mm or the thickness of the timber that you are using for construct your standing desk.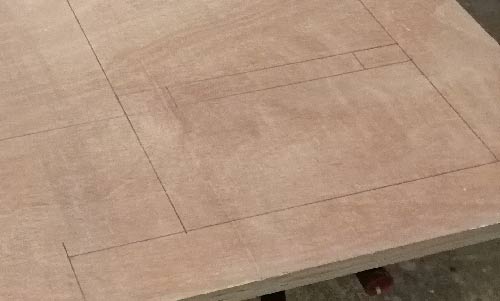 Cut out Framework Structure
With all our desk elements marked out on the sheet of ply it's now time to get them all cut out.
There are several methods for doing this; if you have a table saw then you can use this but failing that you can use a jigsaw or even a decent sharp handsaw.
Whilst cutting work slowly and steadily and don't rush, you want all your cuts to be as straight and accurate as possible.
If using a handsaw or jigsaw make sure you clamp the ply down before you start cutting to prevent it moving as this can easily ruin a straight cut.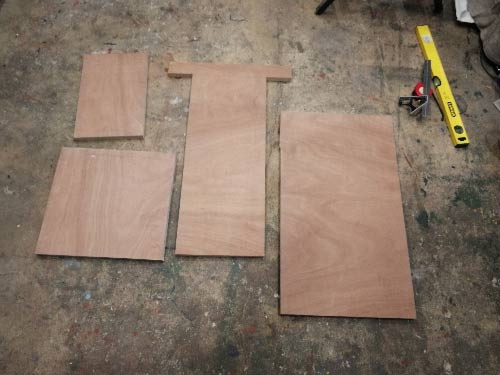 Mark out Shelf Mortises
With everything now cut out the next task is to mark out the mortise cuts on the main body that will support the keyboard and laptop/screen shelves.
The trick here is to ensure that the size of the hole allows each shelf to sit totally flat and level when the shelf tenon is inserted into the main body mortise.
On a basic level, to ensure this is the case, you have to mark the angle that your standing desk sits at, in this case 60°, and then mark the depth of the timber you're using from your angle mark. Once this is done you then need to mark the lowest point on the front edge and the highest point on the back edge.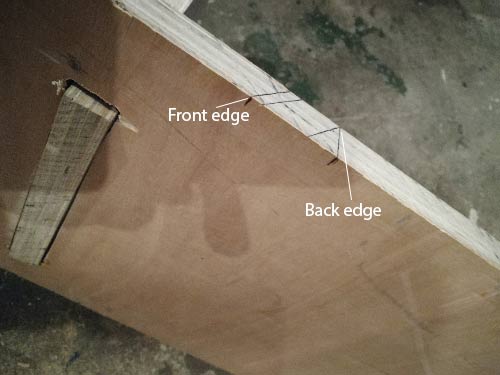 Next, use a carpenters square to transfer each mark to the front edge. Once done repeat all of the above for the opposing side.
With both sides marked out use a straight edge such as a spirit level to join the top and bottom marks across the horizontal width of the main body and then measure and mark 40mm in either side top and bottom and mark between them vertically.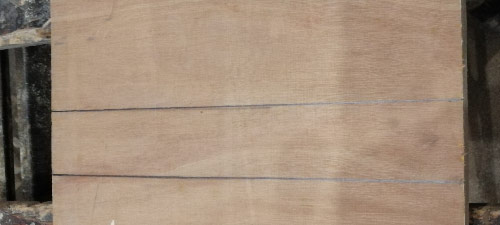 Once you have measured and marked out the first mortise this will then give you everything you need to easily mark out the remaining mortise supports.
Working up the main body using the top of the first mortise as a starting point, measure and mark up 45mm either side of the body and make a mark either side and joint them horizontally using a straight edge.
Using the measurements from the first mortise transfer these on to your second one to create the required cutting lines and then repeat again until you have reached the top of eth main body or run out of space to create any more.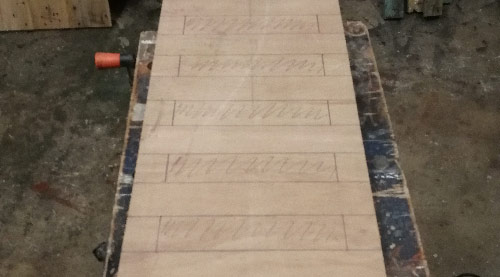 Cut out Shelf Support Mortises
With all the marking out done it's now time to cut everything out and for this we are going to use a jigsaw.
Before we do any cutting the first job is to drill a 7mm hole at each corner of each mortise so that we can get the jigsaw blade in to cut along each line. When drilling you have to make sure that each hole is precisely in each corner and doesn't spill outside of any of the lines.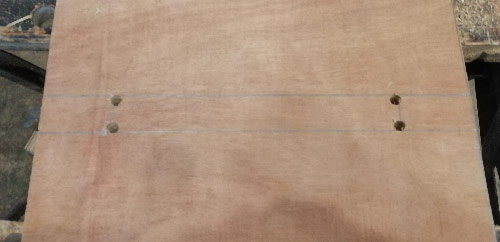 Once all the holes are successfully drilled take your jigsaw, pop in a blade and insert the blade down into a hole. Taking your time, cut along each line as accurately as you possibly can keeping the blade as straight and level as possible.
Once the first one is fully cut out, repeat for the remaining mortises slots.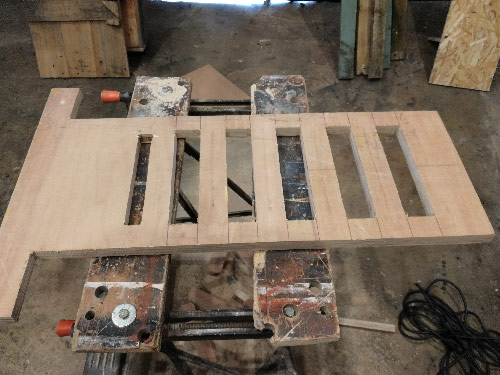 Cut out Tenons on Rear Support and Shelves
Whilst measuring and marking out the rear support and the shelves we added a little on to allow for the tenon joint that will need to be cut on each item so that it can be slotted into the main body and held in place.
For both shelves and the rear support we need to measure and mark a tenon that measures 210mm in width and 70mm in depth. Each tenon needs to be cut at the dead centre of each of the shelves and the support so you will first need to measure and mark the centre of each across its width.
Once the centre is marked measure and mark 105mm horizontally either side and then 70mm vertically. Mark the waste section to be cut away on either side of each tenon and then using a handsaw, jigsaw or table saw cut away the waste timber to create each tenon joint.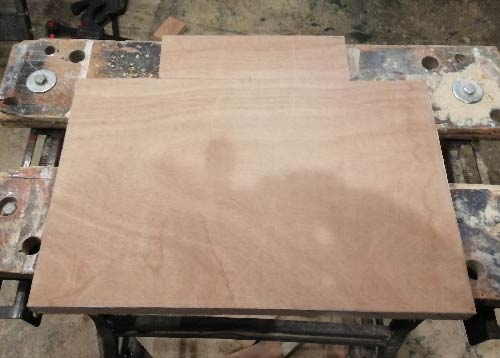 Test Fit Everything Together
With all the cutting now complete it's time to do a quick test fit to make sure everything fits accurately together.
Using a flat and level work surface or Workmate, slot the rear main body support into place and allow the main body to sit back onto it. If all is well the mortise and tenon will lock together holding the entire structure firm and upright.
Next insert each shelf into each mortise slot to make sure they all fit correctly.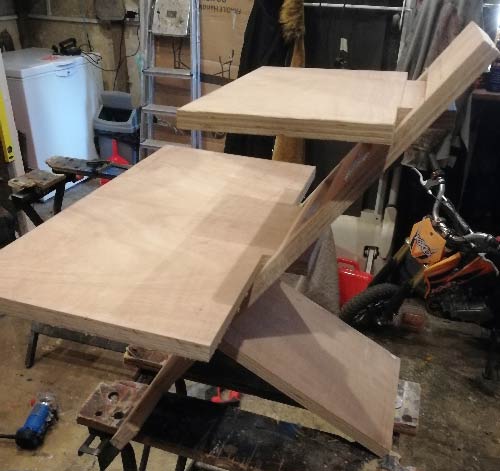 Sand Pieces Down and Finish
Once you have completed the test fit, take everything apart again and one of the final jobs now is to sand everything down.
Using a random orbit sander and some fine sanding disks, around 240 grit, sand over the top and bottom of each component of your standing desk and then along and around all edges.
When sanding eth edges hold your sander at around 45° and roll it over the edges to round or bevel them to remove any sharp edges.
However, do not sand or bevel the internal area of the mortise joints on the main body and only very lightly sand the tenon joints on the shelves and the rear support as you don't want to affect how they sit as if sanded too much then they may end up drooping slightly.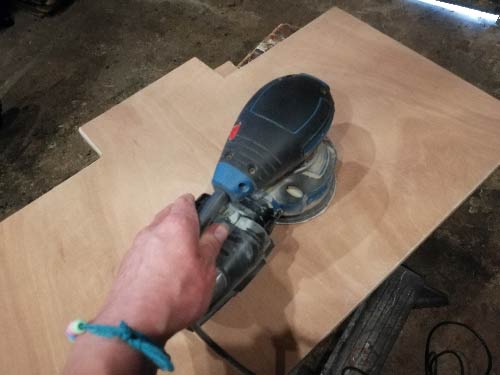 If you are lucky enough to have a router then you can also run around teh front edges of teh shelves and support and also the edges of teh main body but again don't touch the mortise joints as you don't want to affect how your standing desk sits.
Make Pins to Hold Shelves and Support in Place
The final job before you're done is to now make up some small pins to hold the shelves and support in place when they are engaged with the main body.
Before making the pins, use a drill driver and a 6.5mm wood bit to drill a hole at each shelf mounting joint and the rear support. With the shelf fixed in place drill through the side of the main body and into the side of the shelf tenon joint.
Repeat this for each shelf at each different fixing level making sure that you drill through each side running the drill bit right up to the chuck. Once the initial hole is drilled run the drill bit in and out a few times to fully clear the hole.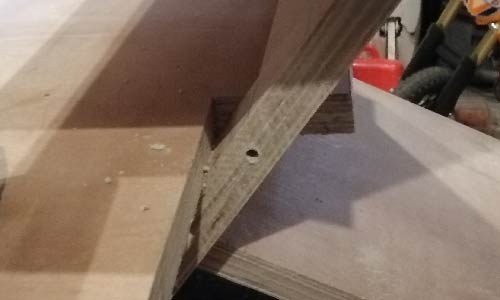 With the holes now drilled source a length or 6mm dowel rod (available from pretty much all DIY stores) and cut 3 sections to 120mm in length.
Using some sand paper bevel one end of each of the rods to a slight taper so that when it's pushed into a given hole it doesn't bind on anything.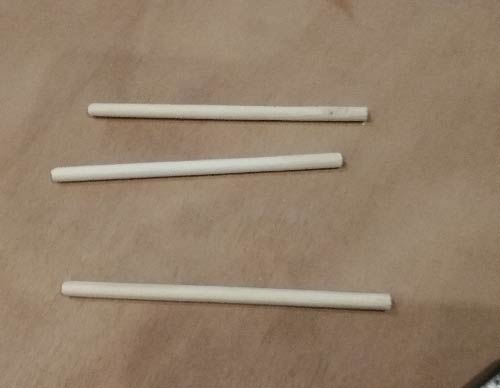 Test fit each pin in each set of holes to make sure all fits snugly and holds each shelf or support firmly in place and in turn holds the entire structure together preventing it from collapsing.
Insert a few 1 1/4 inch wood screws in the rear of the main body and cut 3 lengths of string to 350mm in length.
Tie one end of each piece of string to a screw and then the other end around each pin to stop them from getting lost.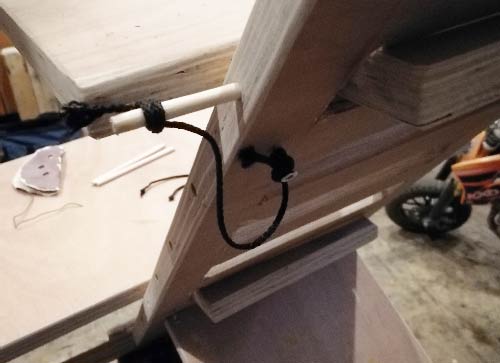 You're now pretty much done in terms of building your standing desk, the final job now is to position it in place, add your laptop, screen or keyboard and adjust it to your perfect working height.